Rowan (NYSE:RDC) has recently reported its fourth-quarter results, so it's time to look at one of the healthiest companies in the offshore drilling industry.
There were no surprises in the quarter. Revenues continued to trend down as expected in the current market environment and totaled $352 million. Legacy higher-margin contracts still provide some shield from the storm for Rowan, so the company reported an adjusted net profit of $0.08 per share.
The focus is, of course, on the future of the company. Just like in case of other drillers, Rowan's results will slip into the negative territory as contracts from the past roll off and are replaced with cash breakeven contracts or even no contracts at all.
Lately, M&A talks started to emerge. The offshore drilling industry badly needs consolidation to wipe out extra costs and speed the rebalancing of the market through scrapping. Alas, the majority of drillers have too much debt on their balance sheets to be takeover targets.
Opportunistic asset purchases look like the only viable option at this time. The problem is that these assets will most likely have to be stacked (potentially for several years), so the acquirer should have the financial strength to pay for stacking costs. The ingredients of this financial strength are available liquidity and favorable debt majority profile.
Rowan is the main candidate for such moves. With more than one billion of cash on the balance sheet and favorable maturity profile, the company can potentially engage in distressed asset purchases. Please note that the snapshot below was made from 10-K, and 2017 maturity has already been dealt with.

As always, the problem is in timing. Rowan has 4 drillships. Most likely, after March 2017, only one drillship will be on contract. In this situation, the purchase of another modern rig even at a very high discount is an investment that won't begin paying off for the next several years. It is hard to take such a decision when the upside in oil prices is not guaranteed and some market participants even talk about "longer forever" scenario.
I don't expect any moves on this front while Brent oil stays below $57.50 resistance. There is no incentive to rush in the market for distressed asset buys as prices will remain depressed unless rig utilization picks up. Right now, there is no scarcity of rigs.
I continue to highlight the necessity to wait for tangible evidence of recovery rather than relying on sometimes overoptimistic assessments of the industry by companies' management teams who need to talk their book from time to time.
Last year, we have seen only one major purchase - Ocean Rig (NASDAQ:ORIG) bought Ocean Rig Paros for $65 million. This year, the liquidation of Hercules Offshore brought a few data point for jack-ups. The UDW market segment, which is probably the most intriguing in terms of distressed asset purchases, remained silent.
I believe that Rowan has a chance to develop its UDW segment and emerge as a balanced powerhouse out of the current market downturn if it gets the timing right. However, getting in the game too early may put unnecessary pressure on Rowan's balance sheet.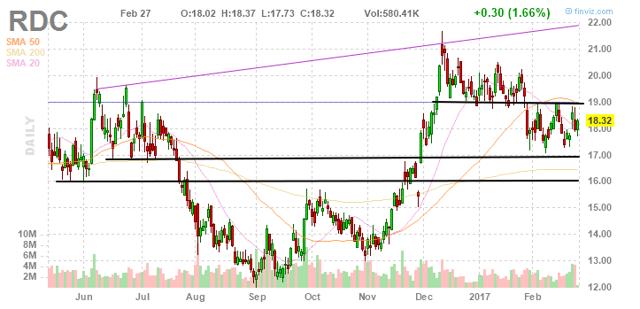 Let's look at the company's chart now. By coincidence, all important levels are on round numbers. Rowan is now firmly stuck in a range between $17 and $19. In case oil prices fail to go past $57.50 in the coming few weeks, I expect a selloff on the oil market, which will take Rowan to its next support level at $16. The upside breakout in the oil market will create an opportunity above $19 in Rowan's shares.
Disclosure: I/we have no positions in any stocks mentioned, and no plans to initiate any positions within the next 72 hours.
I wrote this article myself, and it expresses my own opinions. I am not receiving compensation for it (other than from Seeking Alpha). I have no business relationship with any company whose stock is mentioned in this article.
Additional disclosure: I may trade any of the abovementioned stocks.