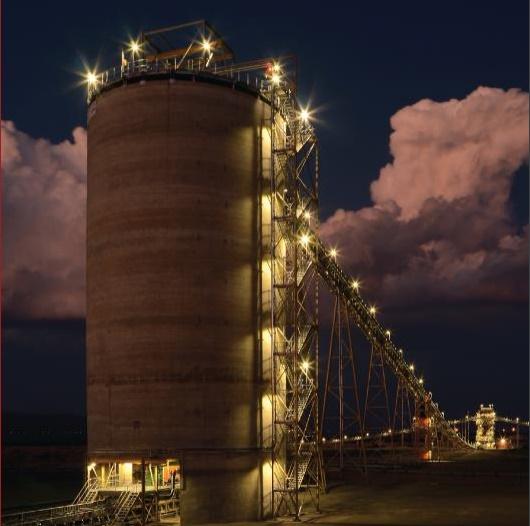 Platinum Group Metals (NYSEMKT:PLG) is a Canadian precious metals mining company operating in South Africa. They have two major projects:
The Maseve Mine (pictured) is a $500M USD mine completed in 2016, built on the Western Limb and now in ramp-up phase.
The Waterberg Project is a pre-feasibility study that identifies potential to be one of the largest, lowest cash cost per ounce PGM mines, with a primary resource of palladium. Waterberg moves to a definitive feasibility study and mining rights application in 2017 (with a Japanese state company in JV partnership).
The 'ramp-up' phase for miners involves converting survey expectations to the realities of production, which can and often does involve frustrating delays for investors. It appears this has been the case at the Maseve; further exacerbated by a shortfall in external financing from South Africa, causing some lengthy operation delays. So lack of investor confidence could prove to be an investing opportunity. Further investigation is warranted.
Platinum Group Metal Demand
Lonmin (OTC:LNMIF) has recently cut back on supply, and other platinum mines have changed hands. The palladium market is in fundamental deficit, with strong demand and limited mine supply growth. The company describes this in their own presentation, and I've also indicated supply demand fundamentals in previous articles covering platinum and palladium. Maseve is a predominantly platinum resource, with a smaller proportion of palladium, and much lower levels of gold and rhodium.
Geology and Development
The Merensky Reef occurs around the Western Limb of the Bushveld Complex. The 'Upper Group 2' Layer or reef occurs around the Eastern Limb of the Bushveld Complex, and the Platreef, found within the Northern Limb. These reefs have an established history of economic PGM production. The Merensky has been producing PGMs since the 1920s. According to a research note by Royal Bafokeng Platinum in 2013, the Merensky reef is nearly depleted, with 70% of mines operating on the UG2 reef. The source they quote is the local Chamber of Mines.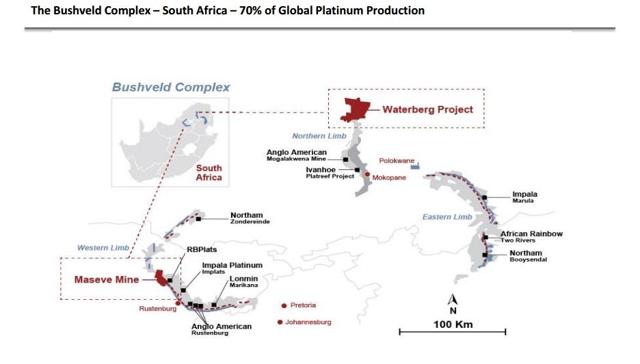 Maseve Mine
Maseve is 82.9% owned, with a lifetime agreement for smelter off-take to go to Anglo Platinum. (Smelting involves the reduction of elements in ore, to create base metals).
It appears there have been mine management issues during ramp-up in 2016, with changes made towards the end of the year. 2017 also received an upgrade in production quota (January press release), with a focus on section 11. From the corporate presentation:
Redpath Mining has taken over as the principal mining contractor. (They're constructing a conveyor between block 11 and underground silos, surface conveyor and milling facility, and recovering their $1.8m investment as a charge per tonne).

Contractor consolidation has led to a reduction in the overall labour complement by approximately 300 employees - less duplication and better reporting.

Section 11: Flat, thick and high grade; key block for production in 2017. Mining underway.
Block 11 is illustrated below, it appears far larger in scale than either 9 or 10, and will support mining for the next three years. Only one year is highlighted. The color grades relate to a monthly production rotation. Purple for May seems very small compared to February colored green, which appears comparatively expansive. However, there's no way of knowing how this relates to grade, or even where minor minerals, for example gold are most concentrated.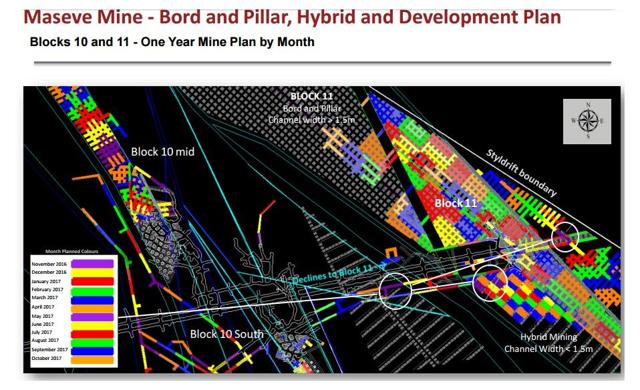 Platinum is supported from jewelry and traditional car manufacturing demand, and inward investment has fallen in recent years. It has weaker supply/demand fundamentals compared to palladium, but analysts report that South African producers have cut supply to shore up prices, and that should mean a more stable return for a Maseve production increase, with their commercial target being the second half. The commercial production target is about 50% of the steady state estimate, so the former might not equate to profitability, and when that might be possible isn't clear.
2017 Calendar Year: 100,000 to 120,000 ounces 4E*
• Commercial Production Target: Calendar H1, 2017
• Steady State Estimate: 250,000 ounces 4E/year
The Maseve tonnage per month schedule is described in the last 40F as follows:
The Maseve LoM for both the MR as well as the UG2 is just over 21 years (21.03), of which MR is 11.62 years and UG2 10.94 years. The production profile follows a phased approach to the planned 160,000 tpm at steady state.

In the initial phase to October 2017, the MR production builds up to 115 000 tpm. Production then builds up to 160,000 tpm and reaches steady state in September 2018 where it remains for the LoM.
The following image is from JPMorgan and compares operating costs across the industry in 2015. The inference is that the average breakeven in platinum mining in 2015 was just over $900.00/oz, so potentially profitable at $1000.00 plus. Although we can't estimate a PLG return from this, it does imply an improving situation in 2017, based on higher metal prices, and rising volume.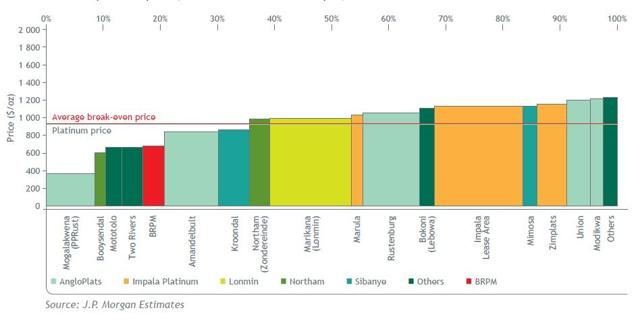 .
An operating cost per ounce extends into the cost of doing business, and ore grade, but the company provides ZAR operating costs per tonnage milled as a total net cost for the mine in the last 40F as follows:
ZAR:USD = 12.00
ZAR per tonne
milled

USD per tonne
milled

USD/115K TPM

On Mine Operating Cost

896

75

By- & Co-Product Credits

(106)

(9)

Total Net Mine Site Cash Cost

791

*66

7590
The Waterberg Project
Waterberg is predominantly palladium (with strong platinum and gold credits, and a base metal mix similar to but weaker than Merensky reef), and fully funded for 2017. Funding is through a joint venture agreement with the Japanese state company JOGMEC (Japan Oil, Gas, Metals National Corp). Platinum Group Metals own 58.62%, while JOGMEC own 28.35%.
The vast scale of resources are such that a normal deep, vertical shaft mine, will be replaced by an almost fully automated mine with close to surface access.
Probable reserves stand at 12.32M 4E ounces
Indicated resource 24.89M 4E and inferred 10.82M 4E ounces. (There's a lot more resource definition and detail in the company presentation, which I understand is still open to expansion).
The page below compares annual production, and capital investment. It's evident that the difference in depth between mines on the North and Western Limb has a huge financial benefit, with Waterberg expected to cost less than half to construct, but with about three times the annual ounce throughput.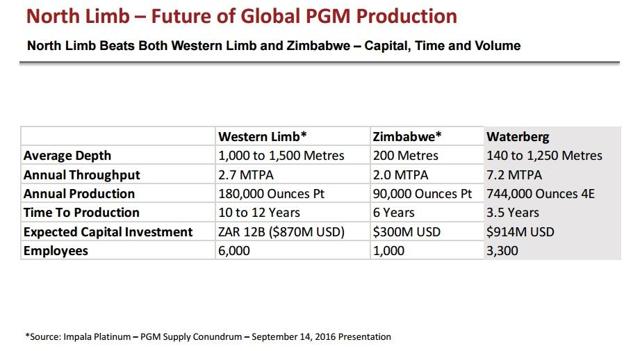 Stillwater Mine is the only US producer of platinum and palladium. Waterberg production is planned at a scale larger than Stillwater, commencing in 2020, with 'steady state' reached in about two years. Palladium with gold credits being the main early contributors.
Ramp-up expectations and timing of actual commercial profitability are illustrated well in the following corporate presentations, which suggests breakeven is likely some 2.5 years from completion of the mine).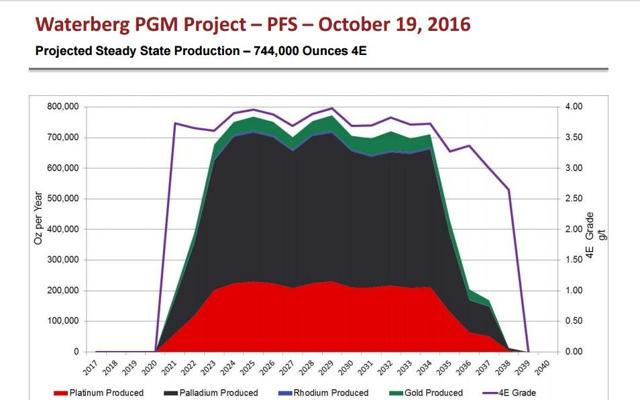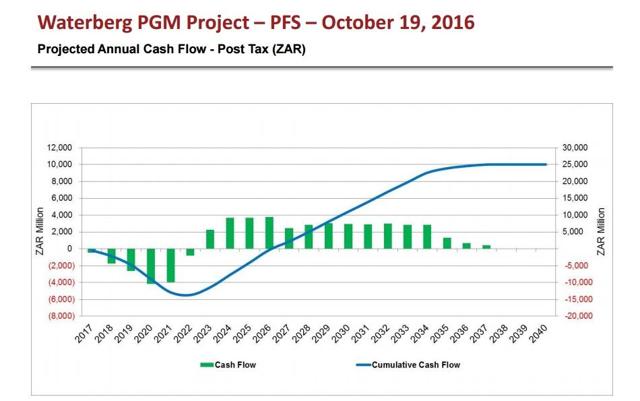 The following slide is from a PLG 2014 presentation covering comparable industry costs to Waterberg, expected to be at the lower end.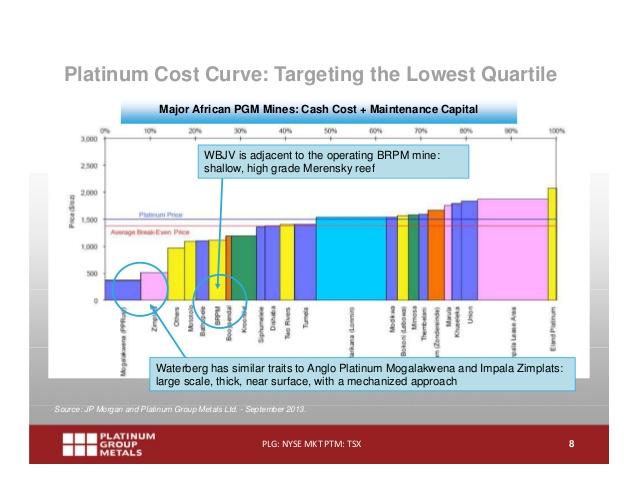 Financial Position
On November 1, 2016 the company announced the closing of a public offering of common shares (the "November 2016 Offering"). As a result of the November 2016 offering, the company issued 22,230,000 common shares at a price of US$1.80 per share, or approximately US$40 million. A $29m USD stock offering was recently completed, leaving $87.8M USD in debt (Sprott Lending and Liberty Metals). This was required to provide working capital for Maseve.
Pursuant to the Offering, and including the full exercise of the over-allotment option, the Company has issued 19,693,750 common shares (the "Shares") at a price of US$1.46 per Share, for aggregate gross proceeds of US$28,752,875.

The net proceeds of the Offering will be used for (i) underground development and production ramp-up of the Maseve Mine, (ii) working capital during start-up, and (iii) general corporate purposes.
At January 31, 2017, outstanding stock is at a fairly modest: 137,880,312 shares fully diluted.
Since commercial production at Maseve starts in the second half, and the recent share offering supplements that, investors would at this point be expecting no further dilution for Maseve. The question is whether or not production at Maseve would enable PLG to maintain a majority stake in Waterberg, a project spend of $914m USD. This would require (according to their current percentage split of 58.62% in the JV agreement), about $535.69m USD spent by PLG in total, or about $134m per annum between 2018 and 2021, a topic still under negotiation, according to the last F40.
According to Marketwatch, analysts (with an overweight recommendation), do expect breakeven for PLG next year, with a forecast of a 1 cent profit/share.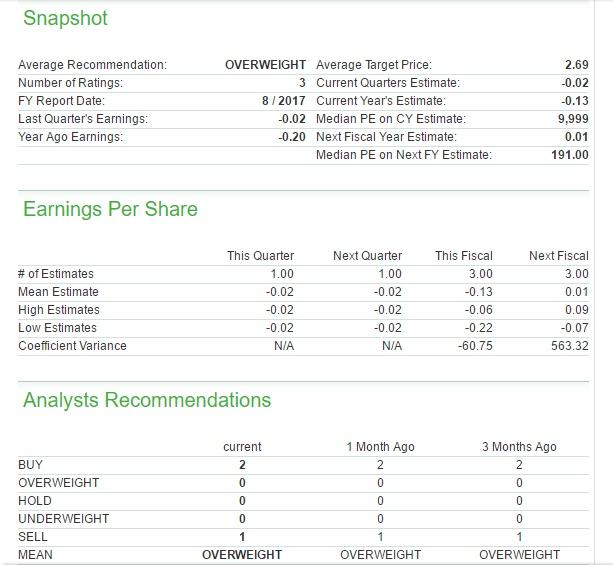 Considering the scale of stock dilution needed to get the Waterberg project off the ground, a loan seems like the most sensible finance solution, and was the basic funding plan at Maseve. Maseve profit would then gradually clear down Maseve debt. In any event, the company has some heavy weight mining investors taking large positions with the stock at these price levels.
Meanwhile, the company is funded through commercial production, with profitability expected next year.
Local Funding Initiatives
South African mining operations are legally required to support local initiatives, which include enabling (but not funding) local mining investment. Referring to their last annual filing (page 19), PLG management comments on the South African financial support issue.
Africa Wide's ownership of Maseve has been further diluted to approximately 17.1% based on the dilution formula in the Maseve Shareholders Agreement among PTM RSA, Africa Wide e and Maseve (the "Maseve Shareholders Agreement"), as confirmed by the arbitrator. Likewise, the Company's ownership in Maseve has increased to approximately 82.9% . See "Africa Wide Dilution" below for more information.

The Company also owns 49.9% of Mnombo Wethu Consultants (PTY) Limited ("Mnombo"), a black economic empowerment ("BEE") company, which holds a 26% participating interest in the combined Waterberg joint venture projects.
PLG also comments that a failure or delay of any JV partner to fulfil their financing commitments could impact the company's own funding arrangements with third parties, or delay their ability to find alternatives.
They also comment on their JV relationship with JOGMEC and how that relates to an ongoing negotiation regarding proportional spending at Waterberg. The junior Empowerment partner Mnombo holds the balance of the joint venture there.
Sentiment - Short Positions
Short positions in PLG, seem to have a tendency to rise, 'with' the market taking long positions at the beginning of the year. While platinum can react negatively to the USD (and interest rate news), the same isn't automatically true for palladium (industrial and in supply deficit). The chart below suggests negative sentiment, despite institutional acquisition.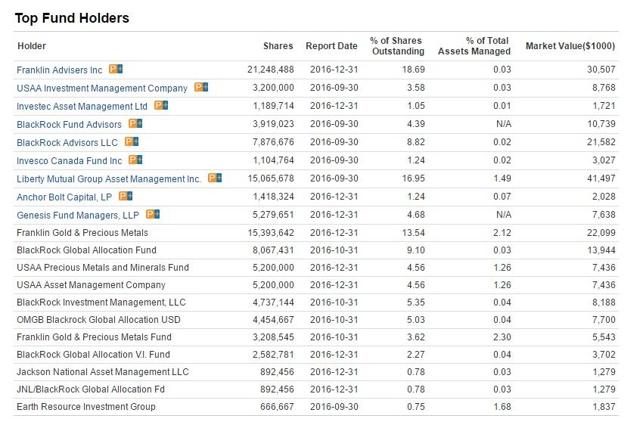 (Source: Gurufocus.com)
A seasonal chart for platinum shows early year strength.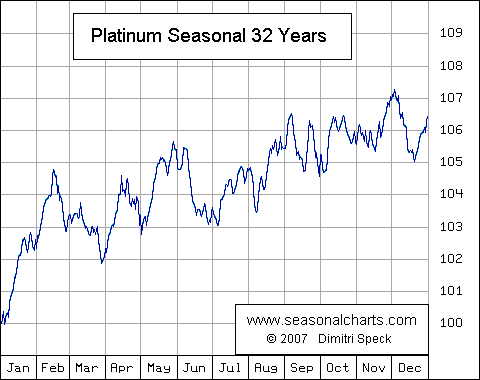 (Source Seasonalcharts.com)
How expectations for an interest rate rise affect precious and base metals. The implications for platinum mining are negligible and for palladium a reverse or positive psychology.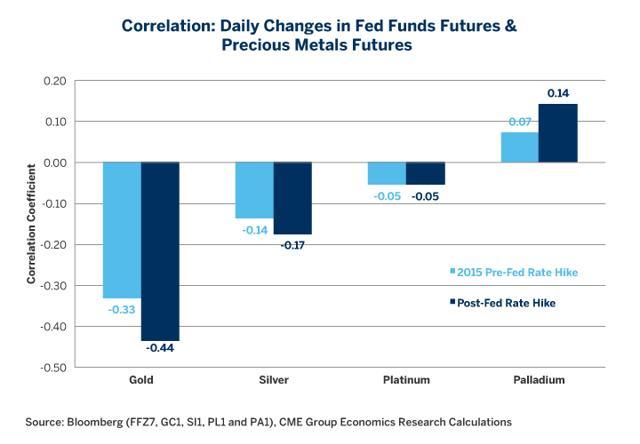 (Source: CME Group)
Technical Charts
The short-term chart below suggests that the bounce from the December high, which created a double bottom at the end of the year, is wave 1 of an advance and a wave 2 correction within an advance. Continuous red daily candles suggest traders haven't found a price low although the RSI is flattening a little.
The January bounce was to a lower high so can't be considered wave 3. Support is available at the 61.8% Fibonacci level, which is also the 50-day moving average, and below that, the pivot which also lies at the lower side of the illustrated channel. A confirmed reversal should see a bull leg either to the $2.30s initially, or the far top side of the channel. The fast stochastic shows that PLG is already oversold (comparable to the January low), so a reversal should be imminent, although the RSI is still fairly high.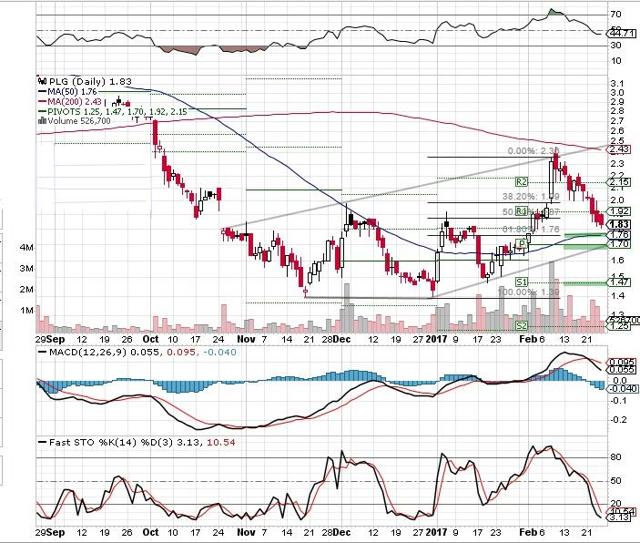 Although precious metal mining investors may battle headwinds this year as the Fed raises rates, the likelihood of that having as much impact on platinum group miners is limited.
For Platinum Group Metals, 2017 is a year of growth, with increased tonnage and a second half goal of commercial production. Although investors might note technical points on which to base risk management, the stock pattern set thus far seems to continue.
Disclosure: I/we have no positions in any stocks mentioned, and no plans to initiate any positions within the next 72 hours.
I wrote this article myself, and it expresses my own opinions. I am not receiving compensation for it (other than from Seeking Alpha). I have no business relationship with any company whose stock is mentioned in this article.