Immediately following the election, the correlation between equities (NYSEARCA:SPY), the dollar (NYSEARCA:UUP), and rates (NYSEARCA:TLT) were practically 100%. Here is what 'The Trump Effect' looked like intraday on November 10th: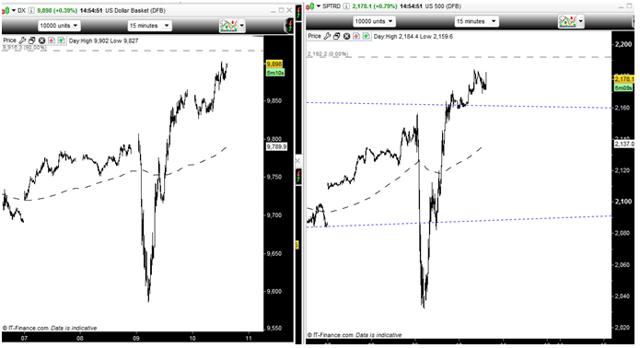 The charts show dollar futures on the left, and S&P500 futures on the right, more or less trading tick for tick. And they remained that way into December, with rates leading the way. This had obvious consequences for precious metals (NYSEARCA:GLD) and (NYSEARCA:SLV), and related markets.
The Break Down
2017 has been very different. Here is how $1000 invested in UUP (portfolio 1 in red), and SPY (portfolio 2 in blue) performed in the last 40 days: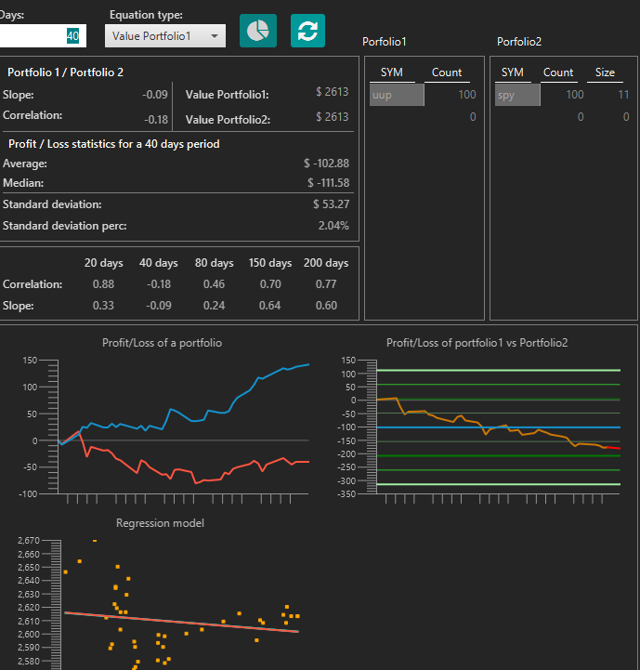 software developed by Arbitrage Trader
There is no correlation and no regression model. This perhaps isn't too surprising as President Trump has been talking down the dollar and cheering on strong equities. Compare his tweet of 16th February, 'Stock market hits new high with longest winning streak in decades. Great level of confidence and optimism - even before tax plan rollout!', with the message he delivered to the Wall Street Journal about the strong dollar (in relation to China) on January 17th, saying "our companies can't compete with them now because our currency is too strong. And it's killing us."
Trump himself has re-written 'The Trump Effect', but this may back-fire if the dollar starts to strengthen again.
While the dollar and equities moving in inverse is quite common, and a weaker dollar serves a purpose, the other side of the equation, rates and the dollar, should still be expected to move in tandem.
Here is how beta adjusted portfolios in the dollar and TLT have performed over the last 200 days: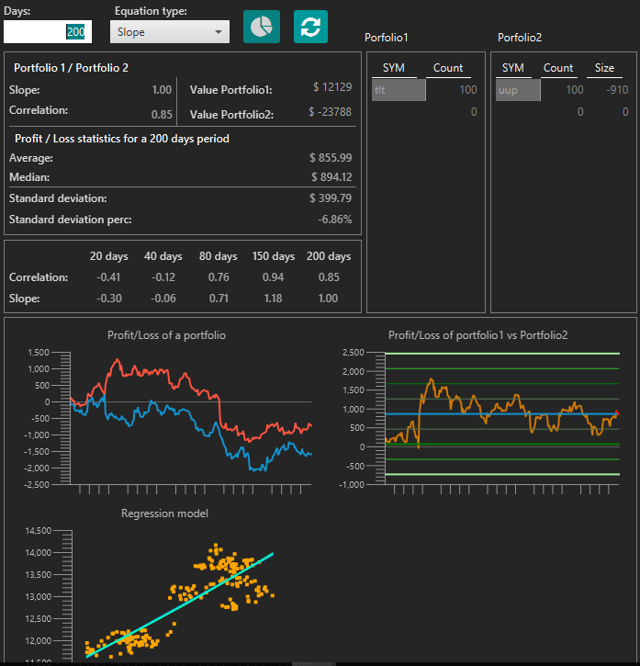 The correlation is 0.85 over 200 days, and as high as 0.95 over 150 days. Compare that to the figures over the last 40 and 20 days and you can see the relation has also broken down.
Sometimes the divergences are due to slightly different positioning and short term cycles, and the correlations re-align. This is particularly true when the divergence is driven by political rhetoric.
Here is another notable divergence in recent weeks: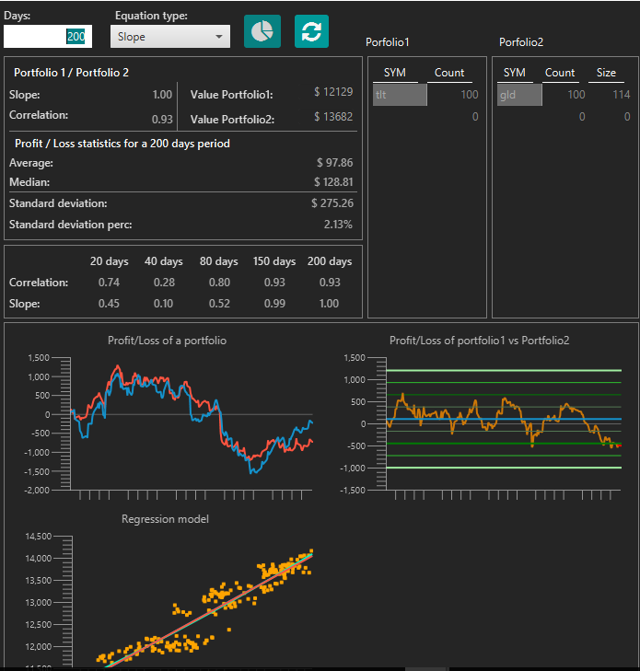 Gold and TLT have a very strong relation over 200 days, but over the last 40 days the correlation is only 0.28 and gold has outperformed significantly. Does that mean TLT will catch up, gold will turn down, or the correlation is broken in the longer term? If you know, please leave a comment, because I really can't say for sure.
Sometimes markets just keep diverging. This is why it is advisable to analyze each market independently. Correlations can help, but they can also hinder if the expectation is for a linear relationship. I would never assume, for example, gold will go down today because the dollar is going up. I do not base trades around correlations unless they have the exact same fundamentals drivers. For example, the software I am using in this article is designed to spot significant divergences between a closed end fund's NAV and its price, which in theory should track each other as they are fundamentally linked.
I primarily use correlations to understand what is driving a market, and it is all about President Trump right now. With the President due to address congress later today, I will be looking closely to see how the markets view his agenda. If the market now believes a strong dollar is bad for stocks, and there is now an inverse relationship, what effect will inflationary policies such as the border adjustment tax have? The dollar will likely rally, so will stocks fall?
Conclusions
Trends in the dollar and rates reversed in 2017 and the post-election correlations have started to diverge. This can be attributed to President Trump's rhetoric, but now the markets expect action.
They say actions speak louder than words. We shall soon find out.
Disclosure: I am/we are short SP.
I wrote this article myself, and it expresses my own opinions. I am not receiving compensation for it (other than from Seeking Alpha). I have no business relationship with any company whose stock is mentioned in this article.
Additional disclosure: I am long various stocks, but have a short term short on SPX futures