Durable goods orders are the last major coincident indicator of this month. The next key number is going to be Wednesday's leading ISM manufacturing index. Before I continue, it is important to mention that a coincident indicator is an indicator that tells us how the economy is currently performing. Leading indicators tell us what we can expect over the next 1-3 months. That's why I added a leading indicator to every graph in this article.
Given the strong economic outlook provided by the ISM index, I expected to see a strong durable goods number for the month of January. The US economy accelerated in October of 2016 after bottoming in the first quarter of the same year.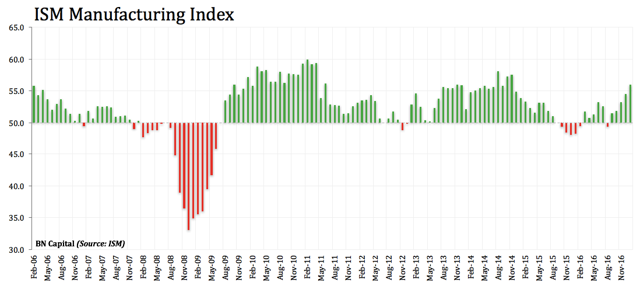 However, I was wrong. Durable goods excluding defense and aircraft almost completely erased December's 3.3% print. January growth came in at a mere 0.50%. One of the weakest numbers since 2014.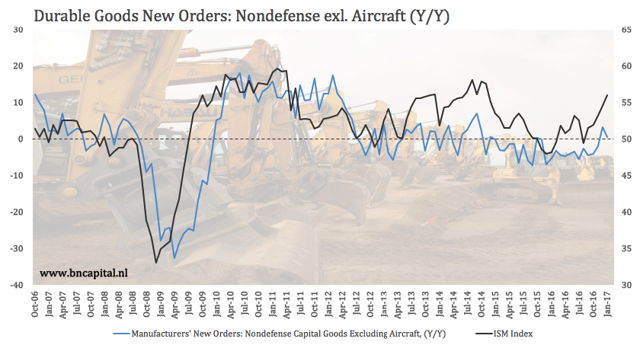 I expect that we are seeing the same as we saw during the last industrial production release. This could be a small decline during a stronger uptrend. We saw the same in 2009 and years like 2013. However, the 2009 decline has been much smaller.
Machinery orders are showing the same pattern. Growth is declining from 6.4% in December to 1.3% in January. Note that machinery is still outperforming total durable goods growth (ex-defense). Machinery is printing the second month of growth since a very long period of contraction.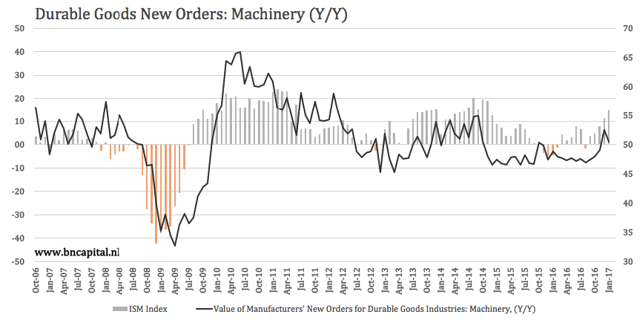 I also look at motor vehicles and parts because they are extremely depending on consumer spending. Motor vehicles and parts are the biggest retail industry and one of the most importing manufacturing industries. Motor vehicles and parts orders are still 1.8% higher than one year ago. However, this is much lower than December's 4.1% growth. On top of that, it is one of the lowest numbers since the recession. There have only be a few months with lower growth.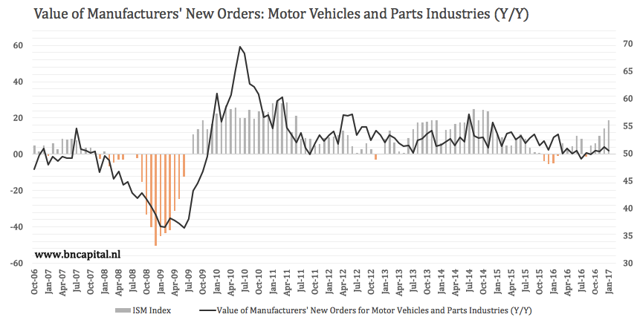 There is also good news. Shipments are only contracting 0.9% after bottoming in March of 2016 with 5.8% contraction. The current rally is following the regional shipments index. I expect to see at least one percent growth over the next 1-3 months.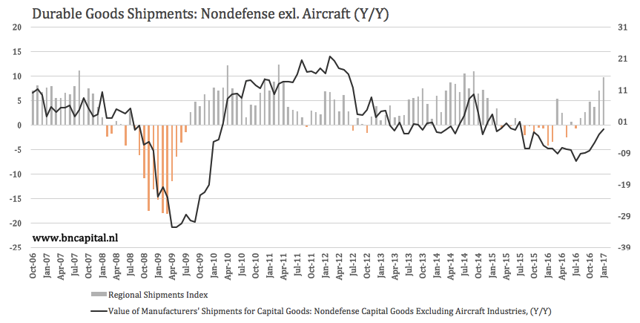 Conclusion
Just like industrial production, we see that durable goods orders are lower in January. As I mentioned before, I expect that this is just a pause within a bigger uptrend. However, this means that the next months need to be higher. Especially since it looks like that the next ISM number is going to be higher too. Otherwise, there could be a disconnection between leading indicators and the 'real' economy.
Many thanks for reading my article. Please leave a comment below if you have questions or remarks. You can also send me a direct message or tweet me @LeoNelissen.
Disclosure: I/we have no positions in any stocks mentioned, and no plans to initiate any positions within the next 72 hours.
I wrote this article myself, and it expresses my own opinions. I am not receiving compensation for it (other than from Seeking Alpha). I have no business relationship with any company whose stock is mentioned in this article.