Enbridge Inc. [TSX:ENB](NYSE:ENB) aims to be the leading energy delivery company in North America. By merging with Spectra Energy Corp., it is walking the talk.
Back in September 2016, the news of the merger propelled Enbridge shares about 11% higher (from the C$53 level to the C$59 level) in a matter of a few days.
Now that the shares have pulled back to nearly the pre-news level, it may be a good opportunity to pick up some shares of the top dividend-growth company.
For my premium subscribers, I maintain a table of quality stocks, many of which are dividend-growth stocks. I set a minimum yield range for each stock to determine a potential buy. As of now, I have a minimum yield range of 4.2-4.5% set for Enbridge.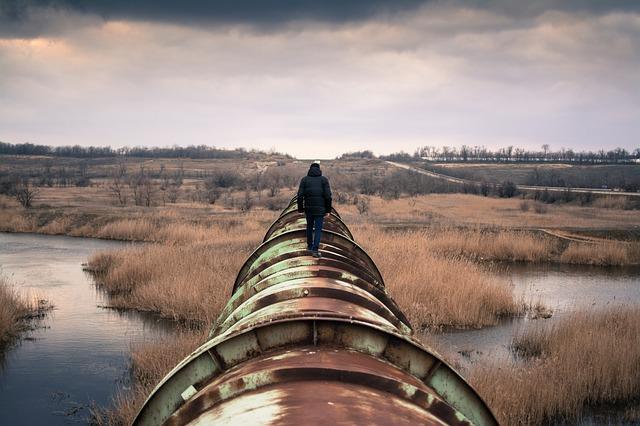 Enbridge's dividend and its growth is attractive
At about C$54, Enbridge offers a yield of 4.3%, which is within my yield range. But that's not all. Enbridge closed the merger on Monday. And management intends to raise its dividend some more after the close. (Enbridge already hiked its dividend by 10% in Q1.)
Combined with the Q1 increase, the total 2017 dividend increase is anticipated to be 15%. This implies an annual payout of C$2.438 per share, or a forward yield of almost 4.5%. That hits the high end of my target yield range, and it's an attractive yield compared to Enbridge's historical yield range.
ENB Dividend Yield (NYSE:TTM) data by YCharts
Sharp investors might notice that we just missed the Q1 dividend whose record date was Feb 15. But investors who wanted to get the dividend and rushed to get the shares in early February would have bought the shares at about C$56. Since then, the shares have declined about 3.7%, more than the quarterly dividend that was worth roughly 1.04% of returns.
As a result, investors are better off focused on the (forward) yield and the valuation of a company instead of concerning themselves with missing an upcoming dividend or not.
Enbridge anticipates growing its dividend by 10-12% from 2017 to 2024 while maintaining a payout of 50-60% of available cash flow from operations ("ACFFO"). In 2016, Enbridge had an ACFFO payout ratio of about 52%, which accounted for preferred-share dividends.
Assuming a 10% dividend growth rate, buyers today can expect a yield on cost ("YOC") of about 5.7% by 2020 and a YOC of approximately 8.3% by 2024.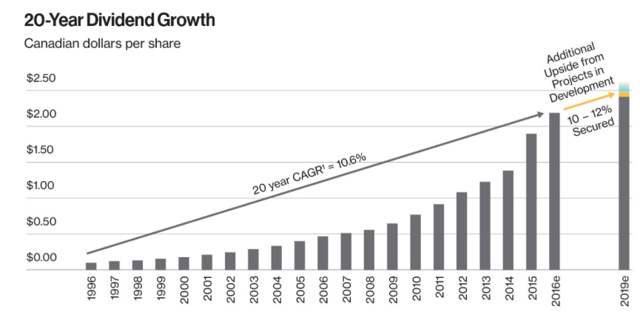 Source: Company site
Enbridge's dividend-growth prospect is similar to what it has delivered in the last 20 years, in which it increased its dividend at a CAGR of 10.6%.
Enbridge can be a particularly attractive investment (for income or otherwise) to U.S. investors who believe the Canadian dollar will strengthen against the U.S. dollar in the future.
The combined company
Enbridge and Spectra Energy is the largest energy infrastructure company in North America with an enterprise value of about C$165 billion.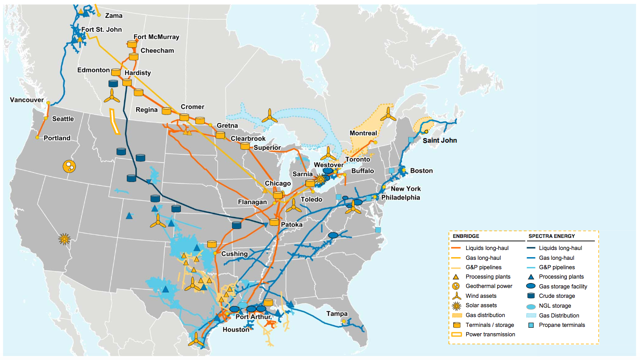 Source: pdf - Compare to Enbridge's asset map at the end of 2016 here (See p10)
The combined company's operations cover key supply basins and demand markets in North America. It consists of 34,410 miles of gas pipelines, 415 billion cubic feet ("Bcf") of natural gas storage, 17,511 miles of liquids pipelines, 11.4 Bcf per day of natural gas processing capacity, 3.5 million retail gas customers, and 2,500 MW of net energy generating capacity.
There will be a few synergy opportunities. Much will come from general operations and admin cost savings. Annual synergies of C$540 million are expected to be realized by the end of 2018.
Although the deal doesn't change Enbridge's 12-14% secured ACFFO per share CAGR guidance for the 2014-2019 plan horizon, it is expected to enhance growth beyond that timeframe.
The combined company will be led by the current Enbridge CEO, Al Monaco, who will continue to serve as the Enbridge CEO, while the current Spectra Energy CEO, Greg Ebel, will serve as chairman. There will be 13 directors on the board, of which eight are designated by Enbridge and five are designated by Spectra Energy.
Valuation
Morningstar rates Enbridge as a wide-moat company with a fair-value estimate of C$55. So, it believes the company is fairly valued.
In Value Line's December 2, 2016, report, it gave Enbridge a safety rating of 2 (out of 5) and a company financial strength of B++.
Value Line's three- to five-year price projection of Enbridge was C$50-65, which implied a potential annualized return of 1-7%, as the shares traded at C$58.25 per share at the time with a yield of 3.6%.
The analyst consensus (across 12 analysts at Thomson Reuters) has a 12-month mean price target of C$62.30, which implies the shares have an upside potential of nearly 15% from current levels.
The Reuters analysts believe Enbridge can grow its earnings per share ("EPS") at a rate of 5.2% over the next three to five years. However, EPS isn't as meaningful for a company like Enbridge, which has a big portion of depreciation and amortization non-cash expenses.
Using the company's calculated ACFFO would be more meaningful, as it adjusts for depreciation and amortization, maintenance capital, interest expense, and other items, accordingly.
In 2016, Enbridge generated about C$3.93 of ACFFO per share. Based on the current price of C$54.20, it trades at a P/ACFFO of 13.8. This is a reasonable multiple to pay for the management's 12-14% ACFFO per share CAGR guidance for 2014-2019.
Conclusion
The combined company has a larger scale and increased diversity in managerial experience and geographical reach. These will help propel the company to the next level.
Technically, there was an above-average volume of selling in Enbridge shares last week, which could be a result of uncertainties surrounding the close of the Enbridge-Spectra Energy merger. As suspected, once the merger closed the shares headed higher again, specifically, appreciating by 4%.
Enbridge is an attractive income investment today, since it yields 4.3% and will yield nearly 4.5% after the close based on today's price. Moreover, from 2017 to 2024, management guides to hike its dividend by 10-12%, which will be supported by ACFFO growth.
If Enbridge falls to C$50 or lower (for a forward yield of 4.6% or higher based on the current quarterly dividend), it'll be more attractive.
At about C$54.20 per share, Enbridge trades at a reasonable multiple of 13.8. Buyers today can expect conservative long-term double-digit annualized returns of 12-14%.
Share your thoughts in the comments below
What are your thoughts on Enbridge and the merger?
Are you buying/holding/selling at current levels?
If you don't like Enbridge, which other energy infrastructure company do you prefer instead?
Which other companies in the energy sector do you think are attractively priced today for income and income growth?
Author's note: If you like what you've just read, consider following me. Simply click on the "Follow" link at the top of the page to receive an email notification when I publish a new article.
This article first appeared in my premium service, from which my subscribers get priority attention and gain access to my real-time buys and sales. Feel free to try the service for free for two weeks.
Disclaimer: This article is not financial advice but consists of my opinions and is for educational purposes only. Additionally, the information provided is believed to be accurate but is not guaranteed to be so. Please do your own research and due diligence and consult a financial advisor and or tax professional if necessary before making any investment decisions.
Disclosure: I/we have no positions in any stocks mentioned, but may initiate a long position in ENB over the next 72 hours.
I wrote this article myself, and it expresses my own opinions. I am not receiving compensation for it (other than from Seeking Alpha). I have no business relationship with any company whose stock is mentioned in this article.