Delta Air Lines (NYSE:DAL) will start offering complimentary meals in coach on New York to San Francisco and New York to Los Angeles route from March 1. It will expand this program to another 10 routes on April 24. Customers who have booked in Delta's Comfort+ will get additional options for snacks and alcoholic beverages. Delta is facing increasing competition from JetBlue's (NASDAQ:JBLU) Mint service and also Alaska Air (NYSE:ALK).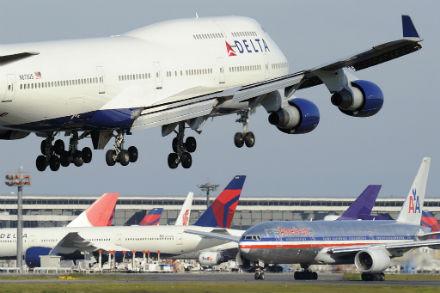 JetBlue has planned rapid expansion of its Mint service which will be a direct threat to the lucrative business travel segment of Delta and other legacy carriers. Mint is already being offered on 4 of the planned 12 routes and after the expansion in early 2018, it will be available on another 3 routes for which complimentary meals are launched by Delta.
This battle to provide better customer service will play out over the next few quarters and JetBlue has a strong advantage in this department. Currently JetBlue is trading at marginally higher PE ratio which makes it a better option than Delta due to better margins and growth potential.
Why give free meals now?
For the past several years most of the legacy carriers had stopped providing complimentary meals in coach for any domestic flight. There has been a greater move towards unbundling of fares by legacy carriers in order to compete with ultra-low cost carriers (ULCCs). However more than the ULCCs, it is the increase in competition in lucrative premium segment which would negatively affect the legacy carriers. Although Delta is faring a bit better than American Airlines (NASDAQ:AAL) and United Continental (NYSE:UAL) in customer satisfaction, all the three legacy carriers are light years away from JetBlue.
JetBlue has got highest rating in J.D Power North American Airline Satisfaction Study for the past 12 years. Its Mint service has become very popular and has helped JetBlue register some of the highest margins on routes where it is run. In the premium segment Mint has ended up grabbing market share away from legacy carriers. The management is looking to rapidly expand Mint on a number of new routes which will directly compete with Delta.
At this time, Delta has few options but to start improving its customer satisfaction. Complimentary meals are a very easy and inexpensive option for Delta to start with. Delta is also facing competition from Alaska Air which has expanded its routes after acquiring Virgin America. Alaska Air is competing on 10 out of the 12 routes where the complimentary meal service is started.
Valuation
We will continue to see more programs by Delta to improve its services for travelers in the next few quarters. However JetBlue has a clear advantage in this department. As Mint service expands in 2018 and 2019 there will be further pressure on Delta to protect its market share. JetBlue has given better operating margin than Delta and is trading at trailing twelve month PE ratio of 9.05 compared to 8.65 for Delta. Although one must note that JetBlue does not provide a dividend whereas DAL is giving decent yield of 1.62%.
JetBlue is still a better option with a clear advantage in customer preference and fast growing Mint service which can help in expanding the margins.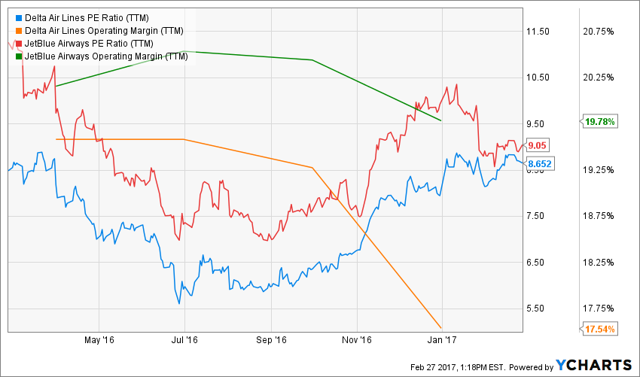 Investor Takeaway
Although complimentary meals are a good start for Delta, it will have to do much more to limit the growth of JetBlue. JetBlue has laid out aggressive plan to expand Mint service for the next few quarters. This will include some of the most profitable routes for Delta. Delta will also see greater challenge from Alaska Air on the Western coast.
At this point JetBlue is marginally more expensive than Delta whereas it has a clear advantage and a long runway for growth which makes it a better investment option than Delta.
Disclosure: I/we have no positions in any stocks mentioned, and no plans to initiate any positions within the next 72 hours.
I wrote this article myself, and it expresses my own opinions. I am not receiving compensation for it (other than from Seeking Alpha). I have no business relationship with any company whose stock is mentioned in this article.