Silver (NYSEARCA:SLV) is a physical market always in deficit, but the price doesn't care.
I have been following the silver market for a long time, but don't write or comment much about it. I am simply tired of hearing the same story and same numbers of how the market has been in supply deficit year after year so the price must rise.
It makes sense and normally markets react to supply and demand. The fact that silver never has except when it should not have clearly states to me that this market is broken and has some kind of weird underlying factor or misunderstood condition affecting it.
Do I know what it is?
To give the honest answer, nothing is certain but I have a theory. However, my gut tells me now is the time to buy. A little bird landed on my shoulder; my intuition says so. Let's look at what I do know, or what available information that is in the public domain. Then I will conclude with a KISS.
First off is the price. The price has a loud voice and often it is not looked at closely enough.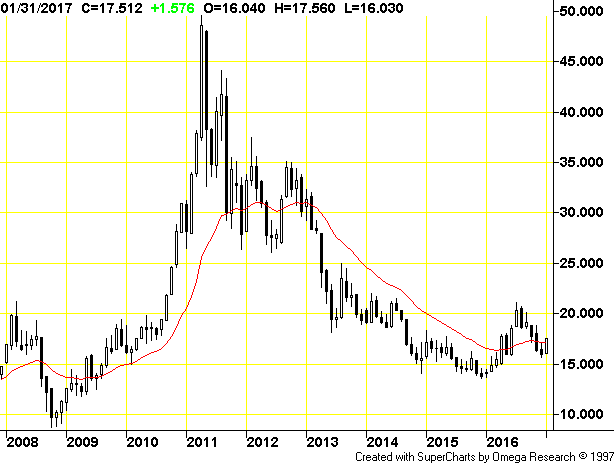 We are around the bottom of the 10-year range so price says there is nothing too bullish about silver. It looks pretty boring, but if you like to buy low it is in that category.
The chart also tells me a bottom might be in. There was a good rally in 2016 and the price has corrected but so far the low is well above the late 2015 bottom, a higher low. Above is a monthly chart to January 31st and the current price is around $18.40. It is looking like price wants to challenge the 2016 high at $20.50. I will provide a shorter term chart further on with my summary.
Let us look at the fundamentals and we will see the supply deficit that is often talked about. This table is from the Silver Institute report for 2015. The 2016 report is not available yet.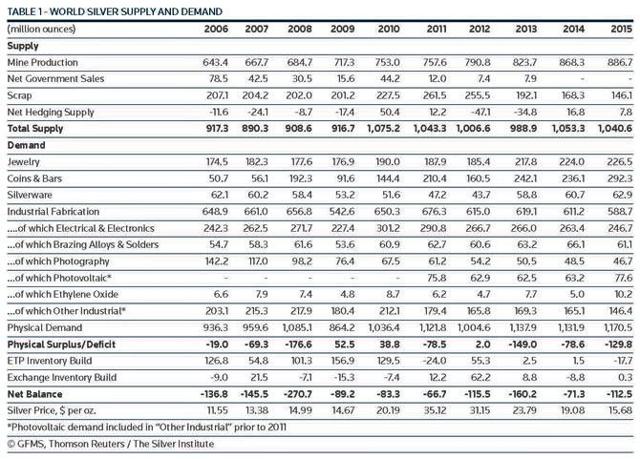 On the supply side, mine production has been inching higher, but official/strategic stockpiles from governments are long gone. Supply from scrap has come down a lot the last few years and that is not surprising because the high prices of 2011 and 2012 sucked a lot of scrap out of the market.
Supply has been very flat the last 10 years on either side of 1 billion ounces. There is no reason to expect much change there. Most silver is mined as a byproduct of other metals so its production is not influenced so much by its own price.
On the demand side I see a few interesting points.
Investors have been strong buyers of physical metal the last few years as coin and bar demand has been rising quite strongly since 2013 when the price dropped. Demand hit a new high in 2015 at 292.3 million ounces.
However, we see the opposite in the ETFs as interest has been practically nothing since 2013 with just 1.5 million ounces in 2014 and negative (17.7) million ounces in 2015. ETFs held 618.7 million ounces at the end of 2015.
Currently etftrends is reporting that SLV is poised to make it 6 straight months of outflows. ETF investors tend to buy high after the market makes a big move as it attracts interest. It is probably a good sign to see such negative sentiment in the ETFs.
I believe the key factor and most important to silver is industrial fabrication. It is the biggest factor on the demand side representing around 60% of total demand. At first glance it might not make sense to many, as fabrication demand has been in decline since peaking at 676.3 million ounces in 2011. What you have to understand is that the industry can change with market perception. The high prices in 2010 and 2011 were driven by fears of low supply and shortages and as a result the industry stockpiled metal to ensure they have supply. Industrial demand has been falling since that peak in 2011 even though world economic conditions have been on the mend.
I would bet this is simply a case of industry running down the inventory levels.
The other unusual factor in this regard is the solar industry.
Silver has the highest electrical and thermal conductivity of all metals, making it an important part of solar cells. It is used in the form of silver paste, which is used to conduct electricity out of solar cells. Industry estimates are approximately 20 grams of silver are used in each crystalline silicon solar panel, which accounts for around 85% of the total market. Roughly 80 metric tons of silver or approximately 2.8 million ounces of silver are needed to generate approximately 1 gigawatt of solar power.
The following charts are from the Solar Energy Industries Association and paint a very good picture of the current industry and trends that we can apply to silver demand.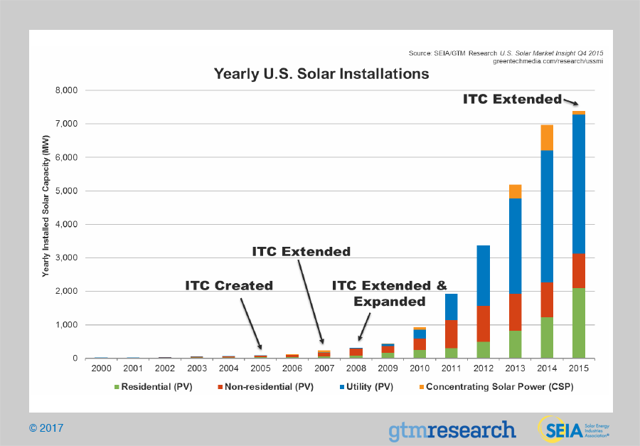 The chart above makes the strong growth in the solar industry obvious. This is U.S. only and the strong demand is driven mostly by electrical utilities. I have been a keen follower of renewable energy and was mostly in favor of wind because solar was too expensive. I did not believe the solar technology would advance as quickly as it has, but you cannot argue with the facts. Solar is now the cheapest new source of electrical generation and that is why utilities have embraced it with open arms.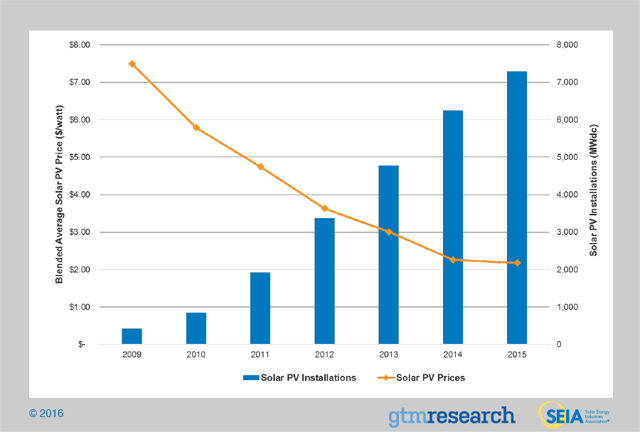 Solar prices dropped 9% from Q3 2015 to Q3 2016

Prices have dropped 62% over the last five years

Utility-Scale PPAs now signed for $0.03-0.05/kWh
This is just not a U.S. growth story but worldwide.
Global installations in 2016 were to reach about 67 gigawatts, up 27 per cent from last year, according to New Energy Finance. In 2017, it's expected to increase by 25 per cent, and in 2018 it will rise 23 per cent.
If you look closely at the chart above by the Silver Institute, you will see it started reporting demand for solar in a separate line item called 'Photovoltaic' in 2011.
What does not make sense on the surface is that demand in this category has not grown since 2011. It has been flat to down. In 2011 demand was 75.8 million ounces, then dropped into the 60s and recovered back to just 77.6 million in 2015.
I believe this is the most important factor in the silver market now and going forward.
At first glance it does not seem to make much sense to see no demand growth for silver in this category. However, if you dig deeper you will discover that the solar industry overbuilt in 2011, causing a glut in the solar panel market.
A Financial Post article in August 2016 talks about another possible solar panel glut and also reflects on the one in 2011.
This is why we have seen flat silver demand in this sector from 2012 to 2014 as oversupply in solar panels has worked its way out of the market. Demand was just picking up again in 2015 and no doubt 2016 numbers when reported will reveal strong demand. I also believe that the solar panel demand and investment demand are pressuring the silver price higher at this time.
The growth in solar panel demand is set to at least double in the coming few years.
The Post article highlights that Canadian Solar (CSIQ), the second-largest manufacturer, was building a 350-megawatt facility in Brazil and JinkoSolar (JKS) is expanding output from a 450-megawatt factory that went into operation in Malaysia in 2015. Trina (TSL), the world's largest panel maker, opened a 500-megawatt factory in Thailand in spring 2015.
As mentioned above global installations of solar were expected to reach about 67 gigawatts in 2016 but Mercom Capital on November 30th was projecting 76 GW for 2016. This is its chart.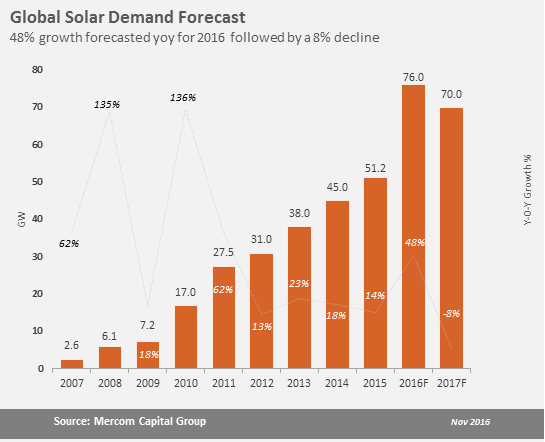 If we use its number rounded to 70 in both 2016 and 2017, that equates to roughly 196 million ounces, almost 3 times more than what the Silver Institute reported for 2015.
Where will all the silver come from? The Silver Institute also reports the market has been in supply deficit (- net balance) the last 10 years.
I believe we are headed for a big bullish reset in the silver market.
The reason we have not seen price pressure is that price is not set by the physical market, but the paper market on Comex and London.
Open interest on Comex silver has been rising and at 210,996 contracts is near the record high seen in 2016 of 225,000. That is 1.055 billion ounces and to put this in perspective, that is more than one year's mine supply.
The Silver Institute report highlights:
In addition to physical investment, silver has an active Over-the-Counter (OTC) market, serving as a mechanism for risk and price management. OTC trade can have a meaningful impact on silver prices because of the market's depth. In 2015, the volume of silver transferred in the London bullion market, the largest OTC market for silver worldwide, totaled approximately 36.8 billion troy ounces (1.14 M t), with a value of $575 billion, according to data published by London Bullion Market Association."
On Comex, the amount traded in a year will be several times the current open interest, so basically we have around 50 times mine supply trading on paper markets each year. That is why the current silver price is not reflecting bullish fundamentals.
On Comex there is a long and short to every trade, so currently there is over a 1 billion ounce short position. Industry users, especially in solar, must be pressuring the silver market - and if they come into these paper markets to seek contract delivery there could be a short squeeze.
Currently there are delivery notices for 614 February Comex contracts for just over 3 million ounces - not a lot. But the more important contract month is May, which has most of the open interest - currently at 154,098 contracts.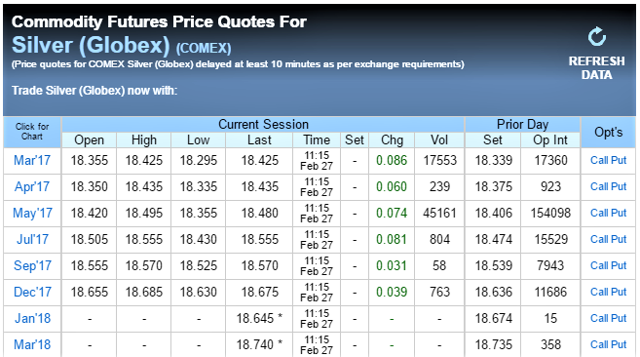 If there is going to be a squeeze, May will be the month to watch.
I should also mention another factor that I believe is pressuring the market and that is the silver manipulation class action suit.
Last year Deutsche Bank (DB) agreed to settle gold and silver price manipulation charges to the tune of $98 million and agreed to cooperate with evidence on the non-settling defendants.
As a result, there are one or more lawsuits against the remaining bullion banks on price manipulation. See an interview on Kitco with Keith Neumeyer of First Majestic for more detail.
No doubt many investors believe the price has been artificially held down, and so are expecting higher prices as these lawsuits are resolved.
Summary
KISS (Keep It Simple Stupid)
The silver price is in an uptrend, the fundamentals (solar demand) are bullish and there is a record short position!
Again, price is important to watch for signals. This is the May Comex silver chart. Open interest is rising with price, so longs are currently in charge of this market. The down trend channel was broken in early February but I have seen the price just around $18 as most important because this was a resistance area and home of the 200-day MA. This was taken out Friday and although I see a bit of resistance around $19, the major resistance will be around $20.50 and I think that is the area we will see tested in this current run. Of course a break above this would be very bullish.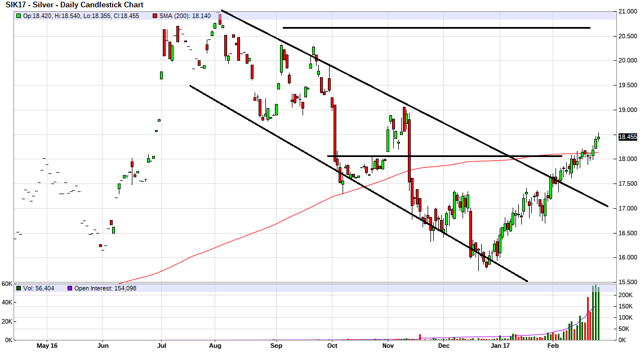 You could buy SLV itself but I prefer more leverage with call options or the silver stocks.
SLV trades roughly at a 5% discount to silver and at this writing is $17.44. Since the focus here is May, I would consider the May $16 call option currently about $1.68. It is $1.44 in the money so the premium is quite low at 24 cents.
One of my favorite silver stocks is Tahoe Resources (TAHO). I wrote with some detail on the company on December 14th here. Although Tahoe produces more gold in dollar terms it is a significant silver producer.
Since December, it has reported very good 4th quarter and 2016 production results.
Silver production in 2016 was a record 21.3 million ounces (Q4 2016: 4.8 million ounces), which surpassed the company guidance of 18 - 21 million ounces. Gold production for the year totaled 385,111 ounces (Q4 2016: 119,932 ounces), in line with guidance of 370,000 to 430,000 ounces.
The company has issued similar guidance for 2017 with growth focused on development of multiple projects, which are expected to drive growth in gold production starting in 2018. Key capital projects include deepening the Bell Creek shaft and further development of Shahuindo as that mine moves towards full production.
2017 production and cost guidance
2017 silver production (moz) 18 - 21
2017 gold production (koz) 375-425

Total cash cost per silver oz produced $7.00 to $8.00

AISC per silver oz produced $9.50 to $10.50
I see the stock as lagging the current rally in precious metals, and being a bit better as a buy since my December article. At that point the stock dropped to around $8.75 the next day, rallied to $11 in early 2016. Now it is even a bit lower with a close on Friday of $8.40. I see this as a 2nd chance to buy well below $9.00, and currently there is a retest of the December low. We want to see this retest hold.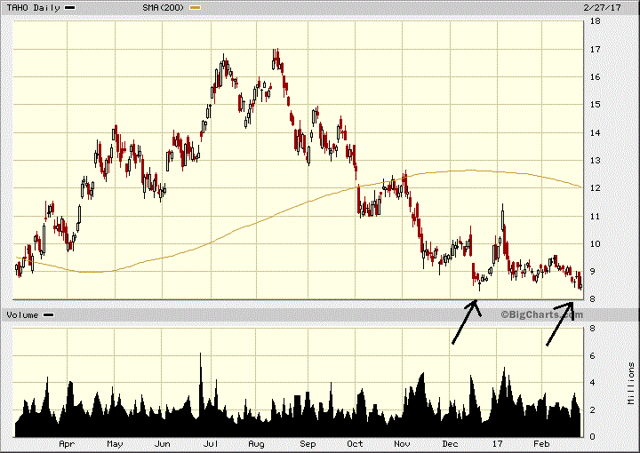 Also in that December 14th article I commented about a record divergence between commodities and gold (GLD) and showed a chart with a wide 20% spread between the rise in the raw commodity index and gold. I expected that it would be resolved by higher gold prices and since then gold has begun to catch up and close this gap.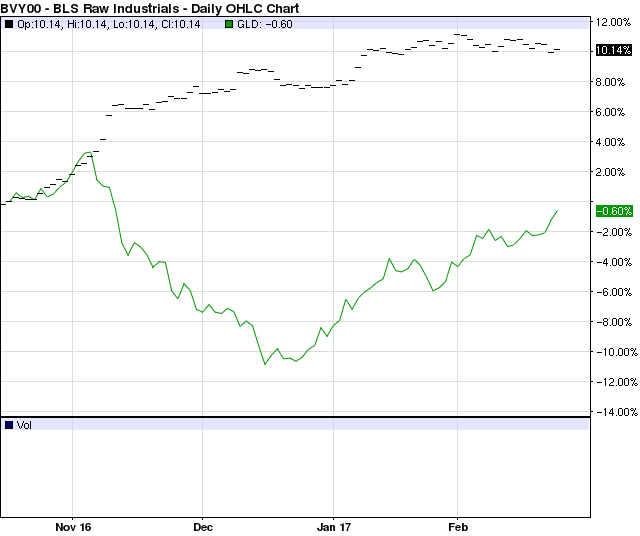 Since that record divergence in December, with the gold rally we now are at about 10% difference. I expect a continued rally in the gold price to $1300 that will bring this back into a more historic range.
NOTE: I follow resource markets, technology and general market trends and reversals. If this article was of interest and you would like to read more such articles, please consider hitting the "Follow" button above. Thank you for reading.