Last week, my article "Putting Low Stock Volatility to Good Use (Guest Columnist at Barron's)" triggered a bunch of emails related to the clustering of low volatility. Most readers expressed an interest in the phenomenon of volatility clusters occurring in both high and low volatility environments, and were curious about the differences between high and low volatility clusters.
When it comes to measuring volatility clusters, I am of the opinion that realized or historical volatility is a more important measurement than implied volatility measurements, such as is provided by the VIX. When I think in terms of VIX spikes, I generally focus on two single-day realized volatility thresholds: a 2% decline in the S&P 500 Index, and a 4% decline.
The graphic below is, in many respects, the inverse of the graphic in "Putting Low Stock Volatility to Good Use (Guest Columnist at Barron's)" - and this should come as no surprise. Simply stated: while both high volatility and low volatility cluster in the short term, volatility regimes tend to persist for several years, so it is very rare to see a clustering of high and low volatility in the same years. This is exactly the principle I laid out more than ten years ago regarding echo volatility in "What My Dog Can Tell Us About Volatility."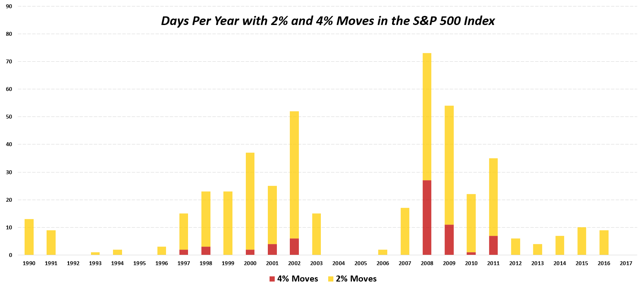 (Source(s): CBOE, Yahoo, VIX and More)
Note also that in spite of all the talk in the past few years of the potential implosion of the eurozone, a hard landing in China, central banks across the globe creating the seeds of our destruction, increasingly bipartisan politics creating deep divides across the nation, etc., volatility has been relatively mild during the past 5-6 years.
The interesting thing about volatility regimes is that they eventually transition from low volatility environments to high volatility environments and vice versa, and create what I call VIX macro cycles in the process. The volatility transition phases are some of the most interesting times in the market and can certainly be some of the most profitable. These inflection points are sure to be a target of some of my future writing on volatility.
So, as VIX and More sails off into its second decade of publication, I vow to flesh out some of my evolving thinking on subjects I have touched upon above (some of which have lain dormant in this space for several years) at the same time that I charge off into new areas. While I will continue to have a laser focus on volatility (particularly its global, multi-asset class aspects), it is time to pay more attention to the "and More" portion of this title of this blog and make a push into new frontiers. Said another way: my thinking likes to cluster, but it likes to spike as well.
Disclosure(s): None.