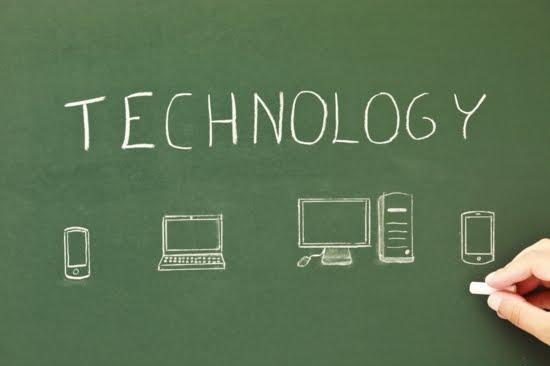 Technology has traditionally been known as one of the more speculative sectors of the stock market. With the possible exception of pure biotech plays, I can't really think of another that holds the intrigue and optimism of investors as does technology stocks.
In fact, investors' penchant for tech stocks led to one of the great boom and bust cycles in the market's history during the late 90's. The birth of the internet and the personal computer, and the optimism surrounding the companies that fostered their development, led to a huge run-up in valuations prior to the market correction in 2000. Looking at the YChart below, you can see it took roughly 15 years for the NASDAQ (IXIC) to recover those previous highs once the dot-com bubble burst.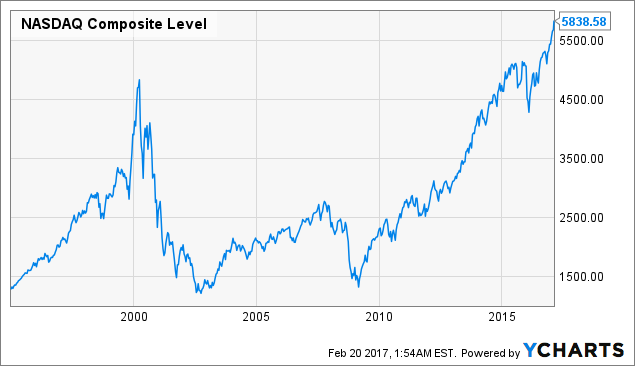 There were plenty of failed companies that never recovered following the collapse, but a handful of the tech giants did, and have now become some of the largest corporations in the world. Companies like Microsoft, Apple, Cisco Systems, and Intel lost up to 90% of their share price, and in some cases, have yet to return to those 2000 highs.
While they may not have recovered their share prices, that doesn't mean they have been bad investments over the last 15 years. These large cap companies have now transitioned from being high-flying tech, to slow and steady growers with fortress balance sheets, high cash generation, and steadily growing dividends. This makes them ideal candidates for dividend growth portfolios, despite their relatively short track records as dividend paying companies.
Series Overview
This article presents the 8th sector in my series covering the top dividend growth companies in the market, building on the previously covered Utility, REIT, Water Utility, Consumer Staple, Consumer Discretionary, Healthcare, and Industrial sectors.
I've had various progressions of this technology watch list on the shelf for over a year now, and decided it was time to finally get it finished up and published for readers.
Generally speaking, the technology sector is a category of companies engaged in the design, development, and production of various forms of technology. Some examples of industries included in this sector are: semiconductors, electronic components, telecommunications equipment, business and financial services, social media, software, and hardware.
With the sector covering such a wide range of specialized businesses, I quickly found out that this would be one of the more difficult sectors to cover with this type of article. Not only does there seem to be more earnings volatility with some of the members of the list, there is also an important piece of information missing from them as well: the lack of guidance for targeted dividend payout ratios by management.
My dividend growth projections have traditionally been set based on guidance from management regarding their dividend policies. However, when searching through conference calls from the tech stocks, I found that dividends are often more of an afterthought than they are a focus of shareholder returns.
In fact, just 3 of the 26 companies listed provided any sort of guidance on expected dividend growth rates or targeted payouts. This differs greatly from sectors like utilities, industrials, consumer staples, and REITs, where growing dividends are a main focus of shareholder returns.
Another big change with this list is the inclusion of two companies that pay zero dividends: Alphabet Inc. (NASDAQ:GOOGL) and Facebook Inc. (NASDAQ:FB). I know there is significant interest in these companies by investors, and thought it would be an interesting addition to compare their total return projections with others on the list.
The Watch List
As mentioned, the final list is comprised of 26 companies from a wide variety of sub-industries of the technology sector. These selections were sourced primarily from David Fish's U.S. Dividend Champions (CCC for short) spreadsheet, with just Alphabet, Facebook, and Intel being added outside of that group. I did consider adding additional companies, and could be convinced to do so for future articles, but decided to cap the list at 26 due to time constraints in gathering further info.
David Fish's spreadsheet lists 47 companies from the Information Tech sector, and I put each of them through F.A.S.T. Graphs to find the ones that I thought offered the best combination of consistent growth, credit ratings, and future growth prospects.
Here are the companies that made the list:
| | | | | | | | | | | |
| --- | --- | --- | --- | --- | --- | --- | --- | --- | --- | --- |
| Ticker | Company | Sub-Sector | # Years Div. Inc. | S&P Credit Rating | Debt / Cap | Market Cap (B$) | 52WK HIGH | 52WK LOW | % Below 52-week High | Share Price |
| | Alphabet Inc | Software & Services | - | AA | 3% | $584.4 | $867.00 | $672.66 | -1.8% | $851.36 |
| (NASDAQ:AAPL) | Apple Inc. | Consumer Goods | 5 | AA+ | 35% | $724.5 | $137.12 | $89.47 | 0.0% | $137.11 |
| (NYSE:ACN) | Accenture Plc | Business Services | 12 | A+ | 0% | $80.0 | $125.72 | $97.92 | -2.8% | $122.21 |
| (NASDAQ:ADI) | Analog Devices, Inc. | Semiconductors | 14 | BBB | 25% | $25.5 | $82.87 | $50.10 | -1.0% | $82.06 |
| (NASDAQ:ADP) | Automatic Data Processing | Business Services | 42 | AA | 32% | $45.1 | $104.09 | $83.09 | -3.5% | $100.42 |
| (NYSE:APH) | Amphenol Corporation | Telecomm Equipment | 6 | BBB+ | 39% | $21.5 | $69.99 | $51.47 | -0.2% | $69.82 |
| (NYSE:BMI) | Badger Meter, Inc. | Electronic Equipment | 24 | n/a | 0% | $1.1 | $39.85 | $29.30 | -9.0% | $36.25 |
| (NYSE:BR) | Broadridge Financial Solutions, Inc. | Financial Services | 10 | BBB+ | 45% | $8.2 | $71.74 | $55.23 | -4.0% | $68.86 |
| (NASDAQ:CSCO) | Cisco Systems, Inc. | Communications | 6 | AA- | 31% | $173.1 | $34.21 | $25.65 | -0.4% | $34.09 |
| (NYSE:GLW) | Corning Incorporated | Electronic Components | 6 | BBB+ | 16% | $25.8 | $27.89 | $17.69 | -0.5% | $27.74 |
| | Facebook Inc | Software & Services | - | n/a | 0% | $393.9 | $136.79 | $102.74 | -0.5% | $136.12 |
| (NYSE:FDS) | FactSet Research Systems Inc. | Financial Services | 18 | n/a | 42% | $7.2 | $183.64 | $143.08 | -1.2% | $181.41 |
| (NYSE:HRS) | Harris Corporation | Communications | 15 | BBB- | 54% | $13.9 | $111.20 | $73.32 | -0.7% | $110.44 |
| (NYSE:IBM) | International Business Machines Corp. | IT & Hardware | 21 | AA- | 57% | $171.9 | $182.79 | $129.68 | -0.9% | $181.15 |
| (NASDAQ:INTC) | Intel Corporation | Semiconductors | 2 | A+ | 22% | $171.1 | $38.45 | $28.38 | -6.2% | $36.07 |
| (NASDAQ:INTU) | Intuit Inc. | Application Software | 6 | BBB+ | 23% | $30.7 | $120.55 | $94.10 | -0.9% | $119.43 |
| (NASDAQ:JKHY) | Jack Henry & Associates, Inc. | Business Services | 26 | n/a | 0% | $7.3 | $93.54 | $79.00 | -0.2% | $93.37 |
| (NASDAQ:LLTC) | Linear Technology Corporation | Semiconductors | 25 | n/a | 0% | $15.6 | $65.03 | $41.77 | -0.5% | $64.68 |
| (NYSE:MA) | Mastercard Inc | Financial Services | 6 | A | 34% | $118.8 | $111.07 | $84.59 | -1.5% | $109.44 |
| (NASDAQ:MSFT) | Microsoft Corporation | Software | 15 | AAA | 38% | $496.3 | $65.91 | $48.03 | -2.4% | $64.36 |
| (NYSE:ORCL) | Oracle Corporation | Software | 8 | AA- | 48% | $175.3 | $42.52 | $35.77 | 0.0% | $42.51 |
| (NASDAQ:QCOM) | QUALCOMM, Inc. | Semiconductors | 14 | A+ | 23% | $84.8 | $71.62 | $49.67 | -20.3% | $57.10 |
| (NYSE:TEL) | TE Connectivity Ltd | Hardware | 6 | A- | 23% | $26.9 | $76.49 | $54.54 | -1.6% | $75.27 |
| (NASDAQ:TXN) | Texas Instruments Incorporated | Semiconductors | 13 | A+ | 21% | $77.8 | $79.47 | $51.31 | -2.8% | $77.23 |
| (NYSE:V) | Visa Inc | Financial Services | 9 | A+ | 32% | $204.8 | $88.15 | $69.58 | -0.4% | $87.80 |
| (NASDAQ:XLNX) | Xilinx, Inc. | Hardware | 14 | A- | 24% | $14.9 | $62.24 | $41.53 | -3.9% | $59.81 |
The first thing that strikes me when looking at the list is the fact that nearly every company is trading near 52-week highs. QUALCOMM is trading roughly 20% below its highs, and Intel and Badger Meter are 6% and 9% off of theirs, but the remaining 23 companies are all trading at the top of their ranges.
I also found the financial strength of the group to be quite impressive, as all but three of the companies with S&P credit ratings are rated BBB+ or better. The wide variety of companies is also interesting, as $1B market cap Badger Meter and $7B market cap Jack Henry & Associates will be ranked alongside mega-cap behemoths like Apple and Microsoft.
Historical Numbers & Analyst Estimates
The next spreadsheet will take a look at the historical dividend growth rates for each company, and also add in analyst EPS estimates, "Fair Value" PE targets, and Delta PE calculation to show the relative valuations of each company.
The dividend growth rates were collected from the CCC List, while EPS estimates were collected from Yahoo Finance and F.A.S.T. Graphs. Each company was also run through various historical time-frames on F.A.S.T. Graphs to determine the "Fair Value" PE target, which was then used to calculate the Delta PE percentage.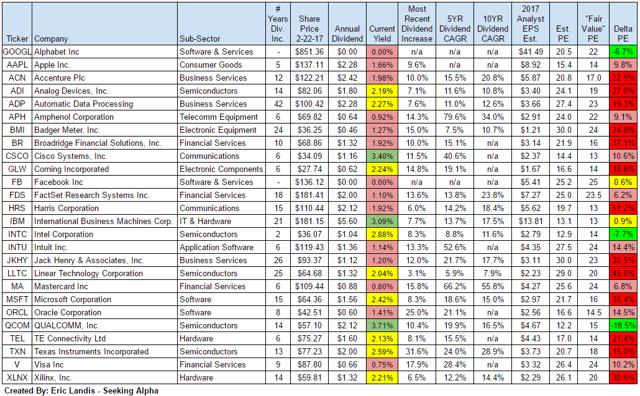 The dividend growth histories for these companies are quite impressive. With the exception of Linear Technology Corp., every one with a dividend streak longer than ten years has grown it at a rate of better than 10%. Additionally, Linear Technology was the only one who raised by less than 5% with the most recent increase.
Looking at valuations, just 3 companies: Alphabet, Intel, and QUALCOMM are trading below fair value based on 2017 earnings. Meanwhile, 10 of the 26 companies are trading at least 20% above fair value, which is a bit disconcerting considering the earnings estimates are on a forward-looking basis.
The rich valuations have led to slim pickings for income investors, as there are currently just 3 companies: IBM, Cisco, and QUALCOMM providing dividend yields greater than 3%.
Income & Total Return Projections
After looking at historical numbers and present valuations, I'll now take a shot at predicting the future. But before we get into the numbers, I'll point out again the big difference I found between the technology sector and others I've previously covered.
For whatever reason, tech companies do not provide guidance for targeted dividend payout ratios. Just 3 (Analog Devices, Texas Instruments, and Visa) of the 26 companies provided guidance of any kind, and of those, only Visa mentioned any sort of earnings payout ratio range.
Obviously, this makes predicting future dividend growth a bit more of a challenge. So for this spreadsheet I have looked at payout ratios through the last decade and what the companies have granted with recent dividend increases, and used those as a basis to determine my payout ratio target.
I then used analyst expected earnings growth rates and the targeted payout ratios to make my dividend growth predictions. This dividend growth rate was then used to calculate the future 5YR yield on cost "YOC".
Finally, the dividend and EPS growth rates along with the Delta PE valuation numbers were used to calculate the expected total returns with dividends reinvested.
Here are the final results: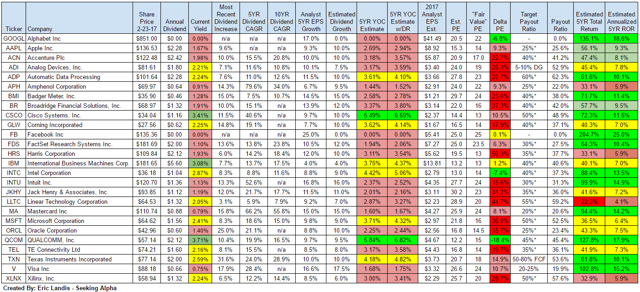 While the technology sector lags some other sectors in yield, it does present some attractive ideas for capital gains. 12 of the 26 companies are expected to provide double-digit total returns, with the two non-dividend payers Alphabet and Facebook leading the way.
Cisco Systems and QUALCOMM are currently showing the best income potential, as both are expected to produce 5%+ yield on cost numbers after 5 years.
The Final Top Ten
For my final top ten list I am breaking a bit from tradition, and using both income and total return projections for my selections. In previous articles I focused exclusively on expected income, but with there being a bit more uncertainty on that parameter with the tech stocks, I will take leaders from the expected total return metric as well.
Here are the ten that made the final cut:

QUALCOMM, Inc., a leader in the digital telecommunications products and services business, comes in with the top ranking on the list. The company has a 14-year streak of dividend growth that should be extended soon, as it typically announces a dividend increase in the beginning of March.
The company ranks well in both income and total return potential, as I am projecting a 5YR YOC of 6.81% and an annualized rate of return of 17.9%. This is due primarily to a depressed share price that is currently 20% below 52-week highs and has created an attractive current yield of 3.7% and a PE of just 12.3 on expected 2017 earnings of $4.67.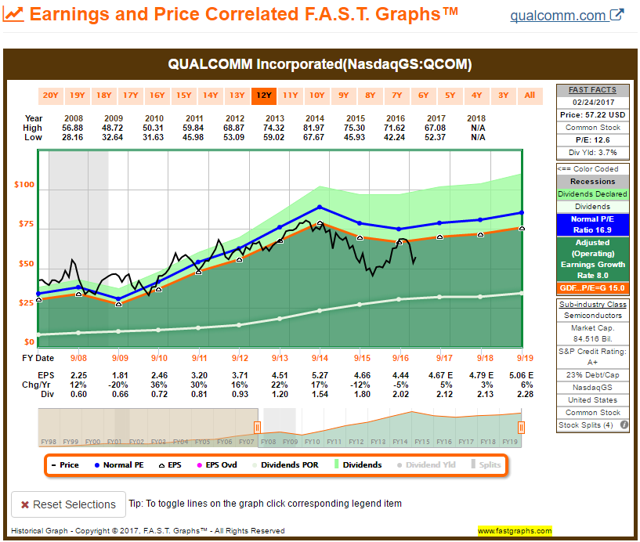 There are some questions surrounding the company as it has seen lawsuits regarding royalties it collects from patents. It also operates in the volatile semiconductor industry, which makes it vulnerable to potential disruption in the business from competitors. That said, the current cheap valuation and high initial yield are attractive, and should the acquisition of NXP Semiconductors (NASDAQ:NXPI) be finalized, this recent swoon could be an excellent buying opportunity for long-term investors.
Cisco Systems Inc. is a prime example of the excesses seen during the 90's tech boom, as it traded at a 160+ PE in early 2000 before the bubble popped. Investors who bought at the high are surely disappointed, as its share price has still not recovered those levels. However, the company itself has done quite well since then, as it has produced annualized earnings growth of 12.8% over the last two decades.
Cisco is a great example of a company that has grown up and transitioned from a pure growth stock to a growth and income type of investment. It has quickly grown the dividend since initiating it in 2011, and supports a healthy payout ratio of nearly 50%, making it one of just three companies on the list with a yield over 3%.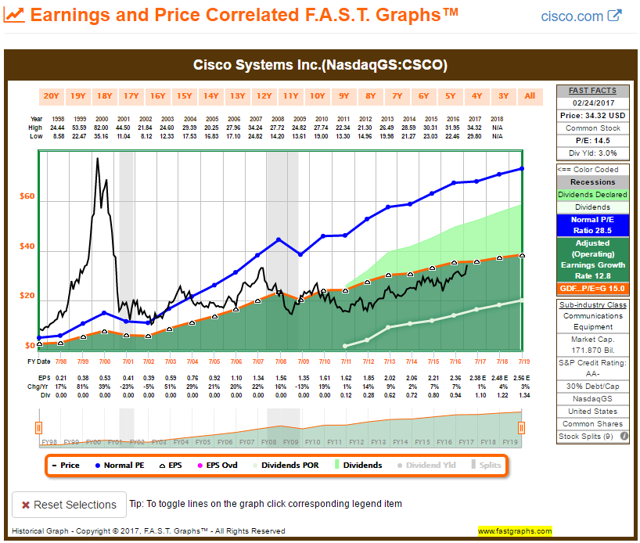 The stock is reasonably valued at 14.5 times earnings, and is expected to grow at a high-single digit rate going forward. The combination of a 3.4% yield and solid growth provides a good chance for double-digit total returns for investors.
Chip maker Intel Corp. is another high-flying company from the 90's that has made the transition to a slower growth and income type of investment. As with QUALCOMM, it has seen a bumpier ride to growth than Cisco has due to the more volatile semi-conductor business that is operates in.
This is evident in the long-term F.A.S.T. Graph, which shows several hills and valleys through the years. This is also the reason for the short 2-year streak of dividend growth, as it froze the dividend in 2014 when earnings dropped due to declining PC sales.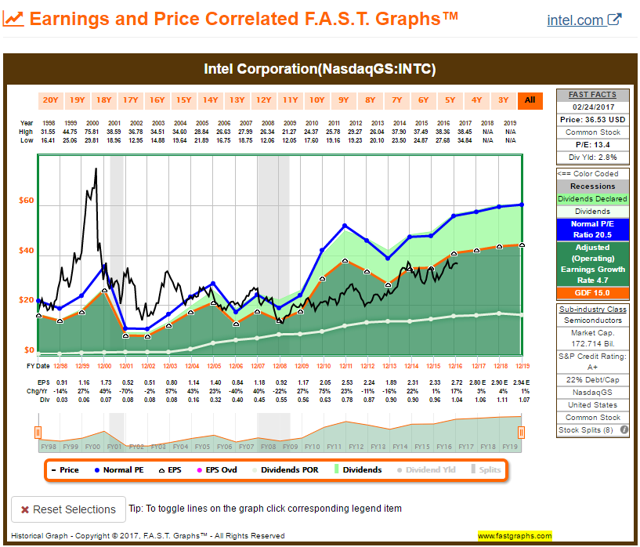 That said, the current 37% payout ratio looks reasonable, and analysts are expecting solid 8-9% earnings growth going forward. With a yield of nearly 3% and a PE of just 13.1, this seems like a reasonable entry point for investors.
Texas Instruments Inc. is another semi-conductor company that makes the income portion of the list after the company has aggressively raised the dividend in recent years, bringing the payout ratio up to a respectable 54% of earnings.
Additionally, management has guided towards a new shareholder return model calling for a greater emphasis on dividends over share repurchases and a total payout of 50-80% of trailing 4-year free cash flow. As a result, there could be some upside to my 10% dividend growth forecast, which I matched to the earnings growth expectation from analysts.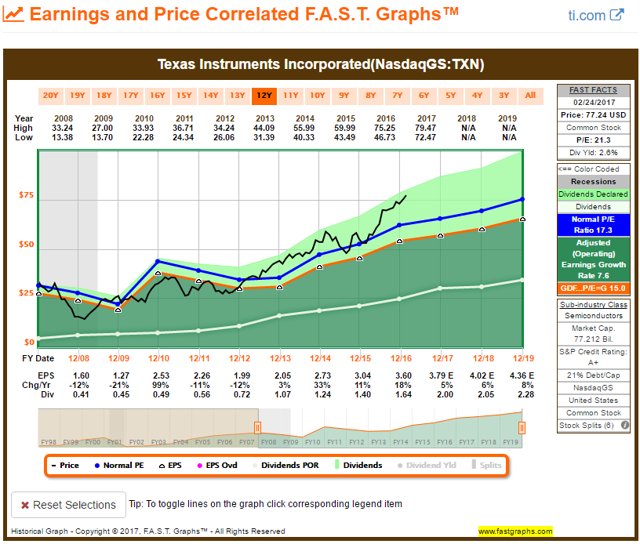 Texas Instruments is roughly 15% overvalued based on my target PE of 18, which results in a lower current yield of around 2.6%. It might be worthwhile to be patient and wait for a lower entry point on this one.
The final income-based selection of the group is International Business Machines Corp., which has one of the longer dividend growth track records on the list at 21 years and counting.
IBM is one of the more contentious stocks on the list as some see the company as a broken one, destined to a long slow decline in revenue and earnings. I admit the company has struggled, but I think the rumors of IBM's demise are a bit exaggerated, and believe it is about to finally see some positive results from its business reorganization efforts.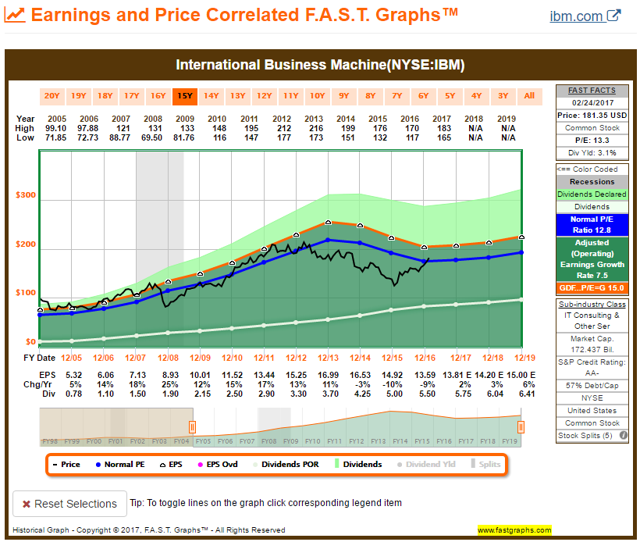 IBM is currently trading right near my fair value PE of 13, making it still a buy despite its recent run-up. I think there is upside to both my income and total return projections should the company return to earnings growth, as the 4% number is fairly pessimistic about its long-term prospects.
Facebook Inc. comes in as my top total return pick for the sector, as it is buoyed by 25% earnings growth estimates by analysts. The company is young and hasn't yet started paying a dividend, choosing instead to reinvest its earnings back into growing the business.
With over a billion daily active users worldwide, there is plenty of room for further earnings growth, as the company works towards monetizing those eyeballs with increased advertising. Additionally the company is the owner of Instagram, WhatsApp and Messenger, which could provide future monetization avenues in the future.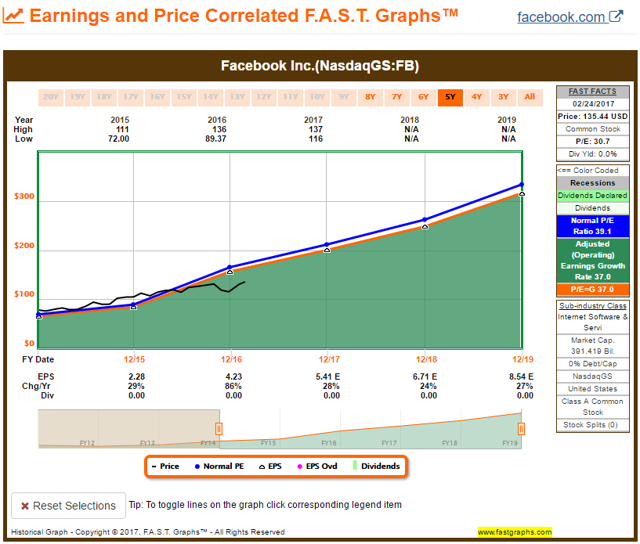 The valuation looks quite reasonable at a 25 PE, which is a PEG of just 1 when factoring in the expected 25% earnings growth. I think the company is a solid buy even as the stock sits near all-time highs. I bought a starter position in one of my portfolios in January, and am hopeful it can become a long-term hold for me.
Alphabet Inc. has been around a few more years than Facebook, and has been equally impressive in its performance since going public. The company has consistently produced 10-20% earnings growth over the last decade, and is expected to continue that trend going forward.
Alphabet does not yet pay a dividend, but with an AA+ credit rating and just a 3% debt/cap it certainly could afford to. Management has not stated any intention to initiate one, but I believe that as the cash pile continues to grow, a dividend could be on the horizon.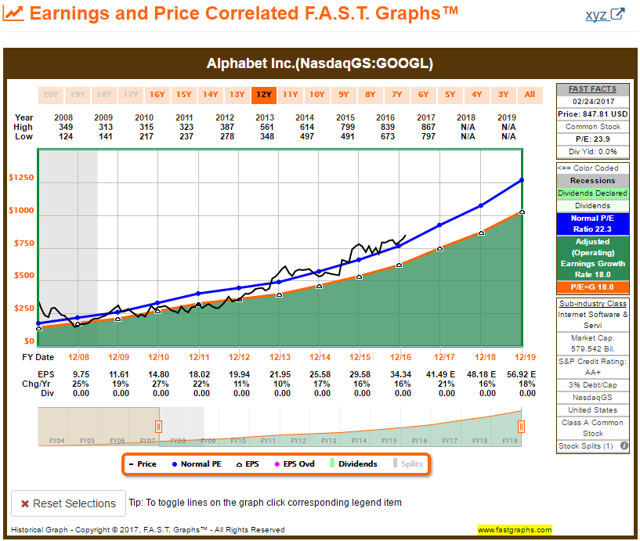 The stock currently trades at 20.5 times the expected 2017 EPS of $41.49, putting Alphabet at a slight discount to my 22 PE fair value target. With analysts expecting 17% growth going forward, this appears to be another attractive capital gains opportunity for investors.
Visa Inc. is a payments technology company that has capitalized on society's transition from a cash to credit payment system. It has produced a 9-year streak of dividend growth and has grown earnings and dividends at a high-teens rate since its IPO in 2008.
The company has generally maintained a 20% payout ratio on trailing earnings, which I expect to continue for the foreseeable future. Looking forward, analysts expect earnings growth in the mid to high-teens, a growth rate that should be mirrored by the dividend.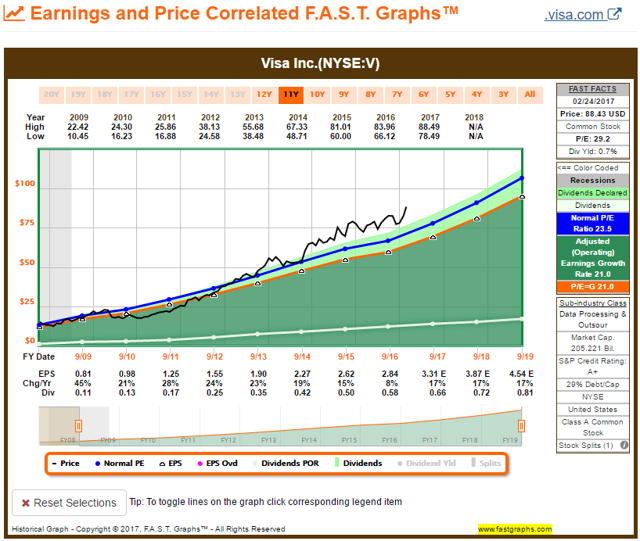 After its recent run-up, Visa is trading roughly 10% above my fair value PE of 24. I'd be looking at about the $80 as my target for potential purchase.
For whatever reason, payment tech company Mastercard Inc. doesn't seem to get quite as much love around here that Visa does. This is surprising to me, as Mastercard has produced just as impressive results for investors with nearly 20% annualized returns over the last decade.
The company also has similar growth expectations of 15% going forward. This target seems reasonable considering Mastercard hasn't had a year of less than 10% EPS growth since its inception, not even during the Great Recession!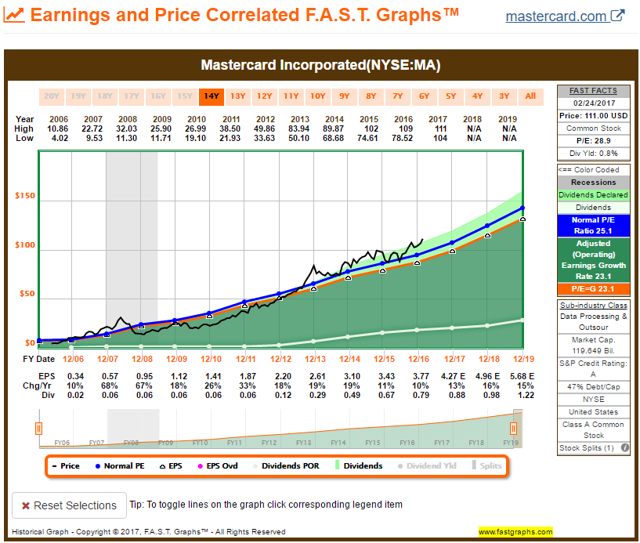 Shares in Mastercard are also a bit pricey, as it currently trades for about 26X expected 2017 earnings of $4.27. I would be looking for the $100 level as my target for a new position in the stock.
The final company on the list, Intuit Inc., is an application software company best known for its flagship QuickBooks and TurboTax products. Intuit has been another excellent performer through the years, putting up 15%+ annual growth since 2002.
On the dividend front, Intuit has just a 6-year track record of growth, but has quickly brought the payment up to a ~30% payout ratio, a level that it looks comfortable paying. I expect both earnings and dividend growth to continue at a mid-teens rate going forward.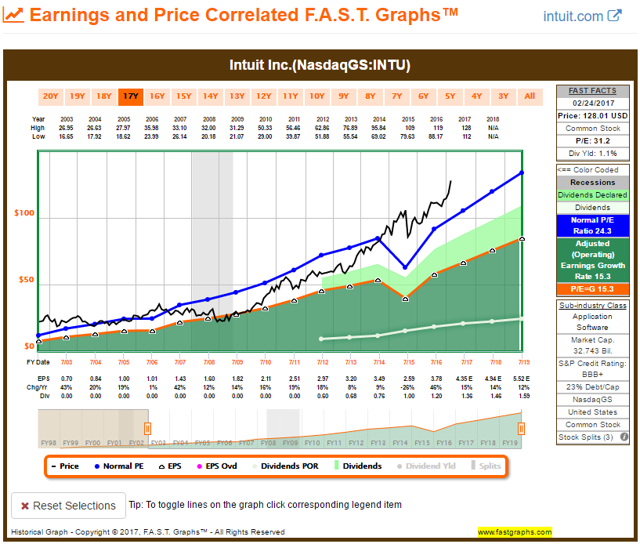 Intuit shares are pretty expensive at nearly 29 times 2017 estimates, so it is another company that might be worth being patient on for purchase. I would target $105 as a potential starting point for new investors.
Summary & Conclusion
The technology sector has proven to be the most difficult yet for predicting future dividend growth. The volatility in some sub-sectors of the industry along with the lack of guidance from management about dividend policy made forecasting a bit of a guessing game for me.
That said, there are some intriguing names on the list, and I think some attractive names for income and growth investors alike. I was impressed with the financial strength of many of the companies, as many had low debt/cap ratios and "A' credit ratings or better from S&P.
I think my experiment in adding a couple non-dividend paying companies to mix was a success, as Facebook and Google finished at the top of my total return projections. I may consider doing the same in the future with some of my other sector-based lists.
I would love to hear feedback regarding this list, and thoughts on the series in general. As you may have guessed, putting together these extensive articles takes a lot of time, and I am questioning if I am taking the right approach with them. Would readers prefer more frequent updates of the spreadsheets in lieu of the highlights and commentary on my top ten picks? Do you like seeing more growth type stocks in the list or is it best to stick to dividend-only companies?
If you would like to receive notification when future articles like are published, please click the "follow" button next to my name at the top of the page. Additionally, you can read more of my work at my blog, www.DGIfortheDIY.com.
Disclosure: I am/we are long AAPL, FB, IBM, MSFT, QCOM, V. I wrote this article myself, and it expresses my own opinions. I am not receiving compensation for it (other than from Seeking Alpha). I have no business relationship with any company whose stock is mentioned in this article.
Additional disclosure: I am a Civil Engineer by trade and am not a professional investment adviser or financial analyst. This article is not an endorsement for the stocks mentioned. Please perform your own due diligence before you decide to trade any securities or other products.