Zosano Pharma (NASDAQ:ZSAN) is an emerging lifesciences company that is developing novel treatments for diseases using its proprietary transdermal delivery platform. The company's stock has been on a tear for the past week after announcing successful phase 3 results of M207, its transdermal patch for the treatment of acute moderate to severe migraine using a handheld applicator.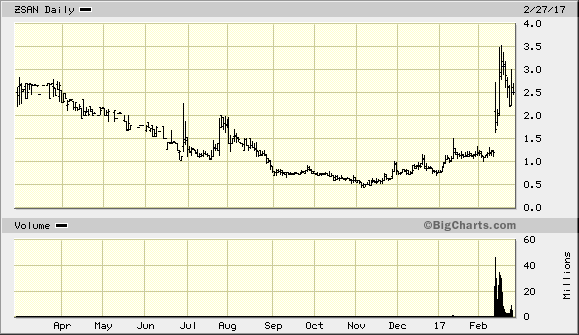 (Zosano Pharma: common stock price chart)
The problem:
The prevalence of migraine is about 13% in the US population. About 37 million Americans suffer from migraine (source). It is most common in the women (85% of all patients). About 20 to 25% of patients with acute migraine headache also have gastrointestinal symptoms like nausea and vomiting, and are unable to take first-line oral medications like nonsteroidal anti-inflammatory drugs and oral triptans. Global acute migraine market is about $3.3 billion in size and estimated to increase to $4.4 billion by 2020. Migraine drug market is projected to grow 8% annually over the next five years (10-Q). Sumatriptan (Imitrex) which came to the market in the 1990s had sales of about $2.6 billion of all different delivery forms in 2007. Various companies have tried to develop non-oral forms of delivery for sumatriptan for example subcutaneous injection, intranasal delivery etc. About 50% of migraine patients do not like needles although they provide quicker pain relief compared to oral form (10-Q).
Zosano's solution:
In phase 3 study, M207 resulted in two-hour freedom from migraine pain in 41.5% patients (3.8 mg) versus 14.3% in placebo, (p=0.0001). Freedom from most bothersome symptoms like nausea and vomiting at 2 hours was 68.3% in the drug versus 42.9% in placebo which was highly significant. Freedom from the headache started as early as 45 minutes in 17.1% of patients and lasted up to 48 hours in 64.6% patients. The therapy was also safe. 3.9% patients had pain at the application site which was mild in all except three subjects. 18.3% subjects had redness at the application site.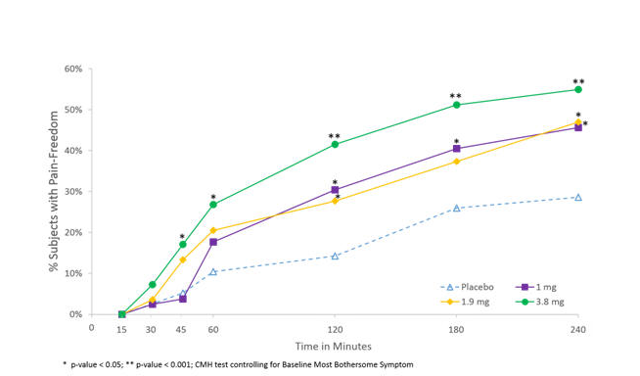 (Results of pivotal ZOTRIP Phase 3 study, source)
Competition:
The two-hour pain free rate for the therapy is higher than oral triptans (23-38%) and oral ubrugepant (25.5%). Intranasal sumatriptan and subcutaneous sumatriptan have 2-hour pain free rate of 68% and 52.6% (6 mg dose) respectively. Recently acquired Colucid Pharma's Lasmiditan showed 32.2% 2-h pain free rate.
Leadership:
President and CEO, Konstantinos Alataris, PhD was the founder and CEO of Nevro Corporation (NYSE:NVRO). Prior to that he was vice president at Bay City capital, a healthcare focused venture capital fund. Donald Kellerman, VP, clinical development and medical affairs was the senior VP of clinical development and regulatory affairs at Tonix pharmaceuticals and ex-Senior VP of clinical development and medical affairs at Map pharmaceuticals (acquired by Allergan). The board of directors includes current chief operating officer at Regulus therapeutics (NASDAQ:RGLS), and the current CEO and president at Kura oncology (NASDAQ:KURA).
Financials and valuation:
The company has about $23.1 million of cash reserves (after the recent offering), and $18M of liabilities ($14 million in long-term debt). The cash reserves should be enough till end of 2017.
Market analysis: The company's estimate for number of migraine patients requiring its acute therapy is about 1.9 million in the US alone. The company's estimate of average acute migraine episodes per patient per year is about 33 (63 million acute headache episodes per year). Newer therapies like CGRP antibodies have the potential to reduce the number of headache days per month. We modeled 24 million migraine headache episodes as US target market per year.
Cost analysis: The closest comparator to Zosano's therapy is Sumavel dosepro (needle-less sumatriptan) whose average wholesale price, AWP for 6 pens (1 carton) is about $1100 (average sales price, ASP=$136 for each 6 mg pen which is used in each headache episode, at ASP=74% of AWP, median per Pharmagellan guide). Using similar pricing, we input $136 ASP for each dose of Zosano's M207.
Probability analysis: M207 has successfully passed phase 3 trials and NDA is expected to be submitted soon. The median probability of success at this stage is about 88.4% (Pharmagellan Guide). We input probability of success=90%.
Market share analysis: Potential existing and under-development competitors include: subcutaneous sumatriptan, Ontreza (intranasal sumatriptran), sumavel dose pro, nasal zolmitriptan, iv and im ketorolac, Levadex (inhaled dihydroergotamine), parentral and intranasal dihydroergotamine, etc. among others. Estimating a 10-drug market in this indication, we input peak 10% market share in 2023 (6 years after launch in 2018) in the US. The trajectory for drug uptake was in line with the median for the industry: 11% of peak market share (year 1), 31 % of peak market share (year 2), 58% of peak market share (year 3), 76% of peak market share (year 4), 89% of peak market share (years 5) and peak market share in year 6 (Pharmagellan guide). Patents extend till 2027.
Peak revenue analysis: Using these inputs, we modeled peak $293 million of risk-adjusted revenue in the US (2023).
Risk-adjusted NPV, M207 for acute moderate-severe migraine, US: Marketing costs were input as 5% of annual revenue. Sales force cost inputs were 30 reps in 2017 and 100 reps at annual cost of $280K each starting 2018 (Pharmagellan guide average for specialty drugs). We modeled risk-adjusted NPV of future revenue from this indication= $290 million (cost of capital=15% till 2023, then 12% and 10% at patent expiry).
Fair value of equity: We calculated fair value of equity= $353 million or $12.65 per common share (using diluted share count) after adjusting for non-operating assets, net operating loss carryforwards and liabilities.
While our price target seems high at present, it seems reasonable looking at some recent acquisitions in the acute migraine space. MAP Pharma was acquired for Allergan (NYSE:AGN) for about $958 million for Levadex (inhaled dihydroergotamine). Peak sales estimate for Levadex is $500 million. Recently, Eli Lilly (NYSE:LLY) acquired Colucid Pharmaceuticals for $960 million. In addition, we have not included potential future revenue from other products in the pipeline like ZP-PTH (passed phase 2, a transdermal formulation of parathyroid hormone in osteoporosis, which could compete with Radius health), and ZP-glucagon, a transdermal formulation of glucagon to treat severe hypoglycemia (passed phase 2). Institutions like FMR LLC, Armistice Capital, NEA management and Eventide asset management have bought the common stock after the company announced phase 3 results.
Risks in the investment:
It is possible that regulatory agencies might not approve the products, unexpected side effects might be seen in the future, clinicians might not widely prescribe the products or insurers might not reimburse them. Competing products from other companies might gain significant market share in the planned clinical indications. The company may also need to raise additional capital in future.
Conclusion: We are adding Zosano Pharma to our model portfolio with first price target=$12 (1-2 years time frame).
Note: To get more investment ideas like this as soon as they are published, click on my profile and hit the big orange "Follow" button and choose the real-time alerts option.
Premium Research Service
Get more investment ideas like this by subscribing to Vasuda Healthcare Analytics, our premium equity research service (listed in Seeking Alpha's Marketplace). Subscribers have earlier access to the research reports, can download the valuation models/spreadsheets, have access to the model portfolio (with price targets and suggested allocation), conviction buy list (30 companies), a contrarian portfolio and a subscriber-only chat room. Free two-week trial to the service is available for a limited time only (limited to 25 free trial spots only). Link to subscribe.
Disclosure:
This article represents my own opinion and is not a substitute for professional investment advice. It does not represent solicitation to buy or sell any security. Investors should do their own research and consult their financial adviser before making any investment.
Disclosure: I am/we are long ZSAN.
I wrote this article myself, and it expresses my own opinions. I am not receiving compensation for it (other than from Seeking Alpha). I have no business relationship with any company whose stock is mentioned in this article.
Editor's Note: This article covers one or more stocks trading at less than $1 per share and/or with less than a $100 million market cap. Please be aware of the risks associated with these stocks.