I find that the most powerful investment concepts are usually the most simple and logical ones. In this article I want to talk about how an incredibly basic approach to historical earnings analysis in Canadian markets can improve your risk to reward profile.
Earnings Analysis
There are many ways you can attack this subject. Some people prefer high-growth stocks in hot industries where earnings are rapidly accelerating. This approach can work if you are proficient at forecasting industry performance and long-range company growth prospects based on its potential.
Another approach is to look for defensive properties in company earnings. You may not earn as much in high-growth markets but the goal is to stabilize returns between months and years. My very basic approach to this is to look for the following 2 variables:
Positive earnings over the past 10 years
Some earnings growth over the past 5 and 10 years
This is pretty simple. These two principles are inspired by Benjamin Graham, who used similar rules in his Enterprising and Defensive recommendations, and are also used in the Graham's Deep Value portfolio for Canadian stocks.
The rationale behind using these 2 criteria is obvious. The company has proven earnings power over the trailing decade. This may very well include a bear market. A company that can maintain positive earnings in the most difficult economic conditions gives an investor a good reason for a second look. At least some earnings growth is desirable over the past 5 and 10 years. If I were to strictly follow the Graham recommendation I would require at least 33% earnings growth over the past 10 years (or a 2.9% compounded annual growth rate). But I will leave it as is - I will accept any amount of growth.
This should weed out companies that are too young which do not have enough earnings history to gain our confidence in addition to rooting out companies/industries which are in 'decline mode' with falling earnings.
The other advantage that I see to this very basic approach is low turnover. A company would only be excluded if annual earnings were negative or medium to long-term growth fell below zero. This isn't some high-turn trading system.
Broad Simulation in the Toronto Stock Exchange
To broadly test our two defensive earnings rules, I first want to show you the historical performance of all stocks in the TSX held equal-weight since 2001. There are some minimum liquidity requirements in that stocks must be at least $1 per share and trade an average of $500,000 per day. The portfolios are rebalanced and reweighted every 3 months.
Benchmark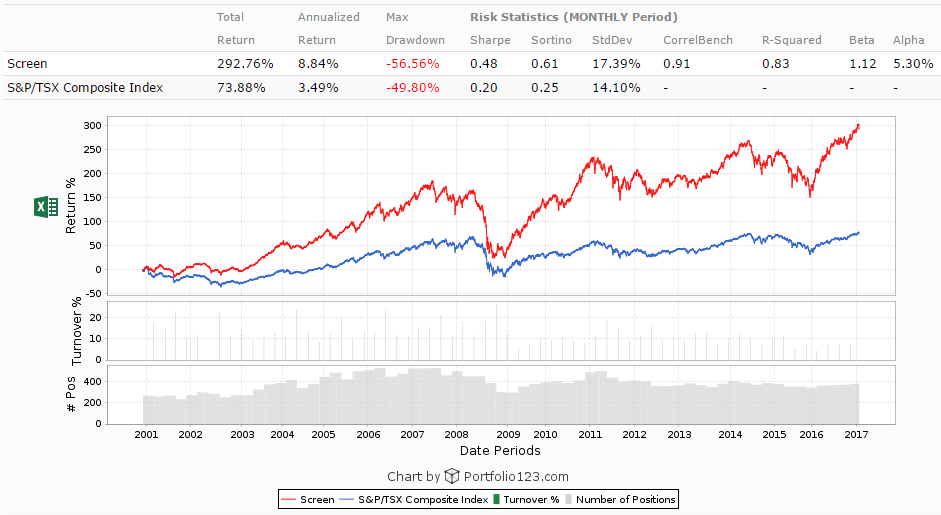 Next is a chart with the identical set-up but with the inclusion of the two rules mentioned earlier (positive earnings over the past 10 years and at least some earnings growth over the past 5 and 10 years).
Defensive Earnings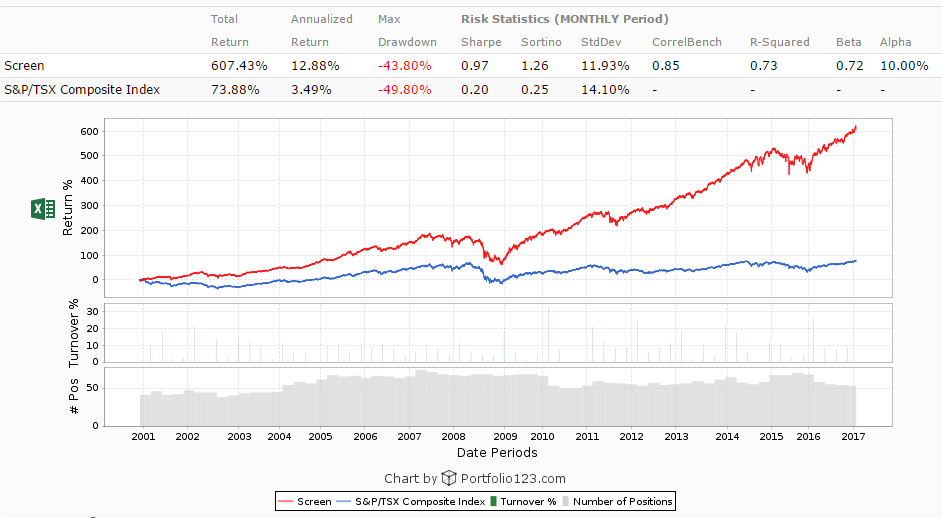 You might be wondering as to the sector breakdown. On average, does this target defensive sectors such as utilities or bank stocks? This is how the stocks that meet our criteria are dispersed into each sector.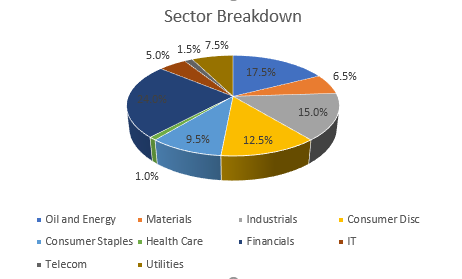 A Potential Way To Trade This Strategy
It is not the purpose of this article to suggest exactly how you should apply this simple 2-part filtering process to your investments. But here is a sample method of how it could work.
You might be a value investor who focuses on the trailing PE ratio. Of course, a low price to earnings ratio is often associated with higher risk and possibly a value trap. Our two defensive earnings rules should help lower our risk of stocks with very poor earnings power. Therefore, we take the pool of stocks in the TSX which have a 10 year track record of positive earnings and some earnings growth over the past 5 and 10 years.
Next, we look through this pool of stocks and pick one stock per sector which has the lowest PE ratio.
Since 2001 this approach has worked fairly well with an annualized return of 16.5% and a max drawdown of only 39%.
These are the current holdings. I have listed the tickers according to their cross-listed symbols.
| | | | | |
| --- | --- | --- | --- | --- |
| Ticker | Name | Sector | MktCap | Yield |
| | Enbridge Income Fund Holdings Inc | Energy | 7,481.76 | 5.98 |
| | Rogers Sugar Inc | Consumer Staples | 603.45 | 5.61 |
| | Valener Inc | Utilities | 816.38 | 5.31 |
| (BCE) | BCE Inc. | Telecommunication Services | 50,639.91 | 4.93 |
| | Allied Properties Real Estate Investment Trust | Real Estate | 2,942.62 | 4.4 |
| | Home Capital Group Inc | Financials | 1,704.35 | 3.93 |
| | WestJet Airlines Ltd | Industrials | 2,557.30 | 2.57 |
| | goeasy Ltd | Consumer Discretionary | 406.41 | 2.36 |
| (OTEX) | Open Text Corp | Information Technology | 11,497.54 | 1.37 |
| | Stella-Jones Inc | Materials | 2,840.11 | 0.98 |
I hope you find this basic earnings analysis tip useful when considering a stock for your portfolio. Feel free to share what approach you use when looking for defensive earnings stability.
Disclosure: I/we have no positions in any stocks mentioned, and no plans to initiate any positions within the next 72 hours.
I wrote this article myself, and it expresses my own opinions. I am not receiving compensation for it. I have no business relationship with any company whose stock is mentioned in this article.
Additional disclosure: The author has the right to reference and discuss the Graham-inspired model found at stockwiz.ca
Editor's Note: This article discusses one or more securities that do not trade on a major U.S. exchange. Please be aware of the risks associated with these stocks.