On the fourth of August 2016, I wrote an article about the difficult environment for car manufacturers. I advised to just stick to car parts retailers. I just didn't see any value back then. Shortly after, Ford (NYSE:F) dropped about 8%. However, Ford bottomed in November of 2016 and has rallied about 10% since then. I am now switching my view on Ford because I believe that there are a few things that could push the stock higher.

Source: Wikipedia
I would make a fool of myself if I would pitch Ford to you at an all time high or after a massive rally. However, I find the current situation quite interesting to add the stock to a portfolio. And in this case, I am talking about both mid and long term portfolios since Ford is a stock that is bought for its (4.7%) dividend yield.
First of all, let's look at the graph below. Ford has rallied during a few years of above-average economic growth. 2009-2011 has been one of the strongest periods since the early 2000s in terms of growth momentum. The other period is 2012-2013. We saw that many cyclical consumer stocks exploded during this period. Especially car manufacturers and homebuilders. Both are industries that produce 'goods' you don't buy every single year like a phone for example.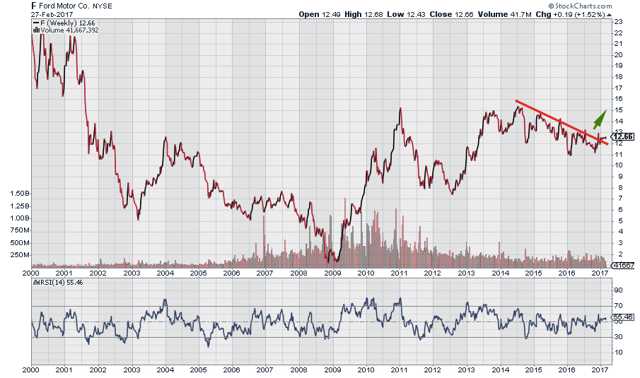 Ford is rallying since November as I mentioned at the very start of this article. November has been the month of Trump's election and the exact moment when the economic growth rally got momentum.
The graph below shows two very important indicators. One of them is leading, the other one is not. The blue line displays the most important leading indicator for the US economy. I am of course talking about the ISM index. This index tells us what we can expect in terms of economic growth over the next 1-3 months. The other line shows the year-on-year change of domestic car sales. Both peaked in the third quarter of 2014. The ISM index bottomed in Q1/2016 and got momentum in Q3/2016. Motor vehicle sales did not. They almost reached a new low in January after being in a downtrend since 2012.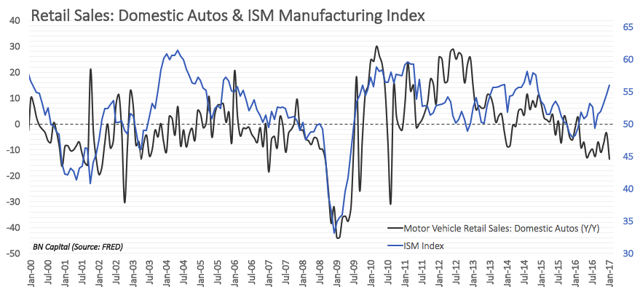 This is the main reason why Ford's stock price has caused some trouble. Both Ford's stock price and domestic car sales got hit in 2014 as you can see below.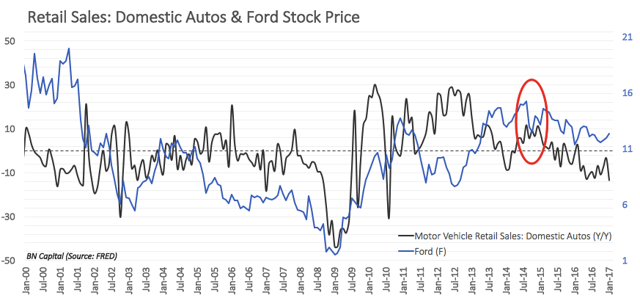 However, Ford is currently bottoming and on the verge of breaking out. It is clear that traders are increasingly seeing the strong outlook given my leading indicators like the ISM index. On a side note, I strongly believe that the ISM index is going to be higher in February. Leading regional manufacturing surveys are coming rock solid in February. Some are even back at 30 year highs. I believe that this is something traders are not pricing in when looking at cyclical stocks like Ford.
Another indicator that shows promising results is the ISM transportation equipment sentiment graph. This index shows relative strength versus other manufacturing surveys. It is clear that we have seen the first positive month in January after months of contraction. This is important because this index is also leading. In other words, the odds of higher domestic car sales are surging.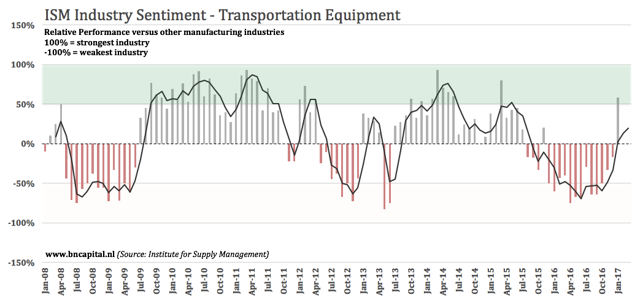 Another indicator I often use when looking at car manufacturers is the palladium price. Mainly because it is used in the car industry to a large extend and because the correlation to car stocks is relatively high.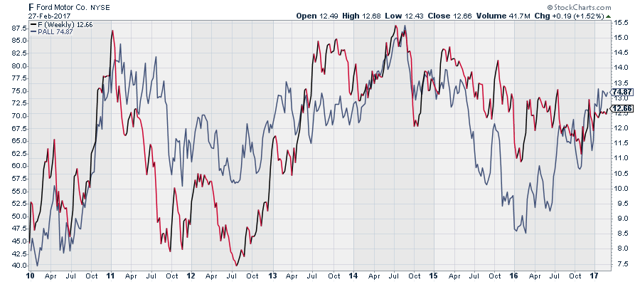 Palladium is currently in a massive rally. We have seen the same after the recession and in 2012-2013. This is another confirmation of the growing bull case in the car manufacturing industry.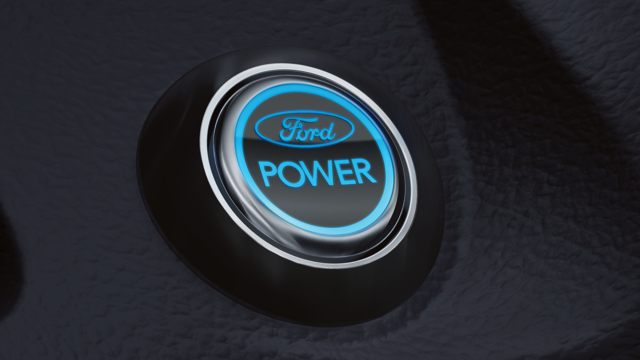 Source: Ford
Conclusion
I am starting to like Ford. The odds for a successful long position are extremely interesting. Leading economic indicators are soaring and very likely to go even higher. Coincident indicators like car sales are still rather depressing. Mainly because they have not reacted to leading indicators. I strongly believe that these numbers will dramatically improve in the first half of this year. On the other side, that's also the biggest risk of this trade. A disconnection between leading indicators and the 'real' economy due to euphoria. However, I don't see any evidence of that at this point.
In other words, I am extremely interesting in Ford at this point. It is a great entry for people who trade momentum on the mid-term and for people who hold this stock for its dividend.
Many thanks for reading my article. Please leave a comment below if you have questions, remarks or a completely different opinion. You can also send me a direct message or tweet me @LeoNelissen.
Disclosure: I/we have no positions in any stocks mentioned, and no plans to initiate any positions within the next 72 hours.
I wrote this article myself, and it expresses my own opinions. I am not receiving compensation for it (other than from Seeking Alpha). I have no business relationship with any company whose stock is mentioned in this article.