Hopefully, this article will help you grow your assets.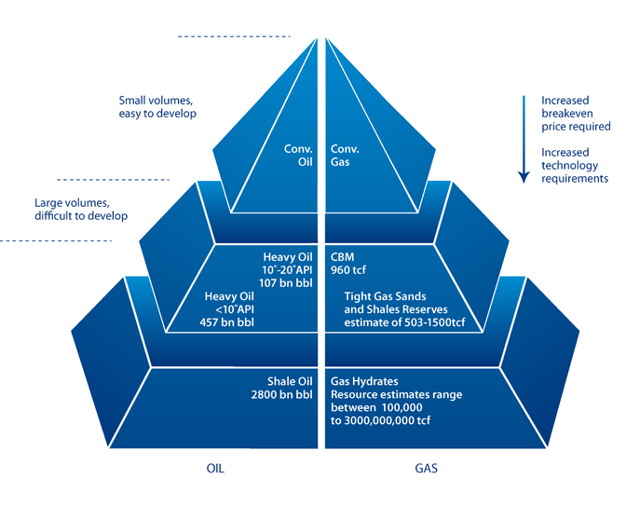 Chesapeake Energy Corp. (NYSE:CHK) is an oil & natural gas exploration and production company. Along with many other energy exploration and production companies, CHK has been losing money after the energy price crash. It has been slowly fighting its way back to profitability. CHK's net loss for Q4 2015 was -$3.36/share. Its net loss for Q3 2016 was -$1.54/share. Its net loss for Q4 2016 was -$0.84/share. This seems to be a trend of significant improvement. For Q3 and Q4 2016, adjusted net income was slightly positive at +$0.09/share and +$0.07/share. The latter two results were a big improvement from the adjusted net loss of -$0.16/share in Q4 2015. The 2016 net loss results seem to show there is hope for better adjusted net income ahead. The Q4 adjusted net income was in line with analysts' estimates. Revenues of $2.02B for Q4 2016 missed estimates by $70 million. There is hope that GAAP net income will turn positive soon.
During 2016, CHK divested properties with an average daily production of 73,500 boe. Yet its FY2016 average daily production numbers shrank to only 635,400 boepd from 679,200 boepd in FY2015 (-43,800 boepd or +29,700 boepd after selling -73,500 boepd). With CHK's relatively restricted development plan and the normal decay curves of well production, the gain of +29,700 boepd was a great result. Of course, the Q4 year-over-year comparisons are not nearly as good at average production of 574,500 boepd in Q4 2016 compared to 661,100 boepd in Q4 2015 (-86,600 boepd or -13.1%). On the positive side, the oil production of 90,400 bopd in Q4 2016 was down less on a percentage basis from the 100,700 bopd of Q4 2015 (-10,300 bopd or -10.2%).
CHK's FY2017 guidance is:
CapEx of $1.9B-2.5B, including capitalized interest.
Production of -3% to +2%, adjusted for asset sales.
2017E oil production of +10% and flat natgas production, adjusted for asset sales.
Plan to operate 17 drilling rigs in 2017 versus 10 rigs in 2016.
The capital allocation plan for 2017 is described in the charts below.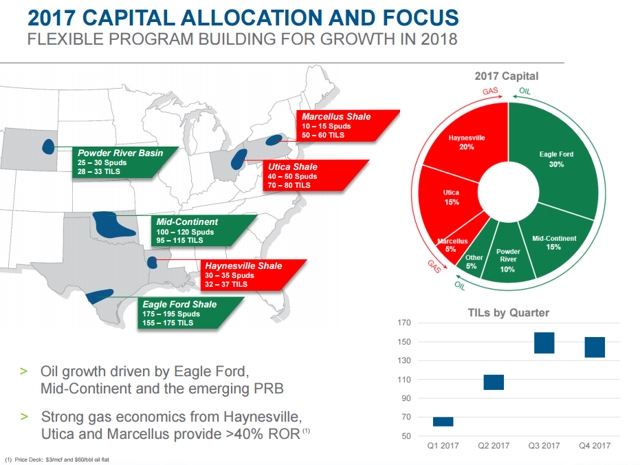 SPUD - the process of beginning to drill a well in the oil & gas industry.
TILS - turn in line. Specifically, a well turned to sales.
The table below summarizes the above data a bit.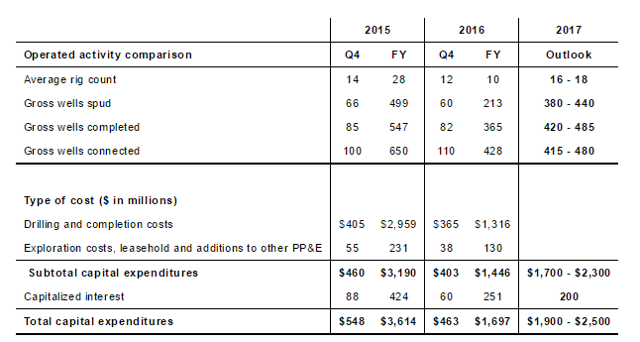 CHK claims to have 11.3B barrels of net recoverable resources, 5,600 locations with an internal rate of return of 40%+, and a projected production growth rate of 5% to 15% annually through 2020 at normalized flat pricing of $3/mcf and $60/bo. CHK expects the above production growth to lead to 10-20% margin expansion by 2020. It expects to achieve positive free cash flow in 2018. It expects to achieve a ratio of net debt to EBITDA of 2X by 2020E.
In 2016 alone, CHK reduced its total production expenses by about -$336 million (or about -8%/boe of production) compared to FY2015. CHK reduced its GP&T expenses (gathering, processing, and transportation) by -$264 million (or about -7%/boe of production). All told, these reductions amount to about -$600 million in annual savings. CHK also reduced total capital expenditures by about 53% year over year. This excludes property acquisitions and the repurchase of volumetric production payment transactions. Including more drilling locations, CHK has about 10,500 drilling locations with an ROR of 20%+ at $3/mcf and $60/bo. These will, of course, be far more profitable when oil prices rise. There is a lot of room for expansion; and CHK has not begun to identify all of its potential drilling sites. CHK has also committed to removing another $2B-3B in debt from its balance sheet by 2020E.
With regard to its debt, CHK had $10.0B in debt principal balance as of December 31, 2016. This was up from $9.7B as of December 31, 2015. CHK had $882 million in cash on hand. Subsequent to December 31, 2016, CHK reduced its debt principal balance by $901 million by buying back a variety of notes and convertible notes. This left it with about $9.1B in principal debt. In addition, in January 2017, CHK exchanged about 10 million shares of common stock for a variety of cumulative convertible preferred stock with a liquidation value of about $100 million. Then, on February 15, 2017, CHK reinstated the dividends on all of its outstanding convertible preferred stock; and it paid the dividends in arrears. CHK expects to end February 2017 with about $300 million in cash on hand.
Also, in Q1 2017, CHK closed on the two previously announced Haynesville Shale sales totaling $915 million. The total acreage was 119,500 net acres with about 576 wells producing 80 mmcf/d of natural gas.
CHK continues to reduce and optimize its GP&T across all areas. In February 2017, CHK reduced its crude transportation commitments related to the Seaway Pipeline by assigning them to a third party effective April 1, 2017. The commitments totaled $450 million; and CHK paid $290 million to assign the contract. As a result, CHK expects its marketing margin to improve significantly in 2018 over 2017; and it expects it to become profitable thereafter. CHK also utilized $100 million to buy down $110 million of natural gas transportation obligations. This agreement becomes effective March 1, 2017.
The chart below showing CHK's hedges should allay some fears about the bottom possibly dropping out of natural gas and/or oil prices.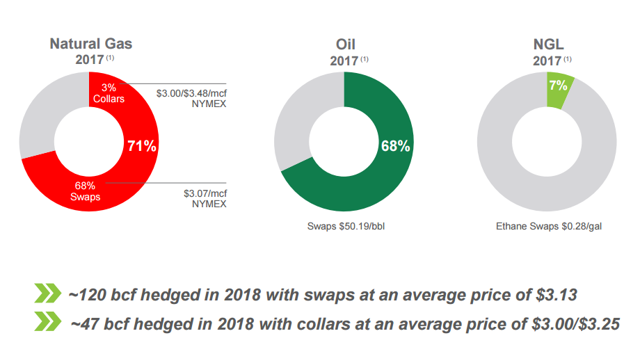 The chart below of CHK's debt maturity dates should allay some fears about CHK's ability to pay its near-term debts. There is little near-term debt to worry about.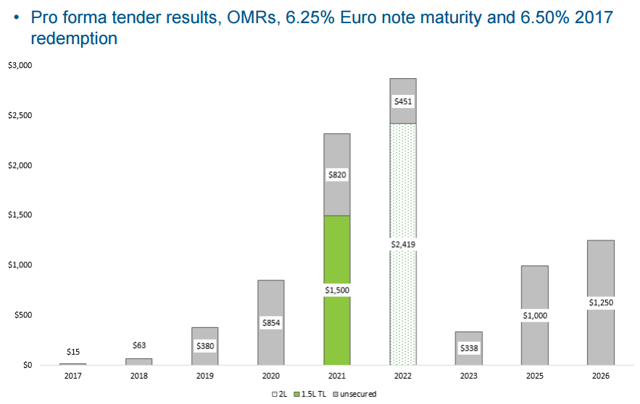 In sum, CHK has been making a lot of terrific moves. It keeps driving itself to greater profitability with good to great management. It helps that oil prices have risen too. It is unclear where oil and natural gas prices will go in the near term. Longer term, they seem destined to trend upward, especially if there is inflation. That should spell success for a company that has been managing everything well that is under its control. The recent reinstatement of the preferred dividends is a big positive. It would seem a good step toward reinstatement of CHK's common dividend. CHK looks attractive here.
The two-year chart of CHK provides some technical direction for a trade/investment.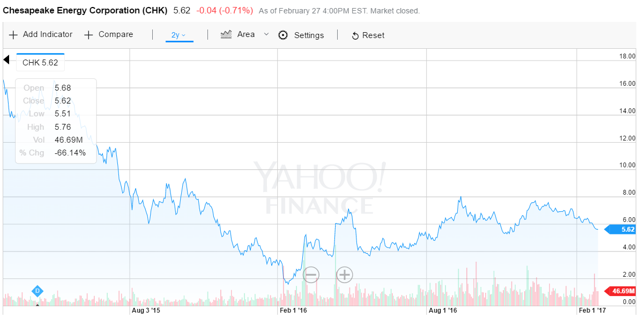 The above chart seems to indicate a weak uptrend in the stock. If oil and natural gas prices take another dive, CHK's stock price would likely fall with them. However, at this time, the EIA's forecast for WTI oil prices is for an average of $53.46/barrel in FY2017 and $56.18/barrel in FY2018. The natural gas Henry Hub Spot Price forecast is for an average of $3.54/mcf in FY2017 and $3.81/mcf in FY2018. CHK would be nicely profitable under these conditions. There are a lot of "what ifs"; but CHK appears to be a well-run company. It is improving in myriad ways besides commodity price improvement. One should probably interpret the restoration of the preferred dividends as a buy signal. The one gotcha is that the overall market may be overbought and over-priced at this time. If it falls, CHK will likely fall. Still, I like CHK as a LOW BUY here. If you are worried about an overall market pullback, you might consider averaging in. CHK keeps looking stronger in my book.
I have resisted putting information about CHK's assets in this article because the new estimates are due out with the annual report from 2016, which I still haven't yet seen. However, CHK unquestionably has some great assets; and it has proven itself adept at getting into new fields early.
Note: Some of the fundamental fiscal information above is from Yahoo Finance.
Good Luck Trading/Investing.
Disclosure: I/we have no positions in any stocks mentioned, but may initiate a long position in CHK over the next 72 hours.
I wrote this article myself, and it expresses my own opinions. I am not receiving compensation for it (other than from Seeking Alpha). I have no business relationship with any company whose stock is mentioned in this article.