Phillips 66 Partners (NYSE:PSXP) is one of the most attractive MLPs in the market. The business is still growing at a rapid pace, and having a strong sponsor in Phillips 66 (NYSE:PSX) is paying off for the partnership. Keep in mind that PSXP is a key vehicle for Phillips 66 to diversify its earnings and cash flows. It brings stability to earnings for the company due to the predictable cash flows from the midstream business. Phillips 66 continues to invest in the partnership along with the regular drop down of some of the key midstream assets. We are going to see this trend continue as the refining margins have put pressure on earnings, and midstream assets provide a buffer against this pressure.
For the common unitholders, it has provided stellar distribution growth. As the partnership is still in its growth phase and its business footprint is likely to grow in the next few years, it's an ideal investment for investors looking for a good combination of distribution growth along with capital appreciation. Let's look at the fundamentals.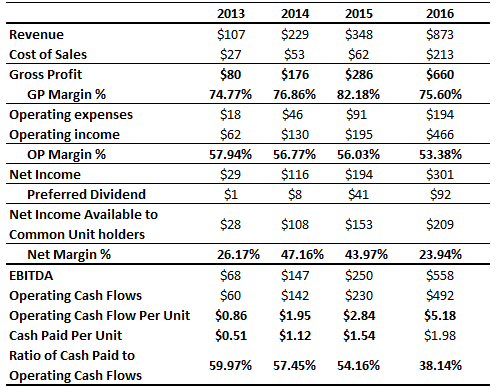 Source: Calculations by the author, data taken from SEC filings.
Revenue growth has been extremely impressive. Organic growth, coupled with the acquisitions, has resulted in a tremendously impressive trend. Cost of sales, on other hand, has remained consistent. This means that the additional revenue has come at almost no cost. As a result, more of the revenue is now being transferred to cash flows. Operating expenses have followed the trend in revenue, but the overall OP margin has only fallen by about 4.5% in the last four years. Net income has also grown, but the net margin for common unitholders has come down to 24% due to the increased preferred dividends. Preferred dividends have more than doubled in the last two years. In the preceding years, the growth in preferred dividends was even more astonishing. However, as we were starting with a small number ($1 million), the increase to $8 million was not a big deal in absolute terms. However, in the following two years the growth in absolute, as well as relative terms, has been quite astounding.
EBITDA and cash flow growth are also robust. Operating cash flow per unit is over $5.18, which means that per-unit cash payment of $1.98 is easily covered through the operating cash flows. The ratio of cash paid per unit to operating cash flows is now at around 38%. For PSXP, this ratio has come down considerably in the last three years. It shows that despite some astronomical growth in cash distributions, the growth in operating cash flows has been more impressive. Debt load is also manageable. The management has been growing debt with a keen eye on growth. The trend in revenues and cash flows shows that the increase in debt has been justified. Current long-term debt is just below $2.4 billion. This means that the leverage ratio (debt/EBITDA) is at 4.3x. It is a manageable ratio for a partnership with strong cash flows generation capabilities.
Currently, most of the business comes from Phillips 66 through volume commitments. It is mainly a fee-based business model, which gives the partnership some protection against commodity prices. However, as the price of commodities eventually affects the whole supply chain, midstream businesses are not 100% free from the commodity price risk. There are, however, some safety measures in the agreements. If Phillips 66 is unable to meet its volume commitments and PSXP faces a loss, then Phillips 66 will have to make deficiency payments to PSXP. As a result, PSXP's revenues and cash flows are predictable to some extent.
I am bullish on the overall prospects of U.S. energy markets due to a number of factors. First, the new administration is looking to enhance U.S. energy infrastructure, and the focus on energy independence should bode well for the midstream businesses. So I am expecting more investments in this sector. Second, a deregulated economy will offer increased incentive to the businesses to invest more. Finally, U.S. energy exports are going to give U.S. producers another outlet to get rid of the excess supply. This should be beneficial for the midstream companies as more production will result in higher volumes transported and larger expansion in demand.
So, the volumetric growth along with higher commodity prices should result in better contracts for midstream businesses. U.S. crude oil exports are rising at a rapid pace, and the country is now selling crude to places as far away as the Far East. The country is already exporting natural gas and natural gas liquids. Asia is becoming a market of choice for U.S. producers due to the price differential. Exports are going to further create a need for infrastructure development. Midstream businesses are going to profit from this boom in the next few years.
Phillips 66 Partners is still growing, and Phillips 66's willingness to drop down its key midstream assets is an important factor for future growth of the partnership. PSXP has a solid balance sheet, robust cash flows, strong credit metrics and a handsome growth profile. It is a solid long-term investment as I believe the distribution growth will remain strong, at least in the short term.
Disclosure: I/we have no positions in any stocks mentioned, and no plans to initiate any positions within the next 72 hours.
I wrote this article myself, and it expresses my own opinions. I am not receiving compensation for it (other than from Seeking Alpha). I have no business relationship with any company whose stock is mentioned in this article.