Stericycle in a nutshell
If someone would want to write a brief history of Stericycle (NASDAQ:SRCL) it would go like this: earnings release - massive stock drop - recovery - earnings release - stock drop - recovery - earnings release - even bigger stock drop - smaller recovery - earnings release - another big drop - no recovery, but further losses. Only after its earnings release in November 2016 did the stock close higher instead of taking a double-digit loss. But suddenly, about two weeks ago, we saw a different and somewhat unaccustomed picture: The stock opened not just with an up-gap but it also managed to close almost 8% higher. Just a breather in the ongoing downtrend or is Stericycle forming a bottom and starting a new uptrend?
The stock was literally cut in half over the last year and a half. Although such a harsh sell-off usually makes any stock look cheap, this alone is certainly no reason to invest. But facts like finishing on the seventh spot of the S&P 500 worst-performing stocks in 2016 make the stock appear on the radar of investors. Like I said, the sell-off alone doesn't make Stericycle a good investment, but it makes the stock interesting enough for us to take a closer look. Although the answer doesn't have to be simple, the question surely is: Is Stericycle cheap enough?
Reasons for the sell-off
Before we can analyze and answer the question, we first have to understand why the sell-off happened. Usually, there are many different reasons and we have to understand whether the sell-off is probably justified and a warning for investors to stay away from the stock, or whether it is just speculation-driven exaggeration. In case of Stericycle, it is neither of those extremes. There are a few fundamental reasons for the sell-off, but maybe we have already passed a point where the bearish momentum just continues because of the trend and not because of fundamental factors.
A first reason was the declining earnings, which was caused by the higher-than-expected costs associated with the integration of Shred-It. Stericycle had some problems integrating the acquisition into the already existing business. A second reason that may concern investors is the high debt Stericycle had to take on in order to buy Shred-It. A third reason may have been apprehensions that Stericycle's growth could slow down. Stericycle was always valued with a high P/E multiple as companies growing in the double digits usually are. But as soon as growth seems to slow down or expectations about future growth seem not to fulfill themselves, these high multiples with which the companies have been rewarded disappear very quickly. And the combination of declining earnings and lower multiples sent the stock down very quickly.
We are now taking an individual look at these three concerns to find out if they are reasonable and still accurate in February 2017.
Shred-It: A good deal?
The acquisition of Shred-It International ULC was the largest in the history of Stericycle and completed on October 1st, 2015. The acquisition added about 2,400 trucks and 5,400 team members. Investors were not too pleased with the acquisition and they seemed to be right as the SG&A costs increased dramatically (almost 50% YoY). Depreciation and amortization expenses increased also primarily due to the inclusion of the Shred-It acquisition. But in Q3/16, revenues from acquisitions within the prior 12 months (mostly from Shred-It) contributed $184.7 million to the overall revenue. (Overall revenue increase was $171.5 million over last year's quarter; $18.4 million were lost due to foreign currencies' effects.) Now, about 16 months after the acquisition of Shred-It was completed, I think Shred-It will contribute more and more to the overall revenue than cause high SG&A costs.
Acquisition and debt
The second concern involves the high debt levels as a consequence of the Shred-It acquisition and a D/E ratio of 1.03. Stericycle issued about $7.5 billion in new debt during the last two years (but has also paid back about $4.5 billion) and right now, the company has about $2.9 billion in debt it has to pay back over the years until 2023. In most years, the company has to pay back about $200-300 million and as we can expect an income from operations of at least $500 million in the years to come, it shouldn't be any problem. But two years seem to be rather critical: In 2019, Stericycle has to pay back about $550 million and in 2020, about $1,225 million need to be paid back. It certainly seems realistic that Stericycle could have an income from operations of $550 million in 2019, but it is almost impossible to pay back $1,225 million in 2020.
It seems possible that Stericycle could pay the entire debt back by 2023, but it is rather likely that some debt will be restructured and that Stericycle probably will pay back a part of its debt with some new debt. If I screen for stocks, I often use a D/E of 1.0 as filter and, therefore, Stericycle with a D/E of 1.03 wouldn't show up in the results. Although I think it is possible that the company will issue some new debt in order to pay back old obligations, I am not particularly worried. All in all, I think that Stericycle should manage to pay back the debt over the next few years and not get in any trouble. Nevertheless, I will pay close attention and watch the balance sheet, especially the short- and long-term debt.
Return on the path of growth
The third and last concern is the question of whether Stericycle is able to grow again. After Stericycle was able to grow EPS from 2007 to 2014, about 16% annually on average, there were some problems in the last two years and EPS was declining. Up until the last earnings release, investors seemed to be concerned that Stericycle wouldn't return to the path of growth or otherwise they wouldn't continuously have sent the stock down. Were they right? The short answer is: No!
Acquisitions: The acquisition of Shred-It was by far the largest in the history of Stericycle, but it was not the only one. Stericycle has acquired almost 500 companies and it seems to be a very diversified company with different services like medical and pharmaceutical waste management, information destruction, management of recalls and communication solutions. As long as Stericycle is acquiring companies in its core business "waste management" and avoiding diworsifications (meaning acquiring companies beyond the realm of understanding), Stericycle should be able to grow through acquisitions: "We expect to continue our acquisition strategy in North America and internationally, remaining focused on small, highly accretive, tuck-in acquisitions that broaden our various service capabilities while creating value for our shareholders."
Aging society: As society in the Western world gets older and older, the demand for medicine will grow and hence also the production of medical waste that needs to be recycled.
Regulations: We can also expect that the disposal of medical waste will be regulated more and more in high developed countries like the United States, Canada or Germany. Companies (hospitals, etc.) will have to meet strict criteria and have to pay for waste management as they will probably be forced to cooperate, given very high penalties for an improper waste disposal. Hospitals and clinics could, therefore, use the services of companies like Stericycle. We also can expect that developing countries will focus on themes like waste management. Countries like China or India probably don't care so much about proper waste management right now, but they hopefully will in the future. There could be a growing market for companies like Stericycle in these countries as they will pass laws and regulations in that area.
Moat: Although Stericycle sees the own business as highly competitive and with low barriers to entry, I think Stericycle has two different kinds of moats that should protect the business from competitors and ensure future growth. Medical waste management, in particular, is a strictly regulated business where new competitors could not so easily enter the market because the companies need to fulfill a variety of compliance requirements and have to obtain and maintain government permits. Stericycle also needs to renew these permits periodically, but it is tougher to get these permits than it is to renew them. The second moat is the one that will give Stericycle really a competitive advantage over its competitors. There is a distribution system necessary for the collection of waste. Stericycle, with many trucks and a distribution system built over many years, should have quite the edge over new competitors. Stericycle has about one million clients and if the company gets new clients that can be integrated into the already existing distribution system, it will not lead to (high) additional costs. Especially in the United States, the company has a vast national infrastructure.
Valuation matters
Although Stericycle has a P/E of 29.5 right now, it is valued comparably cheaply, as the P/E of Stericycle, according to Morningstar, has been between 27.2 and 45.0 in the last 10 years. Despite the fact that Stericycle has seldom been so cheap in the last 10 years, a P/E of almost 30 is still extremely high and, in most cases, I would not invest in such a stock. A P/E that high can only be justified if the company is expecting to grow at a high pace in the years ahead. For 2017, Stericycle expects earnings per share of $4.61 and, therefore, a forward P/E of about 18 at current prices.
In order to decide whether we want to invest in Stericycle, we have to look not just at the current P/E or the forward P/E but will once again use a discount cash flow analysis to determine the intrinsic value of the stock. If we look at the net income over the last 10 years, we see an average annual growth of about 10% a year. Morningstar expects growth of 9.9% for the next years and, therefore, we will calculate scenario I with 10% growth over 10 years (and a 10% discount rate, as always). This calculation leads to an intrinsic value of $97.19.
If we exclude the last two years (when EPS was actually declining), the net income grew 15% annually in the years between 2006 and 2014 (the EPS grew even 16% annually during that time frame). We also have to mention that revenue grew 16.2% annually over the last 10 years and while net income was declining, revenue grew 16.8% in 2015 and 19.3% in 2016. Net income only declined in the last two years because the SG&A costs jumped from $490 million in 2014 to $713 million in 2015 and, in 2016, the SG&A costs were even $1,029 million. Stericycle's operating margin was about 25% for many years and, only in the last years, it declined significantly to about 15% because of the much higher operating expenses. In our very optimistic scenario (scenario III) we assume that Stericycle can grow at 16% annually, which would lead to an intrinsic value of $143.84. As I think scenario III is a bit too optimistic, I also present scenario II in between with an annual growth rate of 12% and an intrinsic value of $110.75.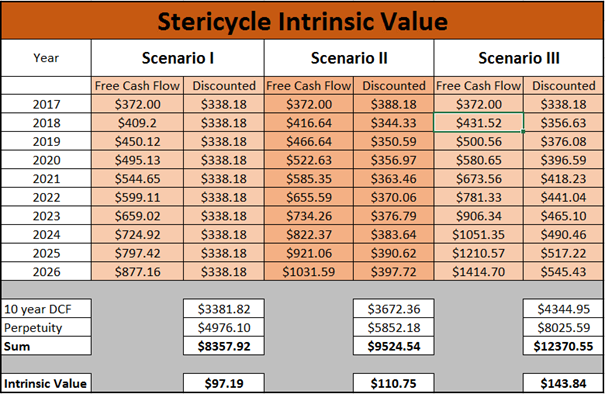 (Source: Own chart; All numbers in million expect the intrinsic value)
A bit of technical analysis
Aside from fundamental analysis, I will take a look at technical analysis - for the first time in an article of mine - to complete the picture. At first, we take a look at the daily chart and see the downtrend the stock is in since October 2015. The stock was in a trading range between $72 and $82 for a few months and after its earnings release, Stericycle shares managed to break out of this range - a first positive sign for the bulls. The stock is still inside a downward flag pattern (marked orange) although we seem to be shortly before a breakout. If Stericycle climbs above $85, it will manage to break out of the downward flag as well as above the 200-day simple moving average, and the probability for a new uptrend will be high.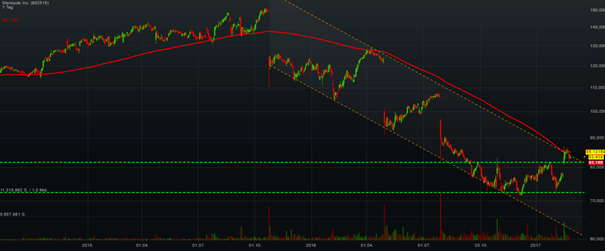 (Source: TraderFox Trading-Desk - 8.000 Aktien und Realtimekurse weltweit in Echtzeit!//Stericycle daily chart)
In addition to the daily chart, we also take a look at the monthly chart. In the monthly chart, we find further clues that the probability for a turnaround is high. If we look at Fibonacci retracements, the last long-term wave, from 2009 until 2015, has already been corrected 76.8% and we also reached the lows of 2011. It is also possible that Stericycle could fall even a little lower, but around $62-64, there are another two strong support levels: on the one hand, the 200-month simple moving average (red line) and on the other hand, the highs of 2007 and 2008. I, therefore, see only a limited downside risk as I think the stock will drop to $62 in the worst-case scenario.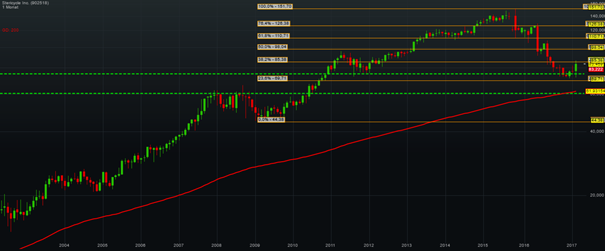 (Source: TraderFox Trading-Desk - 8.000 Aktien und Realtimekurse weltweit in Echtzeit! // Stericycle monthly chart)
Conclusion
Summing up, I think investing in Stericycle at this point in time is a good investment choice. I am pretty sure Stericycle will continue to grow in the next years and under the assumption of a growth rate of 10%, we get an intrinsic value of $97. Stericycle is not just undervalued but has also reached a few technical support levels and, therefore, we can operate under the reasonable assumption that Stericycle could have reached a bottom and will enter a new uptrend. The stock has gained 18.5% in just 11 days and as there are some strong resistance levels at about $86, I will buy the potential gap close at $78 (but it is also as likely that the stock will never get there).
I think Stericycle is a good investment at this point in time, but if I can't convince you, maybe Peter Lynch can:
"It's hard to think of a more perfect industry than waste management. If there's anything that disturbs people more than animal casings, grease and dirty oil, it's sewage and toxic waste dumps." (One up on Wall Street, page 137).
Disclosure: I/we have no positions in any stocks mentioned, but may initiate a long position in SRCL over the next 72 hours.
I wrote this article myself, and it expresses my own opinions. I am not receiving compensation for it. I have no business relationship with any company whose stock is mentioned in this article.