REIT Rankings Overview
In our "REIT Rankings" series, we introduce and update readers on one of the thirteen real estate sectors. We rank REITs within the sectors based on both common and unique valuation metrics, presenting investors with numerous options that fit their own investing style and risk/return objectives.
We encourage readers to follow our Seeking Alpha page (click "Follow" at the top) to continue to stay up to date on our REIT rankings, weekly recaps, and analysis on the REIT and broader real estate sector.
Net Lease Sector Overview
Net Lease REITs comprise roughly 7% of the REIT Indexes (NYSEARCA:VNQ) (NYSEARCA:IYR). Within our market value-weighted net lease index, we track the six largest REITs within the sector, which account for nearly $50 billion in market value and 16,000 total properties: National Retail (NYSE:NNN), Realty Income (NYSE:O), Spirit Realty (NYSE:SRC), STORE Capital (NYSE:STOR), VEREIT (NYSE:VER) and W.P. Carey (NYSE:WPC).

Above we show the size, geographical focus and quality focus of the six net lease REITs. Note that the "quality focus" is based on the credit quality of the tenants. High quality tenants tend to be larger, more established companies with investment-grade credit ratings.
Net lease REITs generally rent properties with long-term leases (10-25 years) to high credit-quality tenants, usually in the retail and restaurant spaces. "Net lease" refers to the triple-net lease structure, whereby tenants pay all expenses related to property management: property taxes, insurance and maintenance. Like a ground lease, triple-net leases result in long-term, relatively predicable income streams.
Average remaining durations of net lease REITs range from 10-15 years, and most leases have contractual rent bumps, often tied to the CPI Index. By the nature of the portfolio, compared to other REITs, net lease REITs typically function more like a financing company rather than an operating company. These companies hold the long-term, capital-intensive real estate assets that other companies prefer not to hold on their balance sheets. Assets are typically acquired in sale-leaseback-type transactions through existing relationships.
As we'll see, net lease REITs are quintessential bond alternatives and thus highly sensitive to interest rates and less sensitive to fluctuations in economic growth expectations. In many ways, these companies can be viewed as an inflation-hedged, long-duration corporate bond that has additional elements relating to leverage and potential for external growth.
Recent Developments and Quarterly Performance
Q4 earnings were generally in line with expectations across the sector. Of the six REITs we track, two beat Q4 expectations (NNN and WPC), two met expectations (O and STOR) and two missed expectations (VER, SRC). While forward guidance across the broader REIT sector was overwhelmingly negative in Q4, net lease REITs were an outlier. Just one of the six REITs lowered guidance, while one raised guidance and the four others reported guidance in line with expectations.
Net lease REITs continue to plow ahead with acquisitions despite the temporary sell-off that occurred during the second half of 2016, which nearly erased their favorable net asset value premiums. Realty Income reported a record year for acquisitions, purchasing 279 properties for a total of $800 million. National Retail reported similarly strong acquisition results. Since the recession, net lease REITs have been able to expand their asset base significantly and accretively by using cheap equity and debt capital, function of their NAV premium.
The sector has responded positively to earnings and falling interest rates. Net lease REITs have returned an average of 11.1% over the past quarter, beating the broader REIT sector average of 8.4%.

Net lease REITs are among the most interest-rate-sensitive REIT sectors, and much of the stock performance over the past several years is attributable to movements in treasury yields. Below we chart the net lease index with the iShares 7-10 Year Treasury Bond ETF (NYSEARCA:IEF) to show just how closely the two are correlated. The Net Lease Index peaked just after yields bottomed in late-July. The post-election sell-off in bonds accelerated the sell-off in net lease REITs, which bottomed in the immediate aftermath of the election. As much of the rise in interest rates was a function of rising inflation expectations, these REITs outperformed bonds because of their natural inflation hedging properties.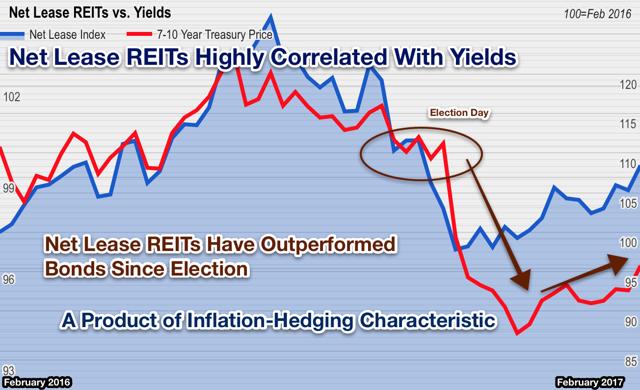 To the extent that rising interest rates are a result of rising inflation expectations and not higher "real" interest rates (which reflect the true cost of borrowing), net lease REITs should not be significantly impacted by higher nominal yields. In fact, these REITs could see increased attention from fixed income investors seeking inflation-hedged bond/credit alternatives.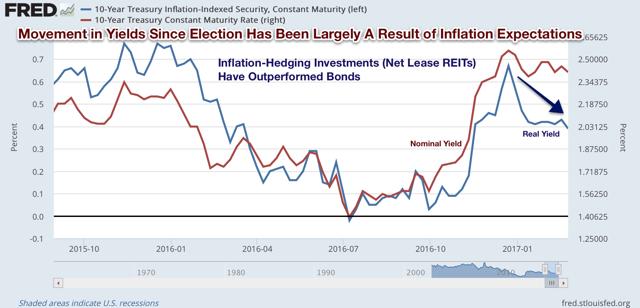 The cost of capital advantage of these REITs has been driven by solid balance sheets resulting from low leverage and disciplined portfolio management. While moderate NAV premiums are good for net lease REITs, these premiums got excessive during the run-up in valuations during mid-2016 and have returned to appropriate levels.
The election has introduced some uncertainty into the sector. A complete tax-code overhaul aimed at "broadening the base and eliminating loopholes" could catch the 1031 Like-Kind Exchange in its net. The 1031 allows property owners to sell their asset to the REIT in exchange for REIT shares rather than cash, allowing the owner to defer taxes on the sale. 1031 Exchange deals are especially common in the net lease sector and particularly on smaller transactions. If repealed, acquisition volume could decline and valuations could be impaired.
Holistically, if Trump's policies do indeed promote faster economic growth, these net lease REITs would certainly benefit from the better credit quality of their tenants, but on a relative basis, the sector would likely underperform. With occupancy near 100% and tenant credit quality already quite good, there is little to gain from a more robust economy compared to other more economically-sensitive REIT sectors.
Below is our REIT Heat Map, showing the quarterly performance in relation to other sectors. Net lease REITs have gained 11% over the prior 13-week quarter. We highlight the strength of treasury notes, as well as investment grade bonds, which explain much of the sector's performance.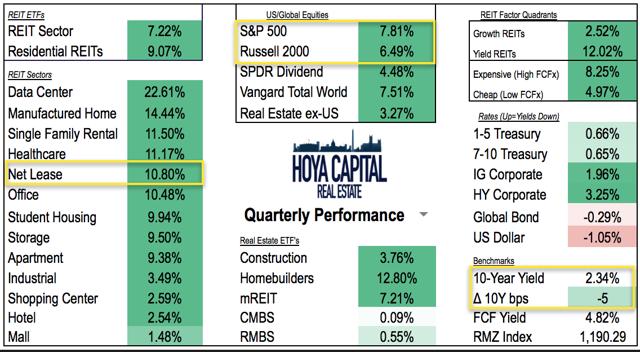 Valuation of Net Lease REITs
Compared to the twelve other REIT sectors, net lease REITs appear quite cheap. Net lease REITs are the second cheapest sector based on both current Free Cash Flows and forward 2018 FCF. When we factor in the slow 3% growth expectations over the next two years, though, net lease REITs appear less attractive. On the FCFG metric, the net lease sector is the second most expensive.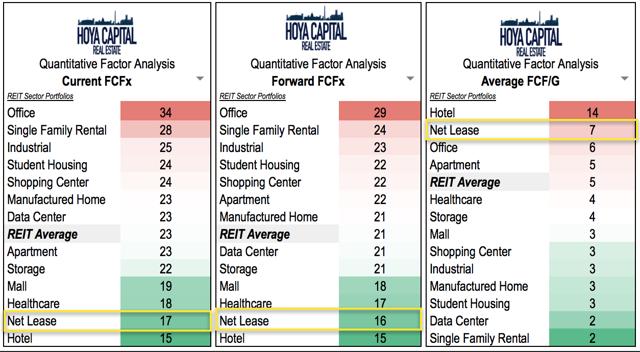 (Hoya Capital Real Estate estimates, Company Filings)
As we mentioned, for net lease REITs, FCF multiples have added operational significance. As REITs must raise equity capital to fuel growth, equity that can be sold at a premium is cheaper and thus more likely to result in NAV accretion. In that way, equity valuations for REITs have self-reinforcing characteristics. Thus, cheap REITs tend to stay cheap and expensive REITs tend to stay expensive.
Within the sector, we see some significant differences in current valuation. National Retail and Realty Income trade at sizable FCF premiums to the sector average, a reflection of their low leverage and good recent operating performance. Investors have effectively given O and NNN the green-light to continue their acquisition-fueled growth.
Spirit, VEREIT and WPC trade at FCF discounts which reflect their near-zero expected growth rate in FCF over the next several years. We do see value in Store Capital, which trades at similarly low FCF multiples, but is expected to grow at a sector-leading 8% over the next several years. The FCFG of just 2 reflects this combination of "cheapness" and growth.

Sensitivities to Equities and Interest Rates
Followers of our research know that we put a lot of emphasis on factor analysis, specifically looking at how REITs have historically responded to changes in the broader equities market, interest rates, and to movements in the REIT index itself. We believe it is critical that investors understand how their investments will respond in different economic environments.
Using our Beta calculations, we show that net lease REITs are the most interest-rate-sensitive sector and the least sensitive to broader equity market movements. High interest rate sensitivity is a result of longer than average lease terms and high dividend yields. Since our last update, the yield sensitivity of the sector has increased slightly from 1.2 to 1.3. As a sector, net lease REITs fall under our "Yield REIT" category and should generally be used by investors seeking more immediate income rather than longer-term dividend growth.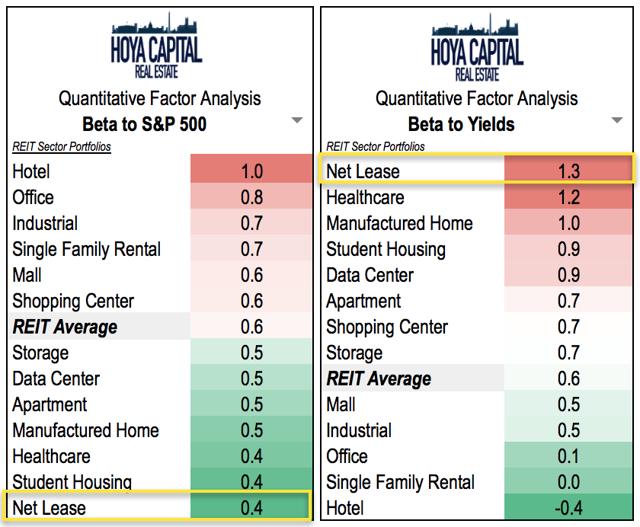 National Retail, Realty Income and Spirit Realty are the three most interest-rate-sensitive REITs we currently track across all 13 REIT sectors. Store Capital is also in the top ten. Interestingly, VER and WPC stand out for their lack of strong interest rate sensitivity. WPC trades far more like an equity-like REIT than a bond-like REIT, due in large part to its significant foreign exposure.
We highlighted in a previous article that investors can effectively hedge the interest rate sensitivity of their REIT portfolio by investing in international real estate. Click to read:"International Real Estate: REIT Investors Can Avoid 'Home Country Bias." We see this effect quite clearly in the case of WPC.

Dividend Yield and Payout Ratio
Based on dividend yield, net lease REITs rank towards the top, paying an average yield of 5.2%. Net lease REITs pay out 82% of their available cash flow, which leaves capital available for acquisitions and dividend increases.
In a similar pattern to the FCF valuations, there are two tiers within the sector. The higher quality (lower leverage) names NNN, O and STOR pay lower dividend yields while the lower quality names pay higher yields. O pays out 85% of FCF towards dividends, which may limit future dividend growth, whereby STOR, another high-quality name, pays out just 69%. The payout strategies tend to reflect the underlying operational strategies: higher growth REITs retain more capital for acquisition-fueled growth.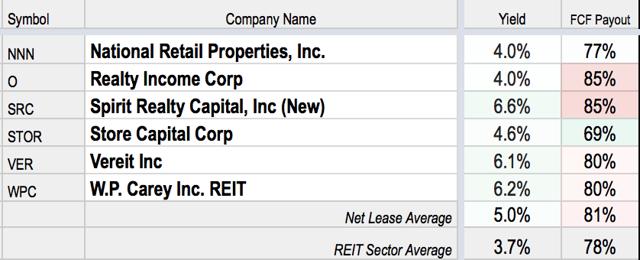 Bottom Line
Net lease REITs continue to be leading real estate operators and have shown admirable discipline in balance sheet and portfolio management. At 98% occupancy, the sector is healthier than ever and balance sheets are well equipped to handle rising or falling interest rates.
Valuations appear appropriate at this level relative to other sectors and far more attractive than the levels we noted during the record highs last summer. Across our metrics, we view Store Capital as the best value among the six REITs we track.
Over the past year, net lease REIT investors have seen the best of times and the worst of times. Last quarter, at the bottom of the 25% decline, we wrote about how painful the past three months had been for investors. We reminded investors that more than any other REIT sector, net lease REITs trade at the mercy of global interest rates, which are notoriously difficult to forecast.
Anecdotally, we've noticed that net lease REITs seem to be most prone to 'bubble-sentiment.' When rates are falling, these REITs seem like 'slam-dunks' and when rates are rising, they appear to be 'toxic waste.' The high levels of retail ownership in these names may contribute to some herding effects that we've noted over the last year. These names tend to get oversold when rates are topping and overbought when rates are bottoming.
The correction (and rebound) also taught a lesson about NAV premiums: everything in moderation. During the peak last August, there was clear bubble-sentiment in the sector. It was common to see investors and REITs citing extended valuations as a justification for continued price appreciation as, in theory, the premium fueled further external growth. While it is true that a NAV premium is a signal that the REIT commands a cost of capital advantage, a moderate premium is just as adequate for acquisitions to be accretive. 50%+ NAV premiums simply were not justified.
The election appears to have ushered in a new interest-rate-correlation regime, at least in the near term. Net lease REITs have held up well in the face of the post-election surge in rates, as much of the surge has been a result of higher inflation expectations rather than increased real cost of borrowing.
10-year yields have risen roughly 90 basis points off the mid-summer lows, while TIPS yields have risen just 40 basis points, a reflection that rising rates are largely attributable to rising inflation expectations. To the extent that this continues, net lease REITs should be protected to some degree. We reiterate that net lease REITs are most akin to inflation-hedged long-duration credit bonds. While changes in nominal interest rates certainly affect valuations, we don't think the correlations should be as high as they have been in the recent past. Investors should look for these unwarranted interest-rate-induced sell-offs to add exposure.
Please add your comments if you have additional insight or opinions and check out our recent REIT Rankings including Apartments, Office, Malls, Industrials, Data Centers and Healthcare. Again, we encourage readers to follow our Seeking Alpha page (click "Follow" at the top) to continue to stay up to date on our weekly recaps and analysis on the REIT and broader real estate sector.
Disclosure: I am/we are long STOR, SRC.
I wrote this article myself, and it expresses my own opinions. I am not receiving compensation for it (other than from Seeking Alpha). I have no business relationship with any company whose stock is mentioned in this article.
Additional disclosure: All of our research is for educational purpose only, always provided free of charge exclusively on Seeking Alpha. Recommendations and commentary are purely theoretical and not intended as investment advice. Information presented is believed to be factual and up-to-date, but we do not guarantee its accuracy and it should not be regarded as a complete analysis of the subjects discussed. For investment advice, consult your financial advisor.