Great Panther Silver: Solid 2016 Results, What to Expect in 2017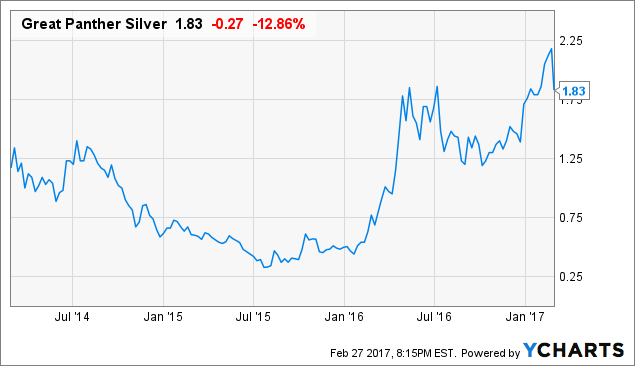 GPL data by YCharts
Great Panther Silver (NYSEMKT:GPL) recently reported its full-year 2016 financial results and gave its full-year guidance for 2017. The stock fell by more than 10% on Monday, but I think this drop can mostly be attributed to the overall decline in gold and silver stocks Monday. For example, the Global X Silver Miners ETF (NYSEARCA:SIL) fell by 6.27%, while the VanEck junior gold miners ETF (NYSEARCA:GDXJ) was down by 9.58%. Great Panther's peer, Endeavor Silver (NYSE:EXK), fell by 9.78%.
I definitely think 2016 was a strong year as Great Panther's cash costs fell considerably, and the company reported strong cash flow from operations and earnings. And while costs are expected to rise a bit in 2017, that's mainly due to a planned ramp up of drilling and development of its operating mines and projects.
As a reminder, Great Panther was listed as my #3 overall silver stock to own for 2017. I pointed mainly towards the strength of its balance sheet, its low cash costs and its strong, organic growth prospects, and I said I felt the silver miner could be a strong takeover target in 2017.
I also discussed Great Panther's Q4 and full-year 2016 production results, so the strong earnings might not come as a big surprise to readers. As previously mentioned, Great Panther's all-in sustaining costs dipped 31% for Q1-Q3 of 2016, with costs averaging just $9.23 per ounce for the first nine months of 2016. In Q4, we just learned that AISC increased 9% to $16.44 per silver ounce. But for the full-year 2016, AISC finished at a respectable $10.99 per silver ounce.
While Q4 saw higher cash costs, it was still a real strong year for the company in my opinion. For 2016, Great Panther says it produced 3.88 million silver equivalent ounces, a 7% decline from 2015. However, its cash costs plummeted 51% to $3.65 per ounce, while its AISC fell by 20% to $10.99 per ounce.
Lower costs, combined with higher metals prices, led to a 51% increase in mine operating earnings to $27.7 million, and a 100%+ increase in both adjusted EBITDA and operating cash flow.
As for its balance sheet, it remains a core strength, as Great Panther ended the year with $56.7 million in cash and short-term deposits, with no debt.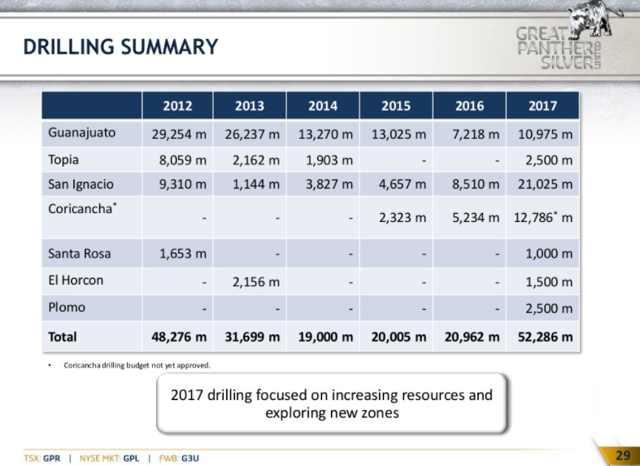 (Credit: Great Panther Silver Corporate Presentation)
For 2017, the focus is back on growth as silver prices has recovered and now trade over $18 per ounce. The company says construction of its Phase II tailings storage facility and plant upgrades at the Topia mine are both progressing well, with a restart of processing planned for the end of Q1. The company explained that costs of this project are accounted for as sustaining capital expenditures, so AISC will be higher for Q1 compared to other quarters.
Great Panther is also planning on ramping up drilling and development at several of its projects this year. For 2017, capital expenditures are expected to range between $6.3 - $7.3 million, up from $4.8 million in 2016. This is the primary reasons the company is guiding for higher AISC in 2017, as guidance calls for $14 - $16 AISC, compared to $10.99 per ounce in 2016. The company is guiding for cash costs between $5-$6 per ounce, a slight increase from 2016 ($3.65).
For 2017, Great Panther is planning on drilling more than 52,000 meters at all of its mines and projects, as you can see in the above image. This is a massive increase from last year and the most the company will have drilled since 2012.
I'm bullish on Great Panther Silver here, despite higher costs in Q4 and higher expected AISC in 2017. Great Panther's growth potential is huge as it has a pipeline of projects at various stages of development. The Coricancha project is the closest to production as it could be producing within just 12-18 months, adding 3 million silver equivalent ounces per year. Meanwhile, Great Panther's balance sheet is among the strongest in the silver mining sector.
While Great Panther's stock has risen a bit since I listed it as my #3 overall silver stock to own in 2017, I think the recent sell-off could be a buying opportunity; I recommend dollar-cost averaging, as shares could go lower in the short-term if the mining sector continues to dive.
Disclosure: I/we have no positions in any stocks mentioned, but may initiate a long position in GPL over the next 72 hours.
I wrote this article myself, and it expresses my own opinions. I am not receiving compensation for it (other than from Seeking Alpha). I have no business relationship with any company whose stock is mentioned in this article.