As a retirement-years income investor, I've always kept in the back of my little brain the thought of packing it in, throwing my retirement income keys to an open-end mutual fund manager. I'd limit my annual investment activities to a late December filling of my next year's cash bucket from the mutual fund's dividends paid that year. I'd also put in any, if needed, proceeds from the sale of fund shares - which, when combined with the fund's dividend distributions, would meet next year's inflation adjusted income requirement. I find this to be an enticing thought. I mean, I could then spend the time I was dedicating to finding and monitoring dividend paying stocks, to instead roaming golf courses, sipping a never-ending succession of Mai Tais and world cruises. But then comes the nagging question: can this actually work? If the fund manager(s) prove themselves somewhat less than competent, won't I run the risk the fund manager's investment decisions will force me to burn through my initial investment corpus, thus leaving me destitute? Or at the very least, greatly reducing the capital I was hoping to retain for end of life expenses or as a legacy to grandchildren? So let's take a look and do a little back-testing to see how this arrangement would have worked over a 25 year average span of retirement years, beginning January 2, 1992.
Setting up the Test
My test will be limited to what Morningstar used to call 'Conservative Allocation Funds' but now refer to them as "30% to 50% Equity Funds". I screened for them using the Morningstar Fund Screener, with results as follows: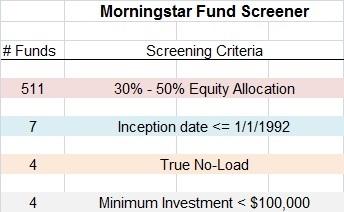 As shown, these funds are limited to pure no load funds with at least a 25 year dividend history. Because I'm using an annual cash bucket, it doesn't matter whether the fund dividends are paid quarterly or annually. The 4 funds are:
Vanguard Wellesley Income Investor Class Fund, VWINX
USAA Growth and Tax Strategy, USBLX
Permanent Portfolio Permanent I, PRPFX
James Balanced: Golden Rainbow R, GLRBX
Next I buy $100,000 worth of fund shares for each of the 4 funds, based on the share price the first trading day of 1992. The assumptions are the first year's withdrawal will be 4% of the beginning investment value with each successive year's withdrawal increasing by 3% to allow for inflation. Any dividends collected in excess of this will be accumulated in a money market account (MMA) until the year the mutual fund produces less in dividend income than is required and the difference between the next year's household income need and the dividend collected is taken from the MMF. I'm assuming the interest rate on the MMA is zero. If the collective cash reserve is not sufficient….or non-existent….and the dividend collected that year is not sufficient to meet household income need, then sufficient shares will be sold at the end of the year to provide the required cash. This is repeated each December at the end of the month (last trading day). I did this for each of the 4 funds. The following is the Excel SS I set up to perform these calculations for, in this case, USBLX: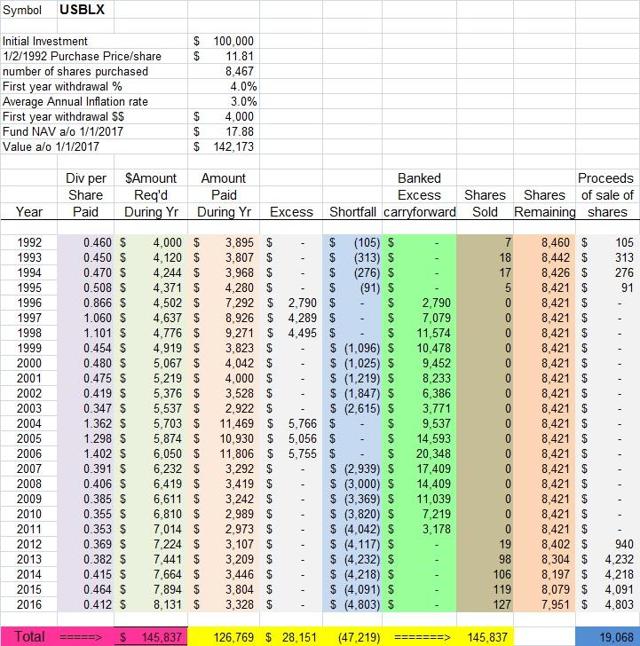 I did this table for each of the 4 funds, but am only showing this one for USBLX. All dividend and share price data I got from YahooFinance. Any funny looking numbers I verified at the fund's home page. To ensure full accuracy, I could have tried to retrieve all net asset value (NAV), dates and dividend data from the company's web sites, but this would have taken forever as some funds only provide a limited number of years of this data on their web page and so would have required either requesting the info from investor relations or going back through all past years' annual shareholder reports. Downloading YahooFinance data into Excel is much, much faster.
As can be seen, all funds would have paid out a total of $145,837 in cash to the household over the 25 year period. What will vary between the funds is their final year value on 1/2/2017 and the amount of cash accrual in the money market account, if any, at that time. All funds, except VWINX, at some points along the way, had to sell shares to meet the next year's cash requirement.
Results
The variation in final net value among the funds was not as wide as I had anticipated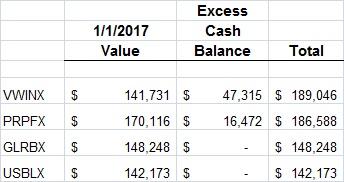 The amount of stock that had to be sold along the way to meet income need varied widely.

Another interesting metric is Morningstar's risk measures of these funds over the most recent 3, 5 and 10 years.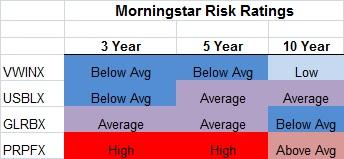 Source: Morningstar
What is obvious is the difference in portfolio management of these 4 funds despite their all being of the same allocation group. PRPFX is apparently managed for equity growth. Its risk is HIGH, dividend distribution rates were too low to meet the income need in 20 of the 25 years and almost 3 times the amount of company stock had to be sold over the 25 year test period than the next highest fund shares requiring sale (not shown).
The most conservative of this group is VWINX. In only 10 of the 25 years did this fund not generate enough in dividends to cover the growing annual household income requirement and due to the relatively large accumulation of excess cash, selling shares was never required. Its risk measure is the lowest of the group.
EXPENSES
Certainly, one of the contributing factors to VWINX income performance is its very low expenses. How low? As an income investor, I don't really care what percent of the fund's value is attributable to expenses. Instead I care about how much of the fund's income is being lost to expenses. I calculate this by dividing the fund's total expenses (without taking into account any fund 'waivers' which these funds did not have) by the fund's total income (dividends, interest and sometimes share loaning revenues). Below shows this Income Expense Ratio (IER) for the 4 funds.

Source: The fund's most recent annual Shareholder Report
The reason for the very large differences in the IERs, I believe, has to do with the fund's investment objective. Investing in dividend paying stocks and higher coupon bonds will provide the fund with more income than the fund that invests in low or no dividend paying growth stocks and short maturity high quality bonds. Because this study includes funds with clearly varying investment objectives, the IER is only of limited value, and is of much greater value when comparing funds of similar investment objectives (e.g. two utility ETFs)….although one could certainly reason that it does contribute to VWINX's much better performance.
CONCLUSION
VWINX is the clear winner. Providing 25 years of inflation adjusted 4% annual distributions with a residual value over 89% greater than its beginning value puts it squarely on top of these 4 funds. Now, one could argue that the markets have had an unprecedented 'run' through the 90s and early 2000s and then over the past 5 years. But then, the market has endured two significant recessions over this period, testing the mettle of any fund manager. PRPFX management has proven itself worthy through these down cycles, albeit at a greater market risk. USBLX and GLRBX have shown themselves to be of a somewhat lesser stamp. Having said that, any of these funds would have provided the 25 year retirement household with their original investment goal of reliable growing income without consuming their initial investment corpus.
Of course, one could test other classes of open end MFs, such as high income funds or even bond funds. And one of the advantages of open end funds is they have been in existence much longer than most closed-end income funds or income oriented ETFs. Another modification to this study might be to reinvest all dividends and draw annual income only from the sale of MF shares. I didn't take that approach and it would, I reason, be taking added market risk for the fund with the highest dividend payout....but it would certainly be an alternative model to test.
So should the Income investor cast his or her income fate into the arms of a fund manager and trust the next 25 will look like the last 25? It's an enticing thought, and certainly each retirement household will have their own investment temperament and risk tolerance. For me, I think I'll stick with the 62 income securities I currently hold.
Disclaimer
To get these data, I've had to download hundreds of dividends, dates and NAVs, reorganizing them in Excel, and then construct multiple formulas, including nested If-Then formulas, to arrive at the right values that will change each year. This may sound a bit like grousing, but I really mean it as an explanation of why there could be errors in the data. I've double and triple checked most of the results to at least ensure it is a reasonable…but preferably an accurate…. calculation. If you see where I've made an error in data collection or calculation, feel free to speak up. And as always, anyone who wishes the Excel SS I used, feel free to shoot me a PM with your e-mail and I'll forward to you.