Founded in 1991, global markets investment solutions provider, Hamilton Lane (NASDAQ:HLNE), has accumulated $40 billion of assets under management and $292 billion of assets under advisement. They have now filed for an IPO set to debut March 1st to raise up to over $200 million. Below are 3 reasons you should be interested in this IPO.
Growth
For the year ending March 31, 2016, Hamilton Lane saw revenue of $180.8 million, which represents a 16% increase from the year prior. Although impressive, Hamilton Lane's revenue saw a drop for the first 9 months of fiscal year 2017. For this reason, I am projecting total revenue to close around $173 million for the fiscal year of 2017, which represents a decrease of more than 4% from the year prior. This would result in a 3-year CAGR of 7.37%. This shows they have been able to outperform along their topline compared to the capital markets industry, which has a negative 3-year growth rate of -6.1%.
Over the past 15 years they have significantly increased their global presence and plan to continue forward on that path. They believe many institutions outside of the United States are underinvested in private markets, which presents a substantial growth opportunity, along with investors from developing regions. Hamilton Lane believes they are well positioned to serve and capitalize on globally rapid wealth creation of high net worth individuals and institutions because of their brand and resources. Part of the motivation behind this IPO is to increase their global image and support future growth.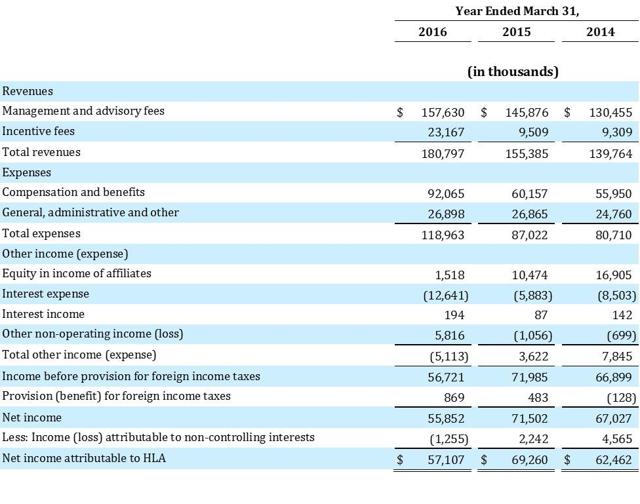 Source: Hamilton Lane's S-1
Their Bottom Line Is Strong
Love them or hate them, Hamilton Lane knows how to make money. For 2016, they netted $56 million on $181 million of revenue, which represents a 31% net margin. That's an impressive number, especially considering interest expense was 7% of their revenue for the period. In that same fiscal year, Hamilton Lane has ROA of 28.4%. These numbers are good indicators of great management and quality operations. Hamilton Lane's ability to scale their business while maintaining strong margins should prove to be attractive to investors.
Valuation
At $15-17 per share, Hamilton Lane would be valued between $773 - 876 million. The midpoint would be about $824.4 million, which would place them at about 4.7X revenue. That multiple is so expensive that it's cheap. While 4.7X sales may seem like a lot for this industry (and it is), it isn't a lot for Hamilton Lane. Like I said before, they have great margins and have shown that their business model is a success. I wouldn't be surprised if they closed 2017 with net income of $73.5 million, which would place their PE at around only 11. Combine that with the fact that the company is significantly outgrowing the industry average and you have yourself a very reasonably, and possibly discounted price.
Conclusion
The Hamilton Lane IPO may not get the attention it deserves, and that may result in opportunity for some investors who are paying attention. Currently, the proposed price range looks like an attractive opportunity. I think anything around $15-16 per share is a definite buy. At that price, there is a lot of upside. I am expecting this one to come out of the gate strong and have a very good opening day of trading.
Disclosure: I/we have no positions in any stocks mentioned, and no plans to initiate any positions within the next 72 hours.
I wrote this article myself, and it expresses my own opinions. I am not receiving compensation for it (other than from Seeking Alpha). I have no business relationship with any company whose stock is mentioned in this article.