Since the biotech bull market peaked in mid-2015, investors have been patiently waiting for the sector to return to its former glory. All great trends eventually consolidate, and it's generally healthy for them to do so. But biotech has also had to endure an onslaught of drug price gouging embarrassments that have perhaps kept the sector down longer than deserved.
But now that the drama seems to have subsided (knock on wood!), I'm beginning to see life in the biotech sector that's indicating we may finally be ready to break out. If so, we could be in the early stages of the next big biotech rally.
Small And Mid-Cap Biotech Stocks Are Breaking Out
Over the last couple weeks I've been watching, and building positions in, small and mid-cap biotech stocks. Cara Therapeutics (CARA), Sage Therapeutics (SAGE), and Invitae Corporation (NVTA) are three stocks in particular I've been active in. Let's briefly look at their charts.
CARA has been on an impressive rally since breaking higher through its 200-day simple moving average (SMA) and then retesting the 200-day SMA as support: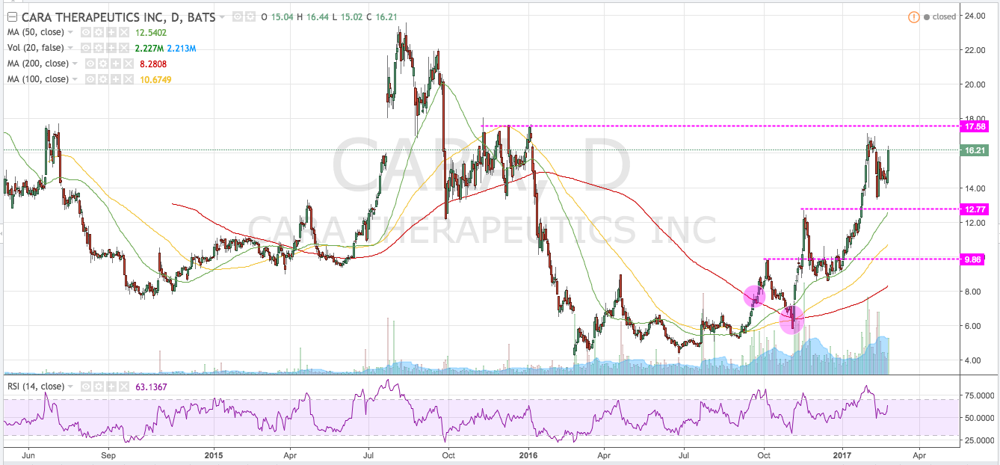 The stock has been making higher highs and higher lows. For the rally to continue, we'd need to see a break through ~$17.60 per share. At this point I've already accumulated a fair bit of CARA and don't plan to add to my position.
SAGE was a more recent purchase. I went long the stock on February 16th immediately after seeing it close above previous resistance on the 15th: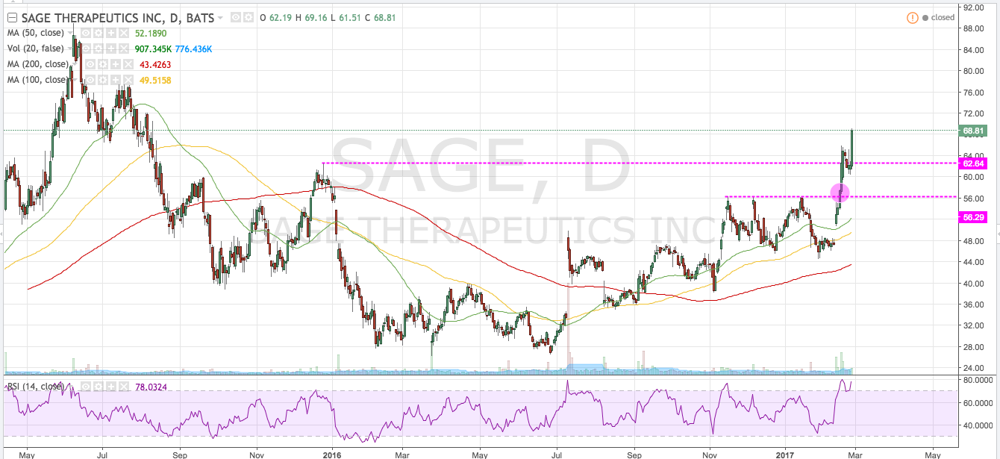 The stock is now up nearly 27% and looks like it will likely run to $80 or more pretty quickly. Again, I like the position I've accumulated already and don't plan to add more.
Much like SAGE, NVTA broke a key horizontal resistance level. When I saw the ~$9.60 per share level break decisively last week, I knew I wanted to get long: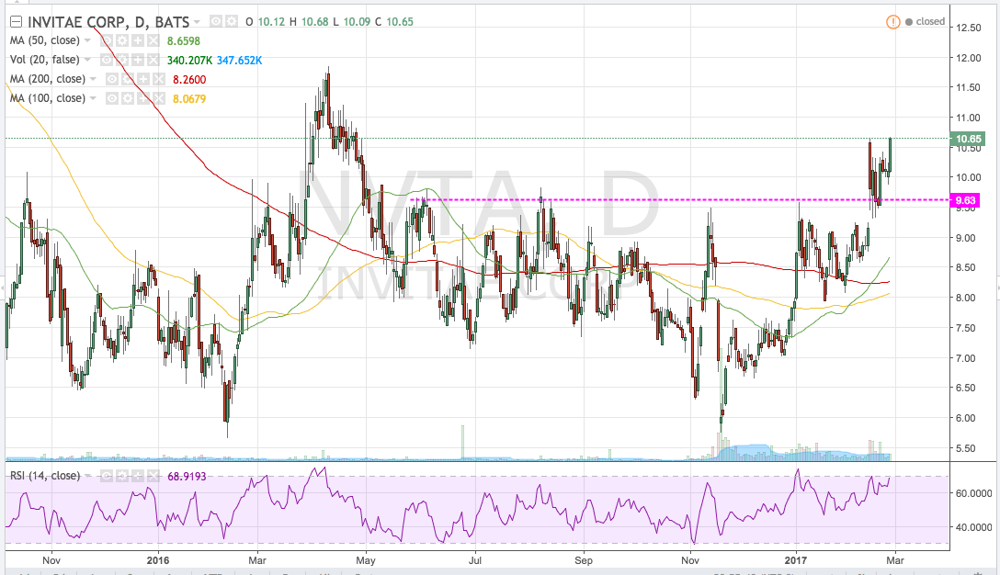 Unfortunately, I wasn't able to allocate capital to the stock until today. The next target would be the highs from April last year at $11.85 per share, or another 11% higher. Above that and we'd likely see a quick trip to $15 per share.
These are three great breakouts I've had my eye on and have been allocating trading capital. But when we look at the bigger picture, the biotech rally may just be getting started.
iShares NASDAQ Biotech ETF (IBB) is Gearing Up For a Break Out
When looking at the daily chart for IBB, it's clear that $300 is a pivotal level: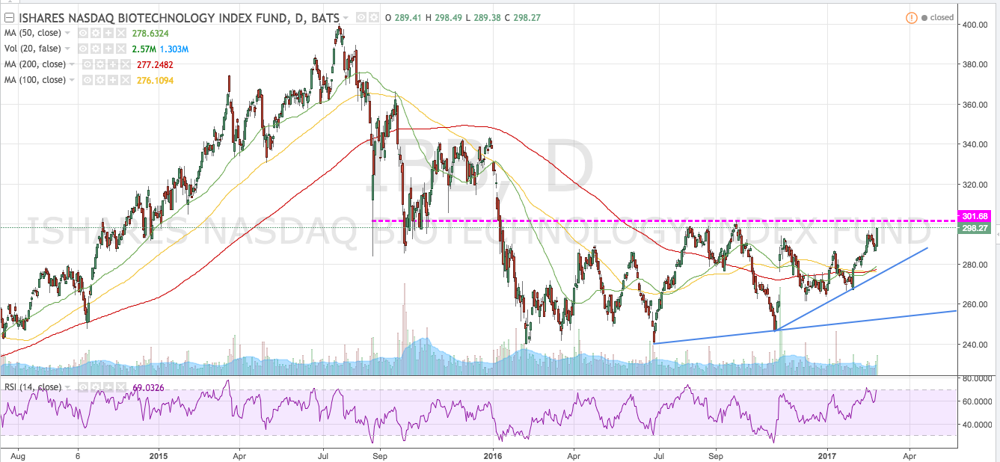 IBB's top ten holdings are:
If you look at the charts for these top ten holdings, two of them are trading in clear uptrends, two of them have recently broke higher, four of them appear to be gearing up to break higher, and eight of them are trading above their 200-day moving average.
Regeneron is currently range bound but could manage a break higher. The only real dud here is Gilead, which isn't surprising, considering it could be headed to $57.
So why am I going through these larger cap holdings? Because if a few more of these giants can manage to break higher, IBB will likely push through the $300 mark, bringing small and mid-cap biotech stocks with it.
I tend to focus my attention on small and mid-cap stocks because I find they produce outsized returns in bull markets. So what small and mid-cap biotech stocks do I see with the most potential in the coming weeks?
Three Small-Cap Biotech Stocks Primed To Run Higher
Halozyme Therapeutics (HALO) is one of my favorite small cap biotech setups right now. The stock has peaked at just over $14 per share twice since last November, and it's been putting higher highs in ever since: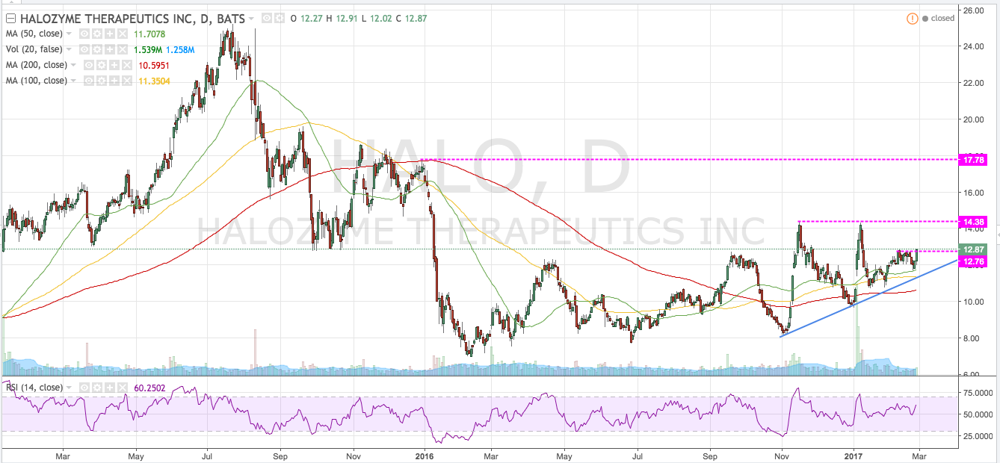 HALO pushed above the $12.76 mark yesterday, a level that has proven to be short-term resistance. I believe the stock is setting up for a third knock above the $14 level, and this time I feel it's going to push right through. If so, the next logical price target is in the high $17's. Beyond that, it's blue skies to the mid $20's.
Synergy Pharmaceuticals (SGYP) is another small-cap I really like at current levels. The stock is in a clearly defined uptrend having bounced from trend line support for a third time. The 200-day moving average just below our trend line offers another support zone and logical place to put a stop lose below: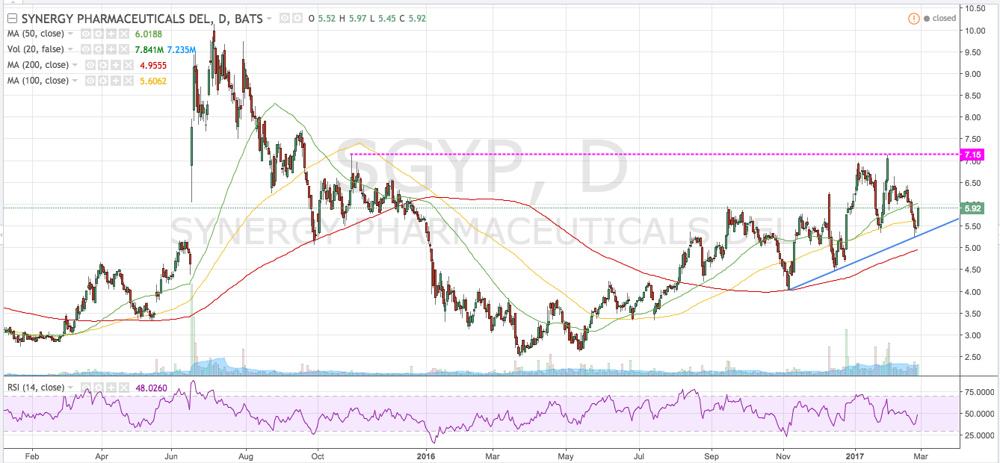 A break of the $7.15 level will open the door to the $9-$10.00 range. I really like the risk/reward for a swing trade in SGYP.
Finally, we have Eagle Pharmaceuticals (EGRX), one of my favorite small-cap biotech stocks. I had great success swing trading EGRX in 2015 and 2016, so I'm glad to be revisiting this old friend.
The setup in Eagle has the same look and feel as SGYP: price has been bouncing nicely off trend line support and the 200-day moving average is just below:
The stock needs to get through the $86-$88 price area before likely seeing a quick trip up to $102 per share. And if it can get above $102, it's going to be blue skies.
Conclusion
A number of small, mid, and large-cap biotech stocks have been breaking out. I believe these to be the early movers in what will be a larger breakout for the biotech sector as a whole. Astute traders have been able to get in to some of these names early, but there are some great opportunities developing and many more to come.
I believe we're on the cusp of a rotation into biotech that will fuel its next up leg. By recognizing early that the sector is heating up and using technical analysis, we can smartly allocate our capital to particular stocks that have the most opportunity for outsized gains.
Author's note: These are only brief technical overviews of a handful of stocks. If you'd like me to cover a particular stock (either one listed or one I didn't mention) in more detail, please let me know in the comments.
Disclosure: I/we have no positions in any stocks mentioned, but may initiate a long position in CARA, SAGE, EGRX, NVTA, HALO, SGYP over the next 72 hours.
I wrote this article myself, and it expresses my own opinions. I am not receiving compensation for it. I have no business relationship with any company whose stock is mentioned in this article.
Editor's Note: This article covers one or more stocks trading at less than $1 per share and/or with less than a $100 million market cap. Please be aware of the risks associated with these stocks.