Given Target's (NYSE:TGT) God awful FY17 guidance, this is the perfect opportunity to share with readers how stocks works. Through sheer luck, in the fall of 2002, a then fellow classmate in one my UMass finance classes, a charismatic guy from California, networked and arranged for a International Equity Portfolio Manager from Wellington Management (as this PM was also a UMass alum and music major - go figure) to speak with our class about investing. At the end of his informal and interactive presentation, he handed out business cards and he said keep in touch. I took this suggestion quite literally and I keep calling him. My intellectual curiosity and persistence enabled me to pick his brain and figure out how stock works. I am still periodically in touch with him, even though he retired from Wellington last summer. He is by far, the best investor I have ever known and had coffee with.
He essentially taught me that the market is very, very efficient at incorporating all of the publicly available information about a stock into its current valuation. Therefore, you will not make money wasting your time on valuation screens, silly ratios, and other relative value stuff like this stock is cheaper than that stock on a Enterprise Value/EBITDA, price to earnings, price to sales, etc. For greater detail, I describe his theory in my September 2015 piece: For The Love Of The Game.
Incidentally, I have been exchanged in a highly spirited and fun debate with some Seeking Alpha readers, within my GNC Holdings, Inc. (NYSE:GNC) articles, who insist that the amount of debt, and EV/EBITDA metrics are critical when making an investment decision. Although I tend to agree that valuation is an important component and debt can't be ignored, I would argue that the only way to consistently make money is to understand how the sell side has arrived at consensus estimates and then reverse engineer those estimates by understanding the key drivers of revenue and earnings for a particular stock. That is how the game works. It is really that simple, but it takes a lifetime to master this dark art form.
Lo and behold, many investors awoke to a nasty earnings miss at Target under the false comfort that TGT was cheap on a price to earnings ratio basis.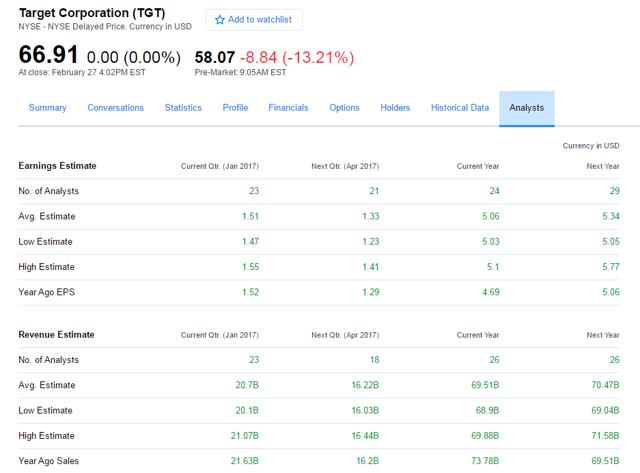 Source: Yahoo Finance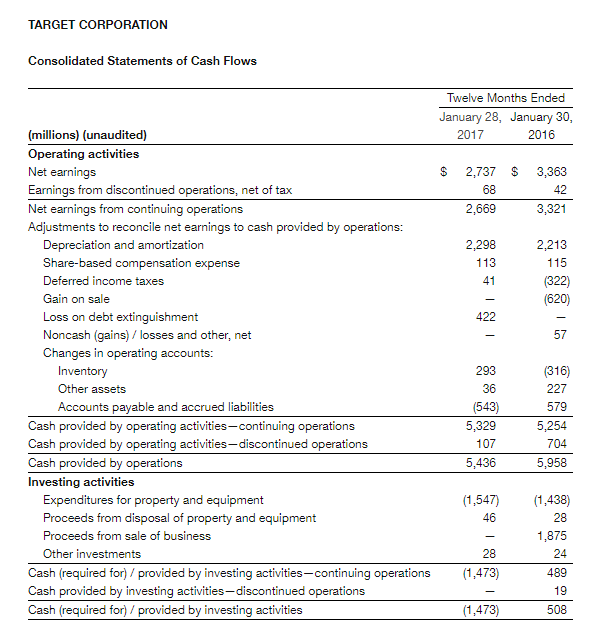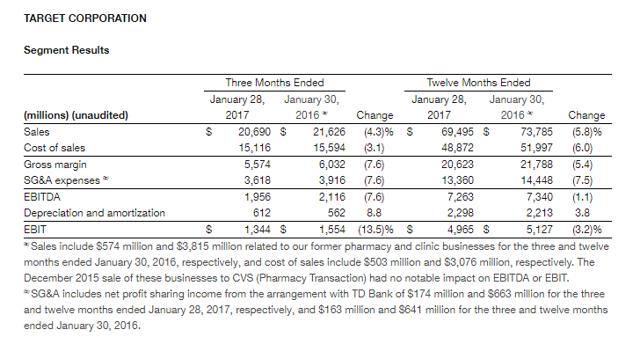 Valuation
Target has been buying back lot of shares, so its diluted share count for the period ending January 2017 is 565 million. At yesterday's closing price of $67, this gave TGT a market capitalization of roughly $37.9 billion. Target also had $11 billion of long term debt and I am going to exclude operating leases (off balance sheet debt) for this piece, so we are looking at an enterprise value of $49 billion ahead of this morning's earnings print. So it turns out that Target essentially met FY16 EBITDA of $5.4 billion. So on an EV/EBITDA basis, Target looked cheap at 9X. However, with the benefit of hindsight, we learned that the competition from Amazon (NASDAQ:AMZN) and Wal-Mart (NYSE:WMT) is nipping at both Target's sales and margins. Therefore, as I said at the outset, since consensus estimates for FY17 were calling for earnings of $5.34 and Target guided to a midpoint of $4, this explains why Target shares are down 13%, to a fresh new 52 week low, despite its now 4.1% dividend yield ($2.40 per share divided by $58).
Takeaway
Investing is much more complicated than simply look at ratios and buy stocks that screen cheap on an EV/EBITDA basis. I am not suggesting that Target isn't a buy here at $58, but I intentionally ignored those suggestions to buy it, despite its dividend and relative face value cheapness to the S&P 500 because I didn't do the work and build an earnings model that indicated that results would be materially better than consensus. Unfortunately, Target appears stuck between a rock and a hard place as Amazon offers convenience and better prices and Wal-Mart has similar selection and better prices for people that like visiting physical stores. The only thing Target has going for it is the nicer in store atmosphere compared to Wal-Mart, but TGT's topline down 5.8% YoY show that there are cracks in Target's armor.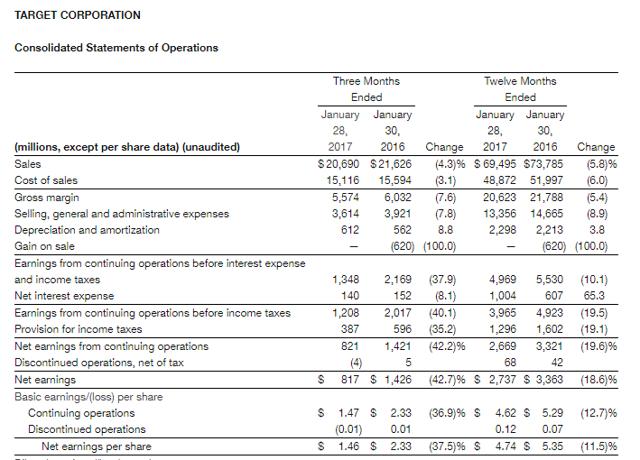 Disclosure: I am/we are long GNC.
I wrote this article myself, and it expresses my own opinions. I am not receiving compensation for it (other than from Seeking Alpha). I have no business relationship with any company whose stock is mentioned in this article.