Contura Energy (OTCPK:CNTE) is made up of the best mining and logistics assets of a coal mining giant that has fallen from grace. With reduced debt and environmental obligations, alongside favorable industry dynamics, Contura is a very underfollowed, unattractive and cheap company emerging from a messy bankruptcy. We love those types of names.
So, what is Contura Energy's story?
Some of you might have heard of Alpha Natural Resources (OTCPK:ANRZQ), the coal mining giant founded in 2002 by Michael Quillen on the remains of Pittston Coal. Alpha's ascent under Quillen was a success: The company worked its way to becoming one of the top five coal producers in the world through an M&A spree.
In less than 10 years (from its inception in 2002 until 2011), Alpha acquired Coastal Coal, American Metals and Coal, Mears Enterprises (2003), substantial coal assets in Pennsylvania (2004), Nicewonder Coal Group assets in Virginia and West Virginia (2005), Progress Fuels coal assets in Kentucky (2006), and Arch Coal assets in West Virginia (2008). It also merged with Foundational Coal Holdings (2009) and acquired Massey Energy (2011).
During that time, its revenues went as high as $7B in 2011 and 2012. However, massive debt combined with lower coal demand, competition from cheaper natural gas producers and a heavy regulatory environment took a toll on the company. Its revenues started to spiral down, its huge debt was rated "unsustainable" by Standard & Poor's, and finally the NYSE delisted its stock in mid-2015.
In August 2015, the company filled for Chapter 11 bankruptcy under which it proceeded to sell assets, pay off debt, dismiss part of its workforce, and renegotiate prior deals. It reemerged in the summer of 2016 in the form of three separate companies: Alpha Natural Resources Holdings (OTC:ALHA) (the group holding), ANR, Inc. (the operating entity), and Contura Energy.
Contura, which is owned by a consortium of Alpha's first-lien creditors, acquired 13 mines in Virginia, West Virginia, Pennsylvania and Wyoming's Powder River Basin from Alpha (including their best ones, the Belle Ayr and Eagle Butte mines) and began operating in a recovering coal market freed from Alpha's hefty debt load. It currently controls about 1.4B tons of reserves, roughly 80% of which are in thermal coal.
The timing was perfect: After a prolonged decline in coal prices culminating in January's 10-year low prices, a notable comeback occurred in 2016, recovering by more than 100% through the end of the year. Domestically, according to a report from the EIA, the coal industry's recovery should continue into 2017 and 2018 -- with expected production rising 8.8% by 2018 -- benefiting from higher demand as coal-fired electricity bounces back amid higher costs for natural gas. Internationally, World Bank's long-term forecasts released in July 2016 are also bullish on coal prices going forward.
So, how is Contura doing?
Financials released covering the two-month period from July to September 2016 showed a $51M loss on revenues of $245M. EBITDA was $26M and year-end cash was $72M. For 2016 (July to December), Contura reported better results, starting to reflect the improved industry outlook. Their EBITDA was between $110M and $135M on revenues of $612.3 Mand cash reserves have increased to $127.9M. At the same time, they're announcing the refinancing of $400M in debt.
So, how much is Contura worth?
To value Contura, reported financials have little use. Of much more consequence is its 2017 guidance provided in November 2016 and reaffirmed last week: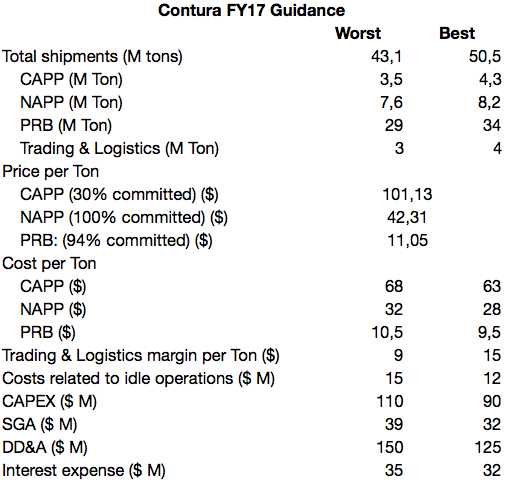 Based on these figures, we can make a rough forecast for Contura's FY 2017 operations.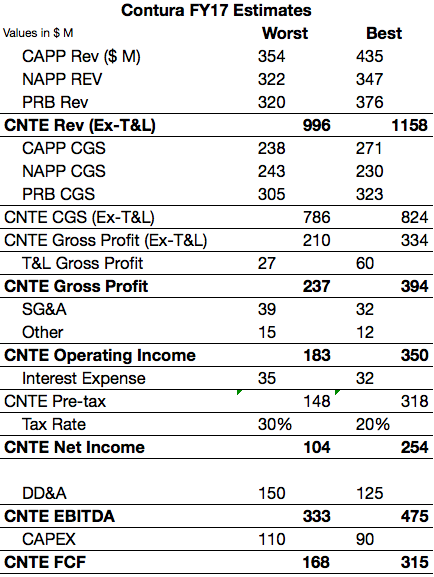 For valuation purposes, we assume the following: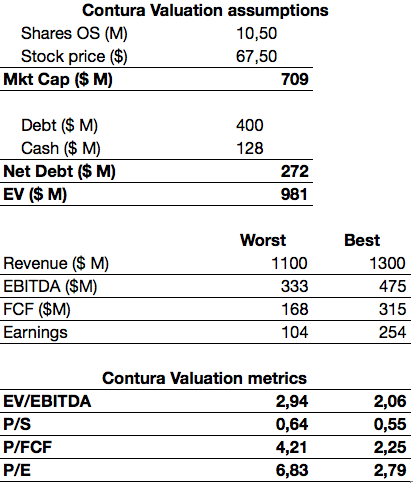 Here's how its peers are valued by the market relative to Contura: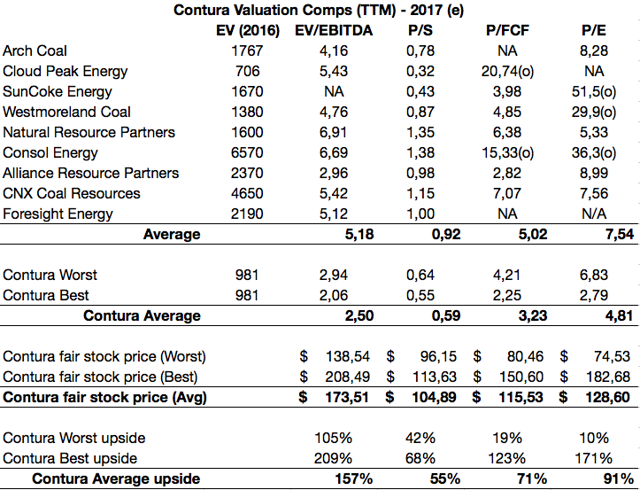 So, one thing appears to be certain: Even in its worst-case scenario, Contura seems to be deeply undervalued relative to its peers. We don't ascribe much significance to P/E and P/FCF metrics as they have some outliers and can vary widely from year to year. We tend to rely much more on EV/EBITDA and P/S as EBITDA and sales are much more stable from year to year and provides for a much smoother comparison.
In this case, we see much less variance on P/S multiples, so our valuation relies more heavily on this metric. We see Contura easily being worth somewhere between $100 and $120 per share -- a 50% to 80% upside. If this is such a good opportunity, is there anyone else seeing it? In fact, people are starting to notice.
Alluvia Capital has said:
Based on current coal prices and company-provided estimates of production and contracted delivery prices, I estimate Contura will produce at least $350 million in unlevered cash flow in 2017, and free cash flow of at least $170 million for a free cash flow yield of 23%.
And FBR Capital has said:
We initiate coverage of Contura Energy, Inc. with an Outperform rating and a $100 price target. (…) CNTE currently trades at a substantial discount to its peer group.
Despite being an obscure company, we are not the only ones seeing Contura's upside, which is good. But we need much more market recognition of the company's value, namely the big institutions and Main Street to re-rate Contura toward normal industry's multiples.
We think there are a few ways for this to happen. First, as time goes by, more and more people usually start to notice the undervaluation. This is what usually happens with obscure companies. Normally, the re-rating of companies coming out of bankruptcy takes at least one year since the market needs to check if execution matches the reorganization plan. This should happen by this time next year, once FY 2017 financials are released with the added benefit of improving coal prices.
Second, the company is presently listed on the pink sheets with limited liquidity, which hurts valuation and visibility to institutional investors. An uplisting should be on the works, specially since investors were given registration rights that can be triggered on or after Feb. 1. Third, there is always the possibility that management takes action to close their stock's gap relative to their peers, namely through share repurchases, stock buybacks or going to conferences and doing presentations.
In the commodity industry, unless you are the low-cost producer, chances are you are worth the same (in relative terms) as your competitors, provided that your balance sheet is clean. Your business is cyclical -- so is everyone else's -- and your revenues and margins act accordingly. When the commodity price goes up everyone in the industry benefits, when it goes down everyone suffers.
Because of this, the majority of the industry constituents should see the market value their stock in a tight range -- $1 in sales in Company A is worth roughly the same as $1 in sales in Company B. And that is true for everyone but Contura, whose sales are valued by the market by roughly one-third of the industry average. By re-rating to market average multiples, Contura should see a very nice price appreciation, which we expect to occur in the course of the next couple of years.
Disclosure: I/we have no positions in any stocks mentioned, but may initiate a long position in CNTE over the next 72 hours.
I wrote this article myself, and it expresses my own opinions. I am not receiving compensation for it (other than from Seeking Alpha). I have no business relationship with any company whose stock is mentioned in this article.