Introduction
Snapchat's (SNAP) upcoming IPO has drawn a lot of attention with its proffered valuation ranging between $19.5-$22.2 billion. This article examines how the lofty valuation is not warranted due to its unproven business model and revenue streams. This article highlights Snapchat's current challenges and inability to retain and grow their advertiser platforms, which makes up 88.2% of their revenue stream.
Snapchat has three self-proclaimed advertising avenues: Snap Ads, Sponsored Geofilters, and Sponsored Lenses. Comparing Snap to its main competitor, Facebook's (FB) Instagram, will show how drastic these flaws are. For longevity sake, I will try to keep my references to Instagram at a minimum, and will continue to cover Instagram's new features, and how it differentiates itself from disruptive market intruders.
Both applications are based on the connectivity of people, yet there are meaningful differences in how they implement their respective strategies. Snapchat is based off sharing quick snapshots and videos of what people are doing, which subsequently disappear after 24 hours. Instagram is more focused on sharing moments that individuals want to remain, to create a profile, a business, or otherwise. Instagram allows one to build an identity on the platform. The lack of ability to create an identity within Snapchat undermines user engagement from the beginning, which will deter user engagement and inhibit their ability to attract advertisers.
Snap Ads
Snap Ads are vertical full screen video advertisements that play when an individual is watching a live story, a news publisher's story, or when watching another user's story playlist.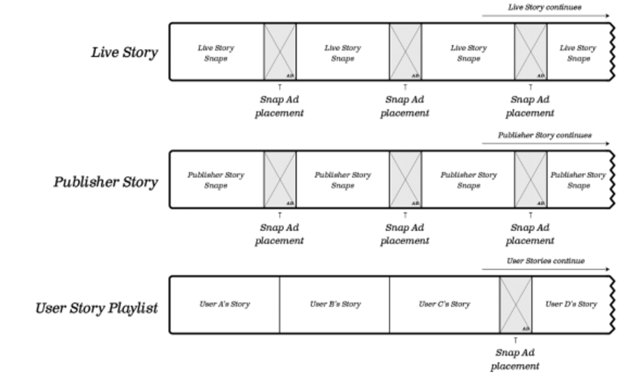 Source: Snap's S-1 (pg. 107)
Live Stories allow users to send in pictures of specific events, then Snapchat compiles them, chooses which pictures to use, then publishes them to a larger audience of users. "One Direction Makes History" and the "Milan Fashion Week" are their current options as I write this article. I originally thought Snapchat completely removed these Live Stories because I had not seen one in forever, but that was because they are placed at the very bottom of your friends' recently updated stories, making users scroll to the very bottom of the page before the Stories present themselves.
These ads enable slightly more targeted ads based on the Live Story that is being watched; however, the ease of being able to skip these ads make it unrealistic that individuals will actually watch. Further, Snapchat increases its overhead cost by having individuals pick out the chosen stories for fear that something inappropriate may be submitted. This aspect differs from Instagram's low-cost platform because Instagram doesn't have to create any content. The users create the content and Instagram simply observes what the users follow, pictures and videos they view, comment on, "like," etc., and is able to place it into an algorithm to classify each profile. Snapchat provides no information in the S-1 regarding the viewership of the Live Stories.
Publisher stories are stories within their news or "Discover" outlet. These are also able to be slightly more targeted based on the story the user is reading. For example, Planet Earth's magazine segment on penguins has advertisements regarding sustainable energy, and Sports Illustrated has advertisements for the new Baywatch movie. The articles are not standard, and are largely depicted through single sentences on the screen with videos or other related pictures/videos in the background.
This requires the user to tap through the article, thus, when an ad pops up with the disclaimer that it is an ad at the bottom right corner, the user is able easily skip the ad. In terms of the articles themselves, it takes forever to get through and actually retrieve something of substance from it through clicking through one-sentence snaps at a time. This form of news may be what some millennials are looking for, but the sheer inefficiency of the news will deter users in the long term.
The last avenue for Snap Ads is the User Story Playlist. Although I find all the Snap Ads invasive, this is by far the most intrusive. Snap users can upload stories to their profile, allowing their friends to view them for a 24-hour period. Ads within this avenue hurt user engagement. Users click on these stories expecting to view what their friends are doing, not have some random face pop out telling you about a product. This would be the same concept as if Instagram put advertisements on specific user's profiles; it would kill user engagement.
Further, these ads are not targeted to any individual other than their only market - the millennial crowd. Instagram has user profiles for every interest thinkable (sneakerheads, fitness accounts, watch aficionados, news, travel enthusiasts, they are literally endless) and the platform is able to harvest all this data on everything you like, to create targeted ads within the user's feed. This is much less invasive because the ad is specific to what the user typically follows, thus, it hardly even registers as an advertisement at all. A final note, I have seen an advertisement after "User A's Story" many times.
Snapchat offers the following formats to advertise within the streams above: long-form videos, articles, app installs, or web views as depicted below.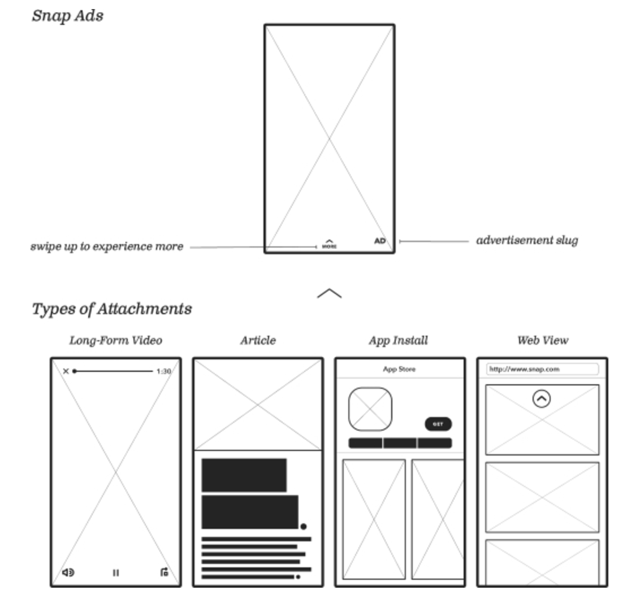 Source: Snap's S-1 (pg. 108)
I will cite to the efficiency of these advertisers using Snapchat's "Success Stories" found here. I always look at advertising efficiency numbers and studies with skepticism, especially when the stats chosen for the success stories are picked by the company, which is attempting to draw in the advertisers. Snapchat offers Shock Top as one of its Long-Form Video success stories. The first red flag I saw on Shock Top's success page is that it reached 2.9 million Snapchatters, with views totaling 12.5 million.
That means that each Snapchatters would have watched this ad 4.3 times (a little overbearing if you ask me), and it is hard to believe that after the first ad they watched the whole video again (if they even watched it all the way through the first time). Their stats, being 15-point increase in brand awareness (I'd sure as hell hope so if you were shoving this ad in my face 4+ times), a 19-point increase in message association (no further clarification on what this means), and 22% lift in purchase intent (which also means nothing to me if you don't have actual proof these viewers purchased it).
Snapchat offers no success stories related to its Article Attachment.
One of Snap's success stories related to App Installation is Kabam's Contest of Champions. Snapchat chose to cite the following statistics: 5+ million views, 9% unique engagement, and 11,000+ app installations. Using the vague (+) following the numbers, this translates to .2% of individuals downloading the free application. Further, these numbers don't take into account the individuals who download the app, then immediately delete it because it's not what they thought it was (I do that frequently and so do many of my friends).
I'd prefer to know how much money the people who installed the app spent on add-ons, rather than the information given. Once again, Instagram also offers instant app installation advertisements, which are easily traceable, and much more targeted based on the interest of the users rather than the general demographic.
Web View ads are probably the most viable option under Snap Ads because they are the only option that provide an avenue to visit the product's site and make purchases, although none of Snap's statistics reveal if something was actually purchased on the website. Snapchat offer's two Web View campaigns: AT&T (NYSE:T) and Hollister. AT&T had 4m+ total impressions (that means nothing to the bottom line), 1.6x increase in time spent vs. websites without Web View loading (unimpressive and obvious), and 14% unique engagement (means very little in the grand scheme of things).
Snapchat's statistics for Hollister show an 11% increase in unique engagement, 2X increase in time spent attributed to Web View instant loading (what does this even mean), and 31 seconds of unique time spent on websites. I'm sorry but if I were paying to make these advertisements, and paying Snapchat to place them on the platform, I damn well better be getting some more specific statistics on how any of these affect my bottom line.
Snapchat continually cites to these stats that are immaterial but sound good on their face. Further and once again, Instagram provides a much more specific target demographic, and allows you to shop within the application, making it much more seamless and allowing for better data for the advertisers.
Although Snap Ads should provide the best consumption data for advertisers as opposed to Geofilters and Lenses, the figures cited to are underwhelming. Moreover, the intrusiveness affects the user experience and the ads are much less targeted than Instagram's data harvested targeted ads. Perhaps this is why Snapchat provides several more "success stories" related to sponsored filters as opposed to Snap Ads. However, these are equally less effective, and can also only be used to raise brand awareness.
Sponsored Geofilters
Snapchat's Geofilters offer advertisers another avenue for exposure; however and yet again, it is next to impossible to trace the effectiveness of these advertisements. Geofilters are predesigned filters available on the preview screen before you send the snap. They are based on geographical landmarks, such as buildings, and other large events.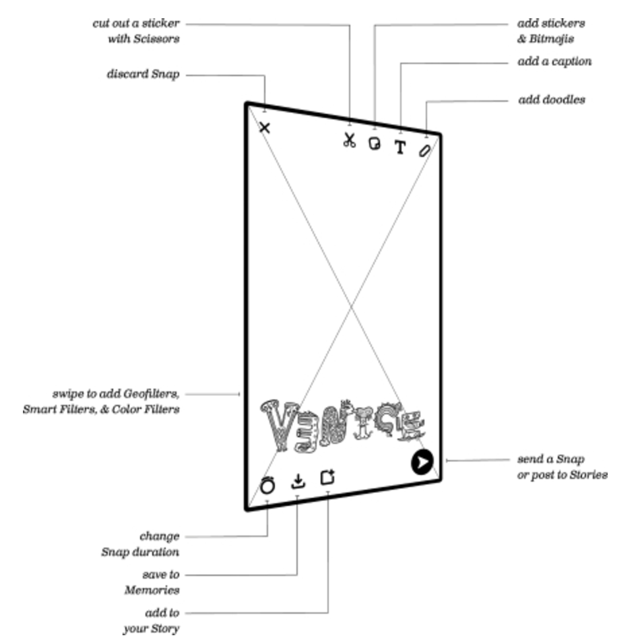 Source: Snap's S-1 Filing (pg. 95)
The statistics given throughout the Geofilter's success stories are even more vague and unconvincing than the Snap Ads. For instance, online deal application RetailMeNot (NASDAQ:SALE) was cited to have reached 11+ million Snapchatters, have 20+ million views, and one in six Snapchatters who unlocked the filter chose to use it. Once again, none of these stats tell the advertiser how effective this filter was in increasing traffic to the app.
An equally unpersuasive story is Burger King's hot dog Geofilter campaign. Snapchat cites to one out of every five Snapchatters who unlocked the filter sent it, an 18-point increase in Ad Recall, and my personal favorite: 76% of Snapchatters who remembered the Geofilter said it made them happy. The lack of ability to track the real influence these ads have cause Snap to provide these unimpressive and nonsensical statistics.
In an attempt to reconcile their inability to deliver numbers to the advertisers, they developed the Snap-to-Store measurement methodology.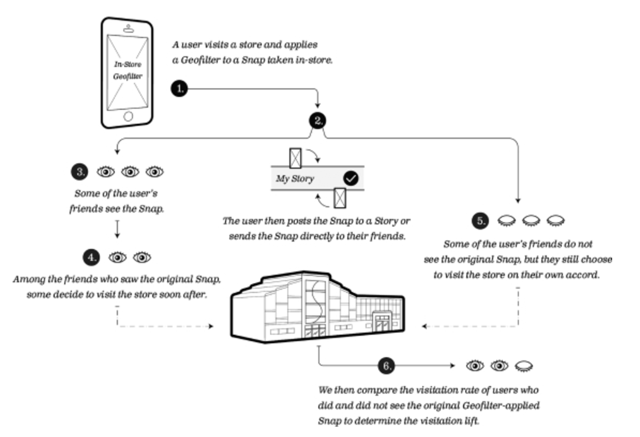 Source: Snap's S-1 filing (pg. 113)
I think the convolution speaks for itself in this desperate attempt to harvest some measurement. There is no solid way to measure the effectiveness of these Geofilters, and this will deter advertiser use, and only be a minimal avenue for companies to increase brand awareness and first-to-mind branding.
Sponsored Lenses
The last advertising avenue effectiveness is largely in the same vein as Geofilters in terms of the inability to track the effectiveness. Lenses are typically interactive animations that are either overlaid on a person's face or changes the overall background around the person. Snap originally attempted to monetize the lenses by creating a store where users can purchase them. This failed, lenses usage deteriorated, and Snap abandoned the sale of them and began attempting to sell them to advertisers. Snap offers some lenses that are sponsored and some that are Snapchat created.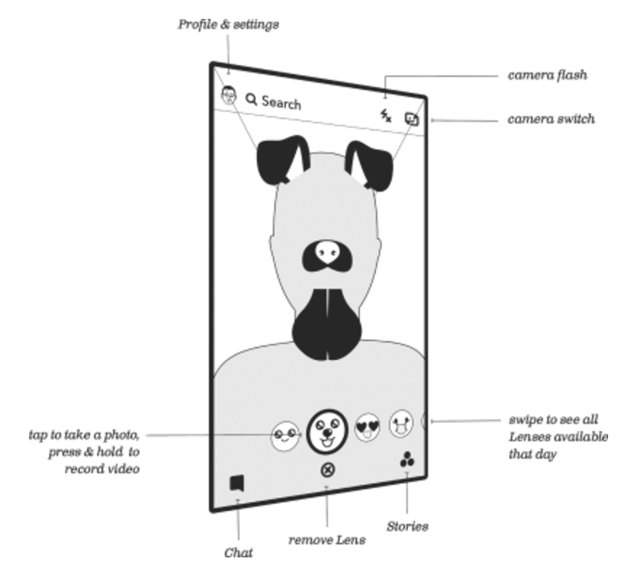 Source: Snap's S-1 (pg. 94)
One of Snap's success stories come from X-Men: Apocalypse, which is one I personally remember using several months ago. The chosen successful stats were 109 seconds of average play time spent with the lenses, a 13-point increase in brand awareness, and a 25% lift in theater watch intent. I remember using the Lens that shot laser beams from my eyes, probably sent it to a few people with a caption I thought was clever. The fact that I remember using it is somewhat impressive from an advertiser standpoint, but this made me no more likely to watch the movie because it simply reminded me how I dislike the characters and storyline of X-men.
The ad would have been much more effective if they were targeted towards people who have expressed a mild interest in superhero movies. Another one of their self-proclaimed sponsored Lens success stories is Suicide Squad's. They cite to a 22-point increase in Ad Recall, and a 14% increase in watch intent. Both statistics fail to translate to actual viewership of the movie, a continuing problem with both the Lenses and Geofilters.
This form of advertising also increases the overhead to the companies to create the ads, along with the cost of third-party studies to see how effective (if at all) the ads were. There are ways to incentivize use of these products in a way that give advertisers more feedback; however, Snap has failed to implement any.
Final Thoughts: User Growth
Snap's slowing user growth has been a red flag for a lot of potential investors. Snapchat offers only one viable avenue for users to expand who they follow: through their contacts. Thus, you can only add people whose number or username you have, but let's be honest, if you don't have their number, you don't have their user name.
This differs from Instagram where it is connected to your Facebook, and you Snap more than just your friends. Although you can find other usernames via the internet, the lack of seamlessness in adding friends (not just individuals but also other accounts), along with the inability for users to create an identity/profile within Snapchat will halt both user growth and engagement.
I will continue to cover new features and updates of both Instagram and Snapchat's that affects their business model. Specifically, I have begun writing the follow-up article on Snap's spectacles, the non-voting shares, and an overall opinion on the psychology of Snap's CEO.
Disclosure: I am/we are long FB.
I wrote this article myself, and it expresses my own opinions. I am not receiving compensation for it (other than from Seeking Alpha). I have no business relationship with any company whose stock is mentioned in this article.