Stop me if you've heard this one recently: shares of Advanced Micro Devices (NASDAQ:AMD) have hit a new high. Well, the chip giant topped $15 on Monday, its highest level in several years. With the sharp rise that we've seen over the past year, seen below, you can imagine that there will be those skeptical this pattern can continue. Well, the latest data on short interest shows this is the case.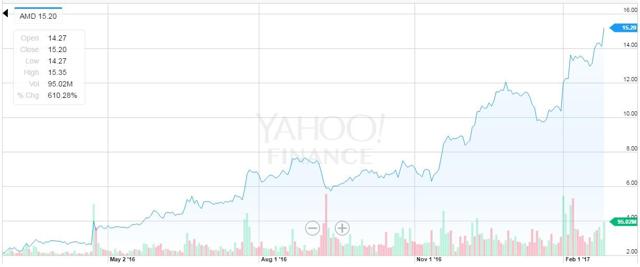 (Source: Yahoo Finance)
The rally has been so incredible that the convertible bonds the company sold just a few months ago are now trading for over $204, more than double par. As I discussed in my previous article on the name, the rally in both the bond and stock could make bond holders think twice about their positions moving forward.
The latest leg of the past year's rally started when the company announced a solid earnings report. With AMD also giving decent guidance for Q1, I stated that the name was now on the clock. The first Ryzen processors are now available for pre-order with their release coming on March 2nd. Even a small success with Ryzen would solidify AMD's turnaround, helping revenues to grow and perhaps the company turn a GAAP profit in the near future.
However, when you get such a sharp rally, you are likely to find a crowd of non-believers. That is the case here, as short interest has now risen for two and a half months, up over 28% during these five straight increases. As seen in the chart below, the number of AMD shares short is at a 10-month high.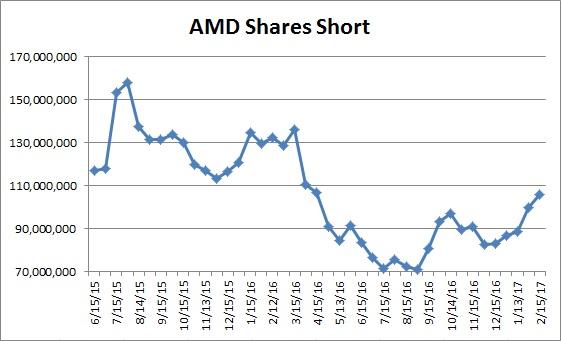 (Source: NASDAQ AMD short interest page)
However, just looking at the number of shares short doesn't tell the whole story. When short interest was at a comparable level in April 2016, AMD shares were at just $2.70, meaning the total value of short positions was less than $290 million. At the latest update, with a 2/15/17 settlement date, the total value was over $1.4 billion. Assuming that the number of shares short has stayed the same in the second half of the month, which is unlikely, the value would have increased another $200 million as of Monday's close.
It is certainly possible that there is more than $1.6 billion worth of AMD shares short at this point. While it's not a surprise to see non-believers return given the sharp rally in this stock, the release of Ryzen is now upon us. Short sellers have lost a ton on AMD over the past year, and if this new processor line performs even adequately, the pain for those betting against the name will only increase. With more than 13% of the float short again, short covering could easily help the rally continue.
Disclosure: I/we have no positions in any stocks mentioned, and no plans to initiate any positions within the next 72 hours.
I wrote this article myself, and it expresses my own opinions. I am not receiving compensation for it (other than from Seeking Alpha). I have no business relationship with any company whose stock is mentioned in this article.
Additional disclosure: Investors are always reminded that before making any investment, you should do your own proper due diligence on any name directly or indirectly mentioned in this article. Investors should also consider seeking advice from a broker or financial adviser before making any investment decisions. Any material in this article should be considered general information, and not relied on as a formal investment recommendation.