By Mark Bern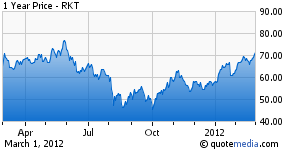 Rock-Tenn Company (RKT) has a lot of momentum in the packaging and container business. The dividend has grown at an annual compound rate of 17.4% over the last five years from $0.36 per share to $0.80. Earnings per share have shot up by a compound annual rate of 47.8% using adjusted earnings instead of GAAP earnings (GAAP earnings rose from $0.01 to $2.76 over the five year period making the calculation non-meaningful). The stock currently trades at $70.49 per share with a dividend yield of 1.2%.
The company's purchase of Smurfit Stone Container (May 2011) has turned out to be accretive to earnings immediately. The company is targeting $150 million in synergy savings by year-end 2012, but it appears that it will surpass this target since $110 million had been identified by September 2011 and $29 million had already been realized during the quarter. This would be a good time to remind readers that Rock-Tenn significantly underestimated savings it would achieve from previous acquisitions of Gulf States and Southern Container. The company is also expecting savings of about $400 million annually from other, performance based improvements including facility upgrades. I also expect the company to use cash flow to aggressively reduce debt assuming it makes no further major acquisitions.
I also like the fact that Rock-Tenn is a huge recycler. Just my personal preference, but the company is the 2nd-largest producer of coated recycled paperboard in North America. The company has foreign operations is Canada, Mexico, Argentina and Chile. With the addition of Smurfit Stone, Rock-Tenn is positioned to increase sales by as much as 80% in 2012 over 2011. The increase in share earnings will be diluted by the additional shares outstanding from the merger while the company also faces increases input costs. I expect earnings per share to increase about 9% in 2012 and then average closer to 12% growth thereafter for the next five years.
Let's look at how RKT scores on the report card relative to the industry averages. I prefer comparing companies to industry peers rather than the broader market because each industry has unique requirements in areas such as debt, labor intensity, marketing, and the like. Thus, comparing to industry averages provides me with what I believe is a better gauge of how well a company is managed.
| | | | |
| --- | --- | --- | --- |
| Ratio / Measure | | Industry Ave. | Pass / Fail |
| Ave. Annual 5-Yr Earnings Growth | 47.8% | 3.5% | Pass |
| Ave. Annual 5-Yr Div. Growth | 17.4% | 8% | Pass |
| Net Profit Margin | 5.1% | 5.5% | Neutral |
| Debt to Total Capital | 50% | 42% | Neutral |
| Return on Total Capital | 4.9% | 10% | Fail |
| Dividend Yield | 1.2% | 1.8% | Fail |
| Payout Ratio | 7.1% | 25% | Pass |
| Price-to-Earnings | 24.9 | 25 | Pass |
The failing grade in the return on capital area does not worry me so much since the company is spending heavily on capital upgrades on facilities acquired in the merger and this ratio should improve significantly over the next couple of years. I really do wish the dividend yield were higher but I also like the flexibility the company has to raise their payout ratio. I realize that if you check elsewhere you will find the payout ratio reported around 28%. But that ratio uses GAAP earnings per share with a lot of non-cash items netted out. If you remove the non-cash items related to the acquisitions, the earnings per share are $5.50 per share. Using this number, which I believe is a much more real number. I'm not trying to make the company look better. I'm just trying to use what makes more sense to me from a comparability view. The company states historical earnings, GAAP and adjusted, in the most recent annual report.
As earnings continue to climb by low double digits, dividends should keep pace. Once the non-cash, one-time charges are history, I believe we'll see a jump in earnings per share and the P/E will be less than half where it is today. It is my opinion that the shares have the potential to nearly double from the current price over the next five years.
My goal is not to try to time the market or pick the top or bottom for any individual stock. Rather, I hope to separate the wheat from the chaff, so to speak. I try to bring the best two or three companies in each industry to investor attention. None of us knows with certainty when the market will correct or head higher or by how much. I also hope that all investors will complete additional due diligence on each stock considered before adding purchases to their portfolio to ensure that each holding is appropriate and suitable to each individual's needs.
My way of entering a position in a company like RKT is to sell put options. If I get put the stock I get it at a cost basis below the current price and am happy. If the option expires worthless, I just end up with a good return on my cash while I waited. I like that also. My favorite option to sell on RKT is the July put with a strike price of $65 and a premium of $3.10 per share. By writing this put (also called originating or selling to open) we collect $310 on each contract that we sell (100 shares per contract x $3.10 per share = $310) that we get to keep no matter what happens. If the share price drops to or below our strike price on the expiration date (July 20, 2012) we will be obligated to purchase 100 shares (per contract that we sell) at the strike price of $65. Our cost basis (for tax purposes) will be $61.90 ($65 - $3.10) which equates to a 12.2% discount from the current price of $70.49. Again, if we don't get the stock we just receive the $310 (less commissions) for an annualized return of about 11.3%. I must caution readers that they should never sell a put option on a stock that they do not want to own.
Disclosure: I have no positions in any stocks mentioned, and no plans to initiate any positions within the next 72 hours.