Back in November, I first wrote about my Dividends Forever! portfolio and I explained that I never intend to sell any stock within the portfolio unless my original investing thesis changes. Since then, I have added new positions (PEP, GIS, KO) and increased my positions in Johnson and Johnson (NYSE:JNJ) and Lockheed Martin (NYSE:LMT). I am currently looking to add 2-3 stocks to the Dividends Forever! portfolio in the next month.

General Mills (NYSE:GIS) (Bought in December 2016)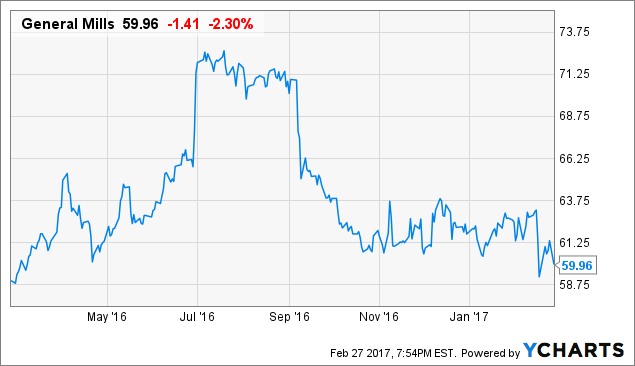 I expect GIS to boost its dividend this year. I'd be happy if the company raised its quarterly dividend to $.50 from the current $.48 quarterly payout. The Cheerios manufacturer reported weaker than expected sales for the 4th quarter of FY16. Net revenue fell 7% YoY driven by sluggish sales of Yoplait yogurt and Progresso soup. The declining sales in yogurt stems from a shift in consumer preference as more people are buying Greek yogurt. Yoplait does have a Greek yogurt product line and the company has been responsive to shifting consumer demand. Additionally, GIS was initially slow to respond to the demand for organic yogurt, but the company's subsidiaries, Annie's and Liberte, have shown impressive growth in the organic yogurt market as the two now have a combined market share of 8%. With a current annual dividend of $1.92 and a yield of 3.13%, I am happy with GIS as a part of my portfolio.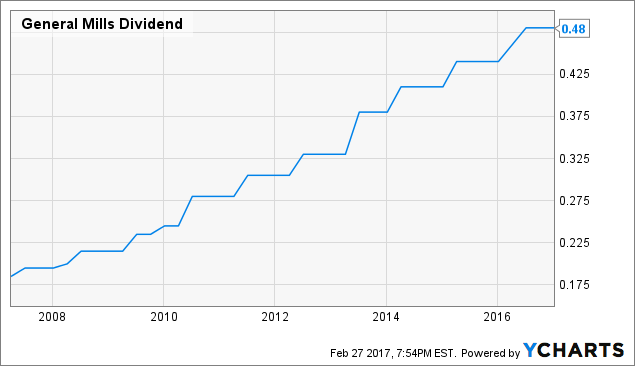 Coke (NYSE:KO) (Bought in November 2016)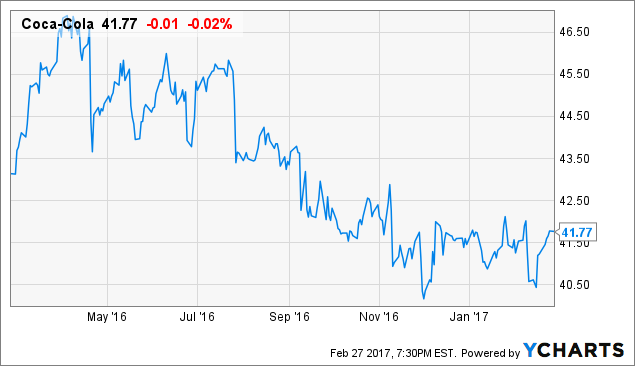 Coke recently boosted its quarterly dividend from $.35 to $.37, which amounts to a 5.7% raise and an annual dividend of $1.48. KO has raised its dividend every year since 1963. This month, the soda giant reported that net revenues declined by 8% and 4% for 4Q 2016 and FY 2016, respectively. These results were mainly driven by currency headwinds. However, the company's North American operations boasted a increase of net sales of 4% for 2016. Coke has been struggling lately with declining soda sales, something that I have discussed previously. KO has mostly stayed flat since I bought the stock back in November. I like the company's future growth prospects in the bottled water market with Vitamin Water and SmartWater. In light of declining soda sales, Coke should move to acquire additional companies to expand its 'healthier' product offerings. Coke currently has a healthy annual dividend yield of 3.54%.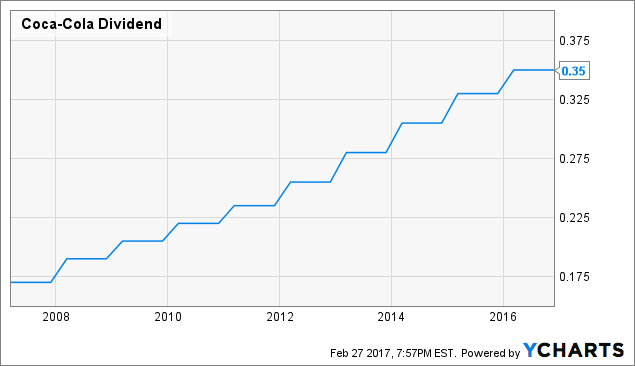 PepsiCo (PEP) (Bought in January 2017)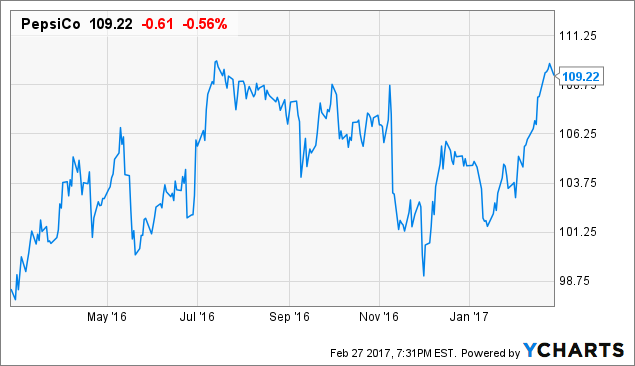 PepsiCo announced that it will be raising its dividend 7% from $3.01 to $3.22. This Dividend Aristocrat has now raised its dividend for 44 straight years. PEP recently announced that the company generated FCF of $7.8 billion and that organic sales (excluding acquisitions and divestitures) grew by 3.7% in FY 2016. PepsiCo launched its LifeWTR premium water brand this month to compete with Coke's leading SmartWater brand. In FY 2016, sales of the company's flagship Pepsi brand accounted for just 12% of total revenue, as the food and beverage giant continues to diversify its product portfolio. The company now expects to generate approximately $8 billion in FCF and pay out $4.5 billion in dividends in 2017.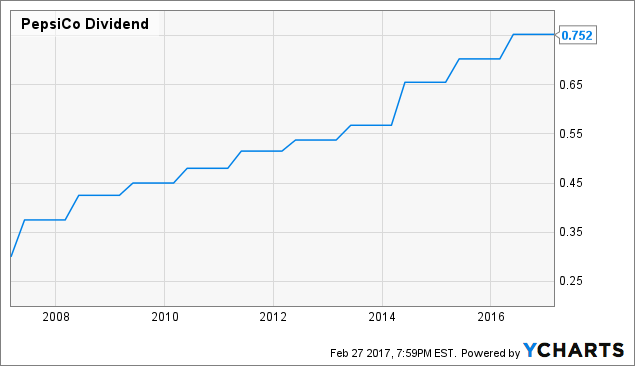 Johnson and Johnson (JNJ)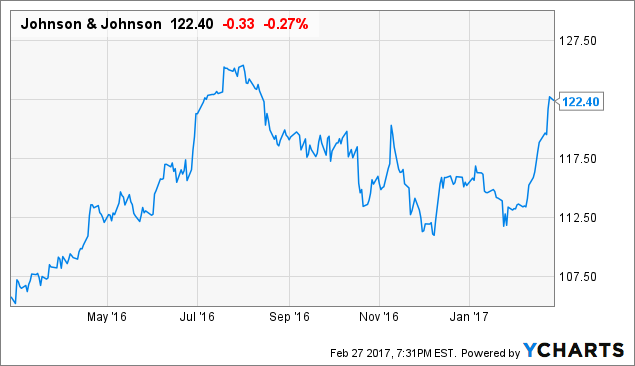 I recently increased by position in JNJ by 20%. The company announced in January that sales and EPS grew by 2.6% and 8.5% respectively for FY 2016. Pharmaceutical sales grew briskly at 11.5%, mostly driven by the Oncology and Immunology. The company's acquisition of Swiss drug manufacturer, Actelion, is expected to be accretive right away for adjusted earnings-per-share. The $30 billion cash deal will be funded by JNJ's overseas cash holdings. I'm happy to see that JNJ is being aggressive on M&A front. This healthcare juggernaut has raised dividends every year since 1963 and with a low payout ratio of 54%, the company has plenty of room for dividend increases for years to come. For 2017, I expect a 5-7% dividend increase. I will buy more JNJ if the stock falls back to the $110 level.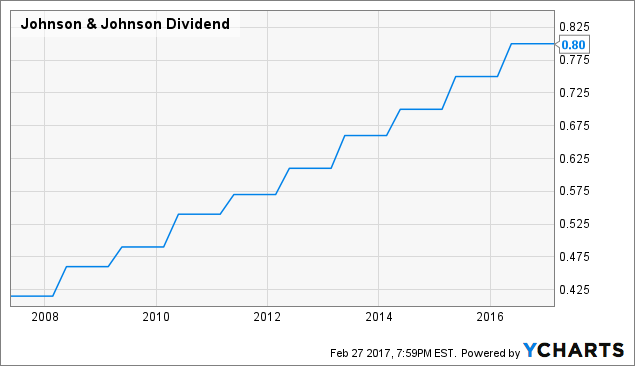 Lockheed Martin (LMT)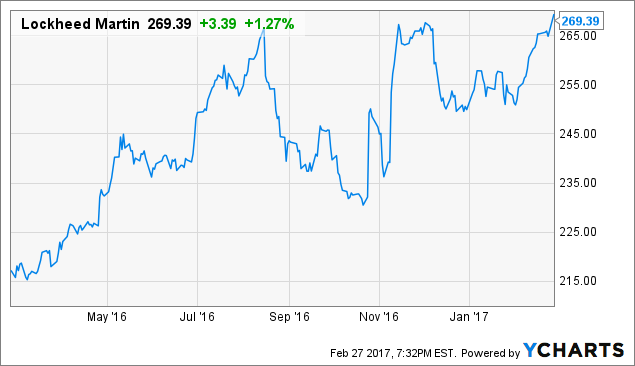 After President Trump tweeted about the cost of the F-35 program, LMT sold off and I took the opportunity to increase my position by 10%. I seriously doubt that Donald Trump's threats are anything more than political rhetoric meant to energize his base. The U.S military is committed to the F-35 program as the Pentagon's acquisition and contracting process is long and bureaucratic, which is why I am confident that Trump's comments won't have much impact going forward. The military has already invested billion of dollars in developing the F-35. Moreover, defense stocks have outperformed the market for the last several years and I expect that trend to continue as defense spending is set to rise. On Monday, the President announced that his proposed defense budget will include a $54 billion increase to the overall budget, which amounts to a 10% increase in spending. The Republicans may also move to remove the Pentagon's budget caps, which would be a boost for LMT. I expect LMT's double-digit dividend growth to continue going forward. Lockheed currently has a annual dividend of $7.28 and a yield of 2.70%.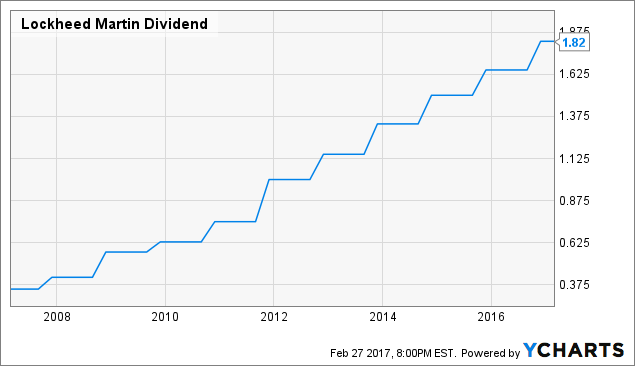 Gilead Sciences (GILD)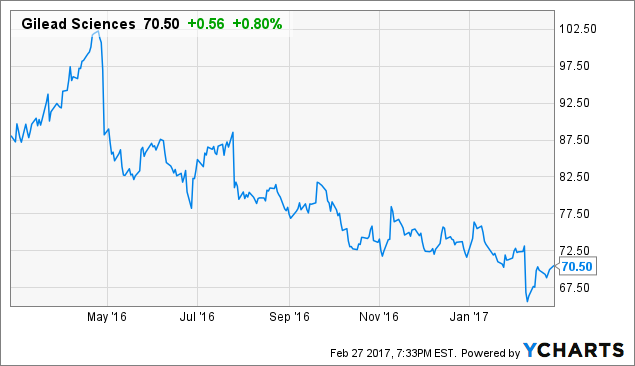 I have been somewhat frustrated with GILD as of late. Hepatitis C drug sales have fallen more quickly than I anticipated and the lack of any action on the M&A front is surprising. GILD announced that it now expects 2017 HCV drug sales of $7.5 billion to $9 billion-well short of Wall Street's estimate of $12 billion. I would have thought GILD would have bought another company at this point. However, I do not see a reason to sell the stock as my original investing thesis has not changed. I still believe that GILD is a good company that is a victim of its own success. HIV product sales are strong and the company has a healthy pipeline. For the time being, I will collect the dividend and wait for what happens next.
Conclusion
In closing, I am content with the Dividends Forever! portfolio going through the first quarter of 2017. I will add to my existing positions, excluding GILD, if the market sells off. We are due for some type of pullback and as a long term investor, I will happily buy more high quality dividend stocks like Phillip Morris International (PM). As always, Dividends Forever!
Dividends Forever! Portfolio Summary

Here are my current holdings for the Dividends Forever! portfolio. As I mentioned previously, I never intend to sell any stock in the portfolio unless my investing thesis changes. Until next time. Dividends Forever!
| | | | | | |
| --- | --- | --- | --- | --- | --- |
| Name | Ticker | Dividend | Current Price | Dividend Yield | Sector |
| Apple Computer | (NASDAQ:AAPL) | $2.28 | $136.93 | 1.67% | Consumer Goods |
| Lockheed Martin | (NYSE:LMT) | $7.28 | $269.36 | 2.70% | Industrial |
| Exxon Mobil | (NYSE:XOM) | $3.00 | $81.549 | 3.68% | Basic Material |
| Gilead Sciences | (NASDAQ:GILD) | $2.08 | $70.50 | 2.95% | Healthcare |
| McDonald's | (NYSE:MCD) | $3.76 | $126.99 | 2.96% | Services |
| Johnson and Johnson | (NYSE:JNJ) | $3.20 | $122.40 | 2.61% | Healthcare |
| Verizon | (NYSE:VZ) | $2.31 | $49.94 | 4.63% | Telecom |
| Coke | (KO) | $1.48 | $41.67 | 3.55% | Consumer Goods |
| General Mills | (NYSE:GIS) | $1.92 | $59.94 | 3.20% | Consumer Goods |
| PepsiCo | (PEP) | $3.01 | $109.27 | 2.75% | Consumer Goods |
Disclosure: I am/we are long AAPL, XOM, LMT, GILD, MCD, JNJ, VZ, KO, GIS, PEP.
I wrote this article myself, and it expresses my own opinions. I am not receiving compensation for it (other than from Seeking Alpha). I have no business relationship with any company whose stock is mentioned in this article.