I've been writing a series of articles related to the water industry. I believe the water industry is severely undercovered in the financial markets, which is a shame, as the underlying rational for water (as investment) is actually very conceivable. This can be an investment either physical (through land or rights), as well as through stocks. Quality water one way or another is equal to money.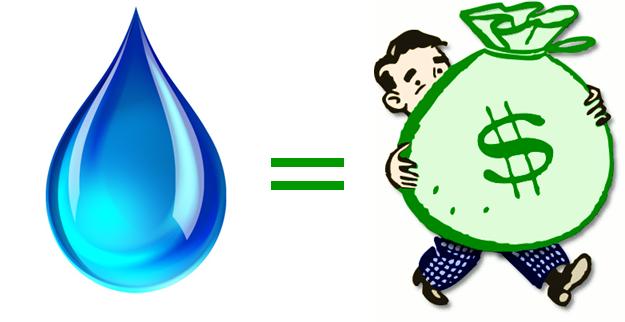 So far I've written 16 articles specifically regarding this topic with firms covered all over the world.
There are also firms which are related to the water industry which I have left out of the list, such as toilet manufacturers (see my article of Toto (OTCPK:TOTDY), Lixil (OTCPK:JSGRY) and Geberit (OTCPK:GBERY)) that I've covered here on Seeking Alpha numerous times.
I've been requested by some users to provide an update on Kurita (OTCPK:KTWIF). The firm announced quarterly results which seemed disappointing and did not match the share price which increased significantly lately.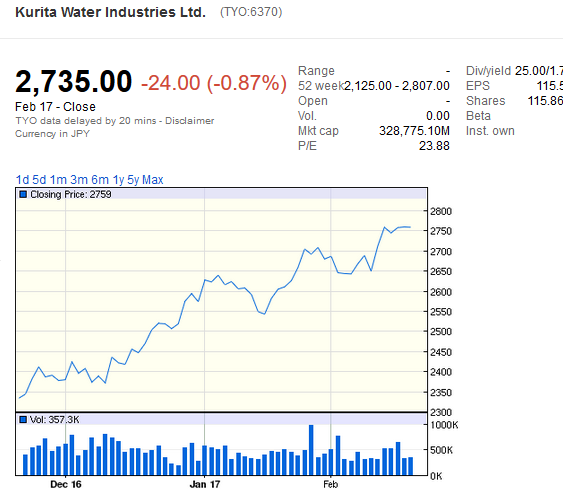 Kurita Recap - The Road Map So Far
In the last article I wrote about Kurita, I mentioned that the Japanese firm has quite a bit of growth already priced in based on its current valuation. And that valuation seemed rather expensive as it floats at the same P/E value of six years ago.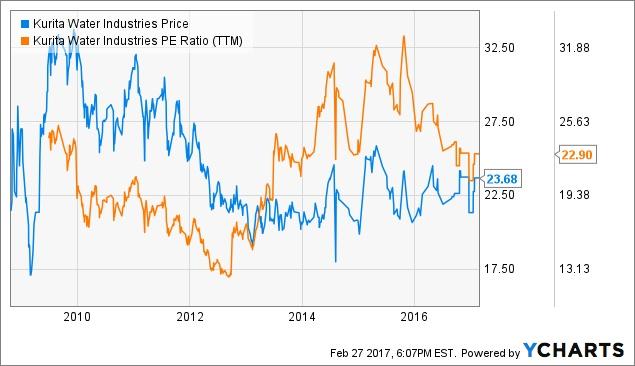 The underlying rational is a very solid resistance for anyone looking to invest in a firm like Kurita.
However, I felt if the firm is able to find interesting partners on the M&A market or able to generate another cash flow stream, it would definitely open the door for further share price growth.
This is regardless of the fact that the firm has seen growth issues outside Japan due to a strong currency. That is much more difficult to tackle as the firm is also chained by government policies, specifically that of the Bank Of Japan (BoJ).
Fremont
Kurita has already followed up on one of its plans, as it very recently acquired Fremont Industries, a relatively small water specialized firm in the US.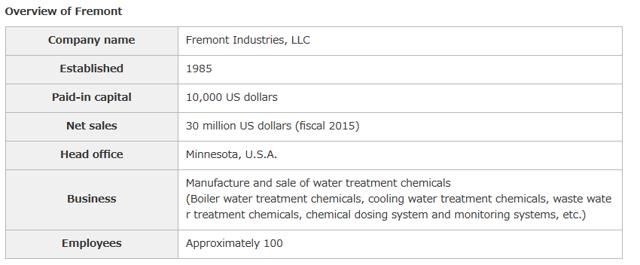 Source: Kurita
During the latest Q&A call, Kurita's management mentioned that it will be able to extend its expertise in Fremont. This in turn should increase its profitability:

Source: Q&A Call
The firm also recently announced an investment in the US firm APANA, a venture company that develops water management technologies and services using IoT in North America. The firm had success with retail giant Costco (NASDAQ:COST) as APANA was able to increase the water efficiency of the retailer, and therefore, the firm was able to reduce its water consumption by more than 20%. These are relatively small investments, but a step in the right direction. As Kurita is not known for its overseas investments, this recent activity is very positive.
Results
As I've mentioned in the earlier article, operating and general income was expected to increase slightly. Unfortunately, the results were not that great due to a variety of financial issues.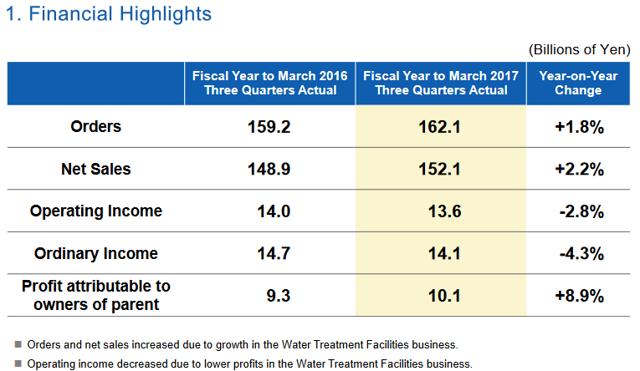 Source: Kurita
As revenue increased and income decreased, the issue lies with the profitability margin of the firm. It therefore doesn't come as a surprise that its total margin has been decreasing.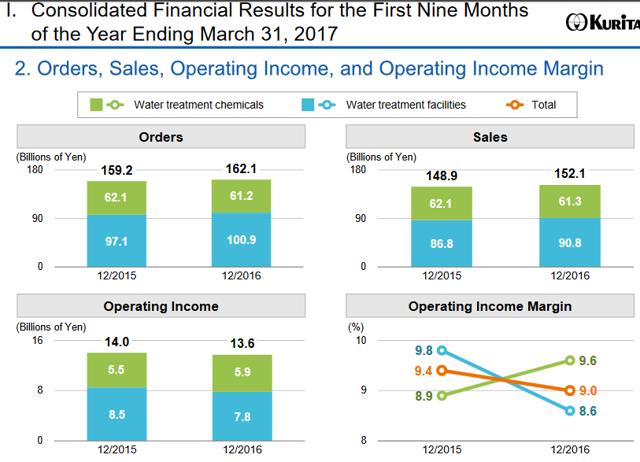 Source: Kurita
The question regarding a decline in operating margin has been provided in the Q&A session:

Source: Q&A call
This sounds reasonable. It's important to realize that water treatment facility margin issues, as suggested above, will remain an issue in the next year. And even though there might be an offset, unfortunately, it is the water treatment facilities that saw an increase in revenue in contrast to water treatment chemicals which saw a decline in revenue (due to currency issues). The latter saw an increase in margin as SG&A expenses declined. The ideal situation would be the other way around; the group which increases in revenue also sees an increase in margin.
The forward-looking analysis clearly shows that the firm is expecting significant challenges, many of which it doesn't have much control over, such as a strong yen for example.
See below for the consolidated business plan for the upcoming quarter: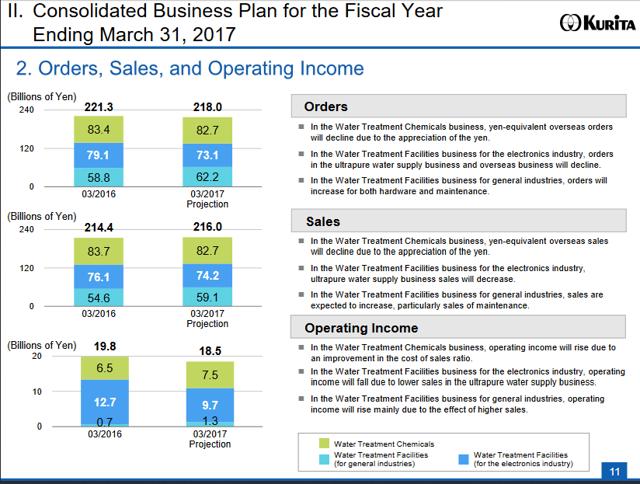 Source: Kurita Presentation
The majority of the issues are due to the yen appreciation.
Capital expenses decreased significantly while R&D remained relatively similar.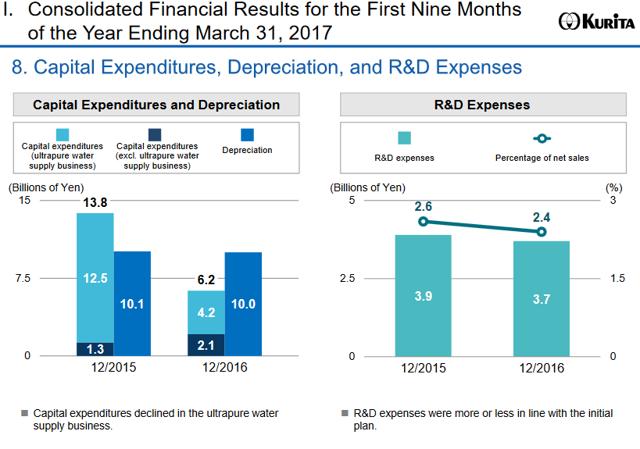 Going back to the valuation case, which I've mentioned before, the firm has not seen significant changes for a while.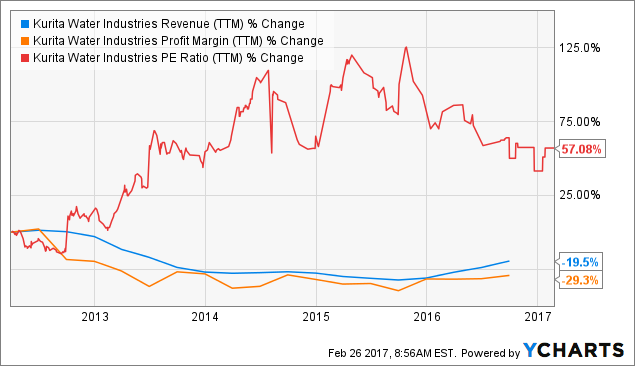 Revenue and profitability have been under pressure for a while, not moving significantly up after they went down in 2011. Its overall valuation went up, making the firm less attractive based on classical, fundamental metrics.
Summary
The Q&A call really sums up the current struggles Kurita is facing. The firm has a solid base, but due to a variety of issues (goodwill amortization, write-offs, currency struggles with the yen, mixed geographical segmentation), it is in a precarious situation.
The underlying fundamental base of Kurita is solid enough to deal with the severe financial issues, and this limits the downside. Unfortunately, this doesn't provide evidence for upside growth.
However, I believe, given the numbers and the recent acquisition, Kurita is on its way to provide better fundamental results. Not rapidly, as the size of the acquisition is not large enough, but in a more decent pace.
For now it's time to see how the investments and acquisition will pay off and whether or not a strong yen will remain. The last I read on this was that JPMorgan is still betting on a stronger yen as inflation fears might overtake the fear of Trump's trade policies. It shouldn't be underestimated how much the impact of a strong yen is on Kurita. To follow more on this, it's worth looking how the Bank of Japan operates. M&A activity should diminish the reliance on one single currency.
Previous Water Articles
Underneath the 16 articles I've covered on Seeking Alpha regarding the water industry as of Feb-17:
| | | | |
| --- | --- | --- | --- |
| ArticleNr. | Country of Coverage | Firm | Links |
| 16 | France | Veolia (OTCPK:VEOEY) | |
| 15 | Japan | Kurita | |
| 14 | 2016 - yearly update | All firms I've previously covered | |
| 13 | England | Pennon Group (OTCPK:PEGRY) | |
| 12 | Brazil | SABESP (NYSE:SBS) | |
| 11 | USA | American Water Works (NYSE:AWK) | |
| 10 | United Kingdom | Severn Trent (OTCPK:STRNY), United Utilities (OTCPK:UUGRY) | |
| 9 | (Article about hedging a water portfolio) | N/A | |
| 8 | Japan | Kurita Water Industries | |
| 7 | France | Suez (OTCPK:SZEVY) | |
| 6 | France | Veolia | |
| 5 | USA | American Water Works | |
| 4 | (Water ETF comparison article) | | |
| 3 | (Water ETF article) | PIO | |
| 2 | (Water ETF article) | FIW | |
| 1 | (Water ETF article) | PHO | |
Disclaimer
I currently do not hold stocks in Kurita. This article provides opinions and information, but does not contain recommendations or personal investment advice to any specific person for any particular purpose. Do your own research or obtain suitable personal advice. You are responsible for your own investment decisions. This information is not a recommendation or solicitation to buy or sell securities, nor am I a registered investment advisor.
Disclosure: I/we have no positions in any stocks mentioned, and no plans to initiate any positions within the next 72 hours.
I wrote this article myself, and it expresses my own opinions. I am not receiving compensation for it (other than from Seeking Alpha). I have no business relationship with any company whose stock is mentioned in this article.
Editor's Note: This article discusses one or more securities that do not trade on a major U.S. exchange. Please be aware of the risks associated with these stocks.