The retailer famous for its red bulls-eye reported a large miss when its Q4 results were announced. Shares of Target (NYSE: TGT) are currently being hammered lower as the market digests the figures. Perhaps most alarming is that management is officially acknowledging that Target's model as a shopping "experience" - no longer works on its own, and will be taking steps to chase lower cost competitors. This will eat into margins, and cause even more pain in the short term. With that said, there is opportunity for long term investors. The dividend yield is unusually high, and the dividend itself is more than covered by earnings. However, there is risk involved as Target redefines its competitive offering to the market.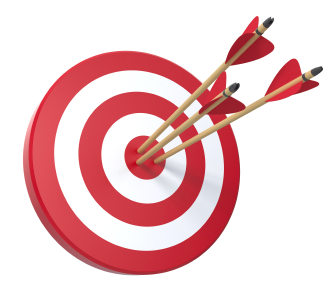 The earnings release was ugly from just about every angle:
Q4 earnings missed analyst estimates by $0.06, and revenues missed by $50M.
Comparable sales for the quarter were down 1.5% y/y, even though store traffic was flat at 0.2%.
Q4 GAAP EPS from continuing operations were $1.46, at the very bottom of guidance.
Full 2016 GAAP earnings were down 12.7% y/y.
2017 guidance is forecasting another decline in earnings with full year estimates of $3.80 - $4.20 per share.
What has worked for Target, up until recent years? Target has modeled itself as a "cool" place to shop for a targeted demographic. From its partnership with Starbucks (NYS: SBUX), to its aggressive branding throughout the store, and its social media presence - the retailer has struck a note with younger shoppers.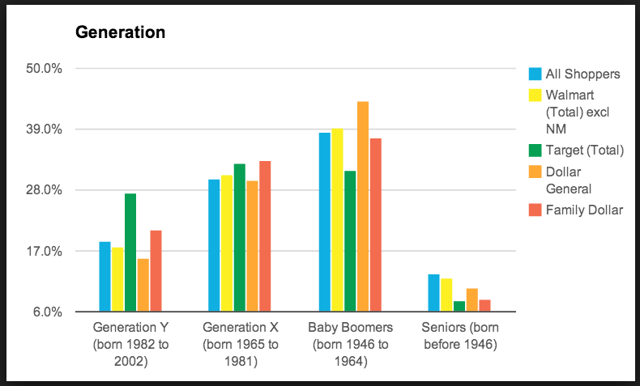 source: Business Insider
Unfortunately, this is no longer enough. Target has had a series of missteps and unfortunate events in recent years that has arguably tarnished the brand. Target tried a multi-billion dollar expansion into Canada, that had to be aborted within two years. It was the victim of the largest hacking in retail history. Its foray into the political spotlight with its transgender bathroom policies angered enough people for a boycott of the retailer to organize. In addition to the cumulative damage from these events, competitors are stepping up the value they bring to consumers - and it is working.
Amazon (NYSE: AMZN) is continuing to rapidly grow revenues, with double digit increases again forecasted for 2017.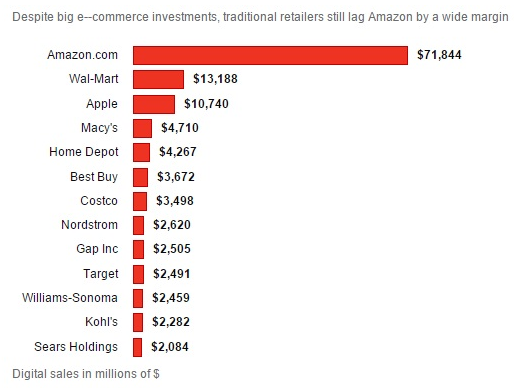 source: AmigoBulls
It is by a mile, the dominant player in market share among E-Commerce. Target is such a small player in E-Commerce, that it is hard to find a feasible path to meaningful growth outside of cannibalizing existing sales by switching loyal Target shoppers from in store buying, to online. In addition to a larger selection, and competitive pricing, Amazon shoppers get the added value from a Prime membership that includes discounts, freight savings, and digital media content.
Long time rival Wal-Mart (NYSE: WMT) best known for its competitive pricing, is doubling down with an aggressive pricing initiative. Wal-Mart by the way, saw a 1.8% increase in same store sales during their own Q4. It is also using its massive cash generation (more than $6B in cash on books, and $30B+ in cash flows) to build up its E-Commerce presence. With more than $490B in revenues to Target's $70B, Wal-Mart has the size to invest in itself, while at the same time continuing to be a price leader in the market place. Its volumes are so high, that it can operate on razor thin margins and still generate a ton of cash. It is questionable to what degree Target can do the same. Does Target have the leverage Wal-Mart does with suppliers in order to cut costs? Can Target handle the 4-5% operating margin that Wal-Mart works on? Dropping Target's operating margin would require an enormous bump in volume to make up the resulting drop in net income. There are not many companies that can survive on the margins that Wal-Mart is able to. In addition to the advantage Wal-Mart's size affords it, it is also very efficiently run. For example Wal-Mart's asset turnover ratio - a gauge of a company's revenues in proportion to its assets is 2.44%. This is 34% higher than Target's turnover ratio of 1.82%. Wal-Mart is able to do "more" with less margin.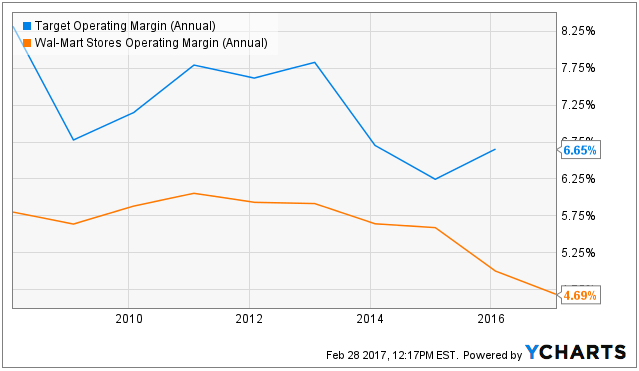 These are some of the challenging issues that Target will need to address over time. It is clear that as of now, status quo is resulting in lost ground in the retail market. They are simply getting beaten by competitors who are executing better, and have more substantiated competitive advantages at this point in time. This does not mean that Target is destined to become the next Sears (NYSE: SHLD).
CEO Brian Cornell is not satisfied with the state of his stores, and anticipates 600 stores being remodeled by 2019. This is a step being taken to put some new "shine" on a brand that has (according to the sales figures) gotten stale with consumers. Target is also fiscally stable enough to "weather the storm" as it retools itself. With over $1B of cash on the balance sheet, and a dividend that would still only consume 63% of the lowest guidance figure for 2017 earnings per share, Target is still very fiscally stable. The dividend is not going anywhere.
Target is a dividend champion with 49 years of consecutive dividend increases. While this cannot be relied upon for future forecasting, this does indicate that the business model of Target (although tarnished in recent years) does have staying power. Investors should be aware that the 10 year dividend growth rate of 18.1% is a pipe dream moving forward. With the dividend payout ratio in the low 60s, and earnings contracting I would expect dividend increases in the 2-5% range over the next several years. Target will need to return to investing cash back into the business for growth as it remodels stores, and restructures itself for day to day competitive pricing.
Using the low estimate for 2017 of $3.80 per share in earnings, Target is trading at 15X earnings. This is in line with its 10 year median valuation, while the S&P 500 trades at 26X earnings. The dividend yields about 4% at $59 per share, which is double its 10 year median. This is a solid buying opportunity for investors who are bullish on the long term prospects of Target. A turnaround will likely take time, making Target an income play in the short term.
If you liked this article, please find my profile icon at the top of this page, and hit the "Follow" button. I enjoy engaging with those who comment, and am always looking for feedback that allows me to improve on the content I provide. As always, thanks for reading.
Disclosure: I/we have no positions in any stocks mentioned, and no plans to initiate any positions within the next 72 hours.
I wrote this article myself, and it expresses my own opinions. I am not receiving compensation for it (other than from Seeking Alpha). I have no business relationship with any company whose stock is mentioned in this article.