Last week, Andrew Left, live on CNBC, announced that he covered his Nividia's (NASDAQ:NVDA) short position. This quick exit from his short position, which he announced less than two months ago, made us believe that Andrew's position was not based on any strong thesis. Instead, it was based on pure speculation - a one-year strong trend needs a natural correction eventually.
In this article, we will cover why we think that Nvidia's valuation is totally reasonable and why anyone calling it "at bubble territory" has no idea about how to value this growth stock.
Nvidia's EV/revenue is not expecting the unachievable
At first glance, the enterprise value of 8x revenue (EV/R) looks worrisome. However, it is not - the ratio is totally reflecting the expected growth of the stock. Here's why.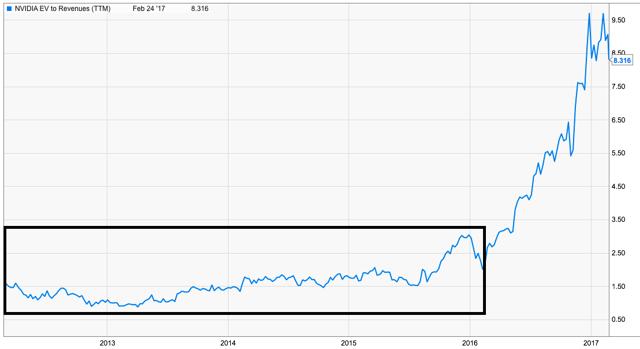 Nvidia stock used to trade at an average EV/R multiple of nearly 3 before 2016. However, after the introduction of Drive PX 2 for autonomous driving, the Tesla P100 for data centers, and today's expected release of the ultimate GeForce FTX1080 for gaming, the EV/R multiple jumped 176%, from a ratio of 3 to above 8.
This increase of 5 points in the EV/R ratio means that the market is pricing an increase of $10.84 billion in revenues - to make things clear, we arrived at this number assuming that a ratio of 3 is perfect for Nvidia - which means that revenue needs to increase by 157% from current levels (TTM revenue is $6.91 billion) to justify the company's valuation.
Is that possible?
For Nvidia to generate $17.75 billion in annual revenues it needs to grow its revenues by 26% annually over the next three years.
Taking Nvidia's growth potentials into account, we think that is completely possible.
That's because the most promising sector for Nvidia, the autonomous car industry, is expected to have 10 million cars on the road by 2020.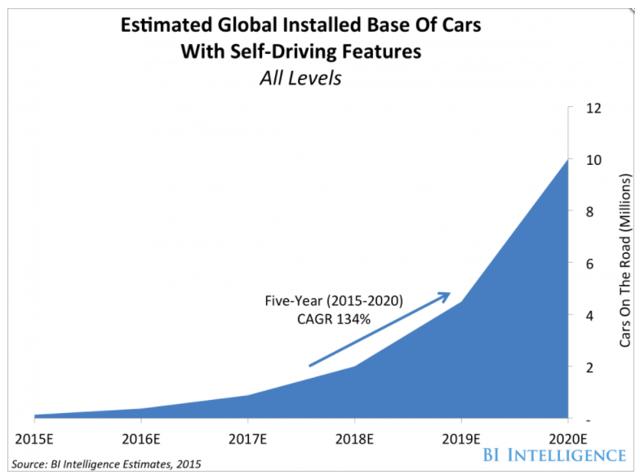 If Nvidia takes 50% market share in autonomous GPUs, Nvidia's revenues should increase $6 billion by 2020, at a current price of $1200/GPU (0.5 x 10,000,000 x $1200).
That's a 17% CAGR from the automotive sector alone.
Don't forget, we assumed that Nvidia will take only 50% market share in the autonomous GPU industry, which we believe is a conservative assumption, taking the Drive PX 2 capabilities into account.
Just for the record, in its 2017 FY (yes, Nvidia is ahead of the market by a one full fiscal year), Nvidia achieved a growth rate of 37%.
Still think that a 26% CAGR is not possible?
Well, look at Nvidia's data center revenue increase of 145% Y/Y.
All story stocks have high EV/R multiple
Investors should learn from their mistakes, not repeat them. Those who missed investing in "story stocks" due to the stocks being overvalued by old school standards, had forgone huge rewards.
Investing in the S&P 500 for the last five years have yielded 73%, whereas, investing in any of the best five story stocks (Tesla (NASDAQ:TSLA), Netflix (NASDAQ:NFLX), Amazon (NASDAQ:AMZN), Facebook (NASDAQ:FB) and Nvidia), would have yielded between 372% and 800%.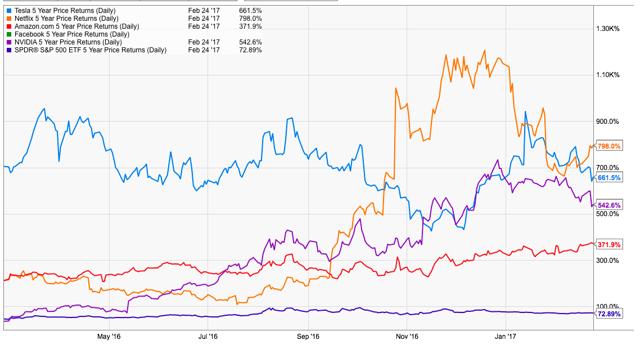 Those stocks don't care about valuation metrics in the short term - as long as their business model works, revenues will follow their stock performance.
Look at how the EV/R returned to its average over the years for each of the story stocks listed above.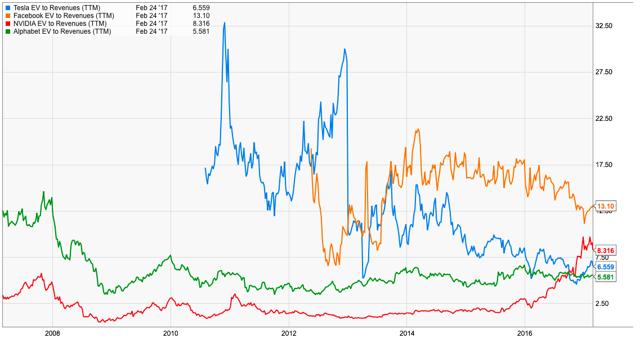 At some point, all these stocks didn't fit the traditional criteria of good investments (low PE, low PS, good FCF etc.…), however, they proved their resistance and continued their upward momentum.
Even Alphabet (NASDAQ:GOOG)(NASDAQ:GOOGL), at some point, had an enterprise value of 13x its revenue.
Not to mention, Qualcomm (NASDAQ:QCOM), used to have an EV/R of 8, similar to that of NVDA, with its stock appreciating since that time.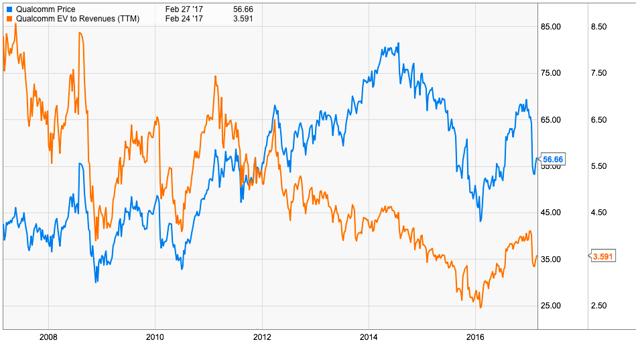 And without doubt, Nvidia is all about the story.
In fact, this story is getting into reality in a very fast way.
Last year, Nvidia announced partnerships with Mercedes Benz, Audi, Tesla and Bosch. And all of this is not yet included in the income statement, except for some of the sales related to Tesla.
In addition, Nvidia's Tesla P100 GPU for data centers serves as a hedge against the possibility that autonomous cars will use the cloud for data analysis instead of each having a Drive PX2 GPU.
That's because one Tesla P100 GPU sold can replace 110 Drive PX2 GPUs from a revenue perspective (the Tesla P100 costs $129,000, while the Drive PX2 costs $1,200).
Last but not least, there is nothing in the market that competes with the Drive PX2. The closest competitor is Mobileye (NYSE:MBLY). However, Nvidia's Drive PX2 may perform better than Mobileye's EyeQ (Drive PX2 is capable of analyzing 25 trillion operations per second, while that rate is 2.5 for EyeQ).
This means, Nvidia will continue to take advantage in its near-monopolistic position in the GPU market for autonomous vehicles which will give it a competitive advantage over its competitors in the future.
Add to that, Nvidia is not cyclical anymore
Nvidia used to be a cyclical stock purely dependent on the occasional upgrades of the gamers' GPUs. However, that is not the case anymore.
Data centers and autonomous drivers are not cyclical sectors (at least, not for now).
This means, the volatility of Nvidia's revenues that caused its multiples to be depressed over the years will be substituted by a more stable revenue stream.
And since un-cyclical stocks deserve a higher PE multiple than cyclicals, Nvidia's 40 PE ratio is reasonable for a company with such growth potential (even with current size and market share, Alphabet's PE is 30).
Conclusion
Naysayers believe that Intel can crush Nvidia at any moment, and if the GPU sector is worth it, then Intel will jump at any moment. However, investors who witnessed how Qualcomm climbed to the throne of wireless communication products know how Intel's bets were all miscalculated. Whether naysayers like it or not, Nvidia is the future of autonomous vehicles, and its stock has every right to be valued this way.
We believe that even at current prices, Nvidia is a buy. However, investors should expect some pullbacks in the coming months due to the over-stretched trend.
Disclosure: I am/we are long NVDA, GOOG.
I wrote this article myself, and it expresses my own opinions. I am not receiving compensation for it (other than from Seeking Alpha). I have no business relationship with any company whose stock is mentioned in this article.