A respected Sydney hedge fund called Caledonia has gone all in ("Zillow is Caledonia's biggest ever bet") on Zillow (NASDAQ:Z), owning 21% of the stock, worth US$1.3 billion. They convinced James Packer to buy 9.33%, but mercifully he has since sold this down. This is such a big portion of Caledonia's fund that they've carved some of it off into a separate vehicle, no doubt with fees and costs.
There is a graveyard full of investors who have trashed multi-decade careers by going all-in on a single stock. Think Ackman and Valeant (NYSE:VRX), Eddie Lampert and Sears (NASDAQ:SHLD), Phil Falcone and Lightsquared, et cetera, et cetera.
When you see this kind of punt you can be assured the manager is displaying all of the following:
1. A deep lack of respect for the market
2. Flagging creativity and a lack of new ideas - a decent professional should have more ideas than capital
3. Total disregard for even basic risk management
Most importantly it represents:
4. A deep misunderstanding of how the world works.
Out world is complex (some might say chaotic) and so is business. The most stable firms are only a series of unfortunate events away from going bust. This happens all the time.
Among other unknowables, the effects of competition are unforeseeable. Every single company (and every single one of us) is subject to fate, typically expressed in surprise disasters.
For a Fund to put >30% of its capital into a single company invariably leads to disaster. This happens so regularly that it's a great telling point that the punter is about to experience a dose of bad luck.
In this case, if Zillow - a US real estate advertising play - was so good, why is it owned by Australians?
One answer is that the Australian real estate market structure supports a company like Zillow and the Aussies have extrapolated this in the US. Caledonia's reputation is formidable in the Australian market, enough for it to put Australia's richest man into a very weak stock.
Caledonia is clearly holding a weak hand - its fund performance is fragile, highly dependent on the outcome of a single situation.
But what about Zillow itself, what is the story here?
I first thought this was a classic tech set-up of extreme valuation and exceptional growth. If the company executes, the company is cheap, if it fails, then the capital is lost. Such firms spend everything they can to get firm resolution either way.
There is some serious delusion going on here. Caledonia states this is a $50 billion opportunity.
Er... what? The entire advertising market for real estate in the US is a fraction of that.
Facebook has revenues of US$27 billion across all industries. Where is this 50 billion for real estate advertising?
Back to psychology: when someone takes an irresponsible position like this there is invariably a history of past success. The thesis has worked before, and the resulting gold rush associated such happy memories with the play that the manager literally falls in love with the next similar idea.
In markets as in life, never swallow anything whole.
In this case, I'll speculate that Caledonia's old flame is realestate.com.au.
There are a handful of stocks in Australia that have gone stonkingly well over the past few years and built the careers of the managers who bet on them. Some of these have stalled recently. Realestate.com.au is one. Caledonia explained itself by pointing at realestate.com.au.
Betting on a repeating principle is reasonable enough. The reason I bought Apple (NASDAQ:AAPL) in 2011 was that it became clear it was going to roll out its incredibly popular hardware around the world, and was cheap on historic earnings. (FYI, for the first time since I recently started selling Apple share).
How would this copycat thesis cope in this situation if the structure of the market in the US and Australia is different? A quick look suggests this is precisely the case.
In Australia houses are sold by auction. This means the seller spends a small fortune - tens of thousands of dollars - to advertise to as many actual buyers as they can.
An extra person or two can have a huge impact on price at auction, so it's important to hit all the channels and advertise everywhere possible. Advertising must be broad and reach as many bidders as possible.
In the US and most of the rest of the world the story is different. There are selling agents, but also buying agents. The agents for both sides find each other, negotiate a price and smooth out the whole process. All up this is a far better way to make a big purchase, and much less prone to error on the buyers side anyway.
Zillow is unlikely to become the realestate.com.au of the USA because the US market does not incentivise heavy advertising by sellers to reach every possible buyer. Advertising must only reach a handful of buyers' agents.
A different game. Much smaller.
In many ways this is a superior purchasing experience than in Australia. Our auctions involve value destroying advertising spend and the vagaries of the auction hammer. If anything, we are likely to become more like the US rather than the other way around.
There are other red flags:
Run for employees
Very roughly Zillow makes US$100 million in annualised operating cash flow, but pays this all out to its employees in stock-based compensation. Any stall would result in a death spiral of increasing share payouts, while after a few years such stock-based compensation would take the edge off any upside.
Trading multiples
On the valuation side, upside is fully baked in. Even if you go all the way out to 2019 the company is trading on an after-tax earnings multiple of 34.8x, or under 3% return. This is a poor return for the risk.

Source: CapitalIQ
Growth is also nothing spectacular. Tech companies on these multiples are typically growing far faster than 20%:

Source: CapitalIQ
Lack of core profitability
The following charts are from an excellent recent Seeking Alpha article.
To summarize:
The market structure thesis suggests Zillow should have lower core profitability than competitors. We would predict that Zillow has a lower EBITDA margin than realestate.com (REA) and UK competitors like Rightmove (OTCPK:RTMVY). This is indeed playing out: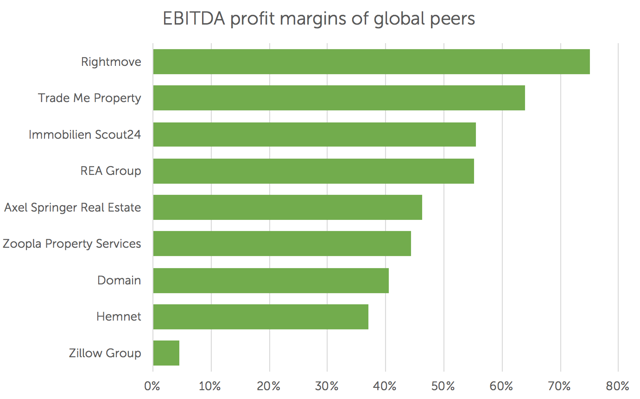 Zillow is in fact barely profitable at the EBITDA level.
Tech companies are rightly prized for their scalability. Revenues should rise faster than expenses, which after sufficient growth leads to the incredible gross margins of technology companies.
Zillow also does not appear to be achieving any economies of scale. If anything, costs are increasing far faster than revenues: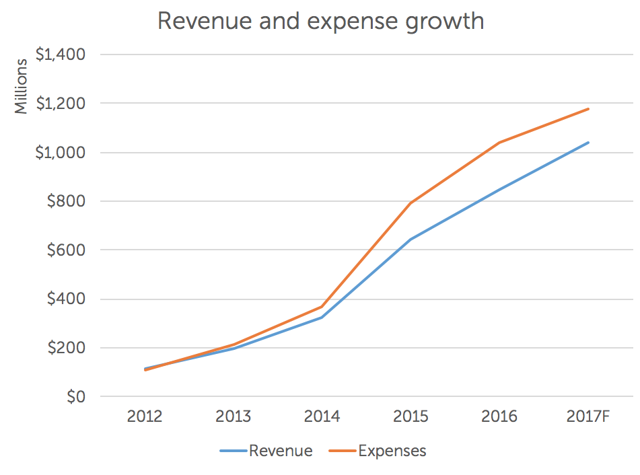 Quarterly revenue growth has slowed down substantially. This is hidden in Zillow's annual results, but 1.3% is a very modest outcome. There are many value stocks that are growing far faster than this. There also seems to be a clear loss of momentum.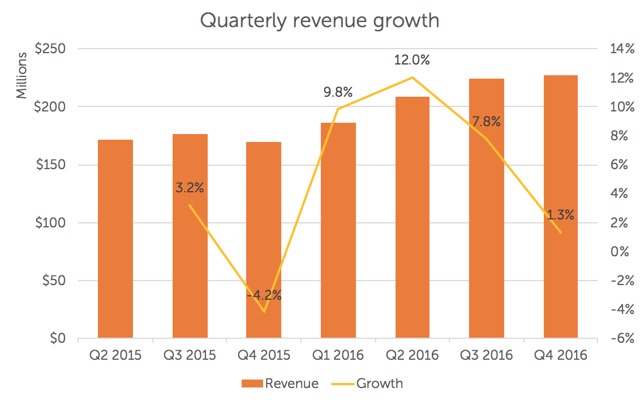 I'd expect the buyers' and sellers' agents so common in the USA to have substantially more pricing power than international competitors. This indeed shows up in the data: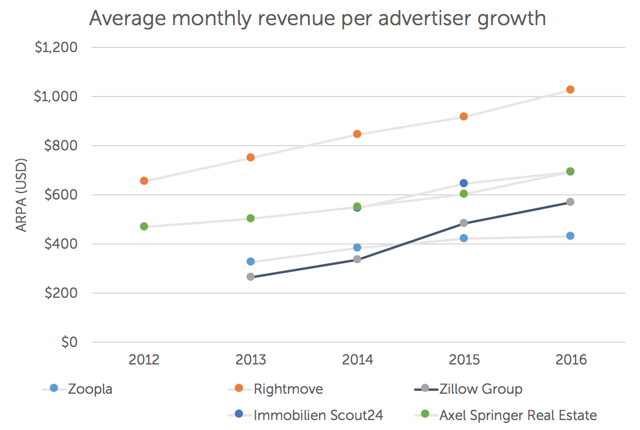 Finally, the US market structure thesis would suggest that there is much less advertising revenue on an absolute basis. Again we can see this quite evidently, with Australian websites run by REA and the Domain achieving far higher revenues per person in each country.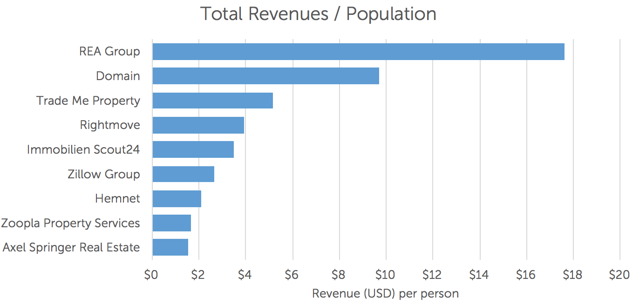 Competition
In the UK, there is intense competition between websites that try to disaggregate agents and the agents themselves who fight back. There is a great Citron article about how this is playing out in the US, where the same dynamic is taking place. It's located here, in its usual lemony style.
Zillow has made a bit of a coup by buying the number 2 in the market, Trulia. However, given there are many existing competitors and multiple players who could set up competing advertising markets, the combined group is unlikely to maintain any pricing power.
I've had some luck shorting these things before - Twitter (NYSE:TWTR) and Valeant in particular. Five years ago I would have made this a 10% or 20% position. But the market is a harsh mistress and I will certainly not put on a Caledonia-style punt.
Who knows what's going to happen?
Mike
Disclosure: I am/we are short Z.
I wrote this article myself, and it expresses my own opinions. I am not receiving compensation for it (other than from Seeking Alpha). I have no business relationship with any company whose stock is mentioned in this article.