Brazil has been the top-performing emerging market over the past year and through the first two months of 2017 and this is a trend I expect to continue.
The basic story on Brazil is that it's been mired in a recession for ten straight quarters measured year-over-year and seven straight quarters measured quarter-over-quarter.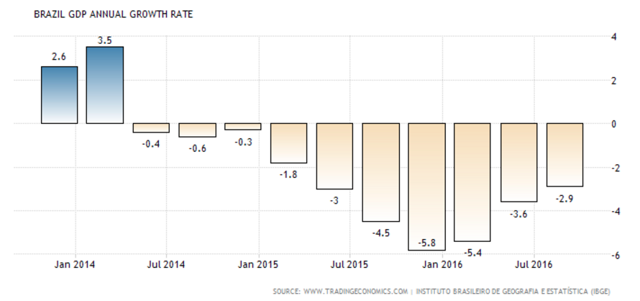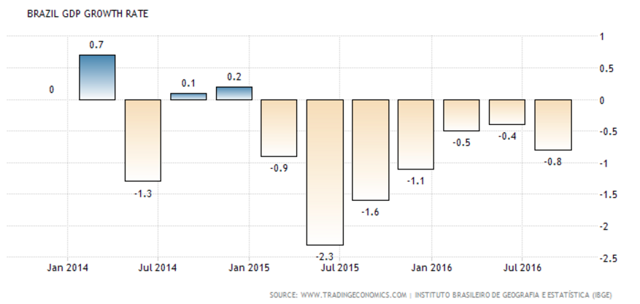 The central bank increased rates up to a peak point of 14.25% in the latter half of 2015, and has dropped them 275 bps since. The rate hike amid the onset of a recession seems counterintuitive, but was designed to stem capital outflows from the country to avoid exacerbating the decline. The 200-bp reduction in the first two months of 2017 has generated gains of 15% for the Brazilian equities market year-to-date.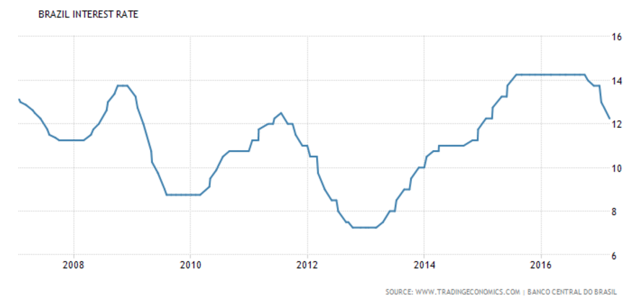 The ideal point to get into Brazilian securities would have been at the 14.25% mark, which was kept on for about a year signaling that's where the Banco Central do Brasil ("BCB") was likely to keep rates before a cut was in order.
While the Brazilian corporate outlook has improved and capital markets have consequently generated large gains, the BCB is likely to aggressively cut rates throughout 2017. Inflation has fallen faster than previously believed. Combined with the fact that growth remains negative, a continued series of rate hikes will be in store. By the end of the year, I would expect rates to fall to around 10.0%-10.75% to support lending growth and business activity, a drop of another 150-225 bps. This will continue to be directly bullish for both the country's stock and bond markets.
Inflation has fallen from 9% in August 2016 all the way down to 5.35% as of January.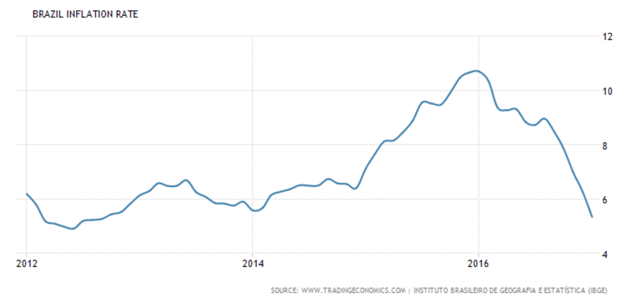 The drop has been derived from a stronger exchange range as high yields and signs of a recovery have attracted capital inflows. Additional factors include falling food prices and subpar consumer demand, which goes hand in hand with weak ongoing economic growth.
Inflation should hang in a range from 4.5%-5.5% over the next 3-5 years. The BCB targets a 3%-6% band and the recent drop has helped better establish the central bank's credibility on this front. Although inflation may fall a bit further, perhaps even a bit below 5% in some months later this year, the BCB's loosening on its monetary policy to support growth should keep inflation elevated toward the higher end of this range in the years ahead.
There is also support for further upside from the fiscal end, with the senate approving a spending limit amendment in December to help rein in expenditures. The reform will peg federal noninterest spending to a level on par with the consumer price index of the previous year. This is set to be valid for the next twenty years.
With real growth unlikely to hit above 2.5% by the end of 2019, controlling expenditures will help shrink the budget deficit down to around the 7% range (as a percentage of GDP) by the end of the decade. This is still not appealing, but will be a notable improvement from the 10%+ mark as of year-end 2015.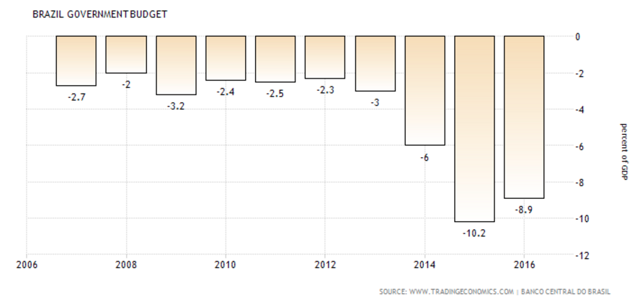 Social security reform remains the most pressing budgetary reform issue. Getting the budget back down to pre-recession levels of 2%-3% will necessitate spending cuts in this area, though it's a thorny issue for incumbents given the political unpopularity associated with cutting entitlements. Nonetheless, if business investment recovers and political uncertainties remain subdued (i.e., corruption probe doesn't re-emerge) growth should break into the green in 2017.
The BCB projected 2017 growth at 0.8% for the year with a steady increase to around 2% expected by year-end 2019. With Brazil's reliance on trade and commodity exportation, its own growth is subject to the economic performance among its top trading partners (e.g., China and the U.S.) and prices in the various commodity markets in which it's involved.
Brazilian Real Estate
Less than two weeks ago, Brazil's National Monetary Council ("CMN") began loosening lending restrictions by allowing households to use their accounts in the national workers' fund as a source of capital for down payments on mortgages. This is a positive development for larger commercial banks in the country by facilitating increased accumulation of lower-risk mortgages.
Retail banks have struggled in recent years given the recession and subsequent tightening of credit that tamped down on loan volumes at the corporate and household level. While monetary tightening is often positive for lending by widening the spread between deposit interest requirements and lending rates, the benchmark rate reaching at a peak level of 14.25% too heavily discouraged growth in loan volumes.
Brazilian homebuilders have struggled from surplus supply and loosening the credit markets is the one main tool the CMN can use to engineer demand to soak up the excess inventory. Supply that too heavily exceeds demand could engineer a drop in home prices and engender further recession-related economic pain.
The rule change is largely a positive for wealthier borrowers and larger banks who have a sufficient deposit base on which to facilitate mortgage lending. Caixa Economica Federal has about two-thirds market share in the Brazilian mortgage market, though additional lenders such as Banco Santander (NYSE:BSBR) and Banco do Brasil (OTCPK:BDORY) can use their robust capital bases to capture greater share of the market.
How to invest in Brazilian real estate?
There is one newly launched fund, the Tierra XP Latin America Real Estate ETF (NYSEARCA:LARE), but it is slanted toward Latin America generally. The bulk of its portfolio is based on assets in Brazil and Mexico, but Mexico's commercial real estate market is bid up in a similar fashion to that of the U.S., with low cap rates that skew risk/reward downward. The overall composition didn't precisely target what I was interested in so singling out individual securities is the best route. I'm personally long BTG Pactual Fundo de Fundos (BCFF11B.SA), a closed-end real estate fund. A bet on the most popular Brazilian equities ETF, the iShares MSCI Brazil Capped ETF (NYSEARCA:EWZ), provides a level of exposure to lending and real estate as well.
Conclusion
I remain underweight equities in both the US and abroad, but Brazil is the one market with both strong underlying reasons to be long based on ongoing monetary and fiscal initiatives. It continues to be a market that I believe is going in the right direction.
Declining inflation combined with negative growth provides incentive for the central bank to continue dropping interest rates in 50-bp increments in 2017. Rate cuts are likely to be cut another 150 bps (or more) by the end of the year, which is a direct catalyst to further price appreciation in the bond and equity markets. Spending restrictions and fiscal consolidation at the federal level will help push down the deficit from its bloated current level.
Net public debt will continue to expand from its present 45%-50% figure to around 65% in five years' time, which is a fairly moderate degree of leverage. Gross domestic investment and national savings are expected to increase over time. Recovering commodity prices will help boost the country's terms of trade, which was a contributing factor to the initial economic downturn in mid-2014.
Credit costs are declining, which encourages business investment, decreases discount rates in the market for valuation purposes, and will support the health of the banking sector. Greater accommodation in the credit markets combined with a rise in growth should also benefit the real estate market.
Disclosure: I am/we are long EWZ, BCFF11B.SA.
I wrote this article myself, and it expresses my own opinions. I am not receiving compensation for it (other than from Seeking Alpha). I have no business relationship with any company whose stock is mentioned in this article.
Additional disclosure: Also long Brazilian 10-year government bonds.
Editor's Note: This article discusses one or more securities that do not trade on a major U.S. exchange. Please be aware of the risks associated with these stocks.