Everyone looks to winter when it comes to natural gas. That makes sense, considering so much of our natural gas is consumed as fuel for heating.
We can see from the EIA graphic below that use is still highly seasonal, but there are two maximums in a given year. One is during the winter, and the other is during the summer.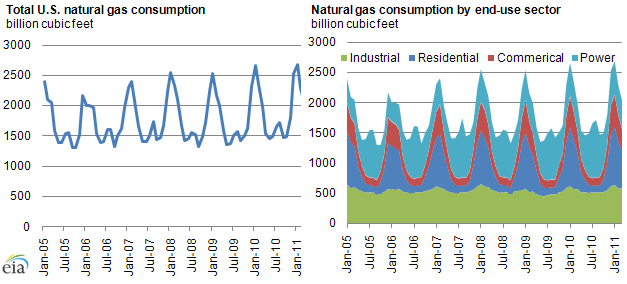 However, according to the EIA, in 1997 natural gas consumption for electricity generation constituted only 18% of total consumption. In 2015, it accounted for 35%.
This should already be impacting the seasonality of natural gas consumption and natural gas reserves. However, investors do not seem to be really taking this into account yet. In "Natural Gas: Traders Challenge Analysts' Predictions," Richard Zeits points out that current predictions suggest a short fall between supply and demand already. Yet investors seem unconcerned. For instance, over the last 30 days, the U.S. Natural Gas ETF (NYSEARCA:UNG) dropped from a high of over $8 to a low of about $6.50, and is hovering pretty close to that low.
Right now, natural gas prices are down considerably. And it is true that winter is over, but a hotter-than-average summer can draw down reserves further than usual and thus give a shock as we enter winter. This is especially true if natural gas prices stay low for a while, pushing supply lower.
Trade Policy
There is one other factor to consider, which could have a significant impact on natural gas prices and natural gas stocks, and that is the border adjustment tax and general threats of a trade war, as I mentioned in both "State Of The Market" and "The Potential For Divergence: How Politics Could Drive A Wedge Between Gold And Gold Stocks." This could affect imports and exports, and everything in between.
Further Reduction of Supply
These restrictions on trade will likely drive down supply, amplifying the affects of the shift in natural gas use and increasing summer temperatures. An advantage of holding UNG over specific energy stocks is that UNG does not primarily rely on physical holdings. Instead, it relies on futures contracts, so while natural gas companies might end up getting hurt, UNG will fully benefit from the rising price of natural gas.
For these reasons, I am bullish on natural gas but only weakly bullish, both for this year and for the long term.
Actions
UNG did go as low as $5.78 for the year, but seems to be holding at its current support. Bouncing off that support, there appear to be resistance levels at roughly $7.50 and $9.50.
The problem with UNG is that it suffers from contango as natural gas prices continue to decline. I do not see UNG as a short-term investment. Instead, I will be slowly adding it to my portfolio, looking for signs that backwardation might be setting in, and doubling down if the price breaks the two resistance levels that I mentioned or if either of the buy signals mentioned below are seen.
Buy Signals
A continued hotter-than-expected summer
Reconciliation between the White House and Congress on a BAT, or other protectionist measures
Disclosure: I am/we are long UNG.
I wrote this article myself, and it expresses my own opinions. I am not receiving compensation for it. I have no business relationship with any company whose stock is mentioned in this article.