Main Street Capital Corporation (NYSE:MAIN) is one of the best BDCs around and one of the few that is internally managed. Its dividend payout makes it a buy at the current market price.
What did I think of MAIN last time?
I first wrote about MAIN on December 19th when I decided to look deeper into the company because it was mentioned in an SA article about good monthly payers. I also found this page on the company website that showed the dividend history. Several things I liked about MAIN were that it was internally managed, it traded at a premium to NAV, and it paid less for its assets than they were worth. I also liked that the distributable net interest income (DNII) had a good cushion above the dividend payout for a good margin of safety. DNII is where BDCs get the cash to pay dividends, so I want some room in case of a bad quarter or two. Having the assets worth more, and growing in value, shows the value that MAIN adds. Having the stock trade at a premium to NAV makes it easier to raise money by selling shares.
What new information do we have now?
On February 23rd MAIN announced its Q4 earnings. It beat on NII by a penny and year-over-year total investment income was up 7.7%. This was a solid performance for the company.
Looking at the full press release, there are several items of note. The first is that DNII increased by 9% from the quarter last year. This is the driver of dividend payments, so the 9% increase bodes well for MAIN's ability to keep increasing the dividend.
NAV increased $0.48 a share from Q3. The maturity of the credit facility was extended to September 2021. Basically all the numbers reported for Q4 showed a well-run company growing its investments and the income it receives from them. These numbers show that MAIN is doing what is needed to continue to pay and increase the dividend it sends to shareholders.
The numbers for the whole year are also good, raising no red flags. I like in particular that MAIN applied for and received a license to run another Small Business Investment Company as an additional subsidiary. Because of this structure, each subsidiary is limited to raising only $125 million in capital. So by adding another license, MAIN increases the amount of investments it's able to make in small businesses, which is an area that MAIN focuses on.
Moody's apparently doesn't rate MAIN, but the S&P Ratings Service does. S&P gives MAIN an investment grade rating of BBB with a stable outlook.
What's a good price?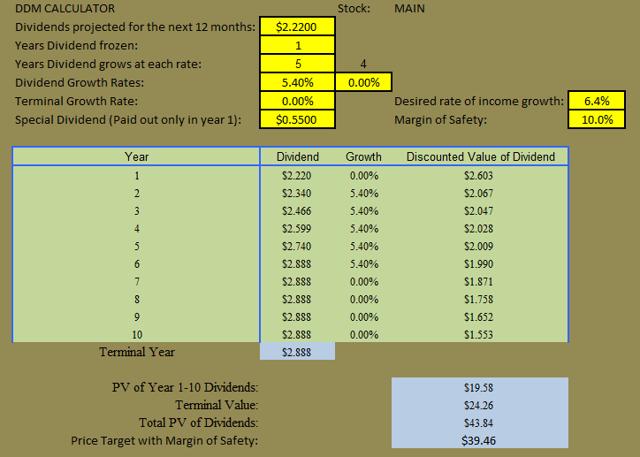 To figure out a good price, I do a DDM calculation using my Excel® based DDM calculator (pictured above, you can see the web-based calculator I based it on here and read a discussion on how the formulas were developed here). Looking at the CCC List, I will use the 3-year DGR number as I think that is most representative of what MAIN can do raising the dividends long term.
I added yet another new feature to my DDM calculator to address an issue I see with MAIN. MAIN pays a special dividend each year spread across two payments, which have totaled $0.55 a share for the last several years. To account for that, I added the ability to have a special dividend counted for Year 1 of the projection (I only do one year, because special dividends should not be counted on to reoccur).
Since MAIN has already declared its monthly dividends for the first 6 months of the year, to be conservative I will assume that no increases are announced in the next 12 months. After this freeze, I will then assume that MAIN is able to return to a rate of dividend increases more in-line with its 3-year DGR value from the CCC List. Also since a rising interest rate environment can be tricky for a BDC to navigate, I want an additional 10% discount to my calculated present value of dividend payments to give me an additional margin of safety.
Given my calculations, I think that buying MAIN at any price under $39 will be a good value. Since the current market price is around $37, I think MAIN is priced at a good value and is worth considering a purchase.
Can options help?
To write a cash secured put, for MAIN I want a strike price at around $37 with a premium matching or exceeding the monthly dividend of $0.185.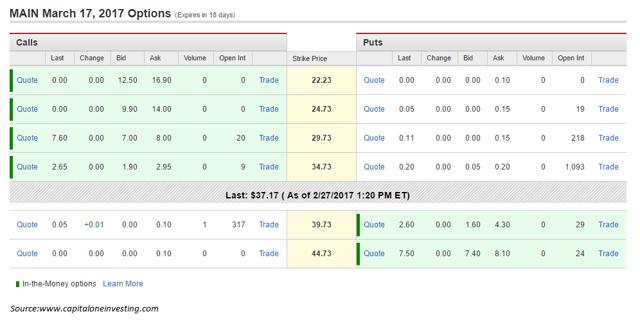 The March 17th expiration date offers a put contract with a strike price of $39.73 is of interest. Use a limit order to get a premium about in the middle of the large bid/ask spread and the Delta of -0.86 indicates a very highly likelihood of getting the shares.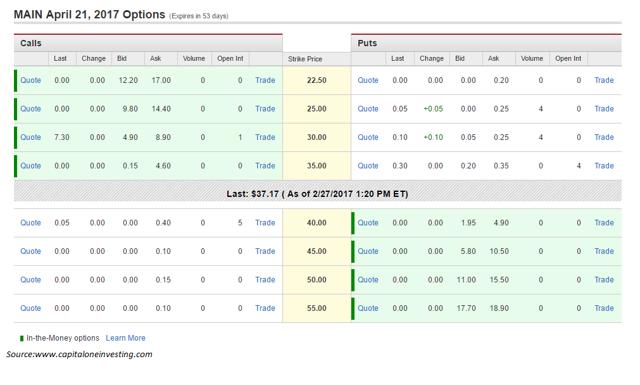 For writing a covered call, I like the April expiration better. Use a limit order to write the $40 strike call and work to get a premium of around $0.30 a share. That should give a nice boost to the dividend while only risking about a 10% chance that the shares will be called away.
Update: As of the close on Tuesday, the lowest ask on the $40 call contract for April expiration has moved down to $0.10. No later expiration date has a good premium for a $40 strike call, so it looks like for now no good call contracts can be written. You can still try to write a contract with a limit order for the April expiration (or any other expiration) at a premium that is acceptable but it's unlikely at this time that you will find a buyer.
What to watch for going forward?
One thing I want to keep an eye on is its early debt repayment. In the Q4, of the $3.3 million increase in total investment income versus the same quarter last year, $500,000 was due to accelerated debt repayments. That's not huge and likely due to a desire to avoid increased payments from higher interest rates, but if that number gets too big and MAIN isn't able to find enough new borrowers, that could have a negative impact on investment earnings in the future.
I also want to keep an eye on the various interest income metrics to make sure they are increasing and providing enough cash to pay and eventually to increase the dividend. I'll also want to see how these metrics react to any changes in interest rates, both increases and decreases.
Conclusion
MAIN seems to be continuing its solid performance. I am getting a better handle on how it's supposed to operate so I can tell if it's doing well and can see where conditions might give it trouble. I have heard that BDCs don't do well in an increasing interest rate environment, so I will keep a watch on that (and that is part of why I want an additional discount to what I calculate as the present value of its dividends). At the current market price of around $37, MAIN seems to be a good value to me. I hope to soon have the cash to buy some shares.
Note: I hope you all got something out of this article. I do appreciate the time you took reading it. If you are one of those who follow me here, I appreciate it; if you'd like to include yourself amongst those individuals, please hit the "Follow" button next to my name as well as following other contributors whose work you enjoy. As always, please leave any feedback and questions you may have in the comments below.
Disclaimer: This article is intended to provide information to interested parties. As I have no knowledge of individual investor circumstances, goals, and/or portfolio concentration or diversification, readers are expected to complete their own due diligence before purchasing any stocks mentioned or recommended. The price I call fair valued is not a prediction of future price but only the price at which I consider the stock to be of value for its dividends.
Disclosure: I/we have no positions in any stocks mentioned, and no plans to initiate any positions within the next 72 hours.
I wrote this article myself, and it expresses my own opinions. I am not receiving compensation for it (other than from Seeking Alpha). I have no business relationship with any company whose stock is mentioned in this article.