Micron (NASDAQ:MU) used to be a pretty easy company to wrap one's head around. It made DRAM chips providing the RAM for your home PC, laptop or server at work and NAND chips for memory on your flash drive, camera and smartphone. The price of both had become so commodified DRAMeXchange could list prices like any other commodity such as oil, iron ore or gold. When PC sales were weak, the price of DRAM usually went down, when they were strong they went up, easy stuff. Smartphones gave the industry some much-needed respite when that market was booming, but the fact of the matter was those items and subsequent guts sold at lesser prices than the components in actual PCs. Looking at a 30-plus-year chart of Micron, you can see the various cycles pretty easily: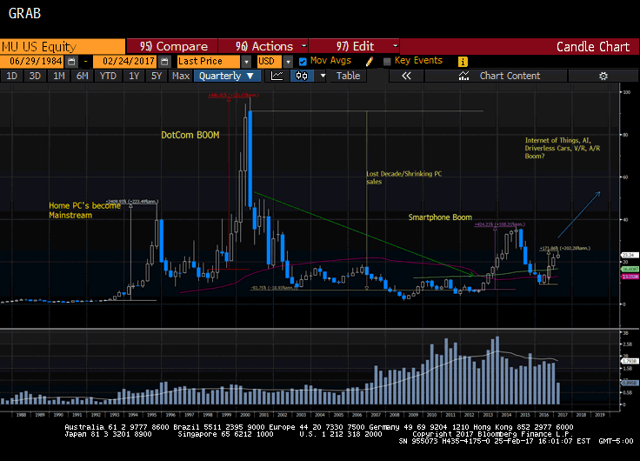 (Source: Bloomberg)
Where Micron has been:
We've heard about the shrinking PC market for what feels like a decade. There were some flashes in the pan along the way like when Windows 10 came around, but for the most part, it's been a declining market for a while. In 2016, PC sales dropped 5.7% to 260mm units from the year before per IDC, that market still looks to be dropping. Smartphones that use NAND chips helped through 2015, but growth started to stall there too as seen in this chart provided by Statista:

(Source: statista.com)
Mobile is still providing a lot of Micron's growth. In the Q1 2017 earnings release, the Mobile Business Unit (MBU) grew 54% Q/Q eclipsing any other segment. Mobile will provide growth for some time, but it's become inevitable that segment is becoming a mature industry. The mobile punch bowl should lose some its potency in the coming years that much is quite clear.
The cloud and server farms remained a stable source of revenue for Micron as investment in those segments have been steady and deliberate. Entities like Amazon (NASDAQ:AMZN), Google (NASDAQ:GOOG) (NASDAQ:GOOGL) and Rackspace (NYSE:RAX) invest in their servers consistently. The company doesn't have to worry if consumers hold off buying that new PC another six months in this segment. It's a quite reliable revenue source for a company whose revenue profile can be anything but reliable.
Something has happened recently in the DRAM and NAND space; prices started to move significantly higher. See the below chart of a 4Gb 512Mb X 8 1333/1600 MHz stick price over the last five years: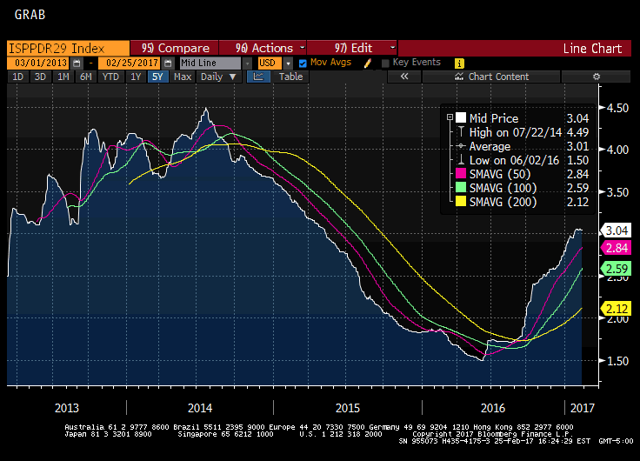 (Source: Bloomberg)
Prices started spiking in mid-2016 and nearly doubled in just six months. Yes, the PC market is getting less bad but what else is happening here?
Micron's Future:
10 years ago, most cars were more or less completely analog, bar the stereo in most cases. Today, cars have become connected and a proverbial rolling computer. As cars make their way through to full autonomy, they will have magnitudes more computing power on board; they will become rolling supercomputers. Even an oven or refrigerator 10 years ago, for the most part, were completely analog. Now, it's not uncommon to see fridges with LCD screens in them that are connected to your home Wi-Fi. New ovens have features that connect as well, meaning you can start your oven from anywhere in the world remotely through your smartphone. My point is the future we are racing towards is going to have computers or at least chip systems in nearly everything.
Over 60mm automobiles are produced a year globally; I don't think it's a stretch to think that in 10 years' time, a large majority of those will be either fully or partially autonomous. There are approximately 80-100mm refrigerators sold each year. Good chance, a large portion of these will be connected in 10 years as well. Even the flat screen TV, 230mm of which were shipped globally in 2015 will become a computer in its right over time (many already are). Most of these connected devices need some DRAM, and nearly all of them need at least some NAND. You have swaths of new markets opening up for Micron (and its two biggest competitors SK Hynix (OTC:HXSCL) and Samsung (OTC:SSNLF), of course). Micron's customer base is about to get a whole bunch more diverse; its chips will simply be in more products. Part of the reason Micron has traded at such a depressed multiple was its exposure to volatile markets like PCs. Markets like stable revenues and typically when you have more, and a more diverse customer base, typically your revenues are more stable.
Micron also has tailwinds from some of its existing businesses. The server farms, which artificial intelligence platforms are using, are moving to DRAM from hard drives for their storage. When an artificial interagency platform like Watson is accessing large swaths of data, it makes sense to load that data onto much faster DRAM vs. slower hard drives. Facebook (NASDAQ:FB) already keeps much of your social data on DRAM to make sure that video of cats is it at the top of your news feed. All jokes aside, Facebook's social data is one of the largest data sets in the world and for them to be using DRAM for much of it is a giant stamp of improvement. Flash memory or NAND, which Micron also provides, was the obvious alternative to hard drives, but DRAM is hundreds of times faster than the already fast NAND. The data centers realize it probably makes more sense to just leap to DRAM instead of going from hard drives to flash memory and then to DRAM. DRAM was designed for short use and it is pretty volatile. A couple of years ago, it would be unthinkable to use it as the storage solution, but here we are. Companies are using it.
Personal Digital Assistants are also a tailwind and Micron wins on both the actual device side and the massive cloud platforms on the backend they run off. Consumers are just getting familiar with products like Amazon's Alexa and Google's Home, but if initial adoption carries into the future, it's likely they'll become commonplace. Alexa and Home don't feature hardware made by Micron. Alexa has SanDisk memory, and Home has Samsung SDRAM. Micron could likely be used in future devices, but the needle mover wouldn't necessarily be the devices themselves. The massive server farms that must dish out increasing amounts of data that we know at least partially use Micron components. Amazon and Google want these devices in every home in the US and potentially the world. In fact, Jeff Bezos recently stated he wants multiple devices in each home. Jeff Bezos claims to be the first user to use Alexa in the bathroom, a different experience than a magazine no doubt. My point is these are likely going to be the devices that see a big adoption wave akin to the adoption of the smartphone. The Street has been looking for the next "it" product to push the next wave of growth after the smartphone. It thought it might be the smartwatch for a while there. I don't think it will be one product but a combination of products and technology that utilize AI, Machine Learning and Big Data to make our lives better. Every big product and technology I can think of will use DRAM and NAND. I think it is this that the DRAM/NAND spot markets have started to discount in addition to the supply/demand forces at work.
Fundamentals:
Below, I have compared Micron vs. some of its peers to get an idea where the company sits vs. peers and the market in general:

(Source: Bloomberg)
One thing is clear when you look at the fundamentals of the DRAM and NAND makers; they trade at a significant discount to their index counterparts. That's not a completely groundbreaking discovery. These companies are just coming out of a rough time. Micron had a huge beat on both the top and bottom line on their Q1 report a feat they hand not accomplished in over a year. You can see from the DRAM price chart above, before mid-2016 the spot price of DRAM had gone down for nearly 2.5 years in a straight line.
It will take time for the Street to get comfortable with the new DRAM and NAND spot prices. Micron, in fact, might not be seeing any of the price hikes due to contracts it has in place. But if those spot prices stick eventually, new contracts will have to be made at the higher prices and Micron and its peers will benefit. Market dynamics, combined with a better macro environment for some of the reasons I highlighted earlier, breed fertile grounds for possible multiple expansion. Looking at the DRAM and NAND makers, from where I'm standing, it looks like they all have room for said multiple expansion. It will be a gradual process built on solidified confidence and execution by management. I like current management's prospects in affecting a turnaround, and I think it'll have the macro tailwind to give it a good push forward.
Technicals:
I like technicals as, to me, they represent just another arrow in my quiver. Micron's technicals look quite good in both the long and medium term. Below are some charts: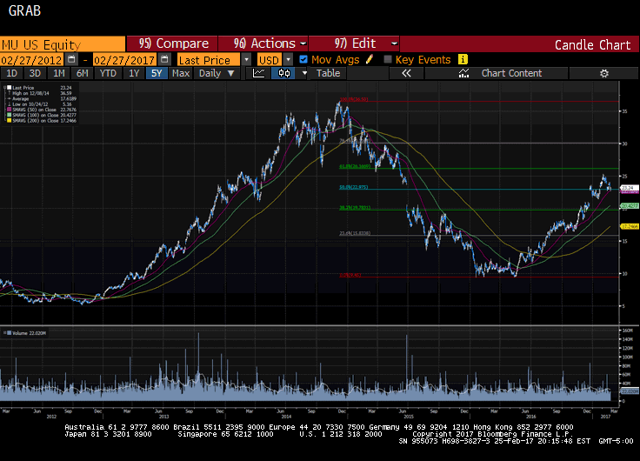 (Source: Bloomberg)
Shares of MU got past the 50% retracement level and now that level and the 50DMA moving average look to be providing support. When the 50% level is breached on the upside, and then provides support on the downside, it's usually a bullish signal and shares should continue higher re-breaking out again.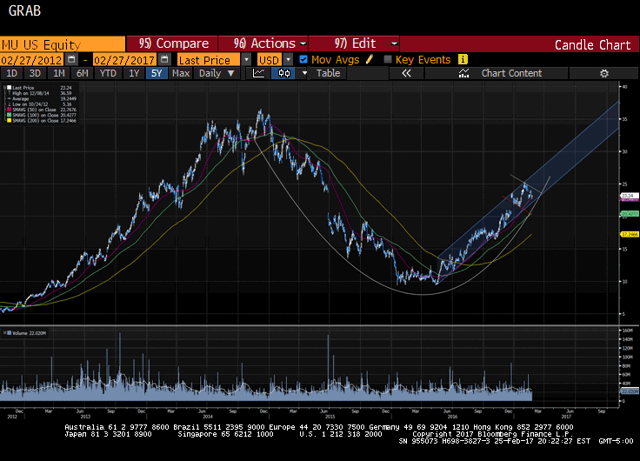 (Source: Bloomberg)
Looking at the five years, again, I think shares are setting up a nice little cup and handle. The handle should take a bit longer to form but another week or two ought to do it. Typically, technicians look for a move after busting out from the right peak to the bottom of the cup. In this situation that would be about 12 handles or 37 after leaving 25 behind. This chart isn't the best cup and handle chart I've ever seen, but it's not the worst either.
(Source: Bloomberg)
Looking at a shorter duration chart, you can see shares are about smack in the middle of the trend channel formed after bottoming in May of 2016. If the 50DMA were lost on volume, I'd look for shares to test the bottom of the channel around 22ish and hold there or around the 100DMA. Should shares breakout past 25 we could see them blow out of this channel and appreciate quite quickly. When you break out of a channel on the upside, you often should look for a new, steeper channel.
In aggregate, I think technicals in Micron set up quite nicely. I'd be comfortable getting involved at these levels but perhaps keep some powder dry if shares do want to break down to the 100DMA. Should shares break 25 on volume, it will be off the races, and a more active trader would likely need to close their eyes and just hit the buy button. A breakout could easily take shares to the 27-28 range and quickly in this market that seems just to melt higher every day.
Conclusion:
Micron has something for everyone right now. If you're a fundamental investor it looks good, if you like a turnaround story it looks attractive, and if you trade on technicals, it looks good there too. I believe Micron is a great play for an aggregate bet on the internet of things, AI, big data, machine learning and driverless cars. All those technologies will require more DRAM and NAND than before. Many, regarding autos and kitchen appliances in the past, needed none. Nobody thought driverless cars would use a hard drive to pull information about the road your car is driving down. That just wouldn't work, Western Digital (NYSE:WDC) likely agreed which might have been one of the reasons it bought SanDisk. Data will need to be accessed instantaneous and flow quickly. Data will need to flow like water; hard drives just are not up to that task. Only solid state solutions will do in these types of applications, and Micron stands ready to provide them.
If Micron's PE were to expand to just half the difference it trades currently vs. the SOXX shares would rally to 35, a 50% return from current levels. I don't think that's very unreasonable, that's where some of the sell-side analyst's price targets lie. If multiples caught up the whole way to the SOXX, for example, its shares would move to 44 representing a 90% return from current levels.
That will require some rowing by management in the form of further execution, steady spot prices and the market coming around to the story. I don't think that's swinging for the fences; management just needs to chop some wood consistently over the next 3-4 quarters. Investors may fear they are too late, Micron has already moved too much, I think we are third or fourth inning here, and investors could be getting in just as things are getting interesting. Potential investors could take comfort in knowing every time they here about these new technologies coming down the pipe, that they own a company making the guts for that technology. Looking back in five years, we'll likely think it's downright barbaric that chips only existed in computers and smartphones. By then, they'll likely be in everything. If that future becomes true, Micron will likely be a huge winner.
Disclosure: I am/we are long MU, FB.
I wrote this article myself, and it expresses my own opinions. I am not receiving compensation for it (other than from Seeking Alpha). I have no business relationship with any company whose stock is mentioned in this article.
Editor's Note: This article discusses one or more securities that do not trade on a major U.S. exchange. Please be aware of the risks associated with these stocks.