BAC should prove defensive in a lower loan growth scenario.
BAC has been one of the strongest bank stocks since Trump was elected and has more than doubled since its February low last year BAC has been one of the strongest bank stocks since Trump was elected and has more than doubled since its February low last year. It now seems many commentators see Bank of America warranting over $30 per share, leaving plenty of upside from the current level ($24.57).
The >$30 price level is quite easy to understand. Think of it in terms of an improving environment (GDP and rates), a relatively modest starting valuation and a self improvement strategy that mainly focuses on the cost level and which has some way to run.
However, the early signs of one important indicator of bank growth, loan volumes, are that banks have adopted a more cautious stance since Trump's election.

This is an interesting development that should give banks investors a moment's pause. Anyone with a long term perspective will look through it and unlike some of its peers, BAC isn't really stretched in PE terms so it can be argued there is a margin of safety in the valuation. However, it's fairly clear that lower than expected loan growth could cause a pullback in the sector sine this is not what the Trump "boost" was supposed to be about for banks, and investors should be aware of the moving parts for BAC before this happens in order to understand potential entry points. From this point the scenario under discussion is mainly an extended delay to loan growth resuming rather than a continuation of the current stasis through the medium term.
Different outcomes for loan growth are for the most part going to impact revenue. There are other considerations, such as LLP costs and we will look at this below, but mainly investors need to think about revenues.
Here is a summary adjusted model for revenue at BAC. We assume lower growth in interest earning assets and a lower net interest margin on the basis of a lower than currently expected loan/asset ratio and one less rate hike than is presently priced in. This gives us a material impact of 4% of total revenue by 2018. Given the current forecast at FIG ideas is for pre-tax profit of $35.3K at BAC in 2018, if the rest of the P&L remained the same, then this would give us a material downgrade.

There would however be offsets. Remember that BAC aims for a cost base of $53bn by end 2018. I had assumed it would come in higher than that in a growthier environment. We can also shave a little of our LLP charge if we assume lower loan volumes. The difference wouldn't however be that great, due to a lack of seasoning time on the 2017/18 volumes. The following table looks reasonable: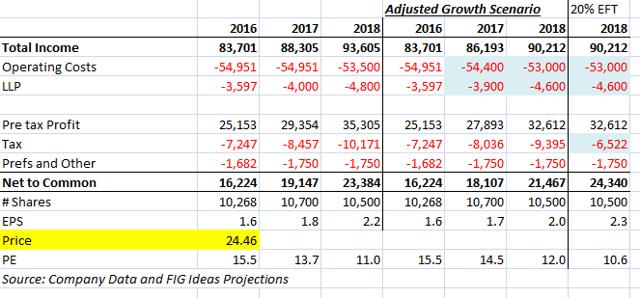 So, we would be talking lower EPS for 2018 of around 8%. Were the stock to correct on concerns about lower than expected loan growth, as long as you accept the idea that there should be loan growth of "some" level under Trump, as well as decent income growth, which will grow the deposit base (and thus interest earning assets), you would look to get in around $22.5. Take not of the right hand column in the table above though. If we got a lower loan volume picture and a strong tax cut to 20%, then BAC would in fact still be cheaper two years out than presently when we assume the prevailing tax rate sees no change.
The scenario we have looked at hear assumes that the current slowdown in loan growth is temporary and loan officers relax once Trump has put some shape on policy. Survey data has generally shown firm expectations from consumers and companies so right here loan demand shouldn't be a problem, and we are early in the raising cycle and real rates are not high. investors should monitor the system data to see when and if a return to lending growth comes through.
Conclusion
BAC still looks good value in a slower loan environment as long as the economy keeps expanding and rate hikes proceed at a rate of at least two per year. If the macro data causes jitters, but no fundamental reassessment of the U.S. economy, then BAC will look good around $22.5
Disclosure: I am/we are long BAC.
I wrote this article myself, and it expresses my own opinions. I am not receiving compensation for it (other than from Seeking Alpha). I have no business relationship with any company whose stock is mentioned in this article.