I wrote an article back in October on each of the big 5 Canadian banks. On the whole, I saw them as fairly valued, with Canadian Imperial Bank of Commerce (NYSE:CM) being the best value at the time. Having had a run-up in the financial sector following the election and more results from the banks, I would like to take a look at where the Big 5 stand today.
The Royal Bank of Canada (NYSE:RY) posted a very strong quarter. It really looks like the bank is firing on all cylinders, which is a nice change from a year ago at this time. If you remember, RY at one point traded for a whopping 56% lower than today. It is amazing to me that strong, conservative banks like these traded that low, even with oil & gas exposure fears. However, I was too busy investing in industrials at the time to notice, and I am still kicking myself for it.
Net income increased 24% YOY, or 15% adjusted for the one-time gain on the Moneris sale. Earnings were 25% higher YOY, and 16% when adjusted. The fears over oil and gas exposure have largely subsided, with the provision for credit loss ratio having decreased significantly YOY from 31 bps to 22 bps. As the PCL ratio has returned to pre-2016 levels, the stock has gone nearly straight up.

RY improved its Common Equity Tier 1 Ratio, as well. As I discussed in past articles on these banks, this ratio is required and acts as a form of stress test. The required figure is 6%, and RY has raised its ratio from 10.3% the last time I wrote on them to 11% today. This reflects an ever increasing moat, strong capital position, and the conservative nature of the bank.

Looking at individual segments, the loan portfolio performed well. One of the other major factors holding the Canadian banks back last year was the widespread fear of a Canadian housing bubble. Despite this, residential mortgages past 90 days due have remained constant across the last several quarters. The graphic below shows some of the differences between the U.S. and Canadian housing market, and why it would take a large shift for a housing crisis like 2008 to occur north of the border. Many of the inflated prices are from condominiums in Toronto and Vancouver. Condominiums only represent 9.8% of the residential portfolio at RY, further lowering the risk level. Finally, 46% of mortgages are insured, 46% of uninsured mortgages have a FICO score >800, and the average loan-to-value is 51%, which is highly conservative.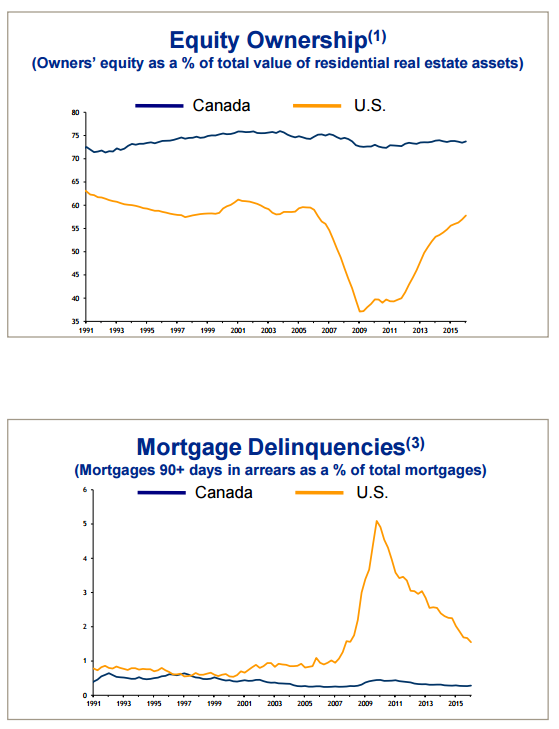 In banking, deposit growth of 8% is impressive, and reflects the strength of the bank's checking account initiatives. Obviously, banks rely on deposits to drive further loan growth which determines profitability. Seeing an 8% jump in deposits is interesting to me, as this likely involved some market share being taken from one or all of the other banks. Net interest margin was relatively unchanged, and is in-line with peers. Investors should expect to see this rise with interest rates, especially with RY's American exposure through the City National Bank acquisition.
Capital Markets net income grew 16% YOY as the energy sector recovers, and overall market conditions improved. Investor & Treasure Services net income was up 50% YOY, and Wealth Management increased 42% YOY. This included a $76M contribution in earnings from City National. These results show a bank performing well across every segment, and likely best-in-class among its peers.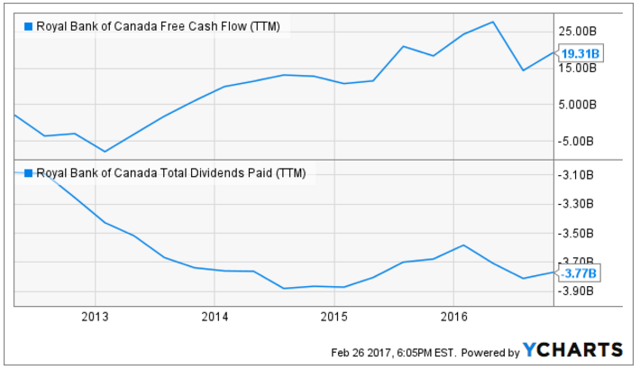 Share dilution was a concern of mine among the Canadian banks last time I researched them. RY has repurchased 1.1M common shares since then, which is a small chunk out of the 1.49B shares outstanding. However, it's something, and I would be happy as an investor to see the share count return to pre-crisis levels (around 15% lower than today). Additionally, management hiked the dividend by 5%, continuing the streak since the freeze during the financial crisis. This gives the bank a current quarterly dividend of CAD 0.87, or a yield of 3.56% based on a the exchange rate as I write this (the dividend is paid in CAD and will therefore be affected by exchange rates for U.S. investors). The current strength of the U.S. dollar will likely revert to the mean over time, providing a higher future dividend when compared to today. FCF remains very strong, making the dividend incredibly safe, and with a payout ratio of only 45%, future hikes seem likely.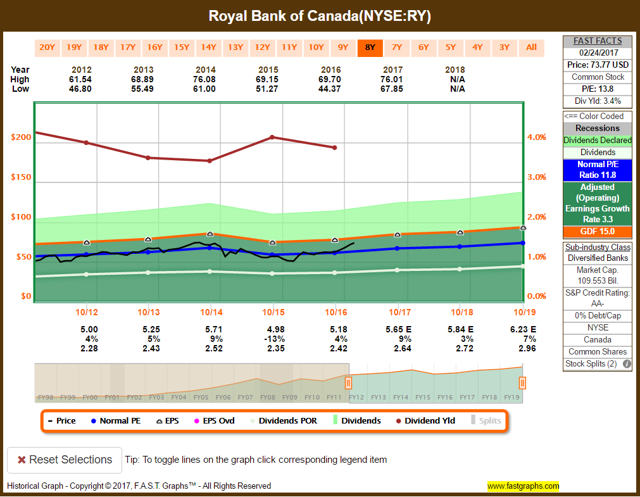 RY is no longer trading near its long-term average P/E ratio. Along with the rest of the financials, the run-up has compressed the yield to 3.4%, and left the P/E ratio at 13.8X, versus the average of 11.8X. Although 13.8X is not expensive, it is above the average and investors today could see compression in the future back to the mean.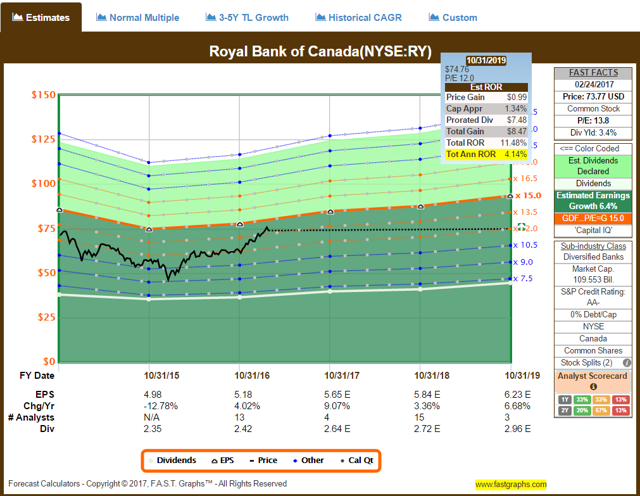 An investment today would yield only 4% annualized total returns if the bank were to revert to a 12X P/E multiple, based on analyst estimates. If the valuation were to remain constant, investors would be looking at closer to an 8% annualized return. With the safety of the bank, and its outstanding performance, it's possible that RY will maintain this multiple or even have it expand from here. However, in my view, financials overall will likely experience a pullback from the recent highs, and RY is an outstanding choice when that occurs. I am setting an entry point price target of $66, close to the average P/E on forward earnings.
If you liked this article, and would like to read more like it, please click the "Follow" button next to my picture at the top and select Real-time alerts. Thanks for reading.
Financial statistics were sourced from Morningstar, with the charts and tables created by the author, unless otherwise stated. This article is for informational purposes only and represents the author's own opinions. It is not a formal recommendation to buy or sell any stock, as the author is not a registered investment advisor. Please do your own due diligence and/or consult a financial professional prior to making investment decisions. All investments carry risk, including loss of principal.
Disclosure: I am/we are long CM.
I wrote this article myself, and it expresses my own opinions. I am not receiving compensation for it (other than from Seeking Alpha). I have no business relationship with any company whose stock is mentioned in this article.