The majority of investors analyze a publicly-traded company's fundamentals when making investment decisions. These variables include financial statements, beating/missing on earnings estimates, P/E ratios, etc.
I offer an alternative investment thesis: quantitative, litigation-based stock investing. This technique analyzes pending litigation involving publicly traded companies through numeric variables. Just as one can trade stocks based on earnings projections, one can also invest based on prospective legal outcomes. These legal outcomes can affect companies' share prices, and an accurate prediction could reap substantial profits. For many investors, this might be a new method to generate higher returns. In addition to a stock's fundamentals, a comprehensive knowledge of a company's legal situation (including pending civil and criminal suits) can prove to be a useful tool when deciding to hold a position in a company.
For this investing method to be successful, multiple litigation-related variables must be broken down, understood, and quantified.
I posit that the monetary magnitude of a lawsuit is correlated with the subsequent change in share price for large companies. As the monetary magnitude of a pertinent legal case increases, so too does the degree of change in share price for a publicly-traded company.
I also propose a measure for my aforementioned variable of magnitude: a ratio of the monetary magnitude of a legal case to a company's market capitalization, represented below.
Monetary Magnitude of Legal Case / Market Cap = 0-1
Take for example Zillow (NASDAQ:Z), with a market capitalization of $6.22 billion. News regarding a $130 million settlement came to light on June 6th, 2015. This settlement was to be paid to a company, Move. The settlement was to compensate Move for Zillow's illegal use of proprietary trade secrets. Despite this negative litigation outcome, the ratio of monetary magnitude to market cap is only 0.02, a very small value. Due to the small magnitude of the case, their share price was not negatively affected.
As news broke regarding the settlement, the share price even continued to increase. The chart below indicates this continued share price appreciation.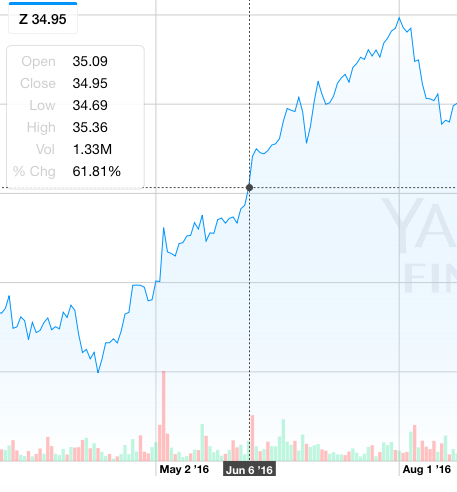 Pending litigation may be inapplicable or irrelevant to certain equities, but a significant legal case can also entirely drive the share price of a company.
Volkswagen AG ADR (OTCPK:VLKAY) quintessentially exemplifies this phenomenon. Their diesel debacle lawsuit drove share prices down by 39.1% over a three-week interval. VLKAY's market cap is $77.17 billion, and the monetary magnitude of the legal case (the settlement amount) is $14.7 billion. I argue that their 39.1% drop in share price was due to a high magnitude ratio of 0.19. The chart below illustrates this event-driven share depreciation, as news became public on the 6th of September, 2015.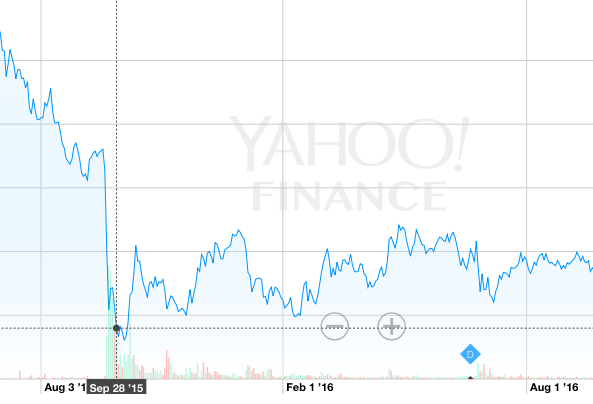 This shows that a high-magnitude lawsuit can be a catalyst for a subsequent substantial drop in share price.
Some other applicable variables are jurisdictional. Depending on the nature and location of the lawsuit, different projections must be made accordingly. Other variables to consider when utilizing litigation-based investing methods include: previous ruling history of the presiding Judge, the quality of legal teams representing both parties, news coverage of the lawsuit, and also public opinion on the matter.
Despite a multitude of variables affecting the share price of a company, I maintain that the magnitude of a legal case in proportion to a company's market cap is a primary driver of litigation-based share price appreciation or depreciation.
I implore you to try your hand at litigation-based stock investing. It is a numeric method of analyzing equities that can prove to be a useful tool for any stock investor.
Disclosure: I/we have no positions in any stocks mentioned, and no plans to initiate any positions within the next 72 hours.
I wrote this article myself, and it expresses my own opinions. I am not receiving compensation for it (other than from Seeking Alpha). I have no business relationship with any company whose stock is mentioned in this article.
Editor's Note: This article discusses one or more securities that do not trade on a major U.S. exchange. Please be aware of the risks associated with these stocks.