Ever since its founding, Salesforce.com (NYSE:CRM) has mainly sold customer relationship management [CRM] software to its customers, and its target customers were B2B companies. But things have been changing and Salesforce.com wants to help companies - both large and small - manage all aspects of their relationship with their consumers. In other words, Salesforce wants to help B2C companies in managing their entire consumer relationships.
Salesforce.com has made substantial investments in acquisitions to bolster its capability in managing consumer relationships. It bought ExactTarget to help manage the on-demand marketing message to consumers. The Demandware acquisition took the relationship beyond just marketing communications by helping companies maintain an ecommerce storefront and complete retail transactions both online and in physical stores. The capabilities offered by ExactTarget and Demandware are important, but Salesforce is still missing a key capability in their marketing value chain.
In an age where consumers expect to be presented with thought-provoking, engaging and graphically rich content across all media, Salesforce.com does not have the tools to help its customers create and manage compelling content that can be used across any communication channel. There's one company that is a global leader in those tools and that is Adobe Systems, Inc. (NASDAQ:ADBE).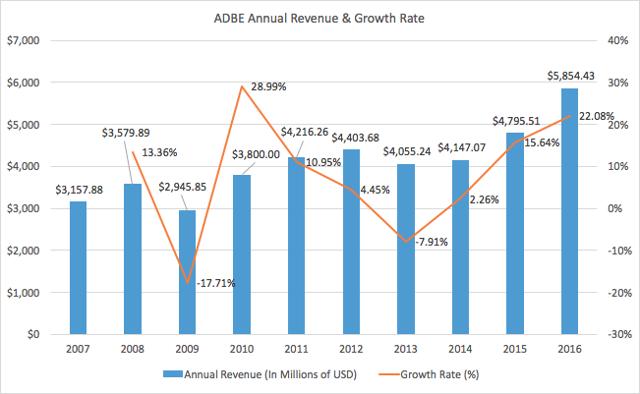 Exhibit: Adobe Annual Revenue and Growth Rate (Source: Adobe Company Filings)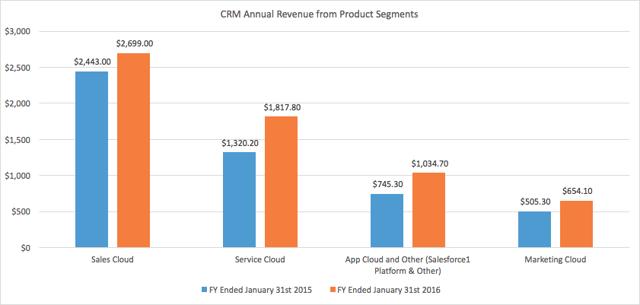 Exhibit: Salesforce.com Annual Revenue from Product Segments (Source: Salesforce.com Company Filings)
In the fiscal year that ended in January 31st, 2016, Salesforce had total revenue of about $6.2 billion. If Salesforce and Adobe decide to merge, Salesforce would more than double its revenue and would be the largest and most powerful player in the cloud computing market.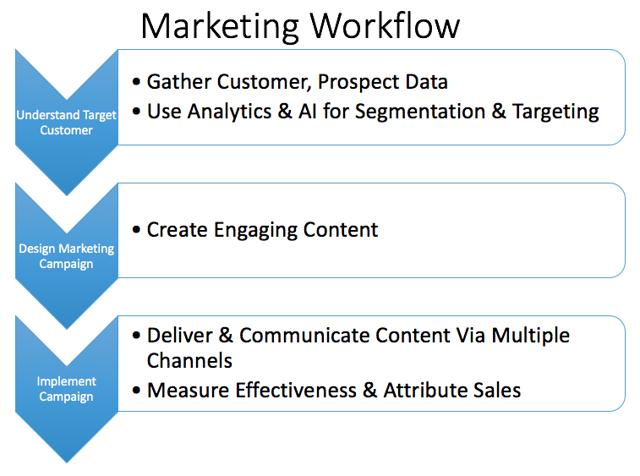 Exhibit: Marketing Workflow (Source: Author)
I have shown a simple marketing workflow above. Adobe has products in all aspects of this workflow that can add enormous value to Salesforce.
Let's start in the middle with the project of designing a marketing campaign. One task in this project is the creation of engaging content. This is Adobe's strong suite. Their flagship suite of products in this segment is the Adobe Creative Cloud. Multiple industry-leading products such as Adobe Photoshop, Adobe Illustrator and Adobe Photoshop Lightroom are offered in the Creative Cloud.
Salesforce.com had no comparable product to the Creative Cloud. As Salesforce.com moves deeper into helping B2C companies, the ability to create engaging content would be essential. Adobe's Digital Media business - Adobe Creative Cloud is part of their Digital Media business - would essentially create a whole new business segment for Salesforce with more revenues than its flagship Sales Cloud product segment.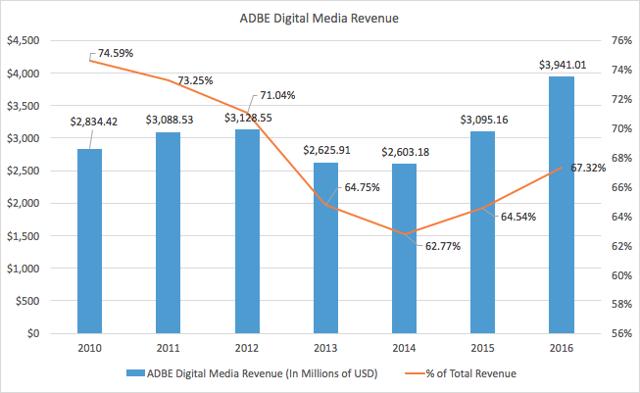 Exhibit: Adobe Digital Media Annual Revenue (Source: Adobe Company Filings)
Adobe's Digital Marketing business unit can help Salesforce in the task of implementing a marketing campaign. Adobe Marketing Cloud - part of the Digital Marketing business unit - offers various tools to target customers across the web on both desktop and mobile, across multiple channels. Some products in the Marketing Cloud are Adobe Target, Adobe Social and Adobe Experience Manager.
Salesforce.com's marketing business unit is the smallest in terms of both capability and revenues. Acquisitions such as ExactTarget and Demandware have bolstered that business unit in recent years. Adobe's Digital Marketing business would bring scale and scope to Salesforce.com that would take a very long time to achieve via organic growth.
However, there is some overlap between products and capabilities in the marketing area. For example, the Adobe Campaign product can manage email marketing. Salesforce's ExactTarget does the same. Adobe has an artificial intelligence product called Adobe Sensei that brings machine learning and analytic capabilities to their marketing products. Salesforce has introduced a product called Einstein to provide AI capabilities to sales, service and marketing. But, in my opinion, the overlapping products and revenue in the marketing segment is limited compared to the new marketing capabilities that Salesforce would gain from the merger.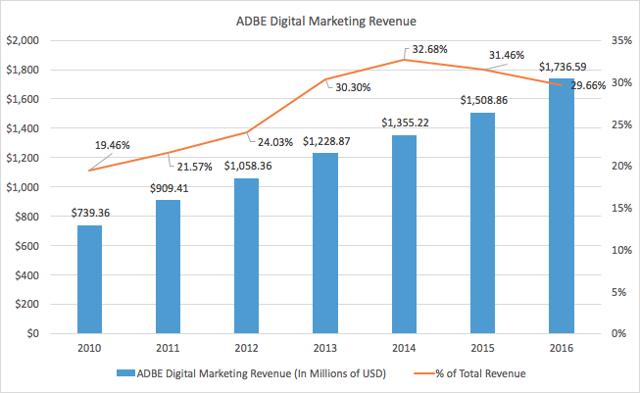 Exhibit: Adobe Digital Marketing Revenue (Source: Adobe Company Filings)
The Power of Adobe Acrobat
The benefits that Adobe's Creative Cloud and Marketing Cloud could bring to Salesforce is very clear. Adobe's Document Cloud product powered by Acrobat - the product behind the ubiquitous PDF file format - is a dominant product used to create and share valuable documents across document-intensive industries such as government, financial services, pharmaceuticals, legal and insurance.
Adobe Sign solution offers a green alternative and faster way to manage and complete contract workflows. The Adobe Sign product is integrated with Salesforce, but Salesforce can reap the benefits of Acrobat across all its product lines and pose a threat to Microsoft (NASDAQ:MSFT) Office 365. Adobe Document Cloud is part of their Digital Media product segment. Adobe Document Cloud is part of their Digital Media business.
Access to New Customers and Markets
A merger with Adobe would open Salesforce to a new set of customers. Salesforce would get access to creative professionals, animators and photographers who help marketing teams create exceptional content. It would be extremely difficult for Salesforce to acquire these customers. The customers who are accustomed to using Adobe's products would be reluctant to switch to a different one even if Salesforce offered a product in the future.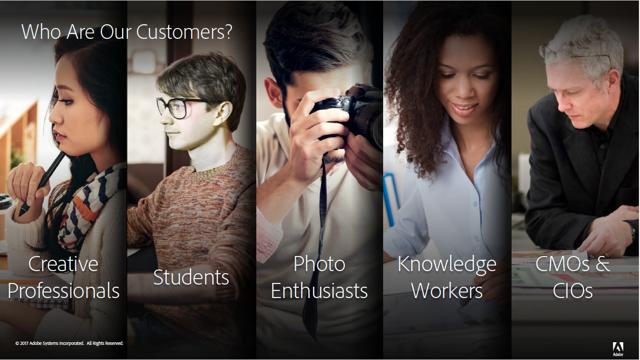 Exhibit: Adobe's Customers (Source: Adobe Company Filings)
The reasons for Salesforce to acquire Adobe are clear:
Enter new markets.
Strengthen and grow the marketing business unit.
Become a one-stop shop for sales, service and marketing tools.
Become the largest cloud vendor in the world.
There are multiple hurdles to this deal. As of February 27th, 2017, Adobe's market capitalization is larger than that of Salesforce by about $2 billion. Even though the reasons for Salesforce to merge with Adobe are clear, the inverse is not true.
Adobe has a very strong management team that has been firing on all cylinders. It has been posting good revenue growth and profitability. It has a clear vision of its future and has a large total addressable market (TAM) that offers further room for growth for many years to come.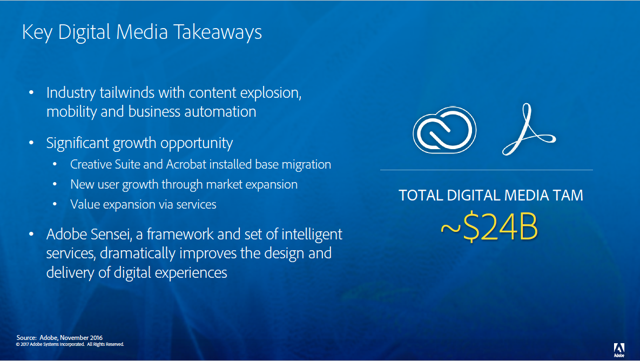 Exhibit: Adobe Digital Media Business Segment - Creative Cloud & Document Cloud (Acrobat) - TAM (Source: Adobe Company Filings)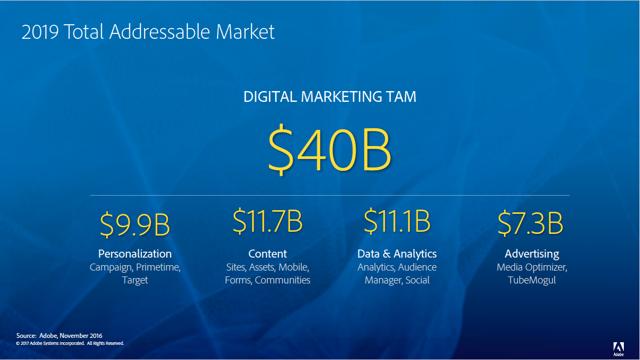 Exhibit: Digital Marketing TAM (Source: Adobe Company Filings)
Also, Adobe's products exhibit stickiness and network effects - both on the creative and marketing sides - that will help as more subscribers use the products and join the network. The data gathered and analyzed for digital marketing purposes becomes more valuable as more customers use their products. Once customers are used to the product like Adobe Creative Cloud, there will be less attrition and so Adobe will spend less on retaining customers and could even expand their profit margins.
On the marketing side, Adobe Digital Insights (NASDAQ:ADI) is an example of how data from a large network of customers can be leveraged to benefit the company and the network. According to Adobe, the analysis and insights published on ADI's website are based on 5,000 companies worldwide that use Adobe Marketing Cloud.
Adobe has shown that it can grow organically, and if the strategic need arises, can make small, manageable acquisitions to enter new markets. Its 2016 acquisition of TubeMogul is a case in point. TubeMogul is a player in the video advertising market. It offers brands and agencies a platform to plan and buy video advertising across desktops, mobile, streaming devices and TVs.
In short, given their market position, sales growth and profitability, Adobe has no need to embark on a very risky, large-scale merger at this time.
From the hacked emails of General Colin Powell, we know that Salesforce had Adobe as one of their acquisition targets. Acquisitions like ExactTarget and Demandware point to more investment in building B2C capabilities. In 2016, Marc Benioff had openly talked about his dream to double the company in the next three to four years.
The Adobe acquisition would easily accomplish that and would make Salesforce the biggest and most formidable force in sales, marketing and content solutions across a wide range of industries. Salesforce may need Adobe more than Adobe needs Salesforce. It would truly be a bold move if Salesforce tries to merge with Adobe.
If you like my articles, please consider following me.
Disclosure: I/we have no positions in any stocks mentioned, and no plans to initiate any positions within the next 72 hours.
I wrote this article myself, and it expresses my own opinions. I am not receiving compensation for it (other than from Seeking Alpha). I have no business relationship with any company whose stock is mentioned in this article.
Additional disclosure: Primary ticker does not show-up. Thanks a lot for your consideration.