Williams Companies (NYSE:WMB) and Williams Partners (NYSE:WPZ) reported strong results for the fourth quarter of 2016 across segments. WMB's adjusted EBITDA rose 8% in 2016 over 2015.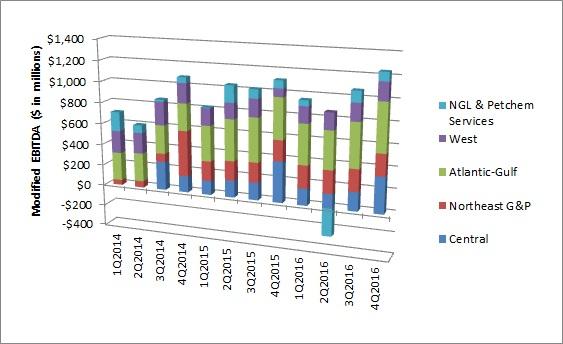 Source: Williams Companies reports
Apart from the (definitely big) dividend cut in 2016, Williams Companies has a long track record of stable performance and increasing dividends.
With the completion of long-due restructuring, Williams Companies and Williams Partners look well-placed to grow as the sector recovers. With a natural gas-focused strategy, Williams Companies' new board is trying to leverage the company's key strength.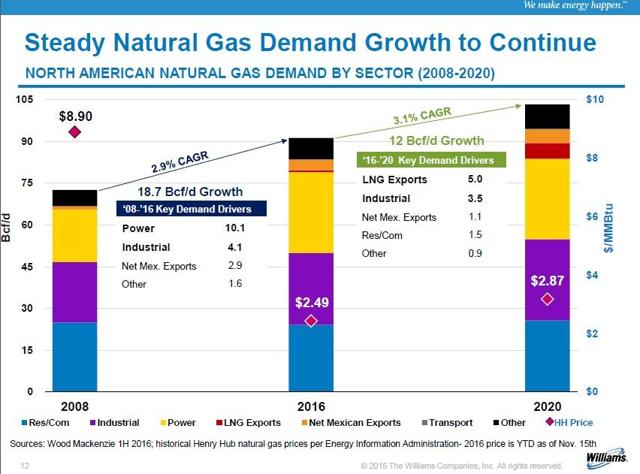 Source: Williams Companies presentation
As the slide above shows, Williams Companies and Williams Partners will benefit from strong natural gas demand. Moreover, expected strong production growth in Marcellus and Utica - areas served by Williams Companies - would definitely be an added advantage.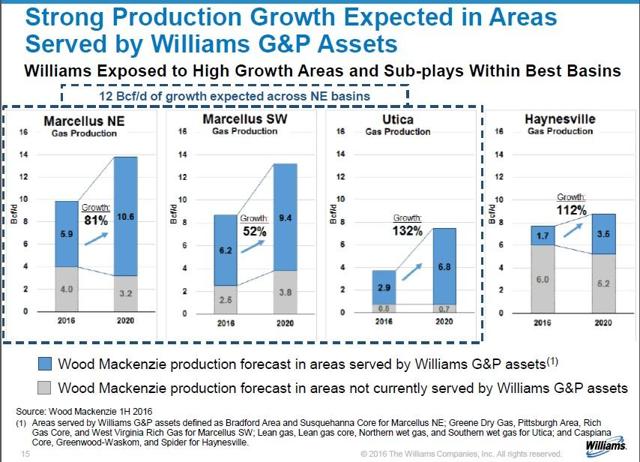 Source: Williams Companies presentation
Leverage
Williams Companies is making progress on reducing its leverage, which has been investors' biggest concern. Williams Partners' total debt fell by $1.1 billion to $18.56 billion at the end of 2016 from the end of third quarter of 2016. By February 2017, there was a further reduction of $1.35 billion.
At the parent company level also, the debt reduced by $75 million in the fourth quarter of 2016. Williams Companies expects to bring this further down by $500 million in 2017. The company targets long-term leverage to be at 4 to 4.5x for both WMB and WPZ. Overall, the companies seem to be placed well for growth in the long term and tackling leverage effectively.
Valuation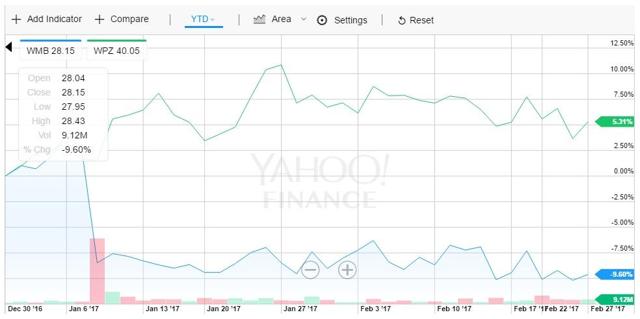 Source: Yahoo Finance
As the above graph shows, WMB fell on restructuring news and is trading range-bound since then.
With the discussion so far, I believe that Williams Companies and Williams Partners stand to perform as well, if not better, as their peers. As the below graph shows, based on EV/LTM EBITDA, WMB seems to be trading at a relatively fair valuation compared to peers.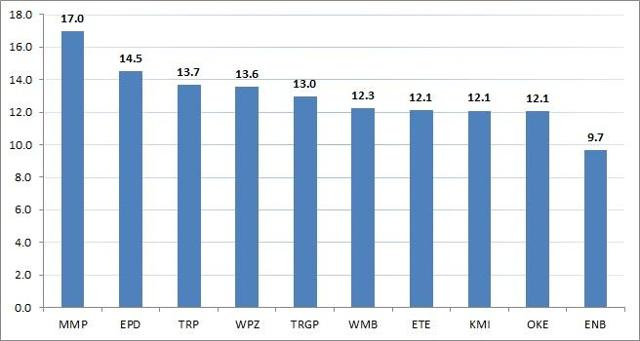 Source: Reuters
With the current dividend levels, WMB is yielding nearly 4.3%. This is much better than 2.4% for Kinder Morgan (NYSE:KMI). It's comparable to Enbridge Inc. (NYSE:ENB), Magellan Midstream Partners (NYSE:MMP) and slightly better than TransCanada Corp. (NYSE:TRP).
With a yield slightly over 6% even after the 29% distribution cut, WPZ looks a better option. WPZ yields better than 4.4% for MMP and slightly higher than Enterprise Products Partners (NYSE:EPD). With an expected distribution growth of 5-7% over the next several years, this brings WPZ in line with the top large-cap MLPs.
Interestingly, according to a report by Global X Funds, for the period 2012 to 2015, Williams Partners is the only MLP that had a higher distribution growth than its GP WMB.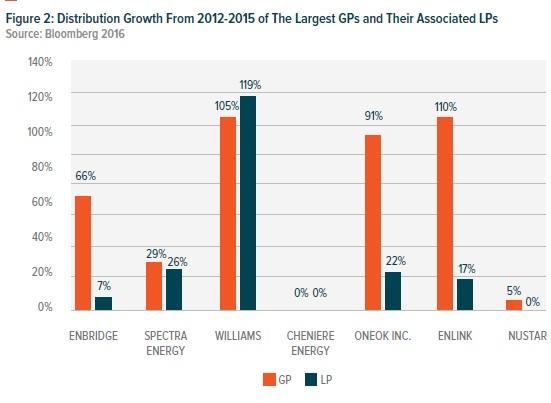 Source: Global X Funds
Similarly, WPZ's outperformance over WMB in an upcycle and underperformance during downturn is contrary to generally observed GP-LP behavior. A five-year chart is shown below. (I observed this for different time-frames.)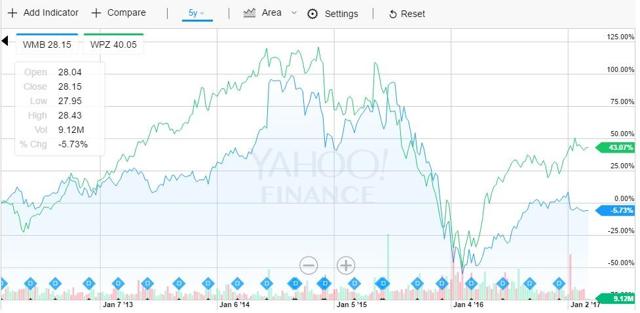 Source: Yahoo Finance
In the financial repositioning call, Donald R. Chappel, Williams Companies CFO said,
"The transactions will enhance our growth outlook, and we're targeting annual distribution growth at WPZ of 5% to 7% annually over the next several years, and as well we're targeting annual dividend growth at Williams of about 10% to 15% annually over the next several years.

And I would just note that the Williams' growth rate is quite a bit higher than PZ in part, because we would be reducing coverage, and we're maintaining very robust coverage of Williams early on here, as we reduce some revolver debt at Williams. But as we reduce that debt, we will then turn to be able to put that excess cash flow back into the dividend that facilitates long-term, sustainable coverage, again looking at WPZ, we expect distribution coverage of 1.2 times or more in 2017 and maintaining a strong coverage in excess of 1.1 times thereafter."
A few points to note here:
The company plans to keep coverage at WPZ well above 1.
Despite the lower expected distribution growth, WPZ's yield remains attractive as it remains slightly above 6% even after the distribution cut.
The higher expected dividend growth at WMB is in part due to "reducing coverage" which is pretty high currently. However, in the longer term, with an exposure to same assets, the dividend growth rate would not be so divergent.
Finally, with the removal of IDRs, WPZ's distribution growth rate would likely not lag WMB's in the long-run, as happened to be the case with other LPs with IDRs.
Overall, WPZ looks to be a good investment currently. Additionally, it looks to be a better choice than WMB to me.
Disclosure: I/we have no positions in any stocks mentioned, and no plans to initiate any positions within the next 72 hours.
I wrote this article myself, and it expresses my own opinions. I am not receiving compensation for it (other than from Seeking Alpha). I have no business relationship with any company whose stock is mentioned in this article.