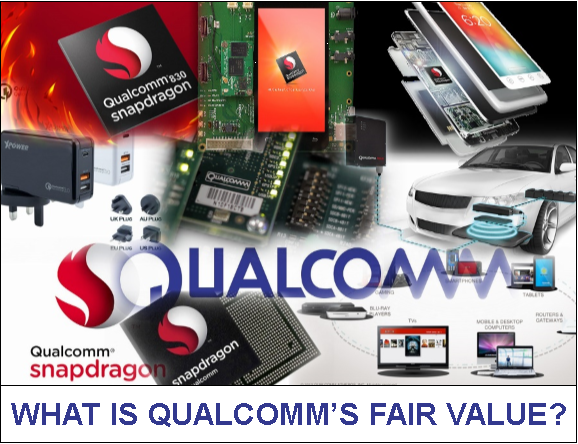 It has been a difficult year for Qualcomm (QCOM). Its stock price was trading at $81.59 in July 2014 and then fell to a low of $43.00 in February 2016. This prolonged steady decline resulted in a loss of 47.3% price appreciation. This was the result of continued fines, litigation, patent issues and antitrust charges. These clouds hanging over the company slowly appeared to be dissipating as the stock price rose about 62.0% from its February 2016 low to November 2016.
Unfortunately, for shareholders, another lawsuit would emerge from QCOM's largest client, Apple (AAPL). Once again, the stock price plummeted and has recovered somewhat. A floor in the stock price appears to have formed, so the question is whether based on fundamentals, is it a good time to buy QCOM?
WHERE ARE WE AT?
What do some of the current valuation metrics tell us? QCOM's current price to earnings ratio is 17.4. YCharts indicates that QCOM's 5-year price to earnings average is 17.4. Gurufocus.com calculates the company's median 10-year P/E at 16.8. The industry median is currently 23.7x. These indicators suggest that QCOM is currently trading at fair value when compared to its 5-year average, slightly overvalued compared to its 10-year history and at a discount to the industry in general.
The infographic below further shows that QCOM's PEG ratio is 3.7x, which is considered poor value based on next year's expected growth, but that its price to book ratio, which is 2.7x is considered good compared to the industry average of 3.5x. This continues to paint a mixed picture regarding QCOM's valuation.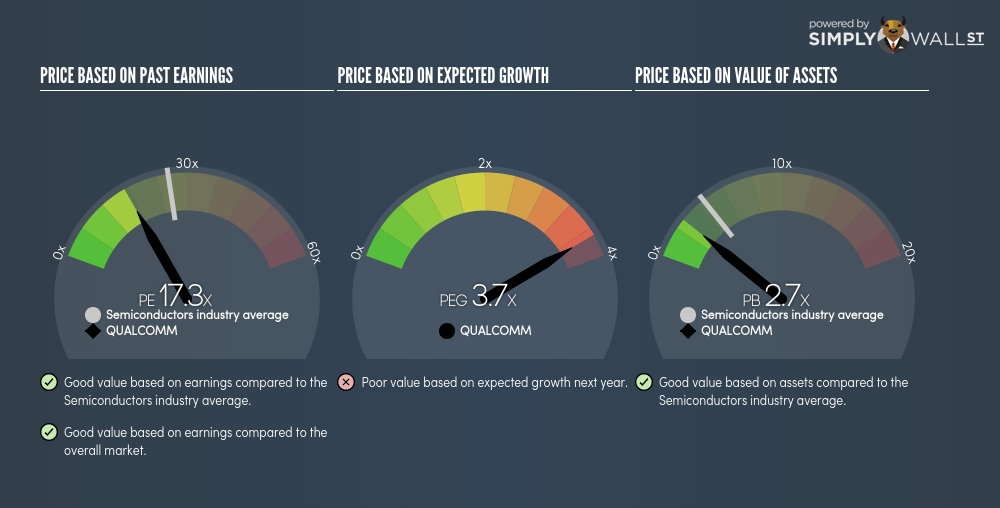 Source: SimplyWall.St
A look at other valuation ratios such as the P/FCF (15.5) and EV/EBIT (15.4) does not assist very much. QCOM is considered fairly valued based on free cash flow but overvalued when using Warren Buffett's standard of 10.0x EV/EBIT.
There are currently 13 buy ratings, 2 outperform ratings, 12 hold ratings, 2 underperform ratings and no sell ratings. The current consensus among 29 polled investment analysts is to buy QCOM, which has remained steady for the past two months.
Based on where we are at now, fundamentally the valuation is mixed, which would suggest that QCOM is a hold while it is considered a buy by analysts.
WHERE ARE WE GOING?
The infographic below shows what analysts are predicting as QCOM's earnings per share over the next few years.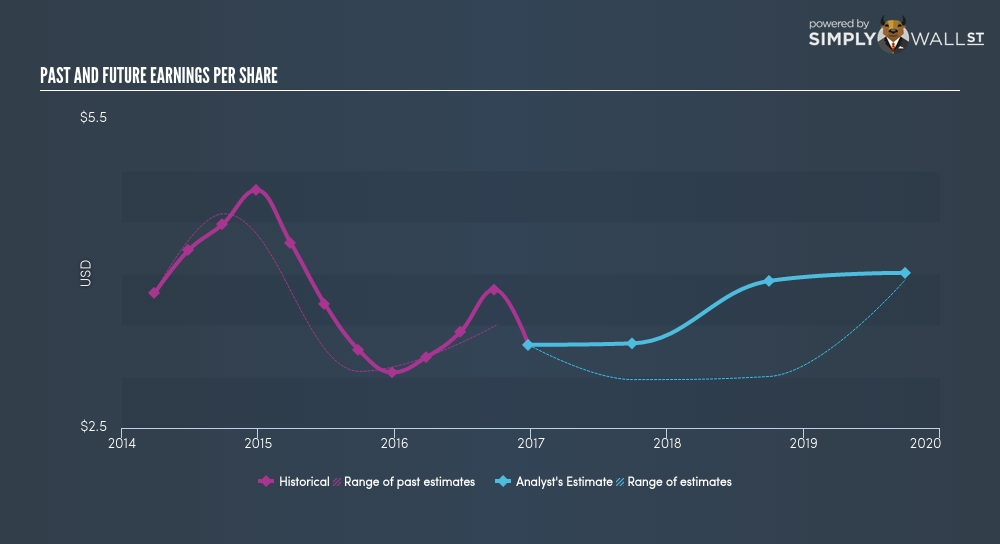 Source: SimplyWall.St
QCOM announced that its FY2016 EPS was $4.44, which was above the analyst consensus of $4.31. Analysts have an average EPS estimate of $4.62 (range of $4.10 to $5.10) in FY2017, and $4.75 (range of $3.57 to $5.30) in FY2018. This represents 4.1% growth in FY2017 and 2.8% in FY2018. The 5-year average growth is estimated to be 9.2%, which is above the company's last 5-year growth rate of 7.2%. The industry is expected to grow 11.0% over the next 5 years. This demonstrates that QCOM is expected to lag behind its industry.
If analyst's estimates are accurate, then QCOM is currently trading at 12.4x FY2017 earnings and 12.0x FY2018 earnings. Based on QCOM's 5-year and 10-year historical P/E ratios, the company is undervalued at its current price. If I use a 5-year historical P/E ratio of 17.4, based on QCOM's EPS estimates, the stock would be trading around $80.39 in FY2017, and $82.65 in FY2018.
This suggests that QCOM's current stock price could be undervalued by 40.5% if the stock was priced with a P/E of 17.4 and attained its EPS estimate of $4.62 this year. This suggests that the market is reserved while it awaits a clearer signal regarding the outcome of AAPL's lawsuit.
Over the next 12 months, analysts are estimating that QCOM would be trading between $47.10 and $81.00 with a median price target of $65.00, which represents a 13.8% upside potential and possibly a 41.8% upside potential if QCOM should trade at the highest estimate. There remains some downside with the potential decline of 17.5%. This represents a great risk/reward argument since there is more downside potential than upside potential based on the median price target.
IS QUALCOMM TRADING AT FAIR VALUE?
I used a reverse DCF to determine how much the market expects QCOM's growth rate to be. With shares trading at $57.22, the market is pricing in earnings to grow at 3.42%. This is fairly close to what analysts are estimating. An EPS growth rate of 3.93% would translate into an EPS of $4.61 in FY2017. This suggests that the market is pricing QCOM about right for its earnings estimates this year.
What is my fair estimate for QCOM? To answer this question, I calculated the fair value of QCOM using three models: Discounted Cash Flow, Graham's Formula, and EBIT multiples.
The inputs I used for the DCF were two-fold as I am going to calculate a high and low estimate. I used the 5-year long-term growth rate of 9.2% for a high and the current EPS growth estimate of 4.1% for the low. In both scenarios, I used a discount rate of 9.0%, a terminal rate of 2.0% and a starting FCF value of $5.71B. This provided a fair value estimate of $59.08 as the low and $75.93 as the high.
The inputs I used for the Graham's Formula were also two-fold. I included the 5-year long-term growth rate of 9.2% and the current EPS growth rate of 4.1%, and in both cases, an EPS estimate of $4.62 and a 20-year AA corporate bond rate of 3.76%. This provided a fair value estimate of $60.01 as a low and $87.58 as a high.
The inputs I used for the EBIT model has a conservative, normal and aggressive case. Based on QCOM's past 5-year EV/EBIT history, I chose a multiple of 12.8x for the conservative case, 13.4x for the normal case (which also happens to be the median for the past 5 years) and 15.4x for the aggressive case. Revenue estimates were $23.84B in each case. This resulted in fair value estimates of $64.39, $66.82 and $74.98 respectively.
The table below provides a summary and calculations of the estimated fair value of QCOM.
| | | | | | | |
| --- | --- | --- | --- | --- | --- | --- |
| | Current Price | DCF | Graham | EBIT | Average FV | Median FV |
| High | $57.22 | $75.93 | $87.58 | $74.98 | $79.50 | $75.93 |
| Low | $57.22 | $59.08 | $60.01 | $66.82 | $61.97 | $60.01 |
Source: Old School Value
Based on these calculations, the conservative average fair value estimate is $61.97 and the conservative median fair value estimate is $60.01. Based on today's stock price, QCOM is currently undervalued by 8.3% or 4.7%. The aggressive average fair value estimate is $79.50 while the aggressive median fair value estimate is $75.93. This represents upside potential of 38.9% or 24.6%. The reason why I have done this is because it seems improbable to me that QCOM will grow 9.2% over the next 5 years when the estimates over the next two years barely climb above 4%.
Below you will find my risk/reward chart. When I tried to apply the 9.2% growth rate to the price action chart of QCOM, it did not fit very well at all. I then modified the risk/reward lines and found that a growth rate of 5.4% fit the peaks and lows much better over a 10-year period. The red and green lines in the price action chart below represent the trading range of QCOM based on that 5.4% growth rate. The gray lines represent the 4.1% growth rate expected this year. The gray box is the conservative average fair value estimate.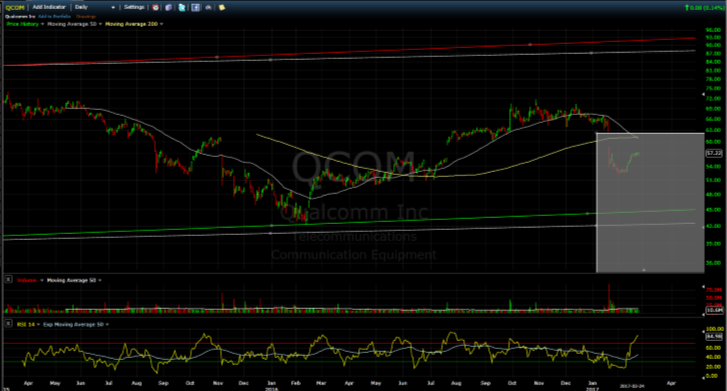 Source: Freestockcharts.com (daily view)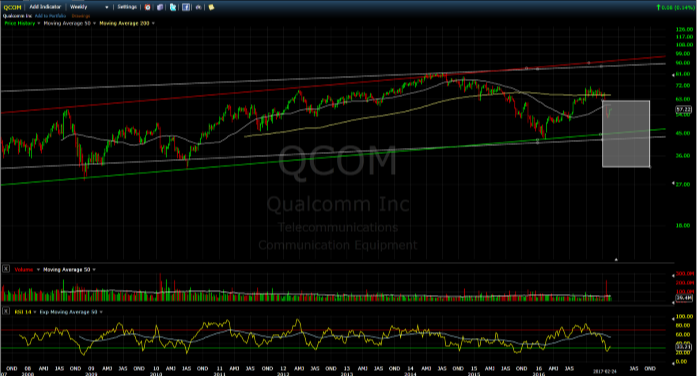 Source: Freestockcharts.com (weekly view)
As you can see in the daily view chart, QCOM is right in the buy price box but near the top of it. The margin of safety is not great when using the conservative estimates.
CONCLUSION
Compared to analyst's estimated fair value price of $65.00, my conservative average fair value price remains below even their estimates. I believe that analysts are maybe being conservative as they await to see whether QCOM will make concessions with AAPL that will impact their revenues. If AAPL wins the lawsuit, the impact could be two-fold in the value of the fines imposed on QCOM and whether there are reduced patent royalty charges.
QCOM is considered a BUY since the announcement of the AAPL lawsuit caused its share price to drop and enter my buy zone. I am still holding off on pulling the trigger because I am seeking a larger margin of safety. Those that bought at its low of $52.66 several weeks back have gained a healthy 17.7% margin of safety. Those who bought at the 52-week low of $49.67 would have a 24.8% margin of safety, which is more desirable particularly since this stock has a beta of 1.45.
One catalyst for downside risk is how much of Intel's (INTC) latest modem chip, the XMM7560, will be adopted by companies such as AAPL which will likely want to reduce its reliance on QCOM chips. This also assumes that INTC can produce enough chips as production is expected early in the second half of the year, which leaves little time to fill a large order from AAPL before the iPhone 8 is expected to be announced in September.
There is an upside potential catalyst for QCOM, which is its buyout of NXP Semiconductors (NASDAQ:NXPI), which will help to diversify the company's offerings. I feel that these two catalysts could go either way, but because of the uncertainty surrounding them, I suspect it will continue to cause volatility in the stock price, which may provide me a better entry price in the future.
I hope you enjoyed this article. If you want to be notified when my future articles are published, please consider following me as a Seeking Alpha author by clicking the "Follow" button at the top of the article beside my name Accelerating Dividends. Thanks for reading.
Disclosure: I/we have no positions in any stocks mentioned, and no plans to initiate any positions within the next 72 hours.
I wrote this article myself, and it expresses my own opinions. I am not receiving compensation for it (other than from Seeking Alpha). I have no business relationship with any company whose stock is mentioned in this article.