American Electric Power (NYSE:AEP) is a dividend paying utility. Its projected dividend payments make it a buy at anything under $72. With the market price around $67, that means it's a buy.
What did I think last time?
I first wrote about AEP in this article. I liked that management forecast EPS growth at a CAGR of between 5% and 7% well into the future. I liked that management also had a policy of growing dividends in line with EPS growth and that they had grown the dividend at a CAGR of 4.9% over the last 4 years. Since AEP's customer base was in areas that did a lot of oil and gas extraction from shale, how that business did would drive economic growth and AEP's revenues. Also, AEP had a lot of coal fired plants and was in the process of retiring those plants, so it was important to keep an eye on how it was doing in efficiently shifting its production portfolio.
What new information do we have now?
On January 26th, AEP reported its Q4 earnings. While the 12 cents beat on EPS was good news, it was somewhat disappointing that revenues fell short of expectations by $110 million.
Looking at the slides from the conference call, I see several that are important to evaluating AEP's continued performance.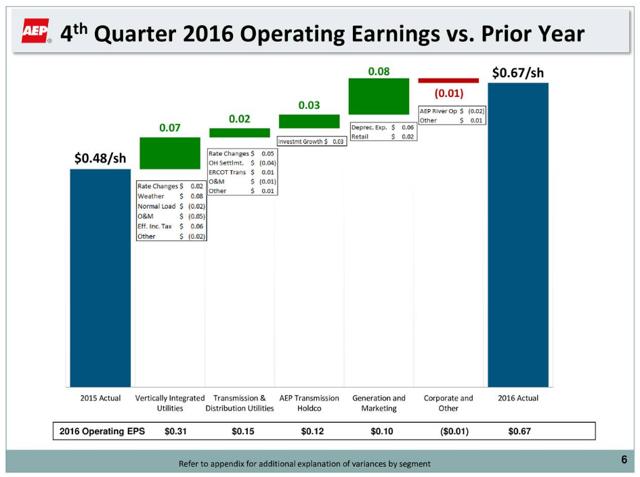 In this first slide, management walks through the changes in EPS since the same quarter a year ago. I like that each of the 4 operating segments contributed to the growth in earnings. I think it's of particular note that the Generation and Marketing segment had such large growth. I see a solid quarterly performance.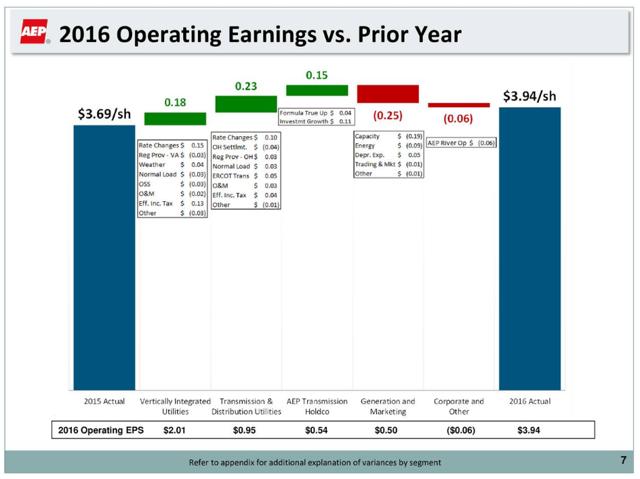 In this slide management walks us through the changes in EPS for this year compared to last year. 3 of the 4 operating segments did better this year. Not unexpectedly the transmissions segments did proportionally better than did the vertically integrated utility segment. That is where AEP is putting its capital to work (74% of planned CapEx is in wires), so I would expect to see better growth here.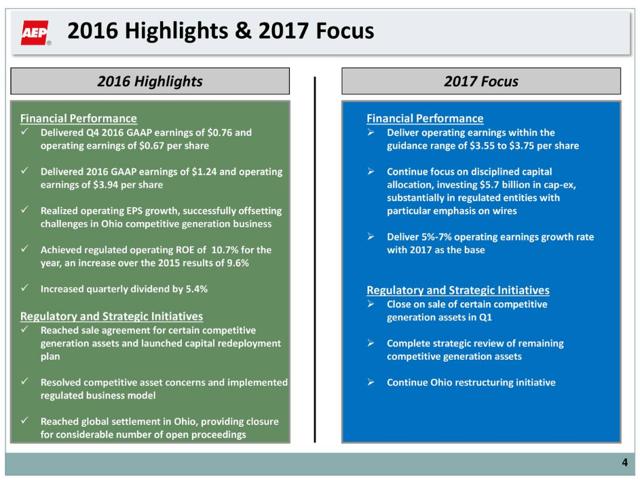 This slide provides both highlights for this year and targets for next year. The main thing that I take away from it, other than that the company is performing well and meeting targets, is that next year's operating earnings are projected to be less than this year.
What's a good price?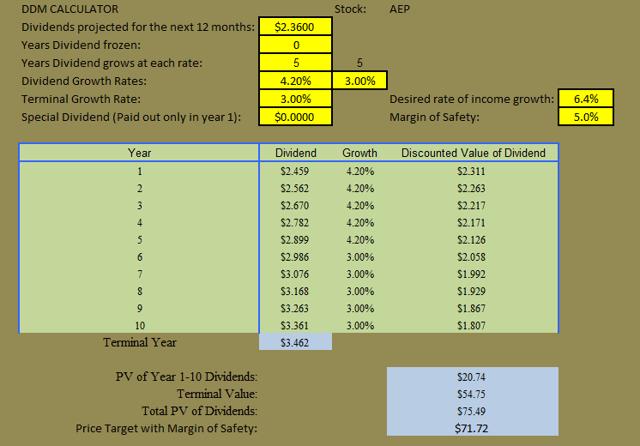 To figure out a good price, I do a DDM calculation using my Excel® based DDM calculator (pictured above, you can see the web-based calculator I based it on here and read a discussion on how the formulas were developed here). Looking at the CCC List, I see that lowest DGR value for AEP is 4.2%, so I will use that as my dividend growth rate rather than the management forecast (just to be extra conservative). I don't see any reason the dividend will be frozen going forward, and AEP should be able to grow its dividends over the long term at about the rate of inflation so I will use my standard 3% for the terminal rate of dividend growth. I think it reasonable to discount future cash payments to the investor at twice the long term rate of inflation, so I will again use 6.4% for my discount rate. Given that the guidance for operating earnings is lower for 2017 than what was achieved in 2016, I want a 5% additional discount from the present value of the dividend stream to provide me with an extra margin of safety.
Using the parameters I outlined above, I calculate that a good price to pay for the dividend stream that AEP will provide is $71.72. So, to use round numbers, I think that any price below $72 is a good price to buy. The current market price of AEP is just under $67, so I think it is currently priced to buy. When I get the cash to buy it, if it is still below $72, I will buy AEP.
From time to time in the comment streams of my articles, I have received questions as to why I chose the discount rate I did. I chose a discount rate that is twice the rate of long term inflation (as determined by the Fed since it started tracking inflation) because the long term inflation rate includes periods like the Great Depression and they high inflation period of the 1970s. I chose to discount future cash payments by twice that amount because that is the goal I have to grow the income from my portfolio without including dividend reinvestment. While I think that is reasonable, I do recognize that others might not see it that way. I think the most fruitful discussions on what is the appropriate discount rate to use for the DDM valuation start with an alternate proposed discount rate and an explanation of why that is the rate to use.
Can options help?
To write a cash secured put, I want a strike price that is less than the current market price, $67 or so for AEP, and a premium that is more than the pro-rated dividend for the holding period. That works out to be a minimum premium of around $0.20 for each month the contract lasts.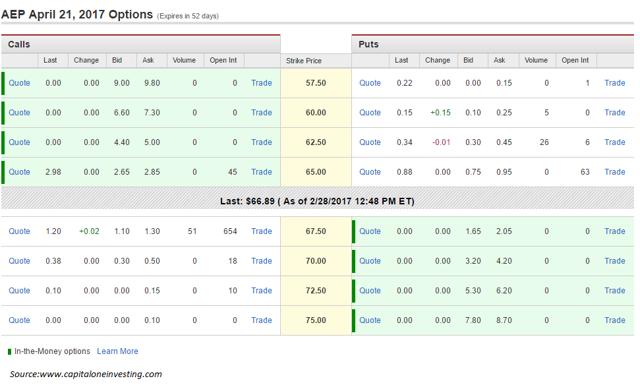 The April expiration date has an interesting contract in the $65 strike put. The strike price is below current market price and the premium of at least $0.75 is more than the $0.40 I require as a minimum for a two month holding period. With the bid and ask so far apart an investor writing a put contract should use a limit order to avoid any surprises. Writing this put contract should give the investor just under a 1 in 3 chance of getting the shares.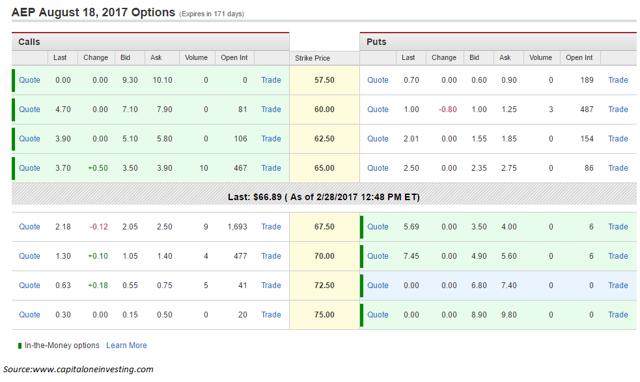 For a covered call, the August expiration date has an interesting call contract. The call contract with a $72.50 strike price offers a strike price above my calculated buy price and offers a premium that is more than half the dividends that will be paid out over the nearly 6 month holding period. With a Delta that indicates a 1 in 4 chance of having the shares called away, this contract has potential to boost the cash flow from holding the shares by around 50% while still most likely keeping the shares.
What to watch for going forward?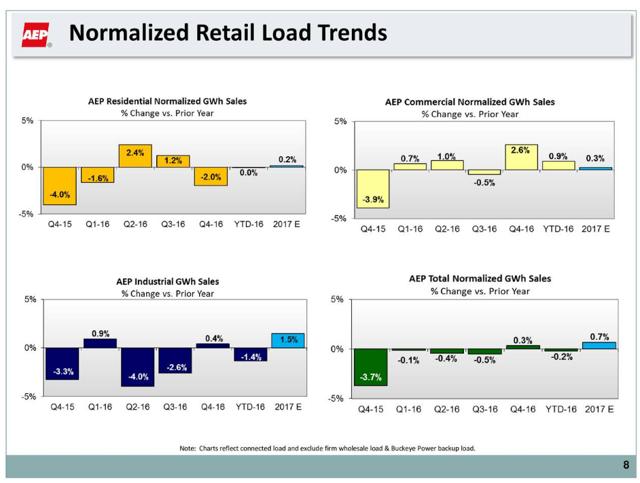 This slide from the earnings presentation illustrates an area I want to keep an eye on. The industrial customers bought significantly less power this year than they did last year. The Residential customers didn't buy as much either, but it was a far smaller drop. Going forward, AEP is counting on the Industrial customers purchasing more power in 2017 than they did this year, so I will want to check that they are hitting that amount of growth as the other two customer types aren't going to contribute much towards growth.
Conclusion
AEP has a 7 year history of paying a growing dividend. Its projected dividend stream is valuable enough that the current market price represents good value. Dividend growth investors should consider adding it to their portfolio. I have a few stocks ahead of it in my queue, but once I get the cash, if the price is still this good, I will buy some myself.
Note: I hope you all got something out of this article. I do appreciate the time you took reading it. If you are one of those who follow me here, I appreciate it; if you'd like to include yourself amongst those individuals, please hit the "Follow" button next to my name as well as following other contributors whose work you enjoy. As always, please leave any feedback and questions you may have in the comments below.
Disclaimer: This article is intended to provide information to interested parties. As I have no knowledge of individual investor circumstances, goals, and/or portfolio concentration or diversification, readers are expected to complete their own due diligence before purchasing any stocks mentioned or recommended. The price I call fair valued is not a prediction of future price but only the price at which I consider the stock to be of value for its dividends.
Disclosure: I/we have no positions in any stocks mentioned, and no plans to initiate any positions within the next 72 hours.
I wrote this article myself, and it expresses my own opinions. I am not receiving compensation for it (other than from Seeking Alpha). I have no business relationship with any company whose stock is mentioned in this article.