Most old fashioned retail stocks are currently undergoing stressful devaluations due to declining sales growth and declining earnings. Many attribute this to the "Amazon effect" on retail whereby Amazon (NASDAQ:AMZN) is out-competing every other retailer on every type of product. However, Target (NYSE:TGT) is a generationally relevant brand and should be able to maintain good profitability and cash flow for a long time to come. In addition, Target's owned real estate provides a significant margin of safety to Target shares at current market prices. Target's record of increasing its dividend for 45 consecutive years should continue along with large share repurchases that will reward long-term holders for years to come.
When thinking about investing in Target at today's price for the long term, we can ask ourselves the following: If we were to buy the entire company and all of its assets, then would we be getting a good deal?The answer to this question is yes. And it really is a simple analysis. Hedge Funder Bill Ackman made a very interesting pitch on Target back in 2008 where he noted the value of Target's large ownership in its own real estate. He pegged the value of this owned real estate at about $39 billion dollars. Assuming that real estate prices are about the same now as back in 2008, then most of Target's enterprise value of $45 billion is covered by the value of the company owned real estate!
Now you might be thinking that this line of thinking is disastrous -- look what happened to Sears. However, the key difference here is that Target, as an operating retail store, is generationally relevant brand for the millennial cohort. This means that aside from the margin of safety in Target's real estate, we can realistically expect Target to pump out significant profits for years and decades to come. As one of the older millennials myself, I have anecdotal evidence that Target is still a place where younger people enjoy shopping even if they are loyal to Amazon as well. The main reason for this is that Target has unique, company designed, developed, products that cannot be found anywhere else. These unique items bring customers in for the "treasure hunt" of unique items and these customers buy whatever else they may need at the moment. This differentiated, generation relevant brand should keep sales increasing as the millenials move into their prime purchasing years. Could you ever imagine anyone making or buying this mug below for many other old fashioned retailers?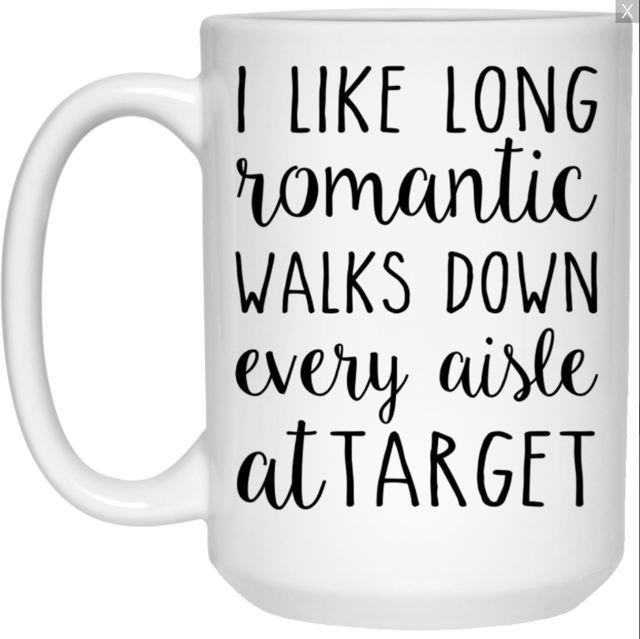 Valuation
In the last 12 months, Target sold $70.4 billion worth of merchandise and made about $3.3 billion in net profit. The market cap for Target is about $33 billion as of today. This equates to a trailing P/E of 10 and an earnings yield of 10%. The dividend yield for target is over 4% and Target has still about $5 billion in authorizations for stock repurchases, which could shrink the market cap by almost 15% at current prices. Even if revenues fall slightly over time as management has indicated may happen in the short term, the combination of the 10% earnings yield backed by substantial cash returns should lead to a worthwhile investment result in a stock market that is looking pretty expensive otherwise. And the company could see an increase in sales down the line as millennials enter their prime buying years.
Conclusion
At current market prices, Target has a large margin of safety in its real estate holdings and a defensible, generationally relevant business that pumps out earnings and cash flow that is generously shared with its investors. The market is worried about short term sales decreases due to the Amazon effect and giving long-term minded investors with a great opportunity to invest in one of the highest quality companies in the United States.
Disclosure: I am/we are long TGT.
I wrote this article myself, and it expresses my own opinions. I am not receiving compensation for it (other than from Seeking Alpha). I have no business relationship with any company whose stock is mentioned in this article.