People begin to panic when they can't access parts of the internet. A lot of sites use Amazon's (NASDAQ:AMZN) Web Services, as most investors in the stock now. Unfortunately, the site is experiencing some problems on Tuesday on the US East Coast, resulting in a lot of website problems. For the moment, this isn't a major problem, but if it keeps happening, investors in Amazon should start to worry.
Amazon's S3 problem is one of the top worldwide trends on Twitter currently, and not in a good way, especially when hundreds of people relate your service to the White House and fake news. The problem has lasted for a couple of hours already, but Amazon believes it has found the root cause and has begun repairing the system. By the time some people read this article, some sites will already be functioning normally.
At the moment, AWS is the crown jewel for Amazon in terms of growth, showing a 47% year-over-year revenue increase in Q4 2016 over the prior-year period. As seen in the chart below, AWS in the past three years has gone from $1 billion in quarterly revenues to more than $3.5 billion. By the end of this year, AWS could be close to approaching an annual revenue run rate of $20 billion.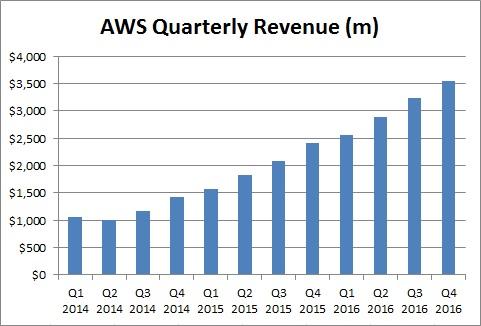 (Source: Amazon quarterly results)
Now the outage so far appears to be limited to the US East Coast, so it is only one part of AWS. The West Coast of the US, for instance, is not impacted, and we're only talking about a couple of hours here. Even if Amazon credits some customers for a short time period, the revenue impact should be minimal. In Q4 2016, the service as a whole averaged about $38 million in revenue a day, so having only a part of it down for part of a day isn't much. I don't think AWS customers will be fleeing in large groups, although they might think about having more backup protection from other providers.
While Amazon shares were up early Tuesday morning, they have fallen back throughout the day, especially after the AWS outage was reported. Shares are currently down about one half of one percent, which seems like a knee jerk response to a site issue. Remember, AWS only represented 8% of total Amazon revenues in the latest quarter. Investors shouldn't worry unless this problem lingers for days or starts to occur frequently. In fact, I'm sure there will be some who appreciate the opportunity to purchase shares at a lower price. While there are plenty of people on Twitter flipping out that parts of the internet are down, Amazon investors should not be running for the exits just yet.
Disclosure: I/we have no positions in any stocks mentioned, and no plans to initiate any positions within the next 72 hours.
I wrote this article myself, and it expresses my own opinions. I am not receiving compensation for it (other than from Seeking Alpha). I have no business relationship with any company whose stock is mentioned in this article.
Additional disclosure: Investors are always reminded that before making any investment, you should do your own proper due diligence on any name directly or indirectly mentioned in this article. Investors should also consider seeking advice from a broker or financial adviser before making any investment decisions. Any material in this article should be considered general information, and not relied on as a formal investment recommendation.