Quick Take
Self-service data analytics provider Alteryx (NYSE:AYX) has filed to raise up to $75 million in an IPO.
Alteryx is growing revenues rapidly while increasing its already high gross margin.
While it has significant competition across a range of business intelligence market segments, management appears to executing well and the company's prospects are enticing.
Company
Irvine, California-based Alteryx was founded in 2010 by CEO Dean Stoecker, COO Olivia Adams and CTO Ned Harding to develop software for data analysts to obtain insights in a self-service environment.
The company has raised at least $163 million in three financing rounds from investors such as Toba Capital, Sapphire Ventures, Insight Venture Partners, Thomson Reuters and ICONIQ Capital.
Together, the institutional investors own approximately 64.7% of Class B shares of company stock. CEO and co-founder Stoecker retains 20.4% of Class B shares, pre-IPO.
Its most recent funding round was an $85 million Series C financing in October 2015 with a reported valuation 'approaching $1 billion'.
Technology
Alteryx has created a cloud-based software system that enables data analysts to obtain, manipulate, analyze and export data to improve their business operations.
The software doesn't require any knowledge of programming, so it effectively allows enterprises to push data analysis further out to various departments where it can more quickly impact decision making.
Below is a brief explainer overview video:
(Source: Alteryx)
For its single user version, Alteryx Designer, the software isn't cheap as it starts at $5,195 per year per user.
An enterprise version, called Alteryx Server, runs $58,500 per year.
Market and Competition
In a late 2016 report by IDC, it forecasts the worldwide market for 'big data and analytics technology and services' to exceed $203 billion by 2020, representing a CAGR of 11.7% from 2015.
Service related spending will account for the strongest growth segment, with a five-year CAGR of 14.9%, reaching $60 billion in 2020. This $60 billion market is where Alteryx operates.
Alteryx counts as competitors a number of companies in the traditional business intelligence space, such as:
IBM (NYSE:IBM)
Microsoft (MSFT
Oracle (NYSE:ORCL)
SAP (NYSE:SAP)
SAS Institute
MicroStrategy (NASDAQ:MSTR)
TIBCO
Tableau (NYSE:DATA)
Qlik
In addition, there are numerous data analytics software companies that provide either adjacent potential threats or partial competition.
Financials
Alteryx' recent financial results can be summarized as follows:
Increasing revenue growth rates over the past three calendar years
Gross margin is high and growing
Cash is being used in operations
Below are the company's operational results for the past three years (Audited GAAP):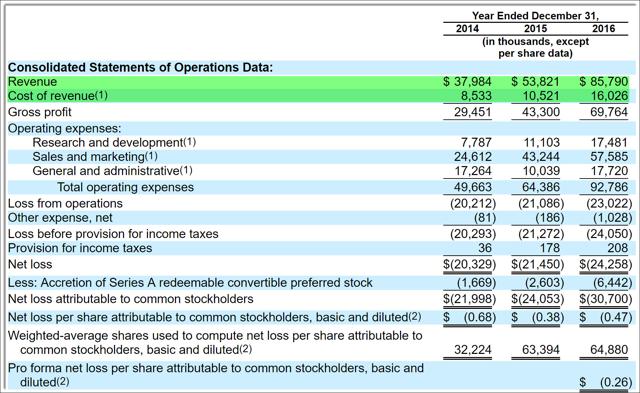 (Source: Alteryx S-1)
Revenue
2016: $85.8 million, 60% growth vs. prior
2015: $53.8 million, 42% growth vs. prior
2014: $38.0 million
Gross Margin
2016: 81%
2015: 80%
2014: 78%
Cash Flow from Operations
2016: $6 million cash used in operations
2015: $8 million cash used
2014: $3.4 million cash used
As of December 31, 2016 Alteryx had $52.7 million in cash and short term investments, and $18.8 million in total liabilities not including deferred revenue. (Audited GAAP)
IPO Details
Alteryx intends to sell Class A common stock to raise $75 million in gross proceeds, but has not provided an expected share price range or proposed post-IPO market cap.
Class B stock holds 10 votes per share whereas Class A shares will hold one vote per share.
Management didn't provide any details on use of proceeds, other than standard boilerplate language, which means they'll use it for working capital unless they see an acquisition opportunity.
There is no indication that existing shareholders intend to sell shares or buy additional shares, although that can change based on market conditions closer to the IPO. No projected date for the IPO has been set.
Joint book-running managers are listed as Goldman, Sachs & Co. and J.P. Morgan.
Commentary
Alteryx is one of several software startups valued at or near a billion dollars in the 2015 late stage funding frenzy.
We don't know management's proposed terms for the IPO yet, but it is safe to say that they will want to go public at or above that magic billion dollar valuation, to avoid triggering anti-dilution clauses that were common during that time period.
From its financial performance, Alteryx is posting some extremely good numbers.
Revenue growth is impressive and increasing, and appears to be on track to exceed $100 million in 2017.
Gross margins are high, but probably won't increase that much more. The company is still using cash, but that is diminishing somewhat.
The market that Alteryx is operating in is large and estimated to grow at double-digit rates over the next few years.
Furthermore, Alteryx' position in the market is at the lower end, so the company is executing on a commonly successful approach of 'disrupting from below.'
From my vantage point, Alteryx can either go up market and sell to large enterprises or go down market and sell to smaller firms, or just continue with its offering to expand geographically throughout the English-speaking world.
I'll provide an update when we know more about deal terms, but I like Alteryx' growth trajectory and prospects.
I write about technology IPOs, follow-ons, secondaries, and M&A deals. If you want to receive future articles automatically, click the Follow button at the top of the article.
Disclosure: I/we have no positions in any stocks mentioned, and no plans to initiate any positions within the next 72 hours.
I wrote this article myself, and it expresses my own opinions. I am not receiving compensation for it (other than from Seeking Alpha). I have no business relationship with any company whose stock is mentioned in this article.