Realty Income Corporation (NYSE:O) is raising more capital. The company announced the plan previously, shares took a hit and recovered, and then O increased the size of the offering. Why is Realty Income looking to issue as much capital as it can? Because it understands how absurdly accretive it is for the company to issue new stock over $60 per share. While some investors will be in a panic, this type of issuance is exactly how the REIT has been driving returns for shareholders. It is also the reason I can't bear to buy into O at the current prices.
Here is the data on the latest capital raise:

Realty Income is expecting to raise $61.50 per share based on the net proceeds. The offering was priced at $62, but selling huge amounts of common stock still involves some offering expenses.
How Brilliant is Management?
This is precisely how financial structuring is supposed to be handled. O looks at its investment opportunities as the real estate it could buy. The company assesses the level of net operating income it could create from those properties. It assesses the risk of the transaction. Then it evaluates how much it would be willing to pay for the properties. If the company can buy properties at attractive valuations, it wants to do it.
Simple enough right? How does O know what valuation is attractive though? It looks at its WACC (weighted average cost of capital). I put together a quick chart to demonstrate the WACC:

I know the preferred shares carry a dividend yield of 6.63%, so we know the cost there. Running through its presentation shows the weighted average interest cost on financing is 3.76%. We also know the number of shares outstanding and can approximate the value per share at $61.50. Given the cost and the amount of each type of financing present, we can quickly calculate out that the WACC for Realty Income Corporation is running about 4.47% right now.
If the properties it can acquire would yield significantly more than 4.47%, then growing the company through a combination of debt and equity would make sense. What kind of capitalization rates is O getting on its purchases?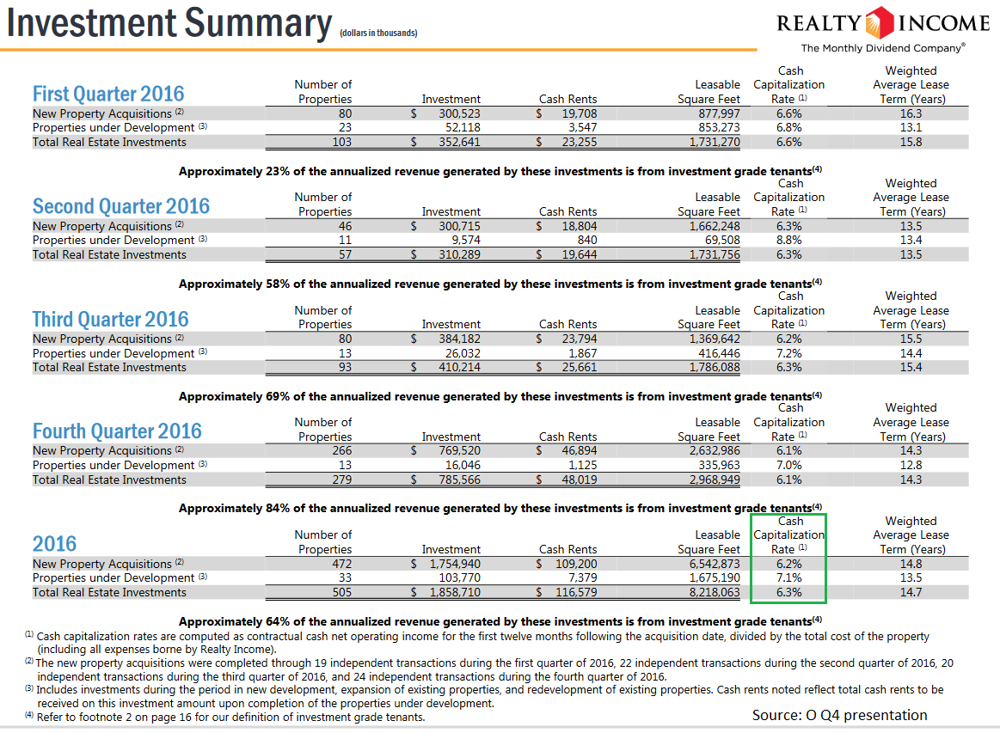 That would do it. It is seeing the cash capitalization rate running around 6.3% on a weighted average basis for 2016. That is dramatically higher than its WACC. Consequently, if the REIT issues new shares and new debt to buy more properties, FFO per share should increase.
What Is It Doing?
O isn't putting this capital directly into buying new properties though. It is using it to pay down the balance on a revolver loan. Why would the company do that when debt is cheaper than equity?
The answer is actually pretty simple. Having a large balance available on the revolver loans gives O a much better position in negotiations because it can immediately come up with large amounts of cash to close a new deal. The entire point of having those revolver loans is to make it easier for O to close new deals when it sees the right opportunity. Then when the company sees high share prices and has no material information that needs to be disclosed (hence this occurring after Q4 results), it announces the plan to issue new equity and pay down the revolver. Expect this to be a frequent occurrence.
Outlook
I love the company, but not the share price. I think O is doing precisely the right thing to issue new shares and pay down the revolver. The pain of the price movement will be forgotten when new acquisitions are announced and dividend increases come out. I'm leaving O at a hold rating because I think it makes sense for a long-term buy-and-hold investor to simply hold onto the shares and continue collecting the dividend.
Disclosure: I/we have no positions in any stocks mentioned, and no plans to initiate any positions within the next 72 hours.
I wrote this article myself, and it expresses my own opinions. I am not receiving compensation for it (other than from Seeking Alpha). I have no business relationship with any company whose stock is mentioned in this article.
Additional disclosure: No financial advice. Information relies on press releases and other public data sources.