On Tuesday, Independence Contract Drilling (NYSE:ICD) reported 4Q16 results that barely exceeded expectations, but likely pleased most investors.
Revenues of $18 million beat consensus $17.5 million, and adjusted net loss of $0.14/share was slightly better than estimates for a net loss of $0.15/share. These results represent a welcome sequential improvement from $14.5 million in sales and $0.17/share adjusted net loss in 3Q16.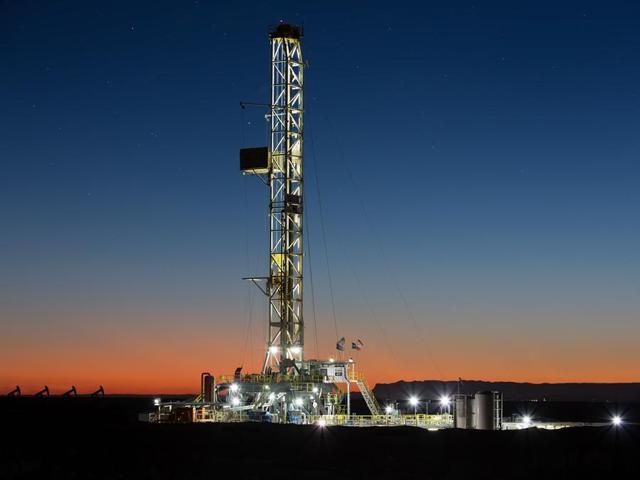 Credit: energylandscapes.net
On backlog, the company secured $75 million in the pipeline, 82% of which to be realized this year. Notice that the 2017 backlog is nearly as large as total revenues of $70 million in 2016, which points to a much better year ahead. For comparison, Independence only had $53.3 million in backlog to be realized in 2016 this time last year, against 2015 revenues of $88.4 million.
Perhaps the most encouraging news came from the words of CEO Byron Dunn:
True pad-optimal ShaleDriller rigs were the last rigs to go down during the downturn, and have been the first to return to work as the market recovers. Since the end of 2016, ICD has signed term contracts with tenors ranging from six months to one year or longer for six rigs, and 100% of its marketed fleet is now contracted. ICD will be running more rigs than at any other point in the company's history.
The writing was on the wall: the 4Q16 results announced earlier this year by large supermajors and oilfield service providers pointed to a stronger North American (primarily U.S./Permian) business. As a recap, Halliburton (NYSE:HAL) disclosed a 9% sequential growth in North America revenues and called for "increased pricing and utilization throughout the United States land sector." Schlumberger (NYSE:SLB) reported North America revenues up +4% in 4Q16, while Exxon Mobil (NYSE:XOM) bet on the prospects of U.S. land by doubling its holdings in the Delaware basin last month.
The upbeat remarks made by Independence's CEO supports my views, expressed a couple of weeks ago, that the onshore drilling environment in the United States had been certainly improving, and that energy service companies that had the better assets and enough idle capacity would likely benefit the most from the upswing. It was clear to me that Independence Contract Drilling would be one of those companies positively impacted.
It came to me as a surprise that, given the recent developments, ICD had been down 16% YTD prior to this morning's earnings announcement, trailing the energy sector by a solid 10% (see chart below). I was comfortable, much more than I usually am about short-term predictions, that ICD would react positively to today's earnings announcement. And so it did.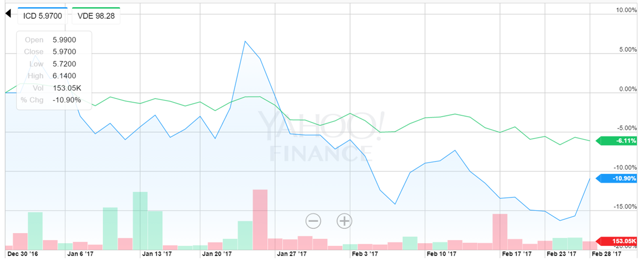 Source: Yahoo Finance
Looking forward
Despite today's +9% intra-day run, I still think ICD could be a good small-cap stock for those looking to play the U.S. onshore energy rebound this year. The potential upside will not come without significant risks, especially on such a small name. But I continue to think that the reward-to-risk ratio is favorable, and I remain long ICD.
Follow me as I build a risk-diversified portfolio designed and back-tested to generate market-like returns with lower risk. I call it the Storm-Resistant Growth portfolio. The very early results have already exceeded my expectations. Take advantage of the 14-day free trial, and get immediate access to the content and the community.
Disclosure: I am/we are long ICD, XOM.
I wrote this article myself, and it expresses my own opinions. I am not receiving compensation for it (other than from Seeking Alpha). I have no business relationship with any company whose stock is mentioned in this article.