Brick-and-mortar retail has taken it on the chin from the e-commerce giant Amazon (NASDAQ:AMZN). However, one retail segment that I believe to be insulated from the e-commerce surge is the home improvement stores. I'm not a home repair expert by any means, but if I need hardware or supplies, I typically need them now, not two days from now. I also want to be able to feel any of the tools in person rather than base my purchase decision on pictures and online reviews.
Under that premise, I wanted to take a look at one half of the effective hardware/home improvement duopoly, Lowe's Companies, Inc. (NYSE:LOW). Lowe's valuation never seemed to line up with my available cash; however, since rolling over my 401(k), I'm now flush with cash and looking for long-term investment opportunities.
Dividend History
As a dividend growth investor, one of the first places I go when I want to analyze a company is its dividend history. The dividend history can tell you a lot about the strength of the business. Companies don't find themselves in the midst of a decades-long dividend growth streak by happenstance. Rather it takes the combination of a high-quality business model and a management team that is committed to rewarding shareholders with cash.
According to the CCC list, Lowe's has paid and increased dividends every year for 54 consecutive years. That gives it the title of Dividend Champion. The following chart shows Lowe's dividend payouts since 1980. A full screen version can be found here:
*Image Source: Author / Data Source: Lowe's Investor Relations
It's great to see that Lowe's has consistently shared the profits of the business with shareholders. As a dividend growth investor, the important thing is that the annual raises at least keep up with inflation each year. After all, companies can easily build up a lengthy dividend growth streak by giving minuscule raises each year.
A full screen interactive chart of the following table can be found here: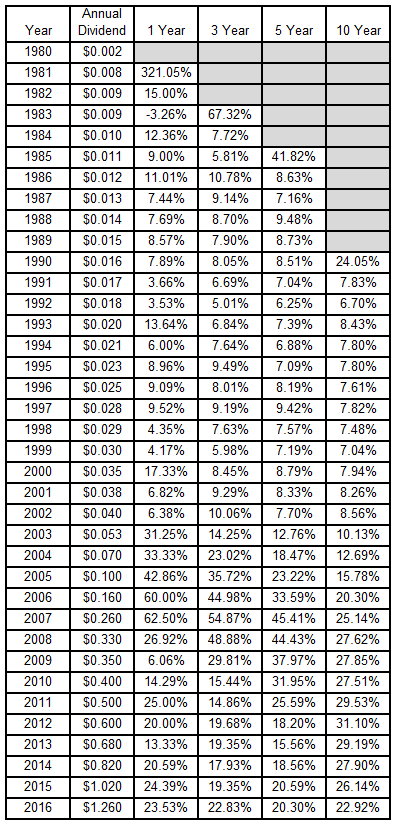 *Image Source: Author / Data Source: Lowe's Investor Relations
As you can see, Lowe's has done a remarkable job with its dividend growth over time. Since 1995, the "worst" year-over-year increase was 4.2%. Dividend growth from one year to the next can fluctuate significantly, which is why I prefer to examine things over a longer horizon by also looking at the three-year, five-year and 10-year growth rates over time.
Since 1995 the smallest three-year growth rate was 6.0%, the smallest five-year growth rate was 7.2%, and the smallest 10-year growth rate was 7.0%. Management prudently scaled back dividend growth during the depths of the financial crisis of 2008/9, but has since resumed with double-digit increases every year.
Quantitative Quality
My preferred method to hone in on quality companies is to examine the cash flows. The cash flow statement is more transparent than the income statement and lets you know exactly how the cash moves through a business and ultimately out to shareholders.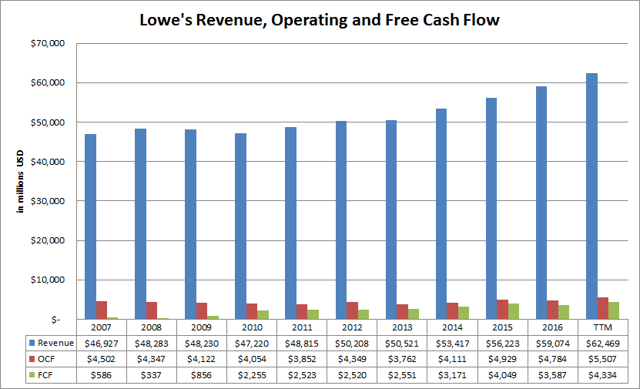 *Image Source: Author / Data Source: Lowe's SEC filings
As you can imagine, top-line growth stalled out from the years leading up to and including the financial crisis of 2007-2009. Since then, revenue growth has taken off, with Lowe's showing year-over-year growth every year since 2010. From 2007 through 2016, revenue grew by a total of 25.9% or 2.6% per year. Since 2010, the growth has been much better with 3.8% annualized revenue growth.
Right off the bat, you can tell that Lowe's, being a retailer, is a low-margin business. Despite solid revenue growth, Lowe's hasn't been able to convert that into cash flow. From 2007 through 2016, cash flow from operations only improved by 6.3% in total or 0.7% annually. However, the TTM period has shown a significant increase growing by 15%.
Normally you would expect free cash flow to improve at a slightly faster rate than operating cash flow. As a retailer grows, they can demand lower wholesale prices from its various suppliers to benefit from scale.
However, Lowe's free cash flow has grown by 512% or 22.3% annually from 2007 through 2016. That divergence isn't due to better pricing, although that has likely played a part; rather, it's due primarily to declining capital expenditures. In 2007, Lowe's capital expenditures were $3.9 B compared to just $1.2 B for 2016. The decline in capital expenditures is a quick way to improve free cash flow; however, it could mean that growth opportunities in the form of more store fronts are becoming harder for management to identify.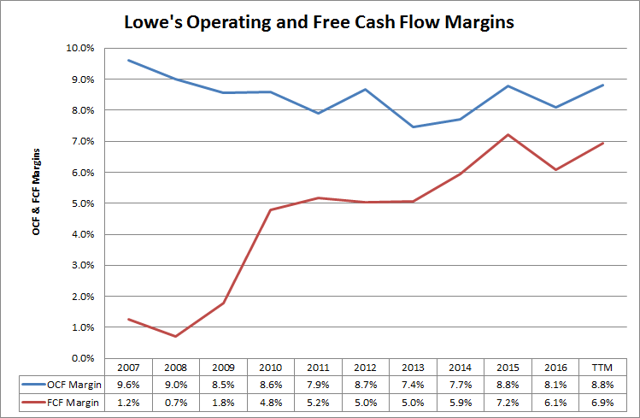 *Image Source: Author / Data Source: Lowe's SEC filings
One way to view the profitability of a company is to look at the cash flow margins which are the amount of cash flow per dollar of revenue the company brings in.
As expected with operating cash flow growth well behind revenue growth, we've seen a subsequent decline in Lowe's operating cash flow margin. In 2007, the operating cash flow margin was a solid 9.6%, and by 2016, it had declined to 8.1%. The TTM period is encouraging with OCF margin improving further to 8.8%.
Free cash flow margins have shown significant improvement over the last decade. In 2007, the free cash flow margin was just 1.2%, but it has since improved to 6.1% for 2016. The TTM period is showing a further increase to 6.9%.
Another way to view profitability is the free cash flow return on equity and total capital. This would be the cash return that one could expect to receive should you own the entire business. Ideally I want to see both of these over 10%.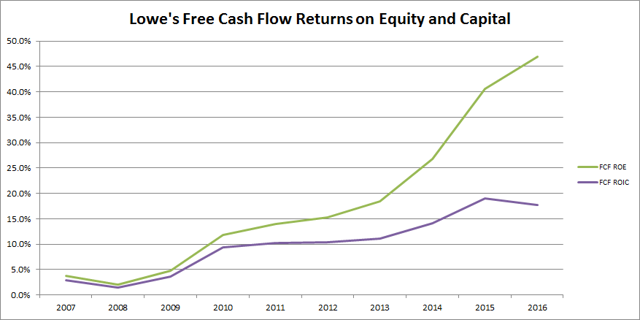 *Image Source: Author / Data Source: Lowe's SEC filings
With Lowe's free cash flow increasing substantially, that's translated into vastly improved free cash flow returns. Free cash flow return on equity increased from 3.7% in 2007 to 46.9% in 2016. On the surface that looks excellent; however, a change that large warrants a deeper look.
By examining the balance sheet closer, we see that Lowe's equity level has declined around 50% over the same time period from $15.7 B to $7.6 B. Total debt has also increased significantly over the same time.
With equity falling and debt climbing, that's led to a deterioration in Lowe's balance sheet as seen in the debt to capitalization ratio climbing from 22% to 62% over the last 10 years. The debt is manageable with EBITDA covering the interest expense 10x over the TTM, but it's something to keep a close eye on as the balance sheet is stretched.
The drastically changing capital structure skews the results of the free cash flow return on equity. As such, the free cash flow return on capital is a better measure of the profitability that Lowe's delivers. Despite the constantly shifting mix of capitalization, the total capital invested in the business has remained relatively stable. Lowe's free cash flow return on capital improved from 2.9% in 2007 to 17.7% for 2016.
Free cash flow is vital for any successful company. Unlike earnings, free cash flow is the actual cash that the company generates above and beyond what is required to both maintain and grow the company. That surplus cash can then be used to shore up the balance sheet, repurchase shares, invest in further growth organically or through acquisition or to pay a dividend to shareholders. In order to understand how Lowe's uses its free cash flow, I look at three variations of the metric.
Free Cash Flow (FCF) - The traditional calculation of operating cash flow less capital expenditures.
Free Cash Flow (FCFaD) - FCF less total cash spent on dividends.
Free Cash Flow after Dividend and Buybacks (FCFaDB) - FCFaD less net cash used on share repurchases.
These three variations allow me to see how Lowe's uses its cash in order to determine whether the company can self-fund the entire capital allocation process. Ideally companies will maintain positive FCFaDB since that would mean the business generates more cash organically than is needed to maintain and grow the business, pay and grow dividends, repurchase shares and still build up the balance sheet.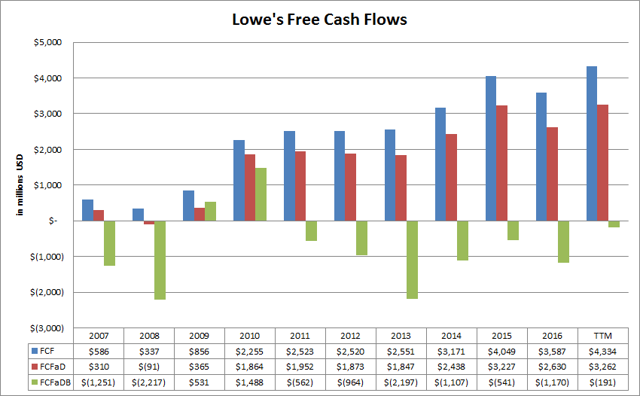 *Image Source: Author / Data Source: Lowe's SEC filings
Traditional free cash flow has been solid, showing excellent growth. Although that growth has come more from a decline in capex as opposed to improving cash flow from operations. The excess cash flow above and beyond what's necessary to maintain and grow the company allows management to move down the capital allocation chain.
Lowe's FCFaD has been positive every year save for the fiscal year ending January 2008. Even after growing the dividend payment every single year, free cash flow growth has matched it keeping the dividend well covered. The free cash flow payout ratio has averaged 39.5% from 2007 through 2016 and only 23.3% from 2010 through 2016 after annual capex was lowered. The positive FCFaD means there is still more cash from the business that is available for share repurchases or future dividend growth.
Unfortunately that's where the good news stops regarding Lowe's free cash flow. The FCFaDB has been negative 8 of the last 10 years. Negative FCFaDB in any given year isn't a big deal; however, a sustained negative FCFaDB can't be maintained less the balance sheet suffer. From 2007 through 2016 Lowe's has spent $7.9 B more cash than was organically produced via the business, which goes a long ways toward explaining total debt increasing by $8.2 B.
As I mentioned earlier, the debt to capitalization ratio was at 62% for the fiscal year ending January 2016. Barring a huge increase to revenue and cash flow growth, investors shouldn't expect, or want, to see net buybacks exceeding Lowe's internally generated FCFaD.
Buy, Sell or Hold?
One method that I like to use to determine the valuation of a potential investment is the minimum acceptable rate of return. This requires estimating the future earnings and dividends for the company, applying reasonable future valuations and determining if the return meets your minimum threshold.
On average, analysts expect Lowe's to report earnings of $3.92 for the fiscal year ending January 2017 and to grow earnings to $4.52 for the following fiscal year. Over the next five years, earnings are forecast to grow by 15.7% per year. For the sake of being conservative, I've assumed that Lowe's will then grow earnings at 5.0% per year for the following five years.
The annual dividend payment for the fiscal year ending January 2017 was $1.33. Based on the analyst estimates of $3.92 in earnings, the payout ratio would be 34%. I've assumed that Lowe's will grow dividends at the same rate as earnings growth to maintain a constant payout ratio. That would put the annual dividend payment for the current fiscal year at $1.55.
Barring major changes to the underlying business, the valuation should remain in a fairly steady range. As you can see in the following chart, Lowe's normalized P/E ratio has been on the rise over the last 10 years trading within a range of approximately 12.5x to 27.5x. My own fair P/E calculation puts a "fair" P/E valuation for Lowe's growth profile somewhere between 16.0x and 23.0x.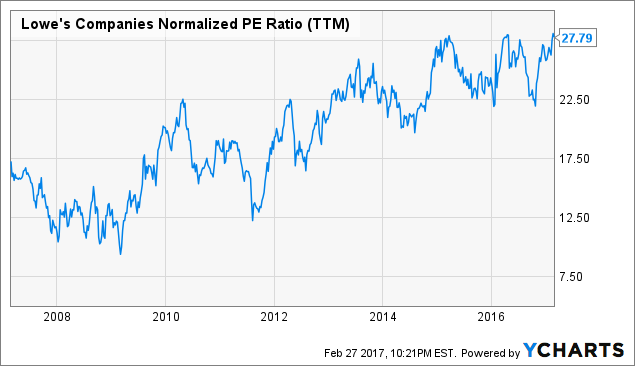 LOW Normalized PE Ratio (TTM) data by YCharts
The following table shows the potential annualized returns that Lowe's could generate with a purchase on February 28th at the current price of $76.42. Returns are calculated as internal rates of return through the end of calendar 2022 and calendar 2027 including dividends.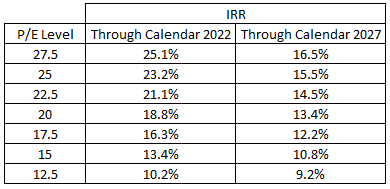 *Image Source: Author
Assuming that Lowe's earnings growth comes in relatively close to the forecast 15.7% through the first five years and 5.0% for the following five years, the returns look pretty solid. Currently, the P/E ratio based on the estimated earnings for the fiscal year ended January 2017 is 19.5x, and the forward P/E based on the current year estimates is 16.9x.
Even in the face of the P/E contracting to some of the lowest levels of the last decade, 12.5x, an investment in Lowe's could still potentially generate 10% annualized returns.
Predicting the growth profile of a company is hard enough just one year out, let alone 5 or 10 years down the road. To add in a margin of safety, I'll lower the earnings growth estimate from 15.7% for the first five years to 10.5%, or in other words a 1/3 reduction. Earnings growth will remain at 5% per year for the second five years. The following table shows the revised projected returns under the lower growth scenario: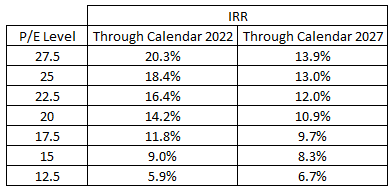 *Image Source: Author
Even in the lower growth scenario where earnings only grow at 2/3rds the rate that analysts expect over the next five years, the return prospects are still strong. Double-digit returns could still be had assuming just slight expansion in valuation from 16.9x to around 17.5x.
Conclusion
Overall I consider Lowe's to be a quality company that generates plenty of excess cash flow. Management has been more than willing to return that excess cash to investors in the form of a dividend that's been increased for 54 consecutive years as well as share repurchases.
Of course, the company isn't without its flaws namely in the form of its balance sheet strength or rather weakness. Lowe's has spent more cash on share buybacks than the company has been able to generate internally forcing it to take on additional debt to make up for the shortage. Barring a drastic increase in the cash flow that Lowe's is able to generate, share repurchases will necessarily have to decline going forward without further leveraging the balance sheet.
Fourth-quarter and full-year earnings are due out this week, and I'll be keeping watchful eye on the balance sheet to see if management is planning to leverage up further. My other concern is how management will address operating cash flow margins since that will lead to further growth of free cash flow. Lastly what is management's plan to spur on top-line growth with capex significantly reduced from pre-2010.
The current valuation of Lowe's appears to be fair at this time with a high likelihood of double-digit returns going forward. If I wasn't potentially on the hook for 200 shares of Lowe's Companies via being short a $70.50 and $74 strike put option, I would feel more than comfortable purchasing shares at this level.
Disclosure: I/we have no positions in any stocks mentioned, but may initiate a long position in LOW over the next 72 hours. I wrote this article myself, and it expresses my own opinions. I am not receiving compensation for it (other than from Seeking Alpha). I have no business relationship with any company whose stock is mentioned in this article.
Additional disclosure: I am not a financial professional. Please consult an investment advisor and do your own due diligence prior to investing. Investing involves risks. All thoughts/ideas presented in this article are the opinions of the author and should not be taken as investment advice. I am currently short the March 3rd $70.50 and March 17th $74 strike put options.