For those of you who like to follow the KC Fed's Labor Market Conditions Index, the bull market and rally we are now experiencing is no surprise. The index has been signaling economic strength for at least 15 months and the signs are good that strength will continue. The original signal occurred December 2015 when the index crossed above 0 from below. This was the first time the index had been positive since the Great Recession, an event known to precede periods of economic boom in the past.
Since the original signal was fired, the index has only gotten stronger and the latest read is no exception. The Activity Index rose 0.116 to 0.2485, just off the 8.5-year high. This indicates expansion of activity within the labor market and a continuation of current labor trends. The really good news, though, is the Momentum Index which rose to a new all-time high. This indicates that not only can we expect current labor trends to continue, we can expect them to gain strength as we go into the spring and summer hiring seasons.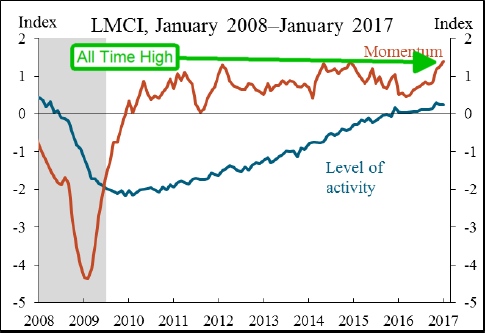 The top 5 contributors to the level of activity over the past 6 months are plans to increase employment (NFIB), can't fill jobs (NFIB), job flows from unemployed to employed, expected availability of jobs and the quits rate. The top contributors to the increase in momentum are expected job availability (both NFIB and University of Michigan), initial jobless claims, the labor participation rate and the labor component of the ISM manufacturing report.
Employment Strengthens The Consumer
All this labor market activity is boosting the consumer. The February data on Consumer Confidence, from the Conference Board, is at a 15-year high. Confidence gained 3.2 points to hit 114.8 after making a small decline in January. The present and future expectations indices also rose 3.4 and 3.1, respectively, to 130.0 and 102.4.
Lynn Franco, Director of Economic Indicators at The Conference Board, said this in a statement:
"Consumers rated current business and labor market conditions more favorably this month than in January. Expectations improved regarding the short-term outlook for business, and to a lesser degree jobs and income prospects. Overall, consumers expect the economy to continue expanding in the months ahead."
Aiding consumer confidence is an ongoing increase in wages and hours worked. Last month's data showed that wages continue to edge upward as labor market slack is taken up and pressure builds. On a month-to-month basis, wages only gained 0.12% in January but have been rising at a relatively steady 2.5% year over year.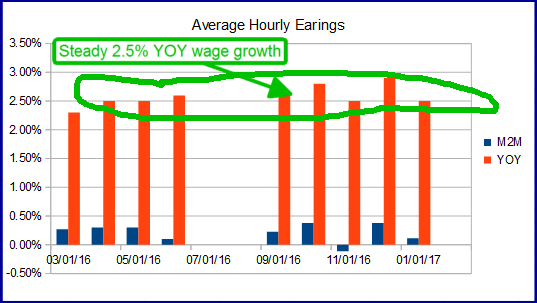 The Outlook Is Good
The outlook is good, the signal given by the LMCI is still valid. Based on historical evidence, we can expect to see economic boom for the next 3 to 5 years following a 0 line cross, leaving 2 to 4 years at least for the economy to continue expanding. During past booms, GDP averaged greater than 3% with peaks above 5%.
Based on the current data, it looks like we have reached full employment and can expect to see a continuation of wage growth, improvement in the consumer and by extension the economy in general.
Looking to next week's round of monthly macroeconomic data, I expect to see job creation hold steady in the range of 175,000 to 225,000. Unemployment levels may hold steady despite rising jobs, or even tick higher as they did last month, on an increase in the LPR. Labor participation rates should hold steady with a chance of ticking higher as employee confidence grows, and draws marginally and unattached workers back into the labor market.
Disclosure: I am/we are long SPY.
I wrote this article myself, and it expresses my own opinions. I am not receiving compensation for it (other than from Seeking Alpha). I have no business relationship with any company whose stock is mentioned in this article.