Let's get the first part out of the way: Yes, Visa (NYSE:V) and MasterCard (NYSE:MA) respectively trade at 12.8 and 11 times their past 12 months worth of sales.
That puts it up there with Workday (NYSE:WDAY), Palo Alto Networks (NYSE:PANW), Mobileye (NYSE:MBLY), Splunk (NASDAQ:SPLK) and Twilio (NYSE:TWLO). Now, I'm not here to say which companies are good, which are bad and whether the valuations are justified. But I would argue that when choosing from the seven stocks above, Visa and MasterCard -- hands down -- would be my choices.
A number of investors would probably be surprised to learn that Visa and MasterCard trade will a similar sales-based valuation to these stocks. On past Seeking Alpha articles, I've even seen some users suggest they are wildly overvalued based on sales and that they should be avoided as a result.
But they couldn't be more wrong.
Visa and MasterCard deserve a premium valuation because they are premium companies. Like Starbucks (NASDAQ:SBUX), they are dividend-growing machines and as a result, they have a place in my dividend-growth portfolio, Future Blue Chips.
But aside from these stocks' dividend-growing powers, what makes Visa and MasterCard truly attractive is simple: The business model.
The companies are like financial toll booths. To get from Point A to Point B - such as when a consumer purchases groceries or an item online - a cut of that sale goes to the middleman when a credit or debit card is used. In this case, Visa and MasterCard are the middlemen.
Not only are consumers moving to a more cash-less lifestyle - i.e. credit and debit cards over cash and checks - but their shopping trends are moving online as well. Both trends have been moving in this direction for years and will continue to do so. As a result, Visa and MasterCard will continue to benefit.
And unlike some credit and debit card companies, Visa and MasterCard do not lend consumers money. So while they may not make egregious interest from those consumers' balances, they also are not left holding the bag when someone fails to pay.
Like we said, these are toll booth stocks.
That does not mean there aren't negatives. When consumer spending takes a hit or a recession comes to life, Visa and MasterCard see their results dip as well, as there are less tolls (transactions) to make money on. Even more recently, when oil prices took a big hit, both companies pegged lower gas prices at the pump as one explanation for why they were experiencing weakness. These stocks are not invincible, but they have a strong moat and a great long-term outlook.
Now, About That Valuation
Just because a company has a great business, doesn't mean its stock is a great value. But in this case, a sales-based valuation should be overlooked. For starters, the company's margins are absolutely to die for: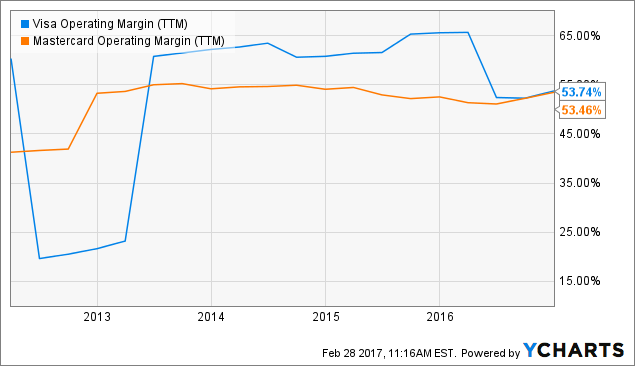 V Operating Margin (NYSE:TTM) data by YCharts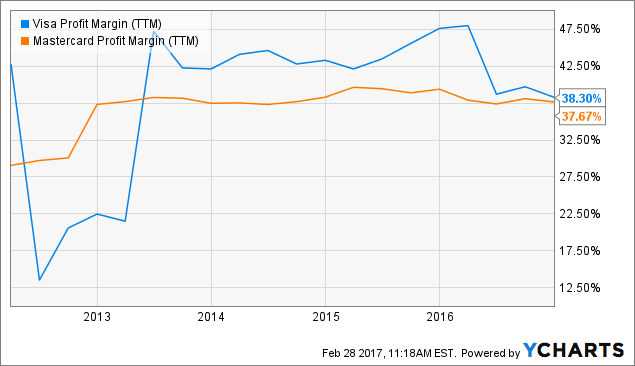 V Profit Margin (TTM) data by YCharts
As a result of these fat margins, profits aren't just a minute fraction of the companies' sales like a number of other enterprises. Instead, a large portion of Visa and MasterCard's top-line trickles down to their bottom line.
In the end, we end up with stocks that trade at more reasonable earnings-based valuations, with Visa and MasterCard trading at 23x and 22x forward expectations, respectfully.
Admittedly, these valuations do not scream, "Buy! Buy! Buy!" But over the long-term, purchasing these stocks on ordinary pullbacks of 10% to 20% have led to extraordinary gains. Simply put, the valuation will never seem that attractive. But premium companies with a strong brand, wide margins and exceptional growth will never come cheap.
Look at MasterCard for example. Earnings are expected to grow 13% this year and 16.4% next year, according to analysts' estimates. EPS is expected to grow at 14.9% annually for the next five years. That's pretty darn impressive.
Visa's expected EPS growth numbers - 19.6%, 16.6% and 16.1% for this year, next year and the next five years, respectively - are even more impressive.
Add in the fact that both companies have grown their dividends by double-digits in each of the past five years and the question of whether investors should add these stocks to their portfolio is rather obvious.
I would love nothing more than a pullback in order to add to these stocks for more long-term gains. While a tad dated, my article from mid-2016 showed illustrated charts of how I like to invest in these two stocks. Some will disagree with this approach, but it's what has worked for me.
Disclosure: I am/we are long V, MA, SBUX.
I wrote this article myself, and it expresses my own opinions. I am not receiving compensation for it (other than from Seeking Alpha). I have no business relationship with any company whose stock is mentioned in this article.