The Dow closed at an all-time high today for the 12th consecutive day, tying the record set back in January 1987.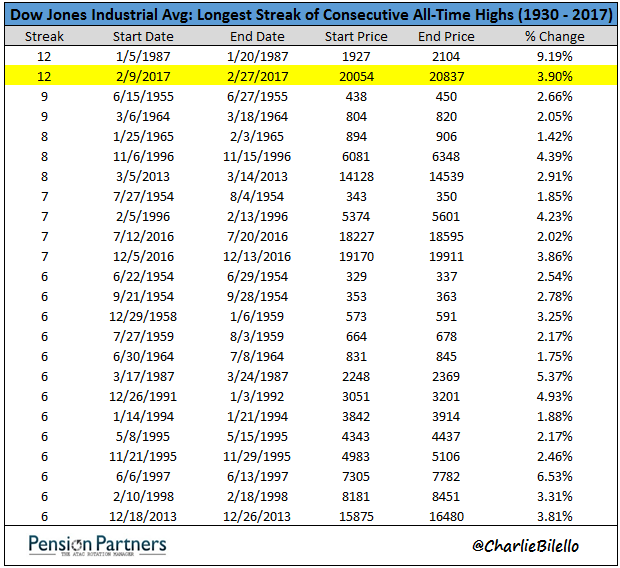 When I post this table on Twitter, the most common response is: "well, we all know that didn't end well."
Any mention of 1987 immediately conjures up images of a crash, without any regard to what happened before or after. Let's set the record straight…
Following the 12-day all-time high streak in January 1987, the Dow would advance another 30.5% before reaching its peak in August. For some context on that gain, a similar move at today's prices would bring the Dow from 20,837 all the way up to 27,193.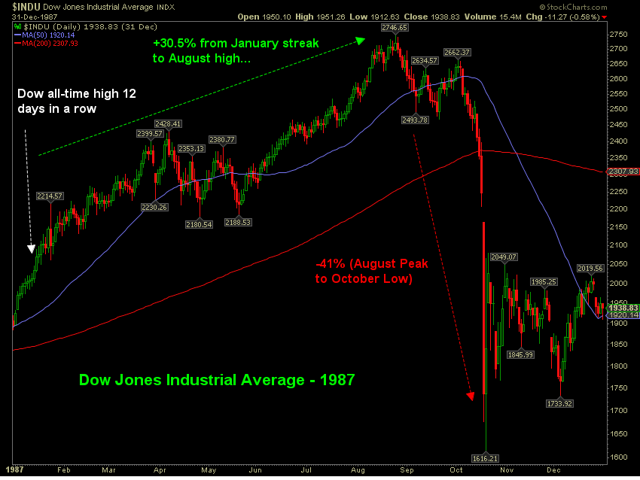 Note: the above chart is Price only, not total return.
Yes, the Dow would suffer a 41% decline from its peak in August to the low in October, but it would actually end the year up 2.2% and a few percent more with dividends.
It would never again trade lower than the October 1987 low, hitting a new price high less than two years later, in August 1989.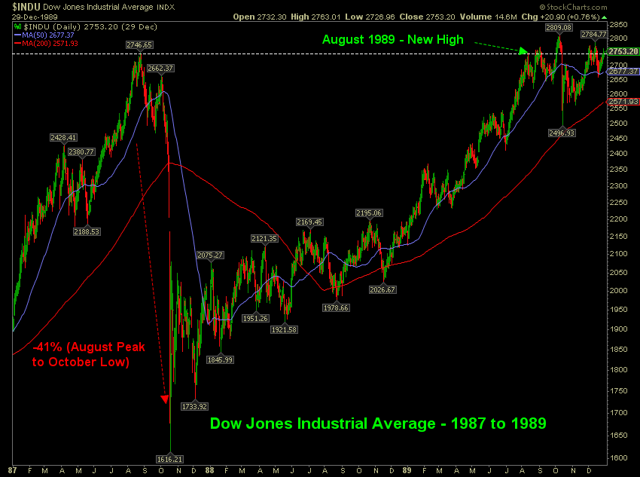 From 1988 through 1999, the Dow would only experience one down year: 1990 (-4.3% price return, few percent higher with dividends), during which a recession began. The 1990-1991 recession, however, proved to be shallow (eight months) as did the stock market peak to trough decline in 1990 (-22% for the Dow). After the 1990-1991 recession, the U.S. economy would go on its longest expansion in history: 10 years (from 1991 to 2001). The U.S. stock market would also go on a record boom from 1991 to 1999 in which it advanced for nine consecutive years, the longest run in history.
Is this another 1987? I doubt it. This time will be different because every time is different.
But if it ended up playing out in the same fashion as 1987, would that be so bad?